Fashion collaborations are growing more en vogue, as high-flying artists lend their designs to large luxury fashion houses and corporations for limited edition product runs. Perhaps the most compelling collaborations on record, however, are artist-to-artist, alliances that breed explosive, unpredictable, dizzying interactions between disparate practices and approaches. Sometimes these are born of pre-existing relationships, like marriages or friendships, and some have more market-centric, pragmatic roots, like gallery partnerships or dealer input. The results vary as widely as art itself does, but the tertiary magic of an artist collaboration always creates an exciting potential for something new.
The twentieth century ushered in a new, individuated understanding of artistic genius, one that spotlighted the discrete capabilities and decisions of the painters and sculptors running their respective scenes. The cult of white masculinity amplified the clout ascribed to Modernist abstraction's inner life, allowing the mythos of the "lone wolf artist" to thrive in public imagination. It's not untrue that a productive art practice requires lots of solitude, but makers know that it's community that aids development, that helps their ideas really sing. Many of the most significant artistic innovations have been the result of collaboration, often between artisans and the religious, monarchical, or otherwise public institutions that acted as patrons. With that thought in mind, here we look at 5 artist collaborations that shook the world, for better (or, occasionally, worse).
Andy Warhol & Jean-Michel Basquiat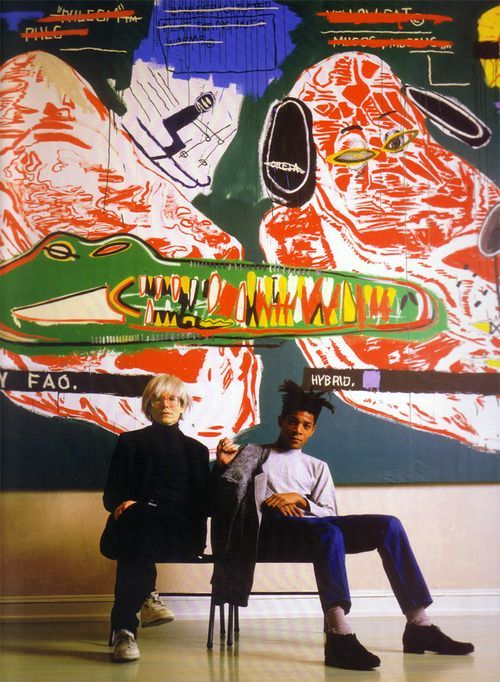 The artists in situ via Pinterest
Warhol and Basquiat first interacted in 1982, when the latter was a hot young art star and the former was a somewhat fading legend, rich and respected, but increasingly considered a little over-the-hill by those in the know. Warhol seemed resentful of Basquiat from the beginning, reportedly noting to his assistant, "He's just one of those kids who drives me crazy...and then Bruno Bischofberger discovered him and now he's on Easy Street." Nonetheless, a years-long professional relationship emerged, fueled as much by opportunism as it was by mutual respect. Associates of the two artists viewed their collaboration as symbiotic as best; Basquiat wanted fame and mainstream approval, and Andy wanted to revitalize his image. Gallerist and dealer Bischofberger encouraged this exchange, suggesting that Warhol, Basquiat and Francesco Clemente actually finish each other's paintings. Clemente was left in the dust by 1982, however, and Warhol and Basquiat went on in secret, working on each other's pieces and sharing resources and references. The fruits of their labor went on show in 1985 at Tony Shafrazi Gallery in Soho but was panned by journalists around the world, effectively ending any interactions between these artists until Warhol's untimely death two years later.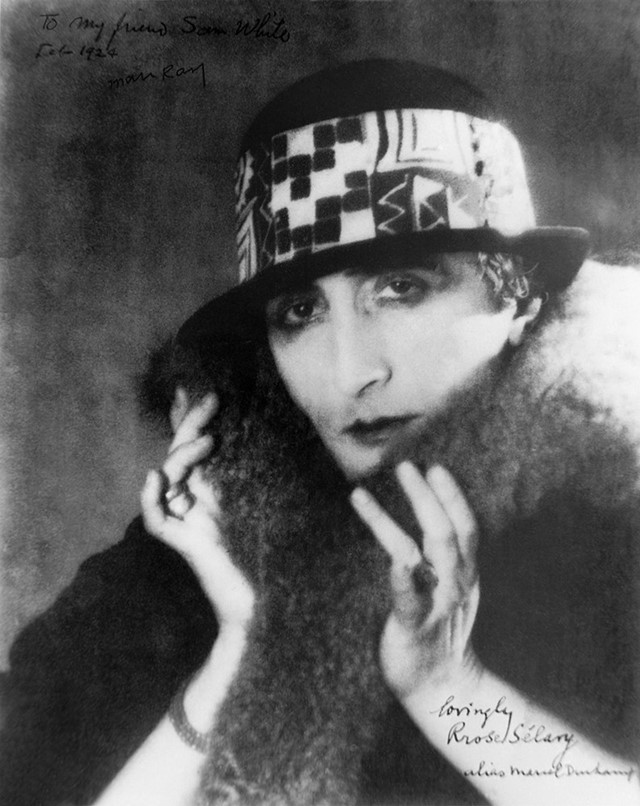 Roose Selavy by Man Ray via AnOther Magazine
Photographer Man Ray and conceptual readymade master Marcel Duchamp had a long-lasting friendship and artistic brotherhood; their shared aesthetic spread across time and media, ranging from the first ever image captured of Nude Descending a Staircase taken by Ray in 1919 to their experimental film Anemic Cinema in 1926. Ray even depicted the last, unifinished Duchamp sculpture in 1968, the year the sculptor died. Perhaps their most noteworthy project involved a series of enigmatic pin-up photographs shot by Ray that depicted Duchamp's drag alter ego, Rrose Selavy, a pun on the French idiom "Eros, Ce La Vie", or "love, that's life".
Pablo Picasso & Gjon Mili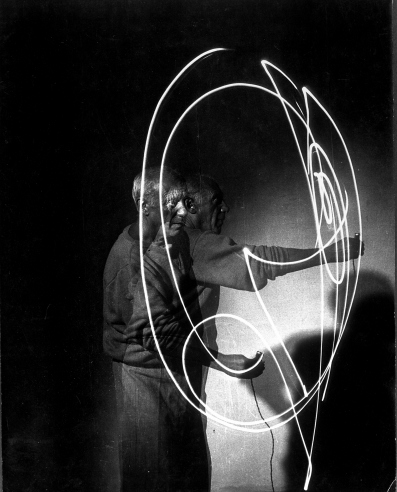 Picasso drawing in light via Resource Magazine

In 1949, the 68-year old Picasso was shot by photographer Gjon Mili for LIFE magazine, and the two got on like a house on fire. Mili inspired the 68-year-old artist to paint with light, urging Picasso to use the camera's flash as paint in open air. Over a series of five sessions, the pair produced 30 stunning images that were invisible to their makers until the film was developed, at which point Picasso's bull-like abstractions in muddled darkness were revealed. Picasso also used a strobe light for the series, creating instantaneous, elegant bursts of pattern and line.
Christopher Wool & Felix Gonzalez-Torres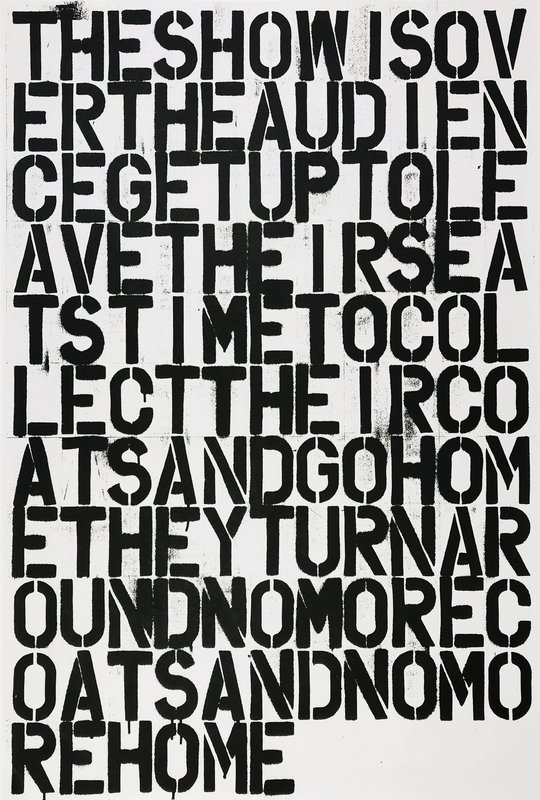 Untitled (Until The Show Is Over)
In 1993, artists Christopher Wool and Felix Gonzalez-Torres collaborated on a single artwork for Printed Matter Inc. through Dia, New York. Gonzalez-Torres specified that the height of the work be eight inches and, in the spirit of his highly collaborative practice, viewers should be allowed to take individual printed sheets from the stack to keep. The text is taken from Russian photographer's Vasili Rozanov's definition of Nihilism, rendered in Wool's iconic black blocked font. The impact is a stark and stirring one, making the lithograph a stunning piece of memorabilia produced at the end of Gonzalez-Torres' incredible career.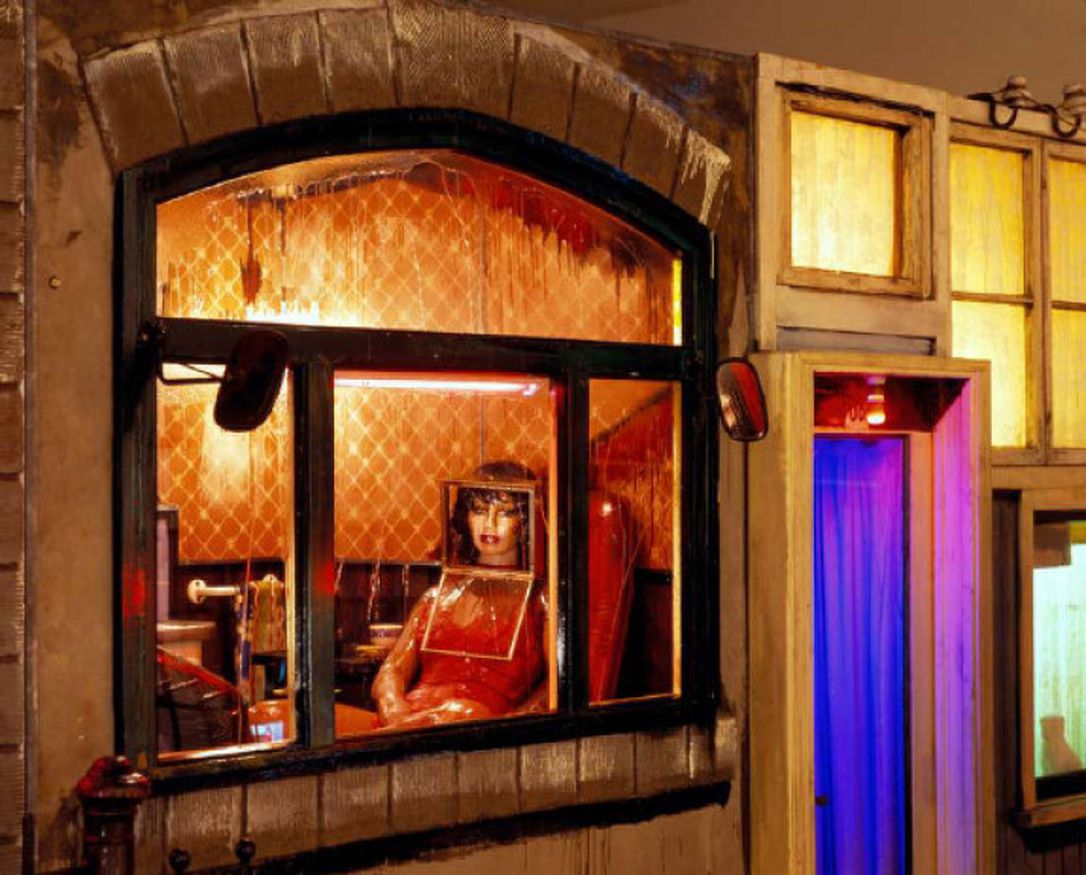 Hoerengracht via Toronto Star
Photojournalist Nancy Reddin met radical sculptor Keinholz at a party in L.A. in 1972, and that meeting sparked a partnership that would last until the latter's death from a heart attack in 1992. Their conjoined efforts birthed Keinholz's most ambitious and outrageous work to date, building on his already zingy reputation for scathing found-object sculptures that pilloried the excesses of American culture. In 1998, they debuted their most controversial piece, The Hoerengracht (Whore's Canal), a 40-foot long replica of a red light district storefront, complete with life-like sex worker mannequins. Nancy became Keinholz's fifth wife, and the two spent their time split between Berlin and Idaho.
[artcollabs-module]
RELATED ARTICLES:
Warhol's Factory Is A What Now?
A 1959 interview with Marcel Duchamp