Five reasons to collect Alex Dodge's The Trauma of Information (October 18, 2018):
1. Alex Dodge began "The Trauma of Information" series immediately following the 2016 election, during a time when "the news became like an addiction that, however painful it was to consume, could not be resisted," according to the artist in an interview with Metropolis Japan. "These works sought to take hold of the news in a form that could be solidified; made material and static. This ongoing series is an homage to a media in pain and which also pains us. It is the trauma of information that can only be survived with perspective; a perspective that is gained through humor and irony that makes the paint bearable but no forgotten."
2. Dodge's paintings have always sought to represent the three dimensional on a single plane. Intensely tactile, they appear liquid and plastic, textured and smooth all at once.
3. Dodge developed his unique process while in Japan, where he witnessed katazome, a traditional Japanese textile printing technique that uses hand-cut paper stencils and a rice-based resist paste. The artist since developed customized tools that allow him to recreate actual newspapers using CMYK letterpress printing and silkscreen.
4. Dodge has his first solo show with Maki Fine Arts in Japan up now until May 5, and his work was recently on view Art Fair Tokyo (March 8-10). He's represented by Klaus von Nichtssagend Gallery in New York.
5. Fairgoers were buzzing about Dodge's "The Trauma of Information" series when he debuted it at NADA New York in 2018, and he's been glowing in the limelight ever since. Before his work becomes unaccessible, seize this opportunity to collect this very affordable work ($600) produced by Marginal Editions, signed and numbered, from a small edition of 15.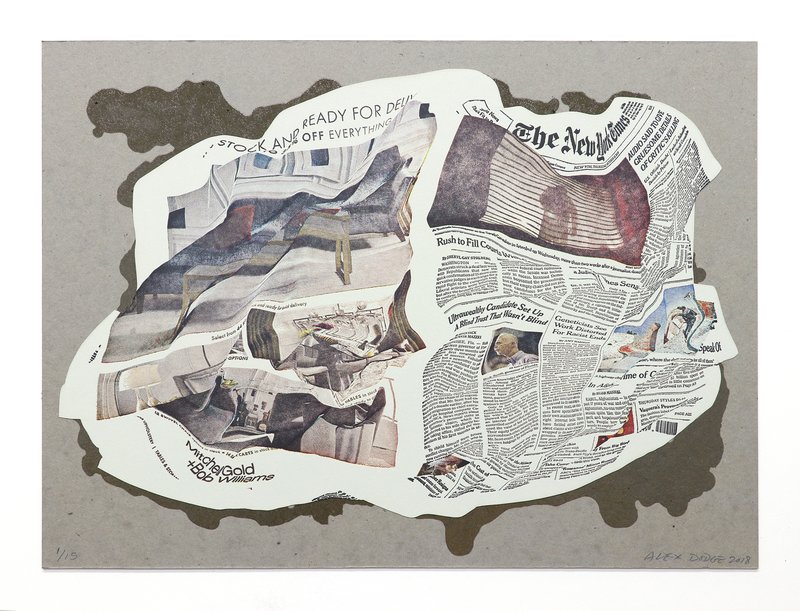 Alex Dodge's The Trauma of Information (October 18, 2018), 2018 is available on Artspace for $600