We all know what happened when Harry met Sally, but what about when abstract painting met the resurgent vogue for figuration? The result of this frisky union can be seen in galleries everywhere these days, as painters—weaned on Picabia and Picasso, tutored by Bayerle and Baselitz—are more and more frequently tossing these two canonical approaches in the blender. In our second summer show (curated by Artspace's Andrew M. Goldstein and Patton Hindle), we cast the spotlight on a few of these hybridizing artists who are providing a refreshing break from the decorative monotony of Zombie Formalism—and a look back on a few of their stylistic forebears.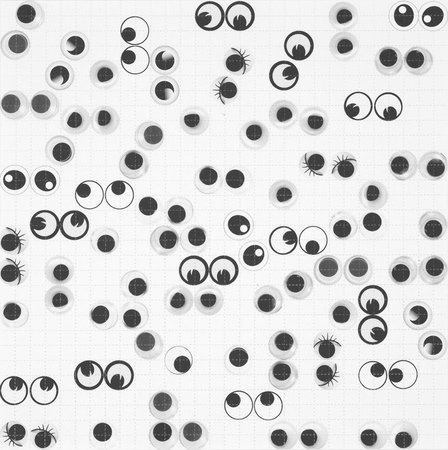 When is a black dot on a white background not an abstract composition, à la Kusama, Hirst, or Margaret Lee? When it's a cartoon eyeball.
ANNA OSTOYA
Fantasia (3) (2015)
Laying the outlines of faces and figures over atmospheric representational backdrops, Francis Picabia's "Transparencies" count among the most enduringly alluring triumphs of Modernism—a feat that Anna Ostoya here advances into the field of pure, Bridget Riley-esque abstraction.
ELLA KRUGLYANSKAYA
White Columns (2015)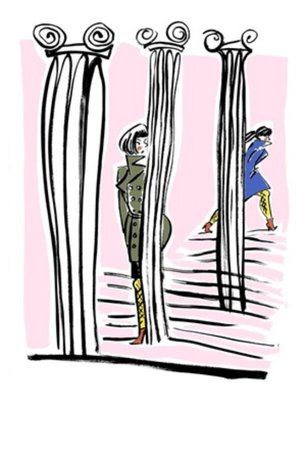 As a workmanlike stylistic motif, the crosshatch has stood in for shading in work from Rembrandt's etchings to van Gogh's paintings to the pages of Archie comics. Drawing upon this history, Ella Kruglyanskaya here deposits two of her curvaceous heroines into an abstracted field of crosshatched splendor.
BETTINA HUBBY
Sex Without the People (Stockings Showing, Pants Down) (2012)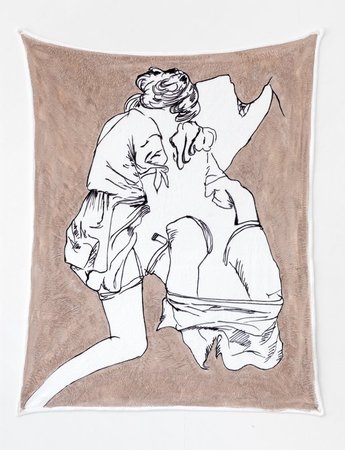 One way to make an unpeopled artwork interesting is to make it about sex. This painting by Bettina Hubby, on a fleece blanket no less, is interesting.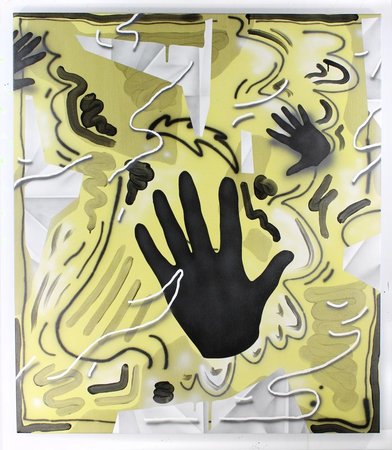 The idea that gestural abstraction shows the artist's hand is literalized in this painting by Josh Reames, amiright?
ASSUME VIVID ASTRO FOCUS
Abusada São Paulo #10 (2013)
Ever wonder what it would be like to fuse Latin American Concrete Art, or maybe Russian Suprematism, with pornography? Wonder no more. (Thanks, AVAF.)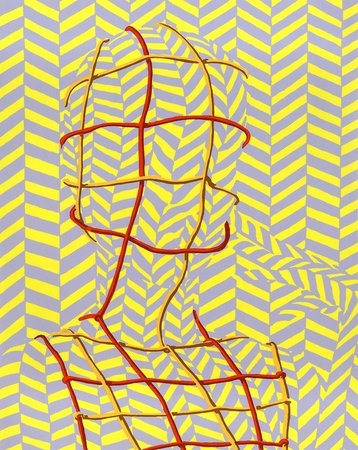 One of the leading lights of this current crop of artists, Sascha Braunig picks up what Beyerle has been throwing down for years, using her own painterly logic to summon figures—as if by dint of sheer artistic wizardry—from the aether of abstraction.
ROBERT RAUSCHENBERG
Poise (1991)
A tireless visual inventor and improviser, Robert Rauschenberg fused figuration and abstraction just as he married so many other loving couples, from painting and sculpture to performance and installation to art and technology—with wit and ease.
CARROLL DUNHAM
Atmospherics (2001-2002)
Who is this bizarre, black-hatted figure slinking menacingly through Carroll Dunham's oeuvre? He seems to be abstraction personified, endowed with desires and set loose upon an unsuspecting world.
CECILY BROWN
What the Shepherd Saw (2013)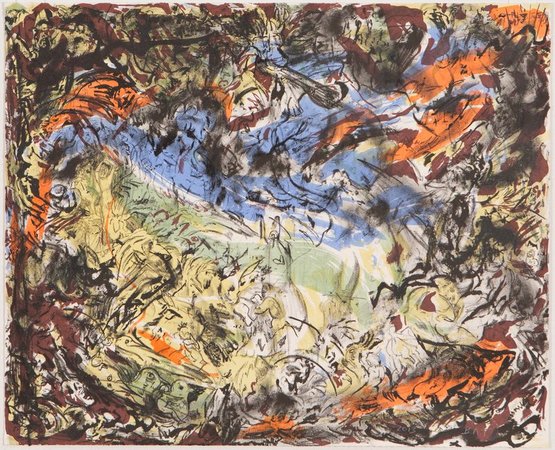 Inspired by a short story by Thomas Hardy, this swirling piece of pandemonium contains the melange of abstraction and figuration typical of Cecily Brown's work—and, odds are, there's some sexy stuff going on somewhere in there too.
IDA EKBLAD
Picture Phosphorescence, the Pure, Again (2015)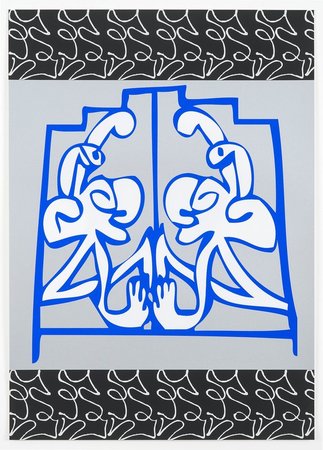 The pleasant little fellows in this Ida Ekblad composition seem to be encountering one another quizzically, as if they were in the mirror scene in Duck Soup. Either that or there are no figures here at all.
Looks like two sets of geometic abstraction just washed up on the beach in this summery scene, and they'll begin to stink soon if not cleaned up.
HITO STEYERL
Is the Internet úäCì@?ù.1HcpiÙîfê¿Dead (2014)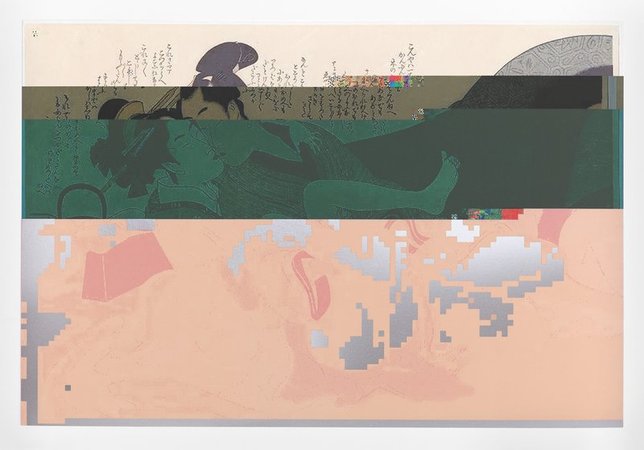 One reason that artists might be so intrigued by the fusion of abstraction and figuration these days is that digital technology has started to abstract areas of our lives into pixels and data points—a phenomenon rarely explored with more smarts and verve than in the work of Hito Steyerl.