On each floor of MoMA PS1's sprawling quinquennial, "Greater New York," hangs a modestly-sized, easy-to-miss photograph of Gordon Matta-Clark's intervention Doors, Floors, Doors, executed during PS1's inaugural exhibition in 1976. These sepia-toned images, which show a crumbling demolition site with a rectangular cavity cut through the floor, have been installed in the precise spots where Matta-Clark sliced a continuous vertical shaft through the building's three floors.
These photographs attempt to bridge the past and the present, commemorating the late, great post-Minimalist artist and the site of his work in the manner of those plaques affixed to historic buildings. As the wall text puts it, "the photographs are themselves cuts in time, shuttling the work from then to now by reminding the viewer of the traces likely still present beneath the museum's floorboards."
Matta-Clark, who played up New York's derelict architecture by sawing through the facades of dilapidated buildings, here becomes an object of cathexis—an embodiment of the departed free spirit of 1970s and '80s New York. Back then—as we have been reminded in many books and exhibitions about the period—art was responsive to its environment, enmeshed in the fabric of urban life, resistant to commoditization, and homologous with radical politics.
Matta-Clark is an apt, if somewhat stock, Ur-figure for this year's "Greater New York." Departing from its usual model, the show—organized by the thirtysomething curators Peter Eleey, Thomas J. Lax, and Mia Locks, with the art historian and elder statesman Douglas Crimp—swaps its focus on emerging artists and its typical role as youth-oriented trend barometer for a multigenerational survey that attempts to foster conversations between recent art and the wild-and-wooly experimental variety of the '70s and '80s.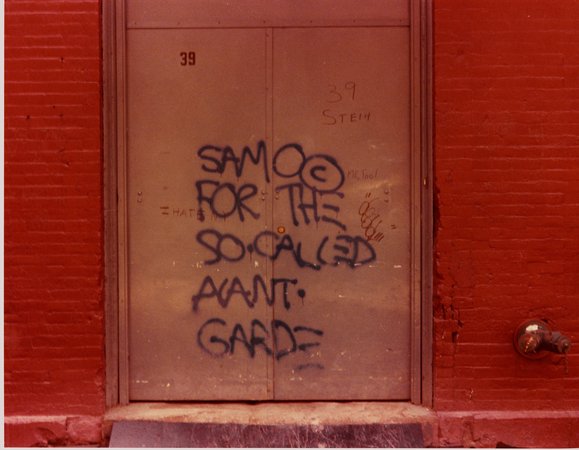 Henry Flynt, The SAMO© Graffiti, 1979. Color photograph, 11 × 14″ (27.9 × 35.6 cm). Collection Emily Harvey Foundation, New York
The past, the show insists, lives on in the present in the form of nostalgic recuperations, mythic invocations, or critical re-readings. The exhibition makes the case that the more dialectical approach of this year's Greater New York is just as contemporary as the relentless now-ness in your typical "Younger than Jesus"-style emerging artist survey.
On first glance, the inclusion of the historical work in "Greater New York" works to elevate and ennoble the contemporary material, lending gravitas to the more recent work and an aura of poetic eclecticism to the exhibition in general. At some moments, however, a closer look reveals fissures in this curatorial strategy.
The show's more than 400 objects include liberal and lively quantities of scruffy bricolage, bodacious figurative sculpture, hip flirtations with fashion and design, and some rather inscrutable instances of latter-day institutional critique. But a mournful Lapsarian narrative, of loss, foreclosure and ennui, is written into the show's curatorial premise. Right out of the gate, we're confronted with growing inequality, gouging rents, and the rampant financialization of the art world—conditions that delimit current artistic production in New York.

Made the same year as Matta-Clark's intervention into PS1's architecture, James Nares's grainy, hypnotic black-and-white film Pendulum foretells the transformation of Lower Manhattan from bohemian heterotopia to bourgeois condo campus. Projected in a two-story niche at the exhibition's entrance, Nares's drunken camera follows a wrecking ball as it sways back and forth in the middle of an abandoned Tribeca alleyway. Here, urban grit is already encoded with the romance of loss.
Other nostalgic highs include Rosalind Fox Solomon's black-and-white documentary photographs of down-and-out artists, AIDS patients, graffiti-covered subways, Reagan posters, and Princeton grads, which poignantly expose the contradictions of a city marred by class divisions. Glenn Ligon's text-based series Housing in New York: A Brief History describes every address the artist has occupied between 1960 and 2007. His anecdotes tell the stories of New York's rapid gentrification and the artist's own upward mobility, tracing his moves from the a housing project in the South Bronx to an illegal sublet in Morningside Heights to a Fort Greene brownstone, to, finally, the Tribeca condo where he currently resides.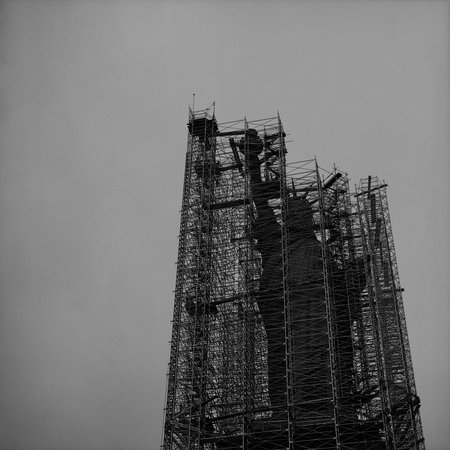 Rosalind Fox Solomon, Liberty Scaffolded, 1976. Gelatin silver print, 15 1/2 × 15 1/4″ (39.4 × 38.7 cm). Courtesy the artist and Bruce Silverstein, New York
In several works, the romance of the city is literalized with allusions to public sex. Lorna Simpson's 1995 photograph of a typical New York fire escape is paired with a suggestive fragment of text ("…and then, they ended up with their impressions on their skin in the shape of stripes."). Taken between the mid-'70s and the mid-'80's, fifteen photographs by Alvin Baltrop that document the gay cruising scene along the Hudson piers associate ludic sexuality, experimental site-specific art, and architectural dilapidation. Cradled in leather jockstraps and captured in misty, elegiac tones of black-and-white, pert male asses are framed against cut-up, crumbling facades. In one photograph, a naked man standing on Pier 52 is dwarfed by Matta-Clark's 1975 site-specific work Day's End, a giant, crescent-shaped window slashed into the warehouse's aluminum wall.
Baltrop's images of marginal, autonomous spaces—long since lost to gentrification, AIDS, and online hookup culture—share a gallery with Adam McEwen's 2011 slate grey monochrome, Brian Wilson, which uses graphite to parody the slick appearance of industrial sheet metal. Like much of the more recent work on view in "Greater New York," it's a fine piece of art with a cool look and a lot of technical brio. But at moments like these, the show seems to undercut the present in its attempt to contextualize it with the past. Coupled with the gritty erotics of Baltrop's photographs, McEwen's handsome abstraction can't help but read as statement of hermeticism and libidinal withdrawal. In the adjoining gallery, Stewart Uoo's photograph of a reclining female nude tattooed with Louis Vuitton monographs reinforces this progression of commercialization and waning affect.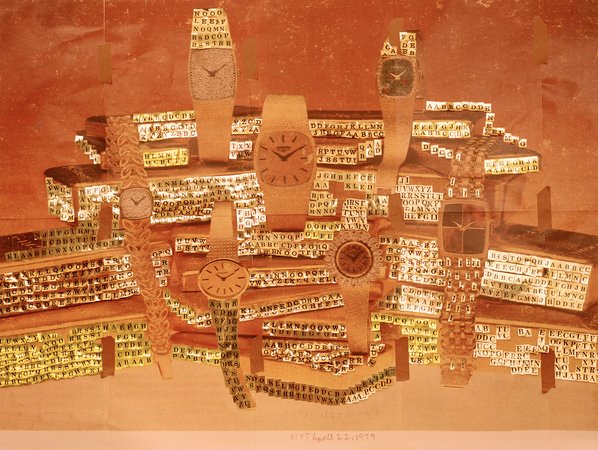 Sara Cwynar, Gold – NYT April 22, 1979 (Alphabet Stickers), 2013. Chromogenic print mounted on Plexiglas, 30 × 40″ (76.2 × 101.6 cm). Speyer Family Collection
How can the contemporary work—produced under the conditions of an expanding art market, the mainstreaming of once-alternative lifestyles, rampant real-estate speculation, and unlivable rents—possibly measure up to artifacts of a more dangerous, glamorous, and compelling city? The show poses an antinomy that it cannot resolve. As much as it aims to dissolve temporal boundaries and articulate intergenerational connections, it often ends up widening the already unbreachable gulf between the freewheeling past and the hemmed-in, professionalized present.
In doing so, the show also obscures PS1's own role in this story of urban transformation. Long before its affiliation with MoMA, PS1 began life as the Institute for Art and Urban Resources, an organization dedicated to renovating neglected buildings and transforming them into artist studios and exhibition spaces. It pioneered a model of culture-based urban development ubiquitous today.
In 1976, the nomadic organization settled into its current digs, an abandoned Neo-Romanesque public school building in the then-industrial area of Long Island City. Already by 1980, the arts complex, which at the time provided 24 low-rent studios to artists (at a rate of $40 to $90 per month), was identified as an incubator of gentrification. "That P.S. 1 has the distinction of being a key catalyst for Long Island City's revitalization is a fact that artists, strongly opposed to any kind of Soho-ization, would rather not dwell on," Bob Keating wrote in a New York magazine article on the newly trendy neighborhood, "It was not without appropriate irony that not long ago P.S. 1 mounted a show of photographs of Long Island City called 'Subject to Change.'"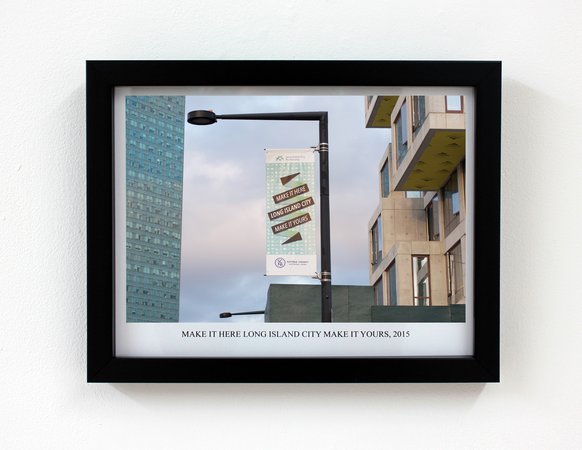 Park McArthur, Welcome to PS1, 2015. Digital C-print, 9 1/2 × 12″ (24.1 × 30.5 cm). Courtesy of the artist and ESSEX STREET, New York.
The glimpse of the bygone art world in Greater New York, then, isn't so much one of an irrecoverable "simpler time," but of one that is already complicated by the forces of uneven development that so many artists find untenable today. The art world's love affair with neglected urban architecture was originally an attempt to escape the white cube of the commercial gallery and intervene directly in urban life. Ironically, however, this fascination with post-industrial ruination, pioneered by Matta-Clark and his contemporaries, was reborn as the luxury loft aesthetic of urban gentrification.
Several early reviews of Greater New York have remarked on the exhibition's inescapably nostalgic tenor. But in posing the experimental practices of the seventies and eighties as the authentic foil to the contemporary art on view— to either extol a more radical past or authenticate the more recent work by virtue of proximity— "Greater New York" fails to address the fact that this past was itself deeply haunted by conflicting attitudes towards urban decay and blight. Way back in 1976, renowned critic Rosalind Krauss diagnosed this funerary temperament in PS1's inaugural "Rooms" show, the primal scene of Matta-Clark's Doors, Floors, Doors:
"The ambition of the works is to capture the presence of the building, to find strategies to force it to surface into the field of the work. Yet even as that presence surfaces, it fills the work with an extraordinary sense of time-past…In the piece by Matta-Clark the cut is able to signify the building—to point to it—only through a process of removal or cutting away. The procedure of excavation succeeds therefore in bringing the building into the consciousness of the viewer in the form of a ghost."