As we gear up to inhale hot dogs, nurse our post-beach sunburns, and hold our breaths as drunken neighbors attempt fireworks this Fourth of July, we turn our attention towards the independance day of a country across the globe: Hong Kong. Known as Establishment Day, and celebrated yearly on July 1st, this holiday commemorates the day that, in 1997, the United Kingdom transferred power over Hong Kong (which the British had governed as a colony since 1841) to the People's Republic of China. The leader of the People's Republic of China at the time, Deng Xiaoping, asserted that there would be "one country, two systems," meaning that while Hong Kong would be part of China, the semiautonomous territory could retain its own governmental, legal, economic, and trading systems.
So why were thousands of Hong Kong citizens protesting on Monday, on the 22nd anniversary of what's known as the "Handover"? To put it broadly, they feel that certain freedoms are in jeopardy. While the end of British rule in '97 marked a momentous occasion (because f*** colonialism), since Xi Jinping came to power in 2012, Beijing has been attempting to control Hong Kong through endorsing certain government representatives and blatantly limiting free speech. More specifically, in 2014, Beijing restricted Hong Kong's direct elections, announcing that they could still vote for their own leader, but had to choose from a pool of candidates acceptable to the Communist party. Thus, the Umbrella Movement was born, (remember seeing these large-scale demonstrations all over social media?) its name referencing the people's use of umbrellas as a defense against the Hong Kong Police's use of pepper spray to disband crowds.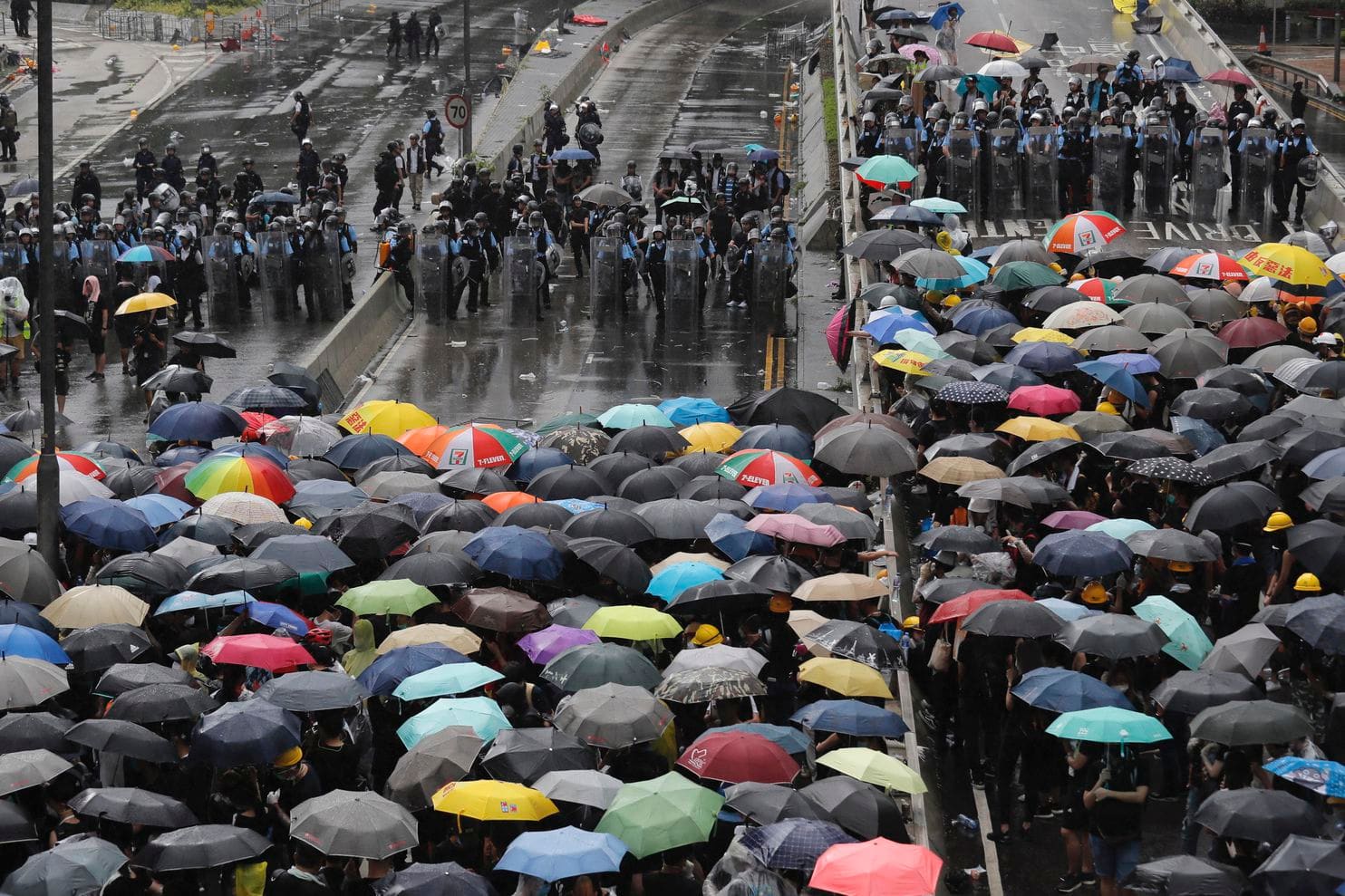 Image via The Washington Post.
That's only one example of a series of questionable moves that the Chinese government has pulled these past few years, resulting in a massive outcry from Hong Kong's public. According to media groups, The Joint Declaration—an act signed in 1984 that guarantees a free press to legally exist—is being weakened. Many books banned in Mainland China aren't found in Hong Kong now either, and it's becoming harder for some bookstores to print and sell books on politics and history. Also, five members of Causeway Bay Books (a store in Hong Kong selling books about Mainland Chinese politics) disappeared in 2015. In 2016 it was confirmed that they had been taken into custody by Guangdong provincial authorities.
The most recent shade thrown by the Chinese government—that's motivated protesters to re-take to the streets—came in the form of a proposed extradition bill that would make it easier to send people to Mainland China for trial. Several protests in June lead to Carrie Lam, Hong Kong's chief executive, postponing the bill. But that's only temporarily; so on July 1st activists continued to publicly denounce the bill that could be reintroduced.
On June 10th, approximately 100 arts organizations, like Galerie Ora-Ora, Gallery Exit, Karin Weber Gallery, and the art collective 1a space, participated in protests against the proposed legislation. This inspired us to revisit 1a space's 2017 exhibition "Talkover/Handover 2.0" which responded to the 20th anniversary of the Handover. The second iteration of a 2007 Asia Art Archive project, the exhibition examines changes in Hong Kong's social and cultural landscape since 1997, looking at art within a post-Handover context. Artists were selected through an open call for proposals based on their work's relationship to the following themes: Sustainable Development of Independent Artists-run Space, Censorship, Art in Politically Sensitive Times, Art Labour and 'Localism'.
For a better understanding of how the legacy of the Handover is affecting culture in Hong Kong, here we discuss five stand-out works from the exhibition:
YIM SUI-FONG
Fall Like a Feather (2017)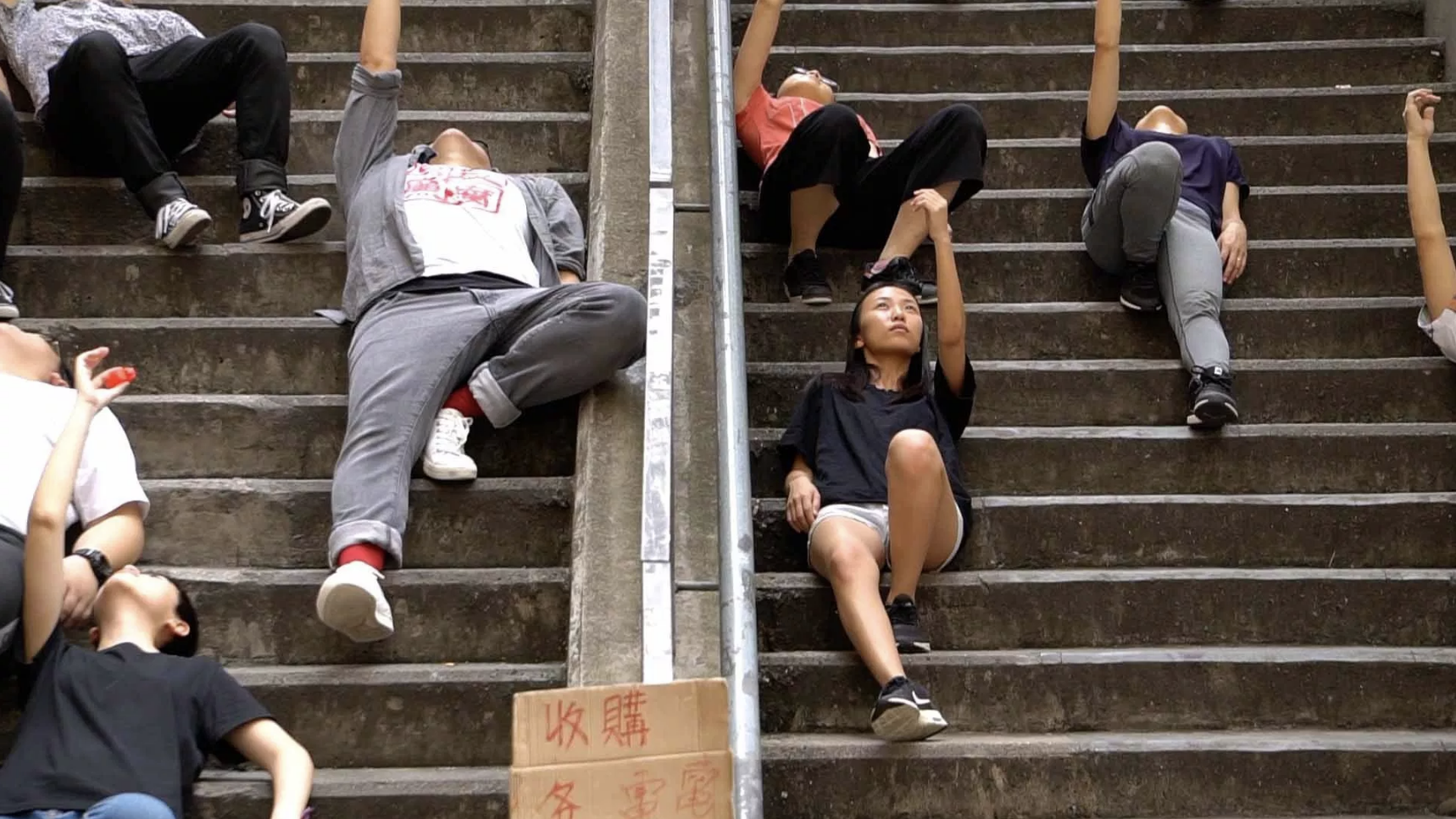 Image via the artist.
Yim Sui-fong's series of individual performances relate physically falling with history, in the hopes of fueling dialogues around signs of fate and personal control. The artist's website poses questions associated with the piece, like, "How can a fall become political? Can something be politically poetic and poetically political at the same time? Can an embodiment-performative act be a mirror to reflect current social-historical background?"
TSANG TAK PING
Six Scenarios of Mindful Practice: Ego-centric Suffering, Severe Attachment (2017)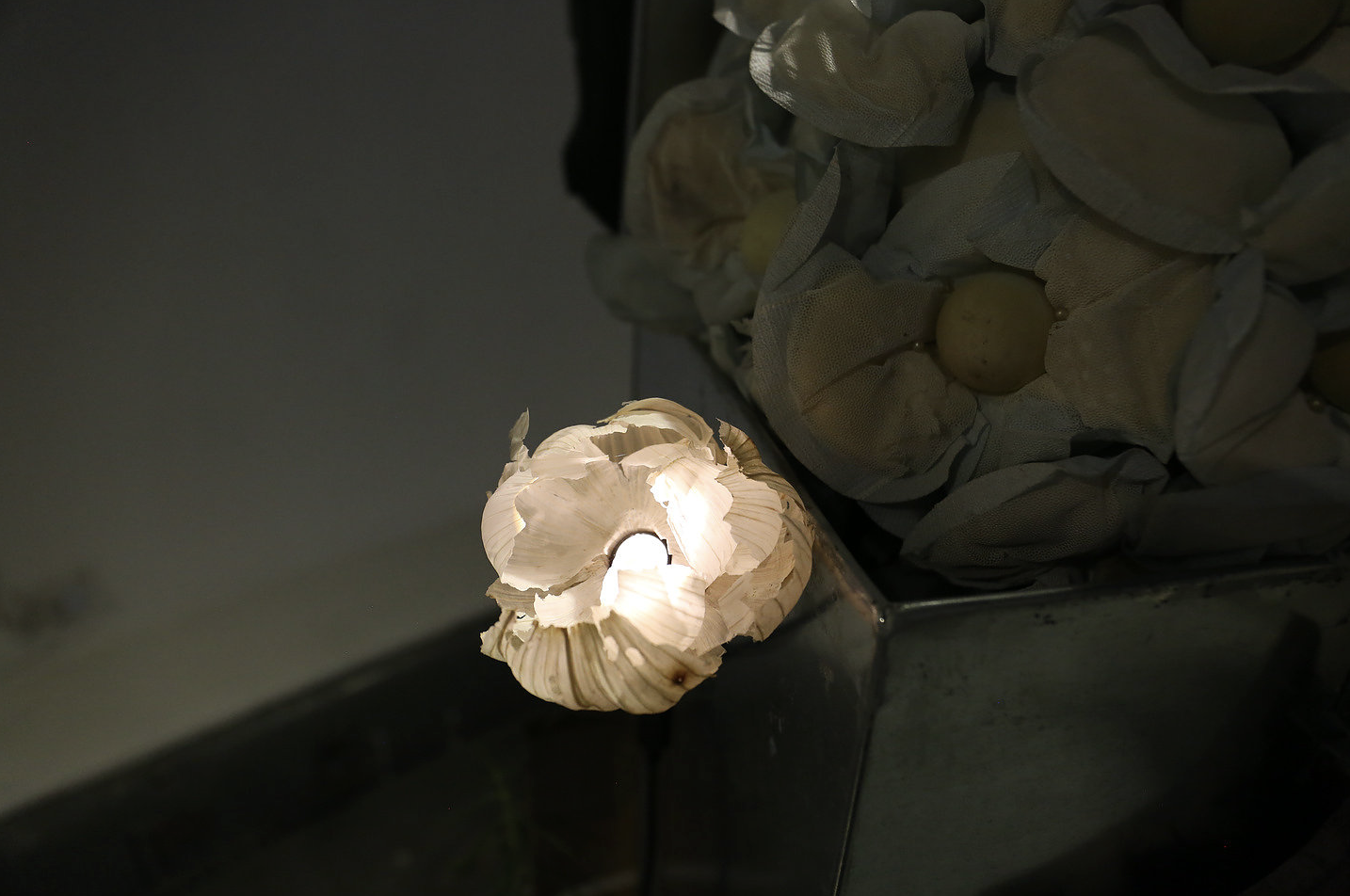 Image via oneaspace.org.hk
Consisting of several assemblages that the artist put together while looking back on his life, one made up of unused menstrual pads knitted together to create a blooming flower, Tsang Tak Ping's piece acts as a reflection of the Hong Kong psyche. Although Hong Kong is merely a small island on the world map, his work presents the territory as an active financial hub that has been influenced politically and militarily by Britain, Japan, and China.
LAW YUK MUI
Project 123: Is It Raining, what time is it there? (2017)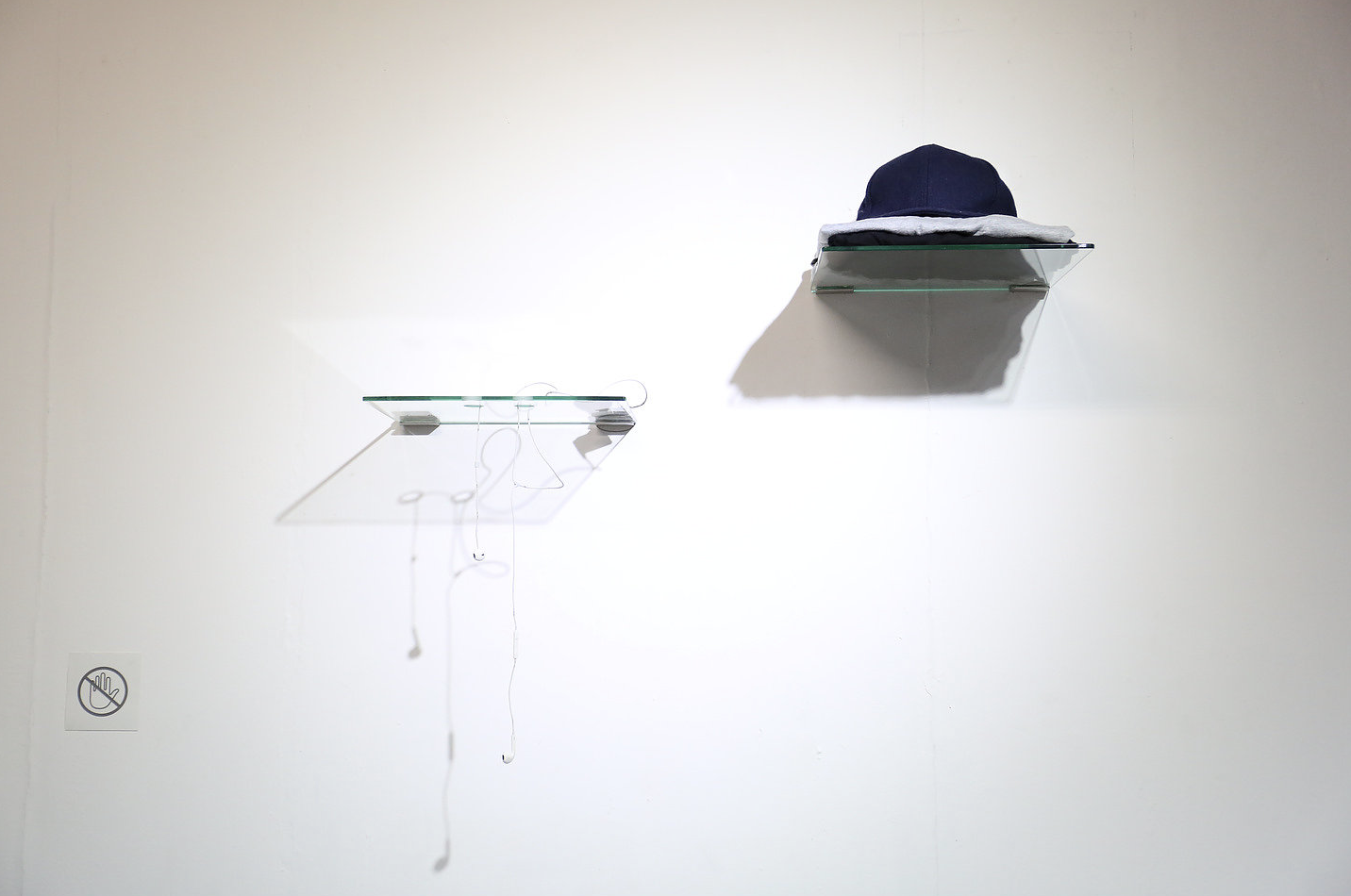 Image via oneaspace.org.hk
Created by the voice of a factory worker who accidentally taped on a set of electronic recorders that she purchased online, Project 123 repurposes the static command of "1,2,3" to assess the values of labor and mass production. The work also illustrates the blurring of Hong Kong and Mainland Chinese identities.
FLOATING PROJECTS COLLECTIVE
Implementation Report – Floating Projects art production site (2017)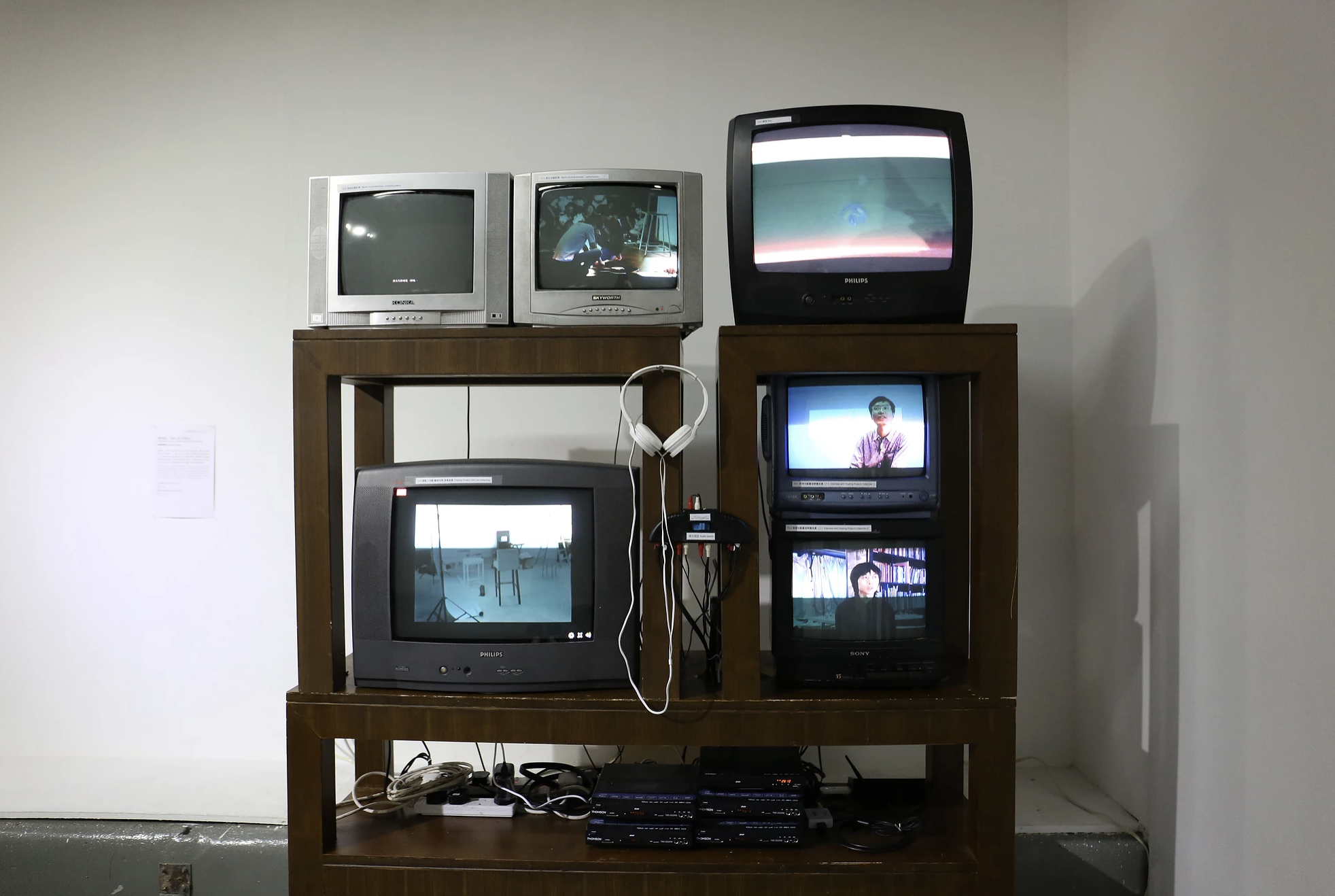 Image via oneaspace.org.hk
Floating Projects collective, which works with dozens of emerging artists, sets out to answer a basic question: "What can artists do with an empty unit in an industrial building with institutionally and physically defined constraints, and how do artists survive beyond the commercial gallery system and a public funds-dependent charity model?" Their piece in the Talkover/Handover exhibition also speaks to this question, looking into different modes of survival within the art world.
ZOIE YUNG & LO LAI LAI
Artisan Brewery Project (2017)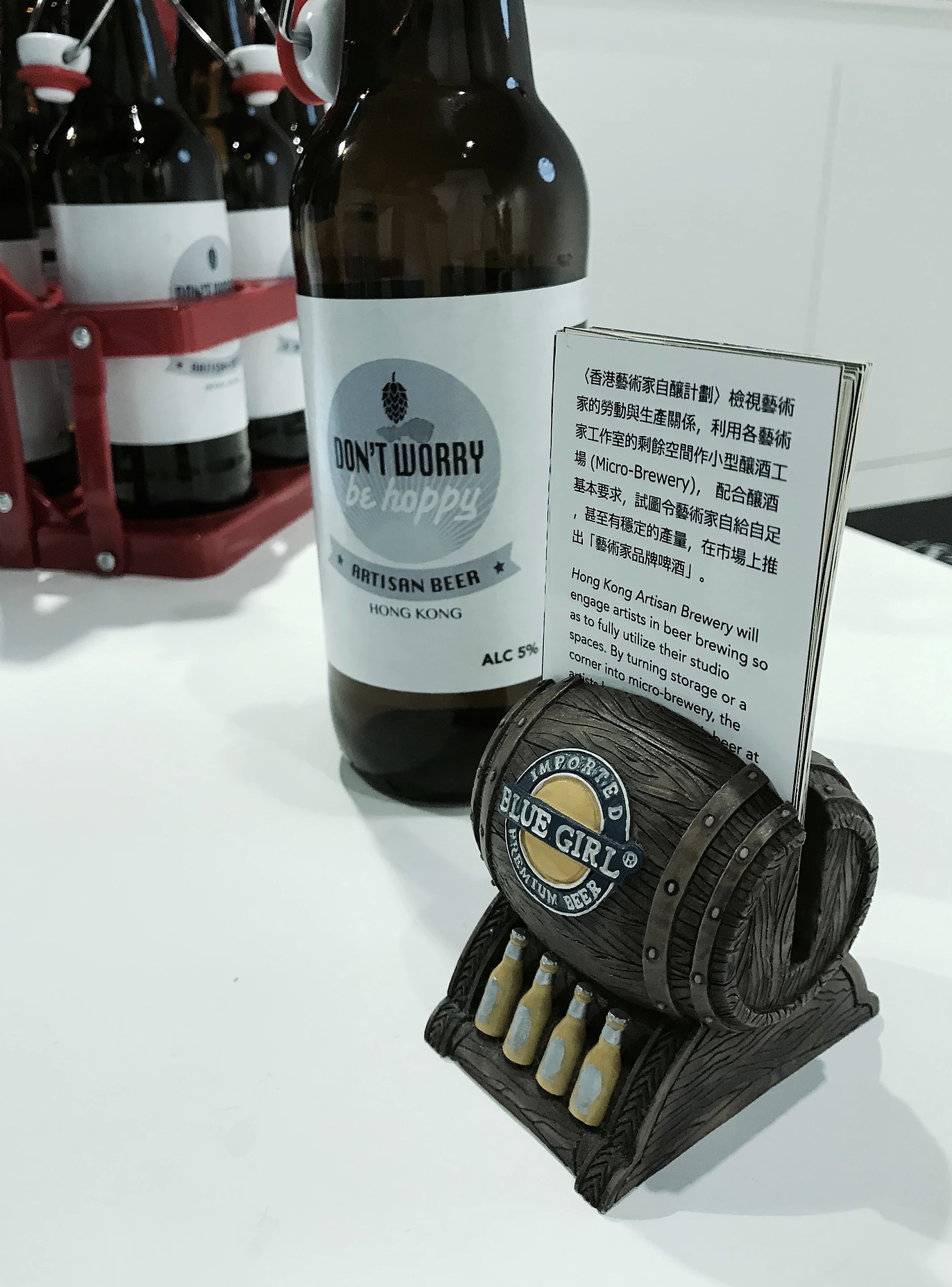 Image via oneaspace.org.hk


In their Artisan Brewery Project, Zoie Yung and Lo Lai Lai engage artists in brewing beer as a means of fully utilizing their studio spaces. Their work addresses the theme of artistic labor, and sets out to create new resources among artists.
RELATED ARTICLES:
Hong Kong Is About to Become The Gateway To Contemporary Art in Asia—Here's Why
The 5 Best Places to Eat & Drink During Art Basel Hong Kong
Future Museums: 8 Groundbreaking Art Institutions Opening In the Next Three Years