Last week, 52 rather shabby and decrepit wooden doors went up on the block at Guernsey's auction house, fetching anywhere between $3,000 to $100,000 a piece. Though they're not much to look at—Arlan Ettinger, president of Guernsey's remarked that they are "anything but beautiful"—it's what happened behind those doors that had bidders clamoring and awaiting that pregnant silence that follows the winning bid.

These doors are no ordinary doors. For auction attendees, they are (or had been) the physical portals into New York's bohemian renaissance, the paint-peeled gates of a bygone heaven of sex, drugs, and unbridled creativity (there's rock and roll in there too) that was the Hotel Chelsea.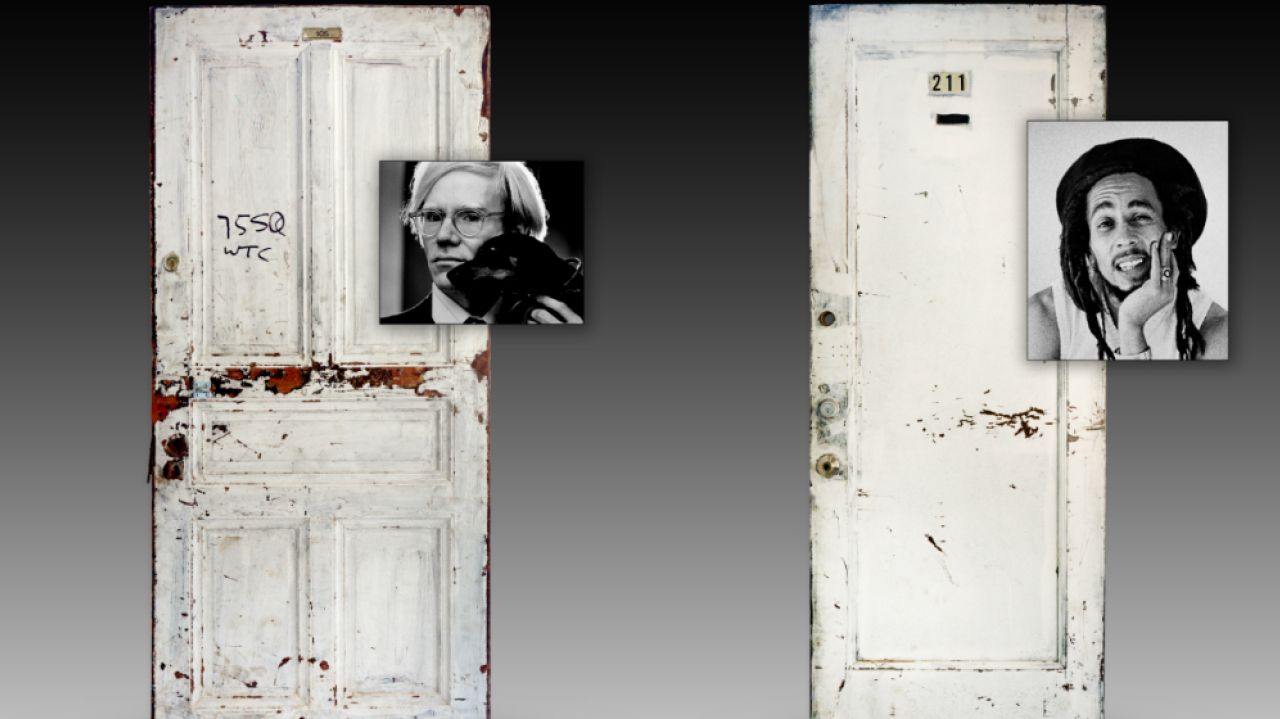 Former doors to Andy Warhol and Bob Marley's rooms. Image via Guernseys.

For $100,000, one could own the door to Room 225, where Bob Dylan had penned the entirety of his record "Blonde on Blonde" in 1965. $85,000 bought one bidder Room 424's door, behind which Janis Joplin and Leonard Cohen had their famous tryst, immortalized by the line "giving me head on an unmade bed while a limousine waited in the street" in Cohen's Chelsea Hotel No. 2. The door to where Andy Warhol filmed Edie Sedgwick for his iconic 1966 film Chelsea Girls went for $52,000. A door that once opened for Madonna went for $13,000, as did one for Jimi Hendrix. Meanwhile, the door to The Doors' Jim Morrison only fetched $7,500 which is shocking considering the incredible, synchronistic entendre opportunities available to the doors' new owner (an invaluable asset, by our estimates).

Equally alarming is the fact that these nearly priceless artifacts of New York cultural history were initially destined for the dump. It was only through the work, and plain good-looking-out of former Hotel Chelsea tenant Jim Georgiou that these doors were salvaged over five years ago, after they were thrown out onto the curb during the hotel's renovation (which, to this day, is still incomplete). Homeless at the time of his discovery, Georgiou insisted that half the proceeds from the auction be donated to City Harvest, a nonprofit organization that collects and redistributes uneaten food from restaurants, bakeries, and greenmarkets to those in need. He told Artnet, "Having been homeless myself, I appreciate all City Harvest does to help those who are in need of help, and giving back to a charitable organization, to me, honors the memory of the Chelsea. It was a place that was initially designed to be a collective—where everyone shared what they had with their neighbor."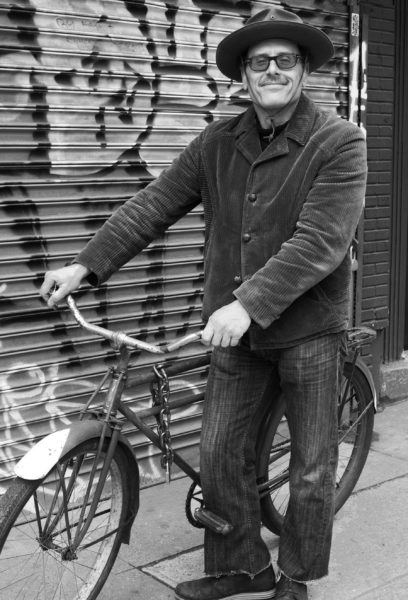 Jim Georgiou. Image via The Villager.
From its inception, Hotel Chelsea was meant to be a great, fantastic experiment in art, socialism, and community. Fueled by the aftermath of the 1873 stock-market crash, an architect by the name of Philip Hubert started drawing up plans for new, alternative ways of living. Heavily inspired by the socialist, utopian philosophies of French philosopher Charles Fourier, Hubert developed a self-contained settlement that would cater to every possible professional and personal need of its tenants. Effectively, what Hubert created was New York's first housing co-op, where tenants would save money by sharing utilities and services. The Chelsea location opened its doors to tenants in 1884, with apartments already reserved for the electricians, carpenters, and laymen who built the 12-story building. Hubert also filled the Chelsea with artists, writers, and musicians, and had even converted the top floor into 15 artist's studios, filling its lobby with Hudson River School paintings.
The co-op, however, didn't last long. Not immune to the hazards that befall most utopias, what the Chelsea co-op had in ideals, it lacked in financial sustainability, and in 1905, the bankrupt building was forced to convert itself into a luxury hotel. Still, the Fourierian philosophy persevered. Likely attracted to its socialist provenance, and relatively cheap rates, the Hotel Chelsea continued to provide room and board to some of the most preeminent figures in culture. It housed nearly every literary genius of its time, from Mark Twain and Tennessee Williams to Allen Ginsberg, Valerie Solanas, and Simone de Beauvoir. It's where Jack Kerouac penned his singular novel On the Road in one benzedrine-fueled, 120-foot-long scroll, where Burroughs wrote Naked Lunch, and where Arthur C. Clarke wrote the classic sci-fi 2001: A Space Odyssey.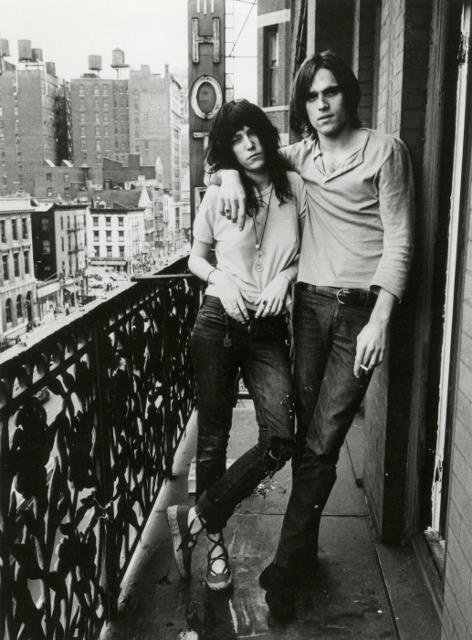 Patti Smith and poet Eric Anderson on the balcony of the Hotel Chelsea. Image via Morrisson Hotel Gallery.
Innumerable artists also filled the building, from Jean Tinguely to Julian Schnabel to Ellen Cantor, Diego Rivera, Jackson Pollock, Willem de Kooning, Robert Mapplethorpe, Patti Smith, and Henri Cartier-Bresson, to only name a small few. Yves Klein had even written an entire manifesto, titled "Manifeste de l'hotel Chelsea" in 1961. It housed the painter Alphaeus Philemon Cole, who at the time of his death in 1988, was the oldest verified man to ever live (he was 112 years old). It was also where Sid Vicious allegedly stabbed his girlfriend and manager Nancy Spungen, resulting in her infamous, and widely debated death.

In its hundred years as a hotel, Hotel Chelsea has been a home to creative icons of nearly every ilk and passing generation, from the beatniks to punks, academics, junkies, prostitutes, and painters. The man at the center of this spiraling cultural storm was hotel manager Stanley Bard. The son of David Bard, one of the investors who took over the Chelsea when it was turned into a hotel, Stanley was the bohemian heart and soul of the establishment. In a 2011 oral history of the Hotel Chelsea run by Vanity Fair, resident and composer Gerald Busby described Bard as someone who "had a sense of who was really an artist. He also had a sense for rich dilettantes. He himself was a dilettante who wanted to be part of the artistic scene and wanted to be identified with it. So he became the landlord daddy for artists. It was an astonishing role that he created for himself. His relationship with every tenant was personal. That was the way he behaved—he took everything personally."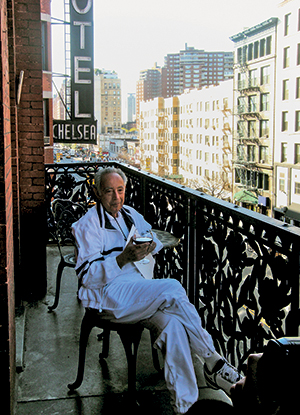 Stanley Bard. Image via Chelsea Now.
Bard would often allow the hotel's more creative occupants pay in paintings, manuscripts, or novels when they couldn't make rent. When photographer Timur Cimkentli fell behind, Stanley Bard even hired him as a bellman. In a 2011 interview, Cimkentli told NPR that Bard "was kind of like a huge leaf that kids could go under away from the storm, and that was the rarity of this hotel, that he would keep you on, he would see you, and you would owe him two months' rent and you would cry to him and he would say, 'Don't worry, keep painting, keep painting.'" Arthur Miller remembered Stanley Bard with this memory: "As we walked to the bathroom, I noticed a worn path down the middle of the carpet and what felt like coal dust crunching under my shoes. 'The carpet,' I started to say, but he cut me off. 'A new carpet is coming tomorrow,' he said with raised index finger, and one knew he had not thought of replacing the carpet until that very minute. Mr. Bard had a talent for overriding probability, an emotional fluency which sent his thoughts on swallow loops from subject to subject, a progressive, enthusiastic view of life… In a word, anarchy."
Stanley Bard oversaw (and turned many a blind eye to) all that happened at the Hotel Chelsea for over 40 years, up until 2007, when the heirs of the other two families that owned the hotel decided to force Bard out when he refused to sell the establishment. Four years after ousting Bard, the Hotel Chelsea was sold to real-estate developer Joseph Chetrit for approximately $80 million who began what would become a lengthy, complicated, and near-impossible task of renovating the living monument. He gave up after two years, and the Chelsea changed hands once again. It is currently owned by the boutique-hotel chain King & Grove, who are also struggling with its renovation.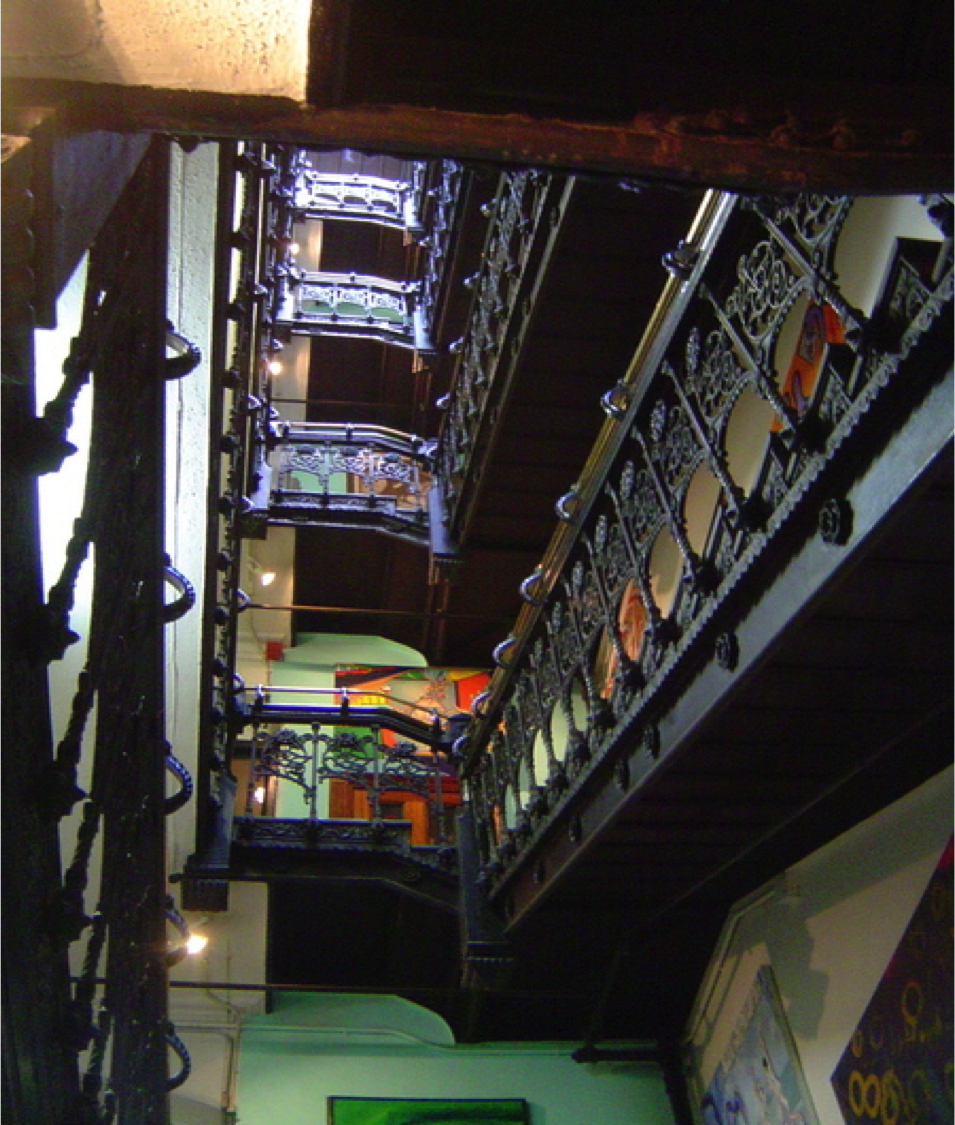 The hotel's iconic stairwell. Image via Macaulay Honors College.
These renovations mostly involve bringing the ancient building up to code, and in 2011, the hotel stopped taking any new reservations. The remaining 48 long-term tenants meanwhile, have been rightfully wary of the changes in a time when cultural landmarks like CBGBs, and entire artist neighborhoods have been bought-out, gentrified, and turned into high-end boutiques. That fading memory of a bygone era is part of what is motivating people to pay tens of thousands of dollars for glorified planks of wood. One of the auction attendees was former tenant and actress Elizabeth Pugh, hoping to buy up her old door—Room 828, which also once belonged to Herbert Huncke, the poet who coined the term "Beat Generation" and gave Burroughs his first fix. She told Vice, "New York is a state of mind and it's important to preserve that. To be here is very difficult. It's very sad. It's very emotional. I think that the building was unfairly raped. These doors are a significant aspect of that. It's a fine line between this coveting of fame and fanning those flames of certain people's fame."
With renovations set to complete in 2019, the future of the Hotel Chelsea remains uncertain. While it is still home to many creative tenants who relish in the building's history, even when Jim Georgiou was a tenant five years ago, the monthly rent was about $1,100 and without a Stanley Bard offering unconditional support, financial flexibility, and lots of willful ignorance, it's highly unlikely that the hotel will ever be the anarchic, freewheeling cultural epicenter that it once was. Still, Hotel Chelsea's romantic legacy has saved it in the past. Not unlike Houdini's grave, perhaps the lingering magic lies in the Hotel Chelsea's aura, attracting all those who know, and continue to remember it well.

[related-works-module]

RELATED ARTICLES:
Ziggy Played Guitar (And Critiqued Art): David Bowie's Far-Out Influence on the Fine-Art World
Warhol Had a Wife? 10 Things You Didn't Know About the Pop Master
How to Collect Like Brooke Shields—Actress, Model, and Studio 54 Regular Turned Art Collector