We recently showed you how to affordably collect artists represented by Gagosian. So let's talk about another artworld big hitter, David Zwirner. (Their healthy rivalry was written about recently in a Vanity Fair article entitled "The Ultimate Art-World Cage Match." Let's just say the duel of the mega-dealers isn't exactly low stakes.) The artists represented by David Zwirner are as blue chip as they come—but that doesn't mean their work is completely out of reach. Here on Artspace, collect affordable works by some of Zwirner's most coveted artists.
THOMAS RUFF
Nudes ga08, 2001
$4,407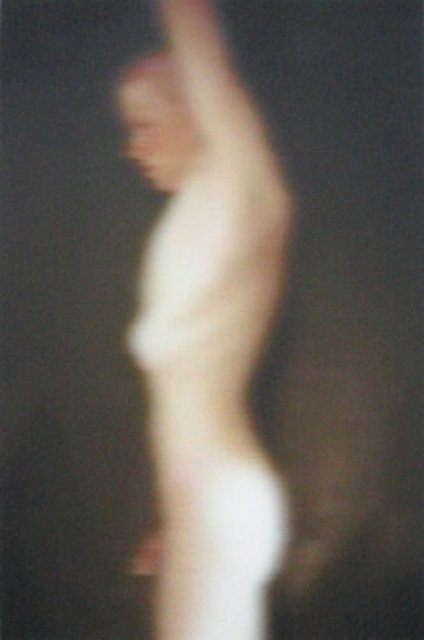 If you feel like a bit of a voyuer when looking at Thomas Ruff's Nudes series, you're not alone. Ruff, one among the most influential living photographers today, created this series by obscuring pornography found online to comment on voyeurism, exhibitionism, and sex mediated by the screen. The German artist has broken boundaries all along his career, starting in the 1980s with straight photographery, to employing found images in the '90s, to, more recently, using 3D imagery. As technology shifts and transforms, so does Ruff's work, reflecting a deep and commited interest in the ways in which we see images. (For more on Ruff, check out our close look at his career, or read our 2013 interview with the artist.) Catch Ruff's solo at David Zwirner in Hong Kong until June 29—and grab this photo (others from the same series can go for $50,000 at auction) for less than $5k.
DIANA THATER
Untitled, 2000
$750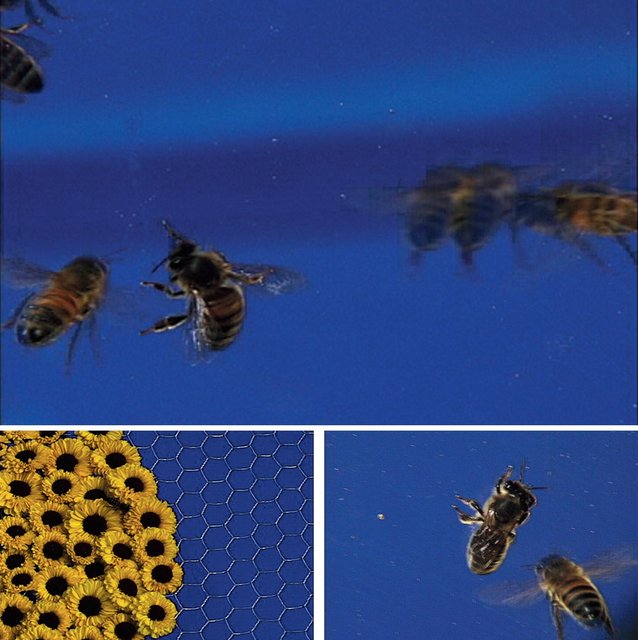 A video artist known for melding themes of nature, technology, and the uncanny (or "magic," as she puts it), Diana Thater has steadily evolved her work over the past 20 years to extend beyond the flat screen on the wall and into the gallery space. The artist will inaugurate Boston's brand new Watershed, the Institute for Contemporary Art's brand new annex, with an immersive multi-media installation centered around dolphines. The isntallation, opening July 4, is called "Delphine," was also shown at LACMA in the fall of 2016 in a major mid-career survey of Thater's influential work.
WOLFGANG TILLMANS
Freischwimmer TFL 150, 2013
$293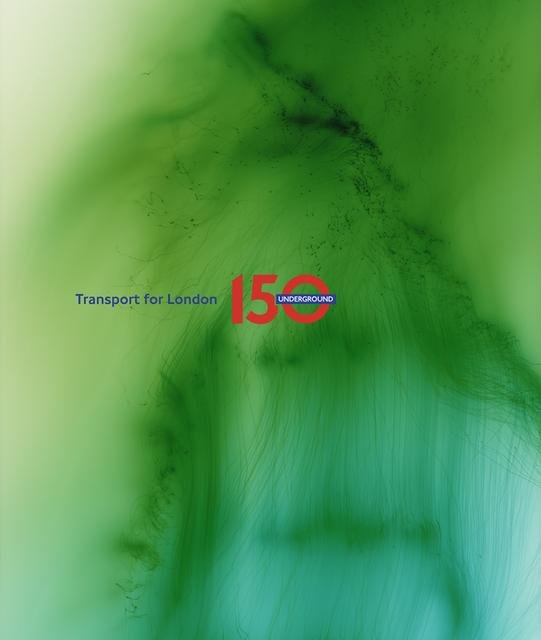 For Wolfgang Tillman's Freischwimmer series, the artist produced non-representational photographs without the use of a camera or a negative. Instead, the German artist (who in 2000, became the first photographer and the first non-Briton to win the Turner Prize) created the images in the darkroom, using the chemicals and processes unique to photography, without injecting any of the content or subject matter that make photography reflective of reality. While artworks from this series are in high demand (and come with a hefty price—well over $100k), this artwork commissioned for the London Underground's commemorative 150th anniversary is a (very) accessable alternative for less than $300. When Tillman was comissioned to make this work, he explained that he thought of the act of traveling in a Tube car, and more specifically, his mental state in the moment—his mind drifts from urban life to a quiet, imaginative world. We can't help but get a little lost in his work, too.
CHRIS OFILI
Untitled, 2000
$5,200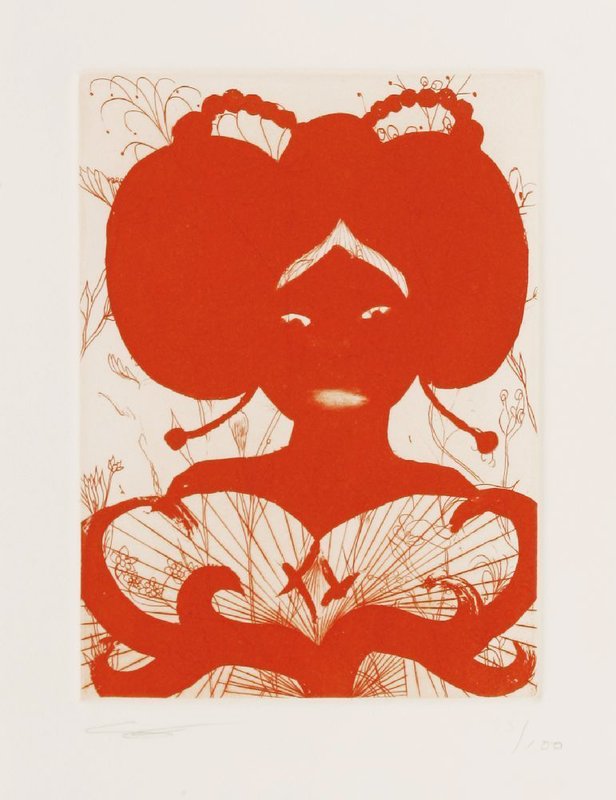 A member of the influential Young British Artists group, Ofili is best known for colorful figurative paintings rendered in his distractive graphic style. Many of his works incorporate various collaged elements, including most notably the elephant dung that earned him a well-publicized rebuke from New York City's then-mayor Rudy Giuliani for being "sick." Despite the controversies his more subversive pieces have engendered, Ofili was awarded the prestigious Turner Prize in 1998—the first black artist to do so. He's since gone on to have solo shows in museums and institutions around the world and has his fourth solo at David Zwirner (on view until July 19) at the 34 East 69th Street location in New York.
JAMES WELLING
Seafoam, 2013
$750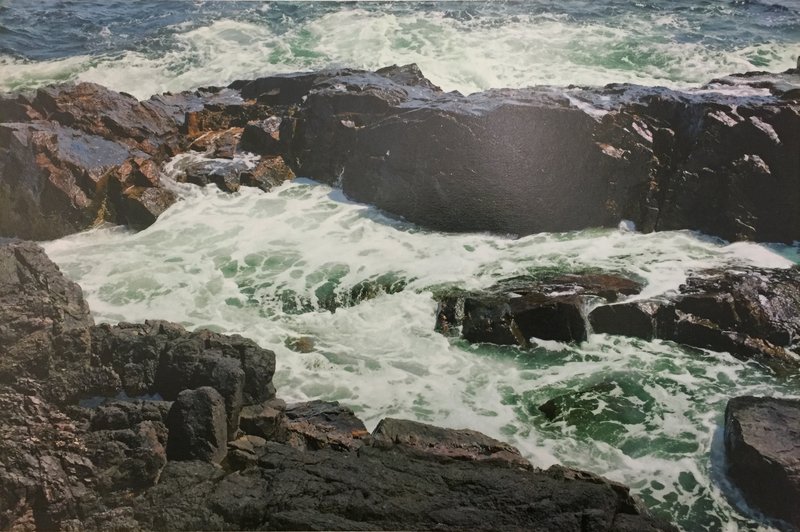 Since the 1970s, photographer James Welling has been a seminal force in testing the boundaries of photography, producing a vast body of work that is endlessly curious about what the medium can do. Reflecting on his critical role in bringing photography into the realm of fine art, Welling told BOMB magazine in 2004, "When I did something with photographs, it was to make a piece, not a picture." The print Seafoam is a still from Welling's sentimental film Seascape, previously screened at David Zwirner. Highly autobiographical, the film itself is an homage to the artist's grandfather, incorporating 16mm footage of the coast of Maine, shot by the senior Welling as a reference for his oil paintings. 85 years later, James Welling colorized the original 16mm film using his grandfather's oil paintings as swatches. To complete the film, Welling's brother composed a soundscape using three accordion tracks and beach pebbles on a large drum. Collected internationally by nearly every major arts institution you could think of (the Metropolitan Museum of Art, the Centre Georges Pompidou, the Kunstmuseum, LACMA… the list is extensive), James Welling photographs offer collectors a critical piece of art history.
JEFF KOONS
Balloon Dog (Orange), 2015
$9,000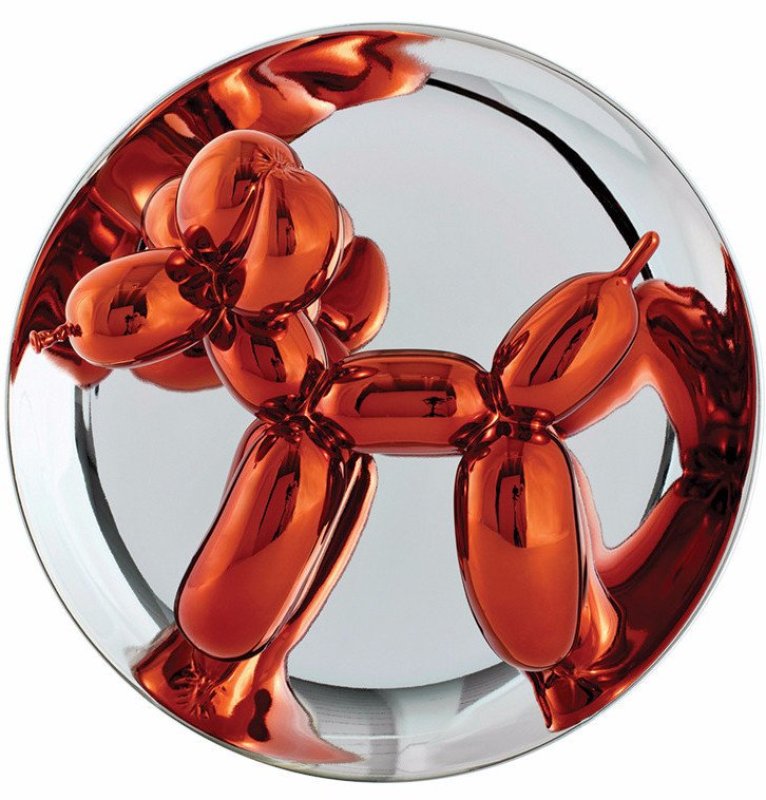 As we're sure you already know, a balloon sculpture by Jeff Koons officially became the world's most expensive work by a living artist when it sold for $91.1 million at auction last month at Christie's. According to Christie's, "At once cute and imposing," the stainless still sculpture is "reflecting us, incorporating us within the ever-shifting drama that plays out on its surface." The same can be said for Koons' Balloon Dog, which comes in its original box, only opened to check edition number.
JORDAN WOLFSON
Untitled, 2015
$1,070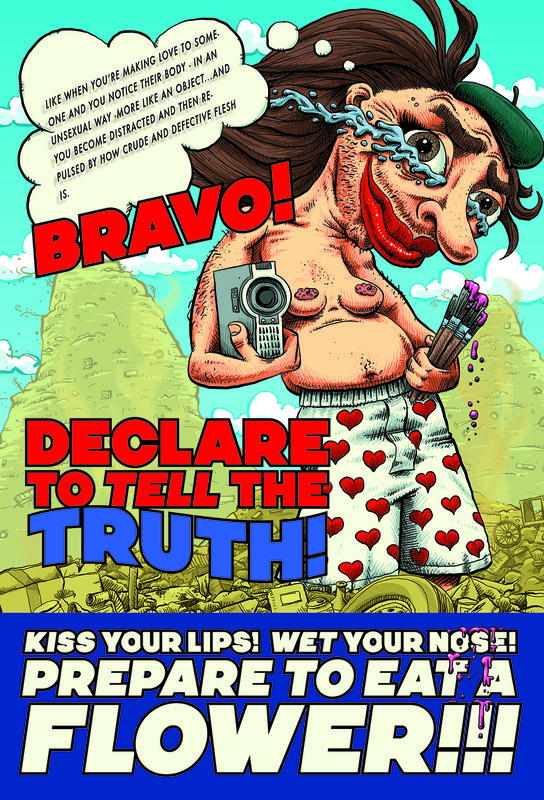 Jordan Wolfson is undeniably a rising star in the art world. Spanning media including video and film, sculptural installation and virtual reality, his sensational works are characteristically controversial. His provocatively titled Colored Sculpture (2016) (which debuted at David Zwirner and has since travelled to the Tate Modern in London) and his 2017 virtual reality piece Real Violence at the 2017 Whitney Biennial are Wolfson's most recent spats with controversy over the violent nature of the works. Still, Wolfson's works remain jarring and irreplaceable contributions to how we perceive and relate to violence and entertainment, and how the two are often blurred in contemporary society. That being said, this untitled 2017 print is relatively lighter fare—in fact, it's kind of cute! This edition was printed by Parkett—a globally renowned studio that collaborates directly with top-tier artists to create truly spectacular editions that can be anything from prints, objects, installations, to unique works of art. With 101 books and 270 in-depth artists' collaborations published, Parkett is a one-of-a-kind time capsule and a venerated archive of contemporary art.
WILLIAM EGGLESTON
Atlanta, 1983
$6,000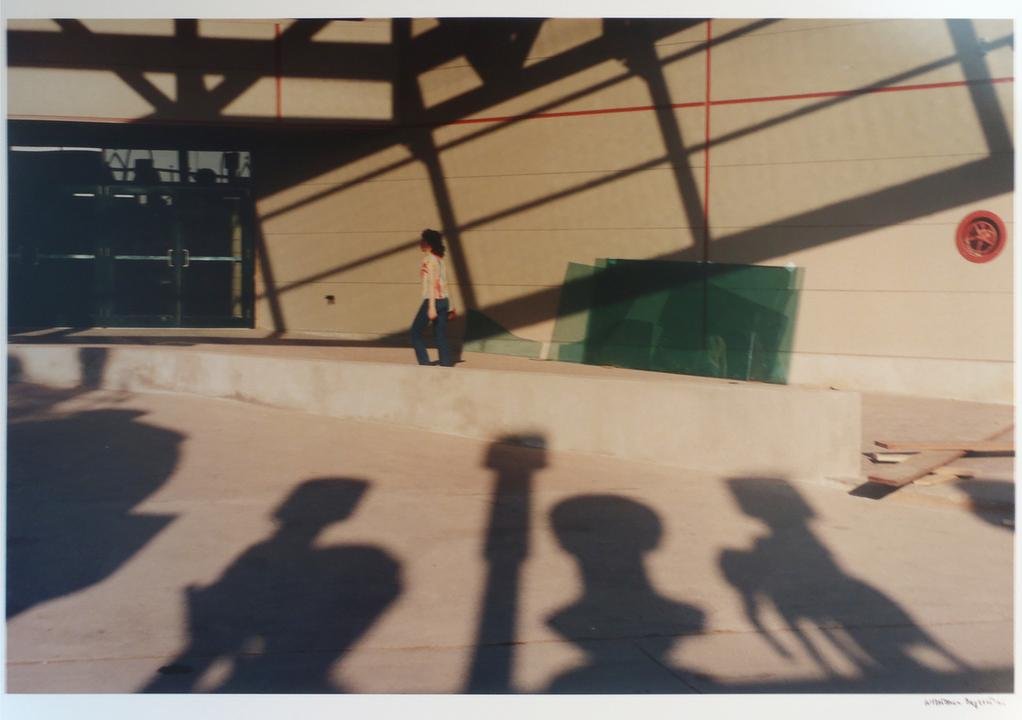 A photograph lie this may seem a bit mundane... and that's the point. William Eggleston is renowned as a pioneer of contemporary photography, having legitimized the use of banal, trivial subject matter within the realm of fine art. His landmark 1976 solo show at the Museum of Modern Art is widely considered a watershed exhibition in the history of his medium, having marked the moment when color photography—which had previously been dismissed as commercial—became accepted into the cannon. This 1983 photograph is classic Eggleston... it's also cheap as heck. Tell your friends you bought an Eggleston for this price and they simply won't believe you.
MAMMA ANDERSSON
Tropic Circles, 2013
$1,800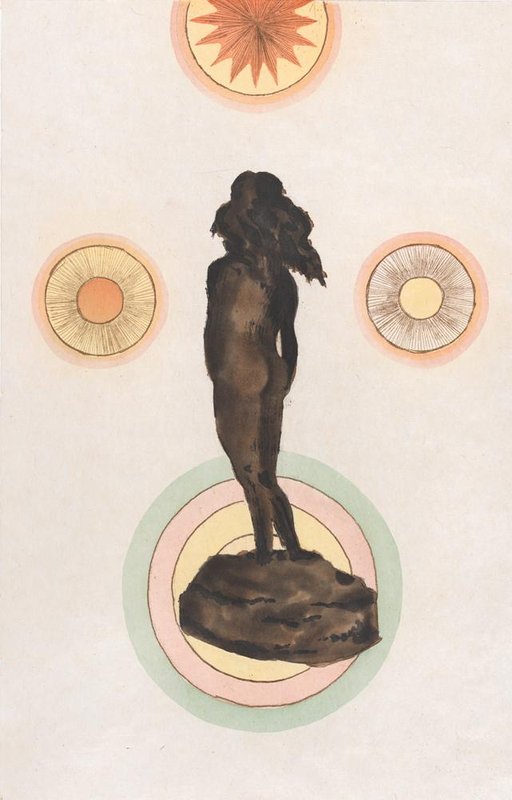 Swedish artist Mamma Andersson paints everyday scenes informed by her upbringing in the Scandinavian forests. Employing loose washes to illustrate theatrical domestic settings inspired by the cinematic imagery of Dick Bengtsson, Andersson makes prints, paintings, and drawings that channel dreamlike narratives. Andersson has also tried her hand at curation. She was one of seven artists asked to curate their own shows for the 33rd Biennial de São Paulo last year. For her 2018 "Mamma Andersson: Memory Banks" at the Contemporary Arts Center in Cincinnati, she included a curated selection of elements—books, newspapers, films—in the exhibition.
RELATED ARTICLE: