Devin Kenny's current solo show at the Goethe Institut, "REVENGE BODY POLITICS (THE REPO MAN SINGS FOR YOU, THE SPEAKING IMPLEMENT READS FOR FILTH)," looks at the logistical systems and flotsam produced by the prison industrial complex, in which blackness equals assumed criminality. A stack of "official" prison cassette tapes––screw-less, transparent, sealed, and including Kanye West's Yeezy––sit next to a zipped translucent backpack containing a yellow toy gun. The translucent bag trend began this past spring with Karl Lagerfield's translucent Chanel tote, which, noted The Cut, was designed to showcase the purse's contents: "A clear handbag hides nothing." The trend functioned on a presumption of innocence: only those who always have nothing to hide can showcase the lipstick, Kleenex, phone charger, whatever. But as Kenny noted in a Twitter direct message, the clear clothing trend actually "started popping on tumblr like six years ago. When I saw it I was bugged out because it was mandatory for a time in Chicago public school to have clear or mesh backpacks as a way I guess to prevent gang violence."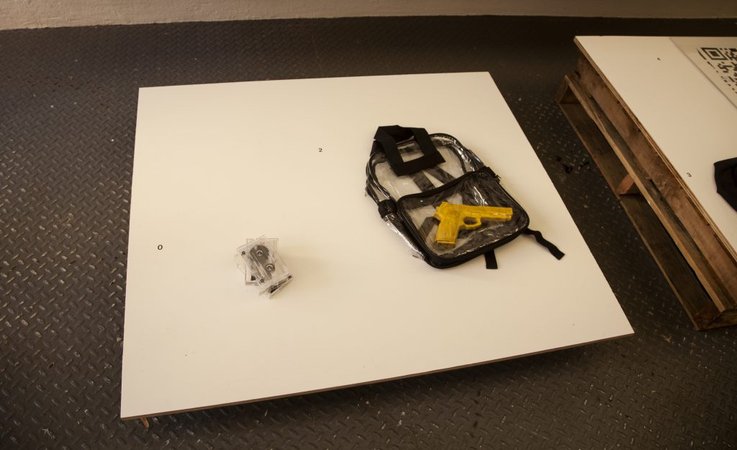 Documentation from Revenge Body Politics (all works 2018), image via Ludlow 38
The Cover band series (all works 2014) is, as Kenny pointed out, made up of "three t-shirts from a now defunct discount store called Big D's," which was on 14th street before getting gentrified out. "If it weren't for the Gutter," reads the short-sleeved grey cotton t-shirt comprising Cover band(1), "my mind would be Homeless!" Gentrification destroys the public life and space necessary for art production (i.e. the shirt's "gutter") by making neighborhoods more policeable––that is, by forcing low-income black people out (making them "homeless," to quote the shirt again.) New York gentrification has been a theme in Kenny's work for a while now––one piece at a recent group show at Artists Space was titled Do You Even Talk to Your Neighbors? (2018), while the viral videos and clickbait comprising Kenny's Facebook feed (such as "Bus Driver Suspended for Letting a Monkey Drive," "How to Make Tonkotsu Ramen") are an informal archive of the "public" life that finds ways to exist despite this URL/IRL gentrification. Memes and listicles, especially those designed to "go viral," are framed as an accidental form of mass media, bizarre common threads in an increasingly bitter, disenchanted media sphere.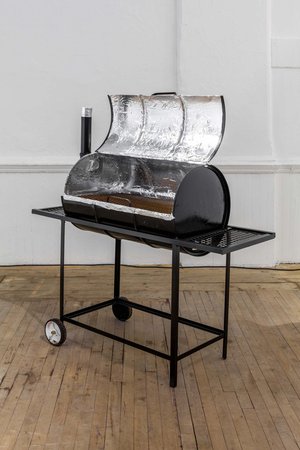 Do You Even Talk to Your Neighbors? (2018) by Devin Kenny, image via Artists Space
A network of puns, of things that are always already or almost each other, runs through Kenny's practice. Like a song lyric (Kenny is also a musician) or crossword puzzle, "REVENGE BODY POLITICS (THE REPO MAN SINGS FOR YOU, THE SPEAKING IMPLEMENT READS FOR FILTH)," like all of his puns, can be broken down, but not all the way. Revenge Body is Kourtney Kardashian's reality television show about getting in shape to get revenge on someone who has harmed you; "body politic" is a medieval metaphor that likens nations to corporations, although it's now colloquially used to reference groups of citizens; "body politics" describes how bodies are subject to various forms of social control. Kenny wrote that the titular "speaking implement" was "a reference to how Marx categorized the Africans made slaves in the New World while explaining why they are not the agents of change (the new proletarian class is though)." To "read for filth," a slang phrase invented by black queer people, means to thoroughly and comprehensively insult. The speaking implement 'reads for filth' is perhaps a punning on the opening line of Fred Moten's In the Break: the Aesthetics of the Black Radical Tradition. "The history of blackness is testament to the fact that objects can and do resist." Like Moten, Kenny looks at blackness as that which has been rendered less-than-human through what Orlando Patterson calls "social death," and that which thus challenges and exceeds white Enlightenment conceptions of "the subject." To quote Moten again, blackness "is a strain that pressures the assumption of the equivalence of personhood and subjectivity," though it also means reparations.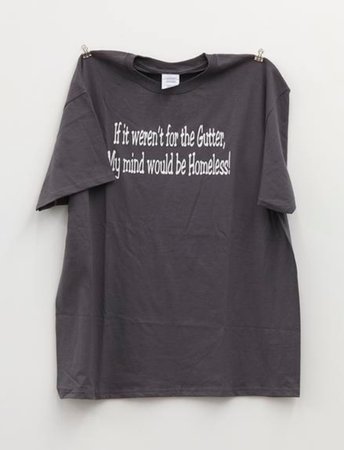 Cover band (3) (2014) by Devin Kenny, image via AC Gallery
In terms of curation, the exhibit could have benefited by foregrounding some of Kenny's intricate reference points. The press release mostly limits itself to a single text, which doesn't feature heavily in Kenny's show or work in general. The text solemnly informs us, as if this weren't being said in a thousand different and more interesting ways by the work itself, and if this fact weren't just extremely obvious, that justice is colorblind. Revealing just enough of Kenny's reference points without giving the joke away seems like an important task to future gallerists and curators dealing with his ourobous-y punning, in which different things are the same because their common grammar is blackness, but blackness is itself never analogous to anything else.
RELATED ARTICLES:
You're Being Watched: Trevor Paglen on How Machine-Made Images are Policing Society and Changing Art History
Martine Syms's Master Class in Micro-Acting for the Youtube Age
Is a Laundromat the Best Place to Show Art? This NYC Nonprofit Makes a Strong Case For It