This time last year, nearly every publication was talking about, "a grapefruit shade of apricotty salmon" (as described by The Guardian) known as "millennial pink." While ultra violet is technically the official color of 2018 according to Pantone, if the booths at this year's NADA New York are any indication, our obsession with a flushed palette has not let up in the slightest (sorry purple enthusiasts).

There has been an evolution in the pink trend. This year's pink is markedly different from the brighter hue of a millennial yesteryear—it's almost as if the wear and tear of a full two years since the 2016 election has dulled our former favored, optimistic blush into a more subdued, comforting shade. "'Orchid' by Sherwin Williams" is the specific color on the walls of Disturb the Neighbors' booth. "It's definitely not millennial," gallery representative Grace Lerner told Artspace. "It's a much more domestic tone. I could see this shade in someone's home. Plus, we wanted something that would compliment the neon green and monochrome works [by Nicholas Moenich] and distinguish our walls from our neighbors."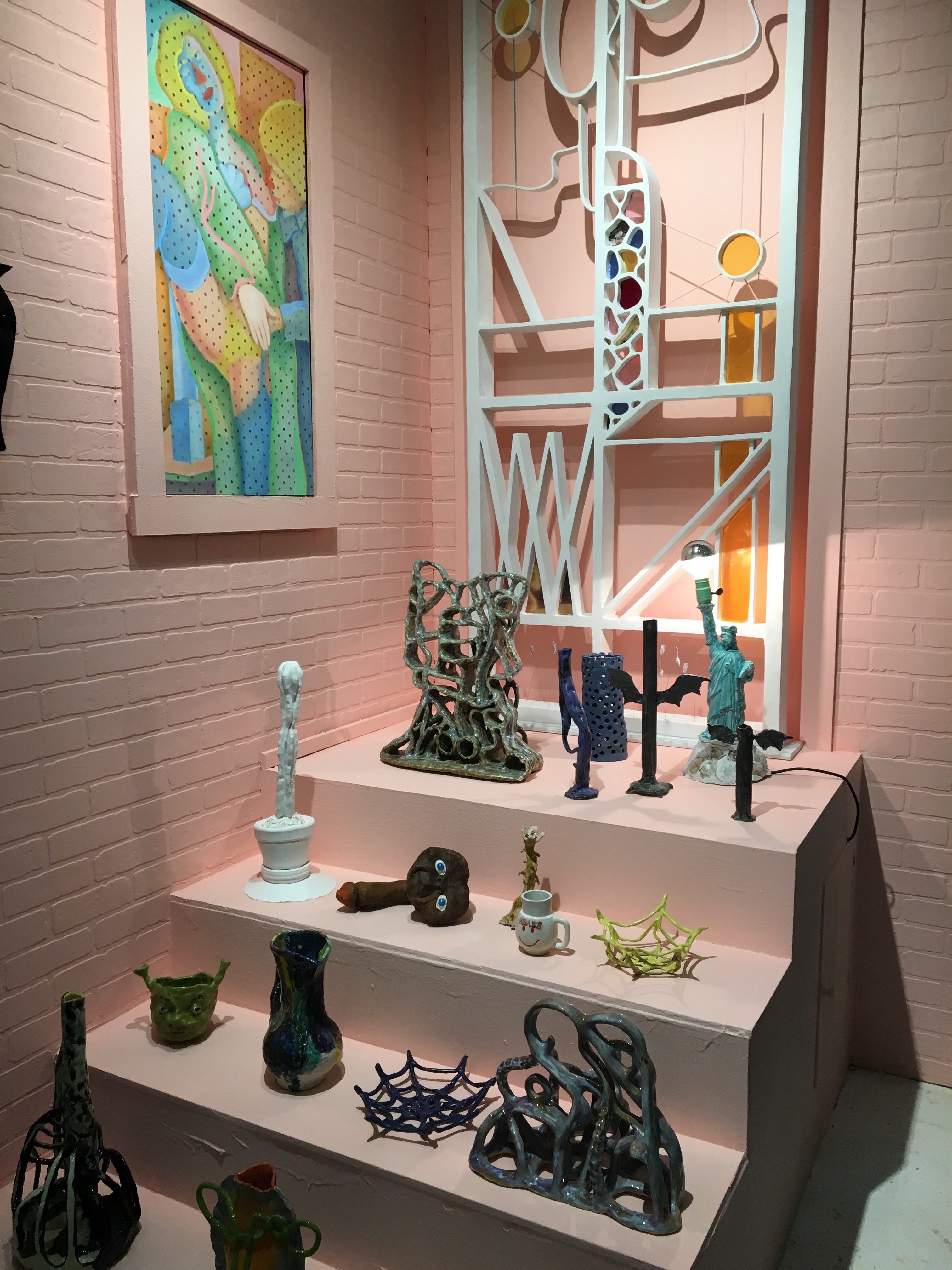 Essex Flowers at NADA New York
Disturb the Neighbors wasn't the only gallery one seeking some soothing respite from mayhem. "It's a nice, calm space within the chaos of the fair" said a representative from Essex Flowers, whose corner booth was a faux brick washed over with a pale, peachy putty. "Art fairs can be so overwhelming, it's like watching fifty different movies one after the other," a booth attendant told Artspace. "This is a little break from the white walls, where people's eyes can relax a little." When it came to deciding on the shade of pink, the choice was somewhat subliminal: "I didn't realize it when I was picking the color, but as soon as we painted everything it immediately reminded me of this old apartment in Bed-Stuy I was thinking about living in. It's not a new-looking color, it's more like a flea market pink."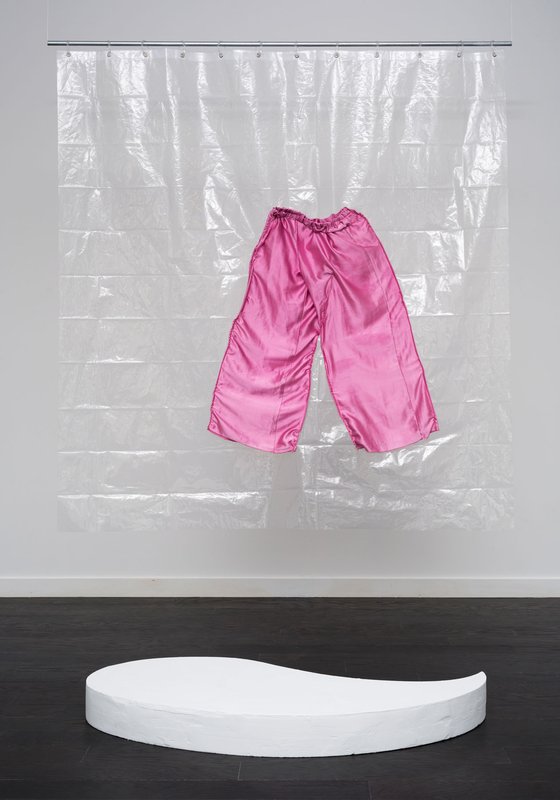 Annie Bleiski, It's the perfect day to donate blood you get two free movie tickets (After Ann), Stage (Comma), 2018.
It's worth postulating on the domestic comforts of the color pink. It could be a primordial association with the nurturing environment of our very first home—a mother's womb. Therein may lie the root of pink's immediate ties to femininity (see: pussy hats, the girls section at a toy store, any antiquated forms of gender binary enforcement). "It's such a loaded color," said Grace Caiazza of SEPTEMBER Gallery. "It has such a strong commercial-political connotation, yet can still be completely demure. "Speaking on a work exhibited by artist Annie Bielski, comprised of a pair of lovely satiny pink pants, stained with oil and stitched into a clear shower curtain, Caiazza further ruminated on pink's ability to capture "the grotesque feminine. Women can be gross and it's awesome!"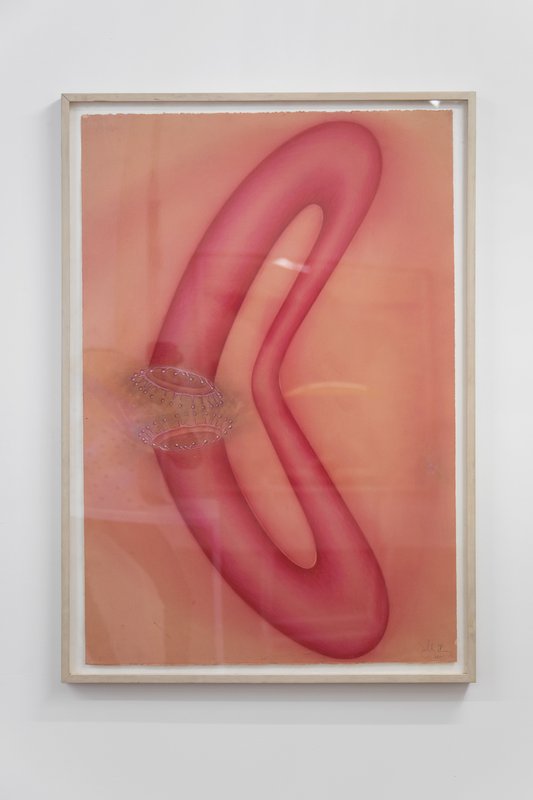 John Newman. untitled (splash), 1990.
The color is also one that's extraordinarily sensual. Probably oweing to the fact that it can be a particularly corporeal hue, pink is almost automatically a little sexual. In John Newman's untitled (splash), the association is unavoidable. When I told Safe Gallery's Sarah Welsh Elliott that Newman's pink tubes looked like sex (come on, they totally do!), she responded: "It's funny because pink isn't a particularly common color for John. I think the color was used very intentionally to invite an intense sensuality and physicality to a work that's otherwise pretty formal and mathematical."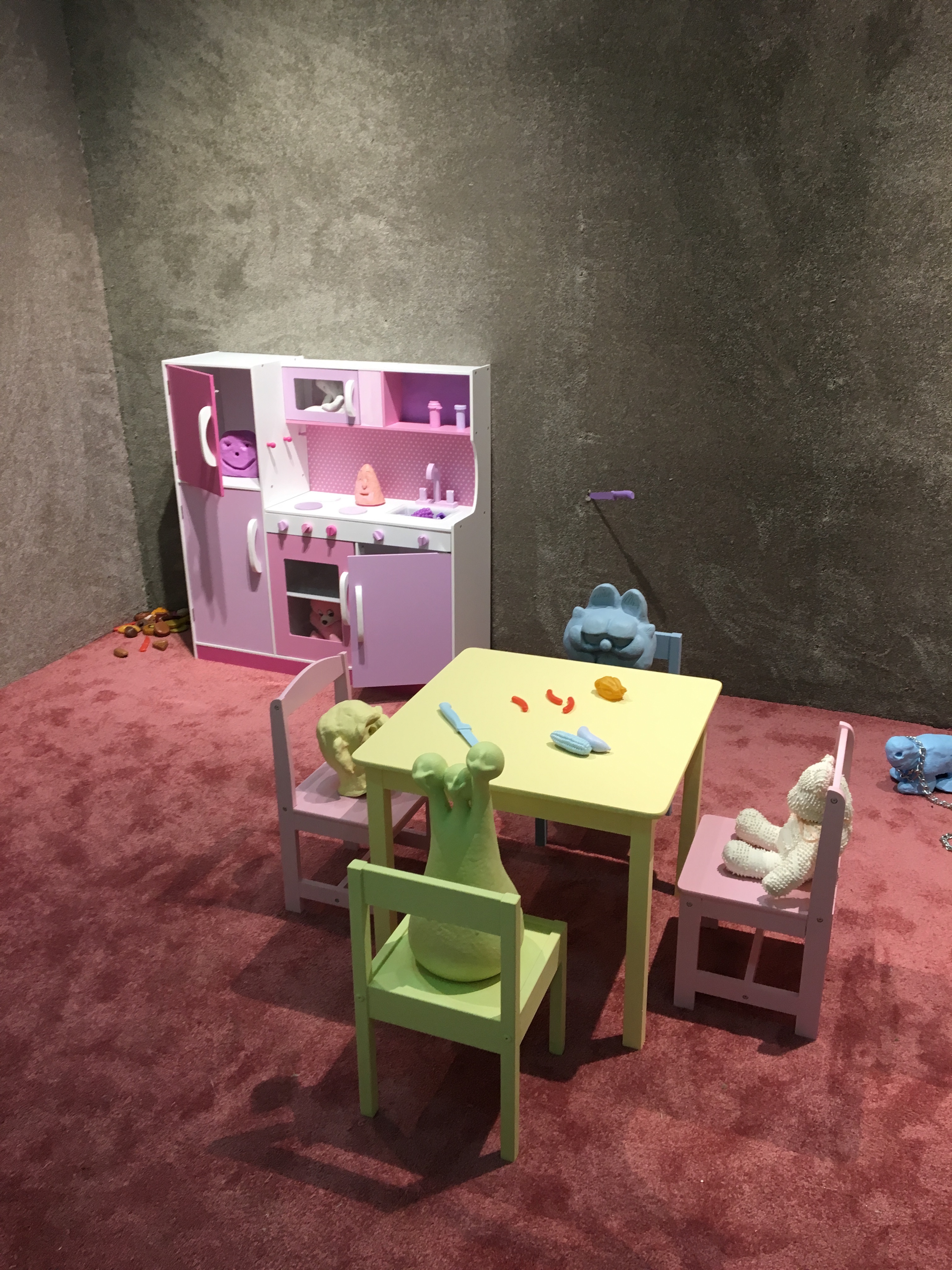 Brian Kokoska at L'Inconnue, Montreal.
Whether blush was applied to be specifially feminine, give work some sex appeal, make you feel at home, or just be a little different from the rest of the crowd, NADA New York 2018 has us crawling blissfully back into the womb after a long, weary winter. Happy International Women's Day, everyone!

RELATED ARTICLES:
8 Artists You Can't Miss From NADA New York 2018

[related-works-module]