Whether you rocked an "I voted" sticker to work this past Thursday, or frantically downloaded forms because you realized you aren't even registered to vote—it's clear that in Trump's America you can't escape politics. And a rise in political discourse has brought with it a surge of political art, particularly cartoons. As we wrap up the 2018 primary season and head toward November's general election, we want to take a moment to discuss the current state of political cartoons by examining The New Yorker's cover art over time.
"At the Wheel," by Barry Blitt. Image via The New Yorker.
As an art form, the political cartoon has always been a go-to means of critiquing those in power because of its two defining features: caricature and satire. Parodying the establishment or an institution through an exaggerated and distorted illustration reveals serious issues in a simple and amusing manner. Barry Blitt (the cartoonist and illustrator most known for his New Yorker covers) told The New York Times, "There's a certain absurdity you can get with a pen and ink line, which if you rendered it another way, with photography maybe, the idea dies." A successful political cartoon is not only funny, but it potentially changes the viewer's mind on an issue. From Benjamin Franklin's "Join or Die" (accredited as the first political cartoon in America) to artist Thomas Nast creating the first images of the Republican elephant and the Democratic donkey during the Civil War—there's a long history of cartoons being used to sway public opinion, and the severe reactions political cartoons elicit cannot be ignored. An illustration can even become deadly, as was the case in the 2015 shooting at the French satirical newspaper, Charlie Hebdo. Clearly, political cartoons have power, and with the internet having taken over the world, the dissemination of political cartoons is more widespread than ever.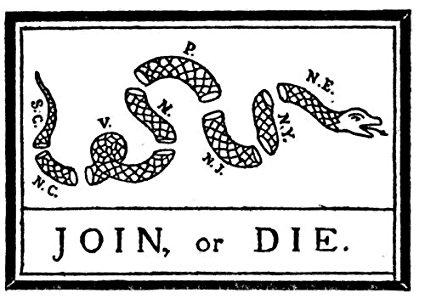 Image via Amazon.com
The current prevalence of political cartoons is evident in The New Yorker—the organization is publishing more political cartoons on their covers than ever before. In a 2017 article Slate magazine drew attention to this, calling The New Yorker covers "thirsty" by continuously plastering a cartoon Trump on the cover in an attempt to sell issues. While we've come to expect The New Yorker to dish out illustrated criticism week to week, it hasn't always been that way. As Slate points out, back in the day The New Yorker rarely made political commentary at all, and (with the exception of a few outliers) it's only become hyper-cynical and satirical in the age of Trump. A New York Times article from 2014 similarly highlights a shift in The New Yorker cover art from "polite to provocative," noting that the change seemed to occur post 9/11.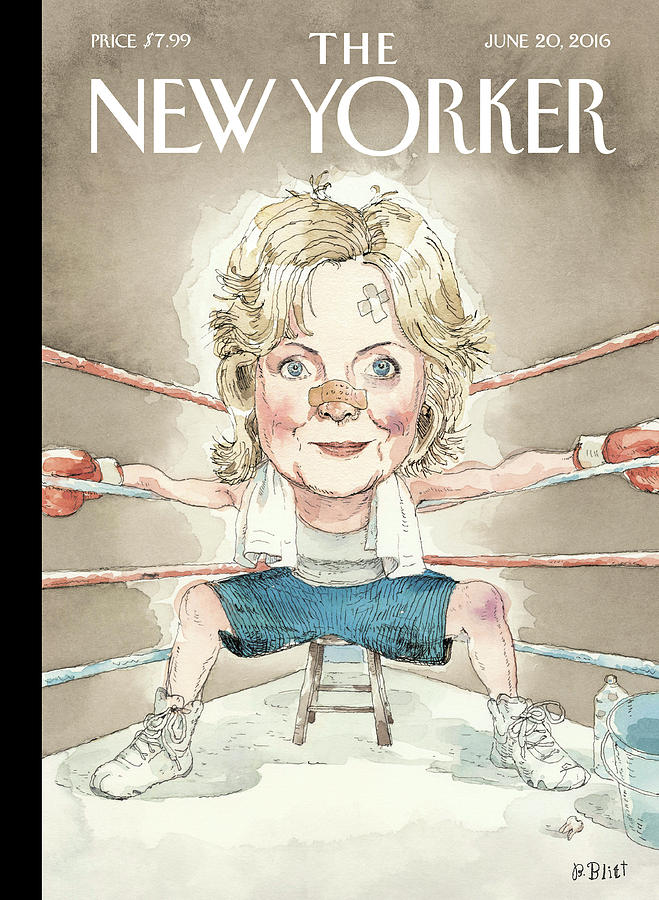 "Ready for a Fight," by Barry Blitt. Image via The New Yorker.
Below, we've positioned political New Yorker covers in chronological order, to demonstrate this shift in tone overtime. From the magazine's inception in 1925, few covers display political cartoons before 1990—and when they do, it is in a neutral and light-hearted style. Even after the' 90s, political covers were maybe featured once or twice a year. In 2016, Trump was on the cover more than 9 times! And as of March 2018, Blitt had created 15 covers that featured Trump. Not only have political cartoon covers become more frequent, but the illustrations are meaner—a reflection of an increasingly cruel culture, or a reflection of an increasingly hostile opposition to the current administration? Françoise Mouly, The New Yorker's art editor since 1993, told the Times, that her goal is "to try and take a series of snapshots that can be looked at by the art director in 2030 and give a sense of what it was like to live in New York now." The magazine has certainly achieved that goal, as their constant political cartoon covers reveal how the media and society at large is all-consumed with Trump.
Here, we look at the politically satirical New Yorker covers chronologically, starting with the oldest.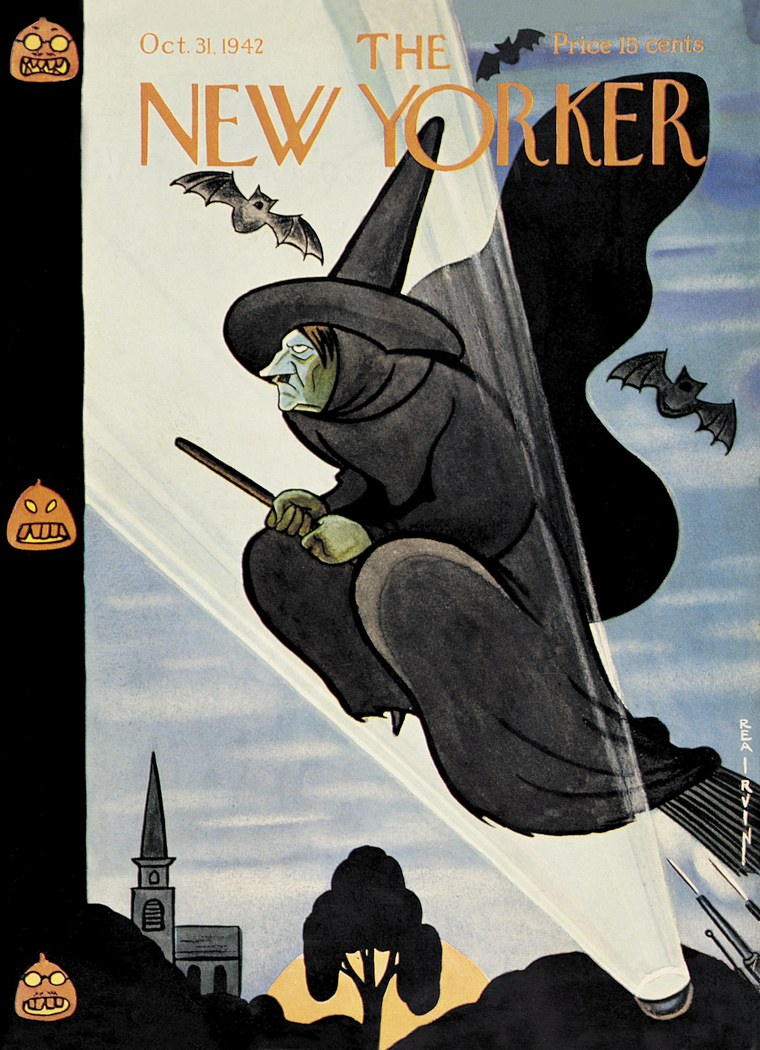 Rea Irvin, October 31, 1942. Image via The New Yorker.
This is one of the first New Yorker covers where a specific person is on the cover—Adolf Hitler. The satirical cartoon portrays him as a wicked witch. According to Slate, editor Harold Ross wrote to Rea Irivin, agreeing to put through the Halloween cover, although it violated his "solemn stand about no more specific people on covers."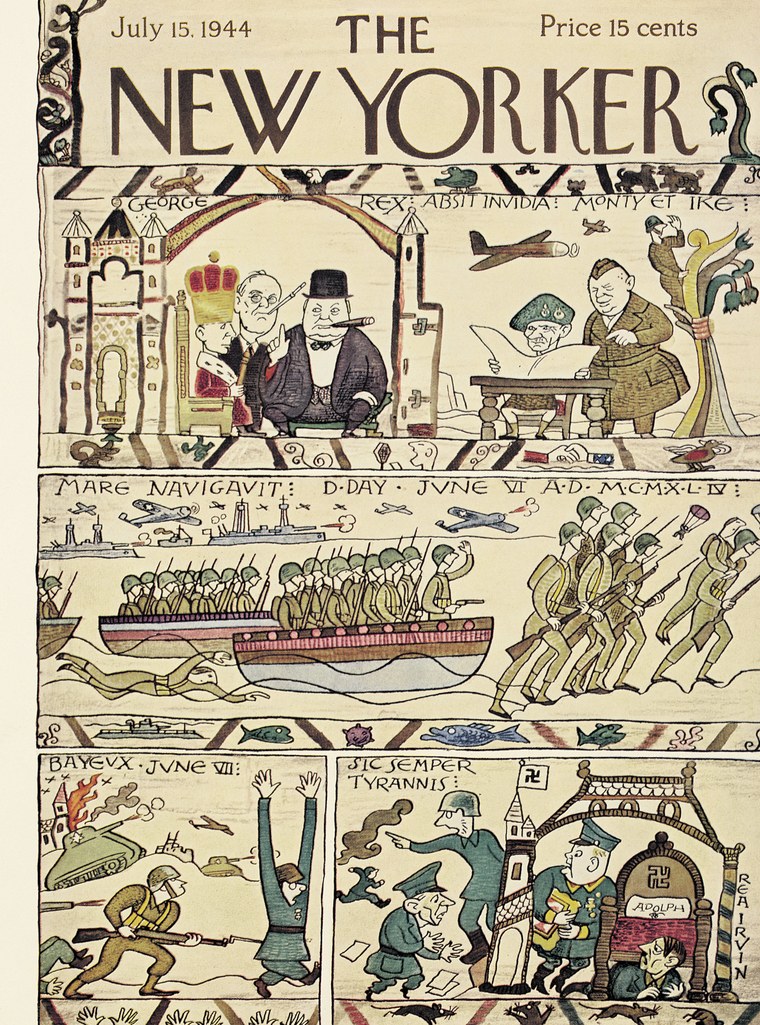 Rea Irvin, "D-Day Invasion of France," July 15, 1944. Image via The New Yorker.
The New Yorker published this cover to commemorate D-Day, when the allied forces invaded Normandy. Again, we see a satirical depiction of Hitler in the bottom right hand corner, along with other historical figures during the war (Winston Churchill and Franklin D. Roosevelt).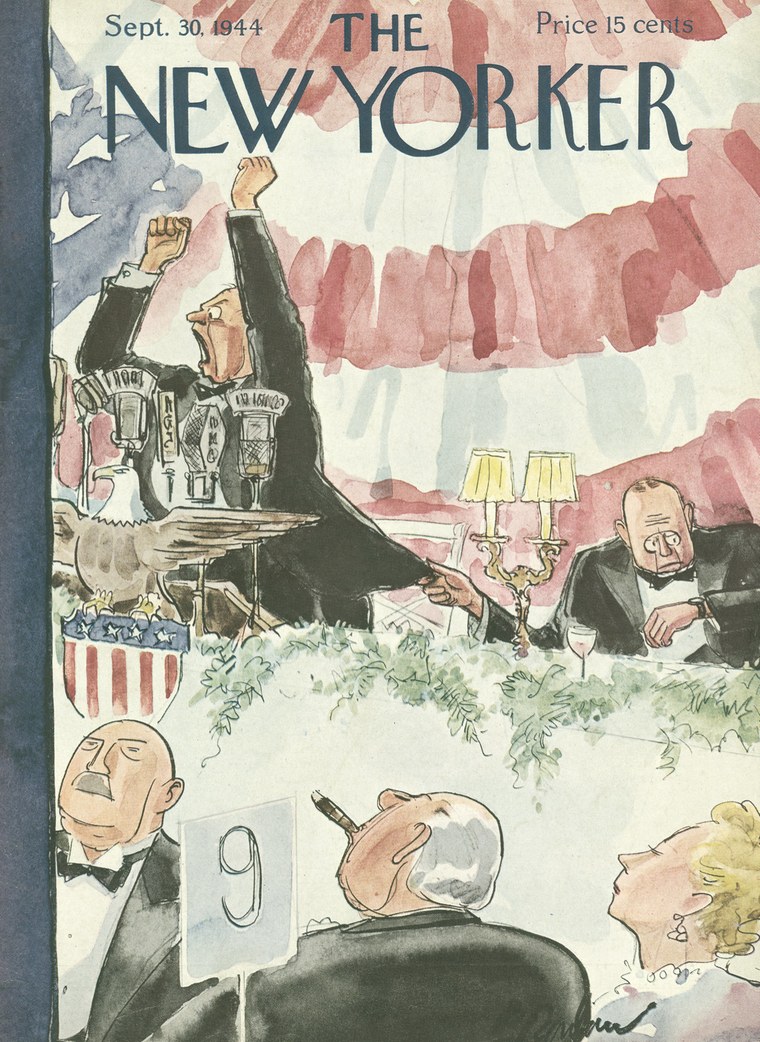 Perry Barlow, "Long Winded Politics," Septmeber 30, 1944. Image via The New Yorker.
An illustration from Perry Barlow portraying a heated political debate or rally depict a vague event; characters are not specified or easily recognized.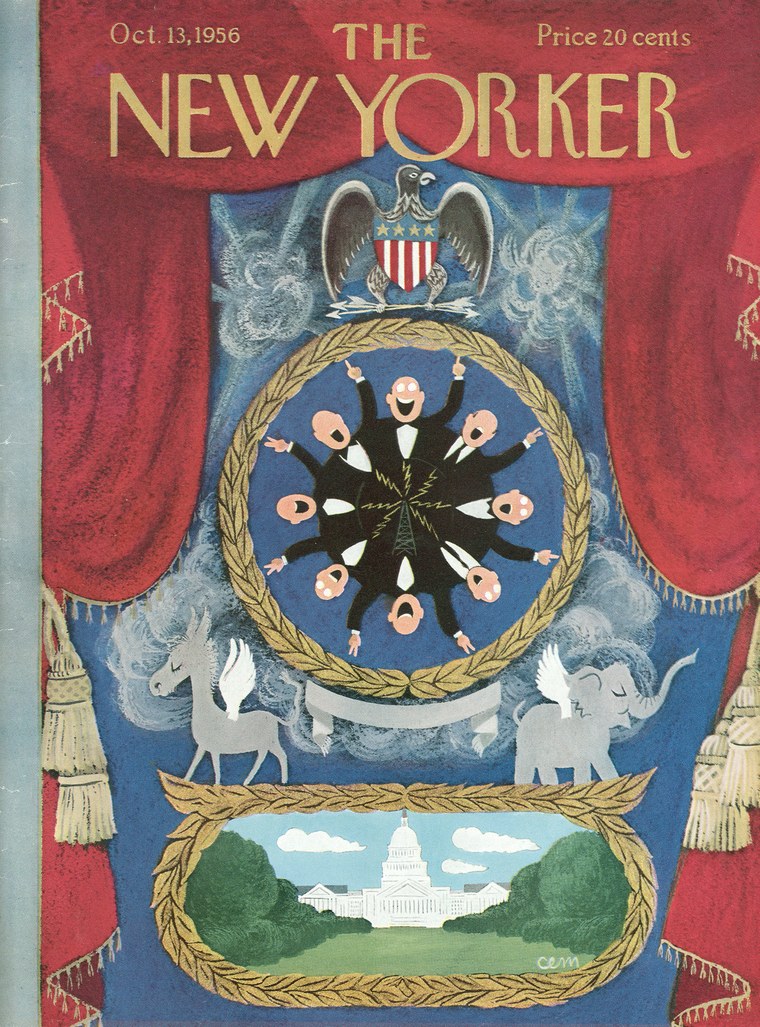 Charles E. Martin, October 13, 1956. Image via The New Yorker.
Also a generic cover, the illustration portrays a happy congress who are smiling as they vote. Both political parties seem to be satisfied as well, evident from the angelic-like cartoon donkey and elephant (who are also smiling).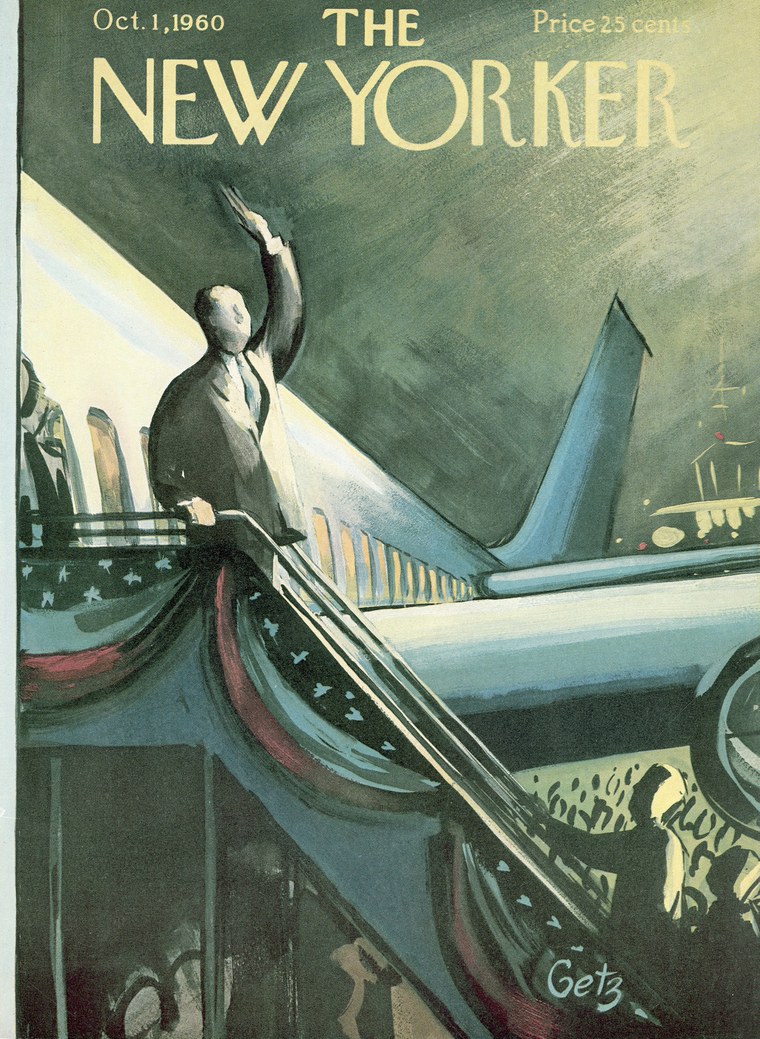 Arthur Getz, October 1, 1960. Image via The New Yorker.
The John F. Kennedy vs. Richard Nixon fight for the presidency was happening when this cover was published. While the campaign was an intense one (and the first campaign to be publicly televised), this cover depicts a calm and faceless candidate (presumably Nixon) stepping out of an airplane to greet the public.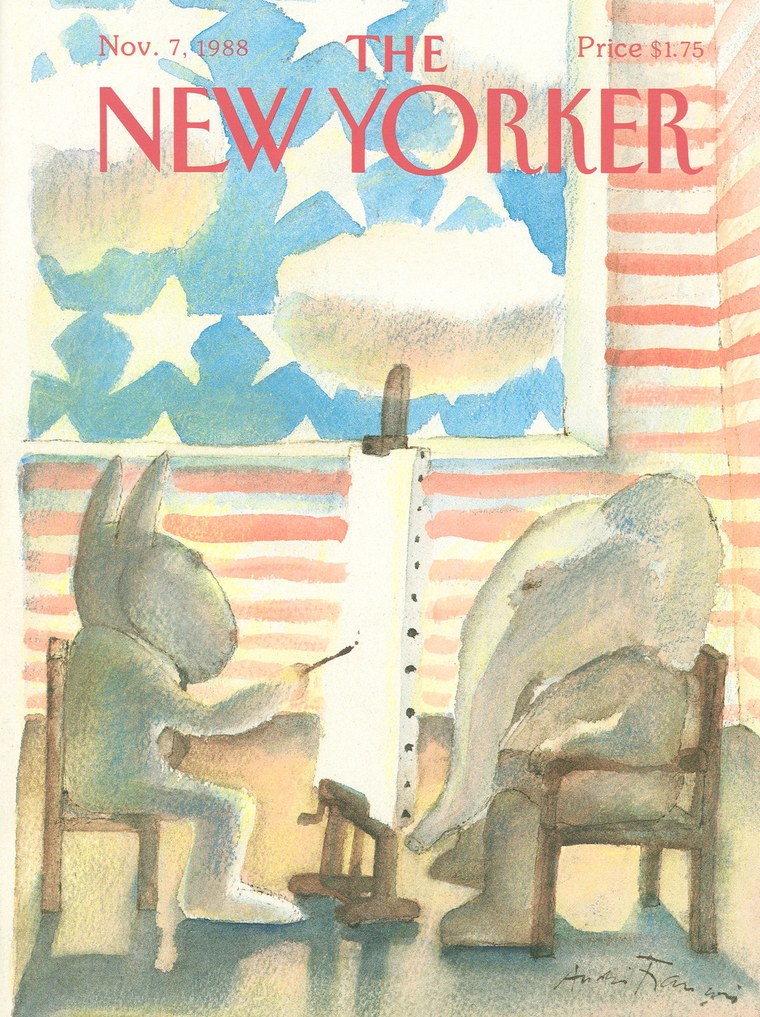 André François, October 1, 1960. Image via The New Yorker.
This cover ran the day before the November 8th election, where Republican George H. W. Bush defeated Democratic Governor Michael Dukakis. Again, the scene is calm and idyllic, where a a donkey paints an elephant, symbolizing the two party system, but hardly in a satirical, exaggerated way typical of political cartoons.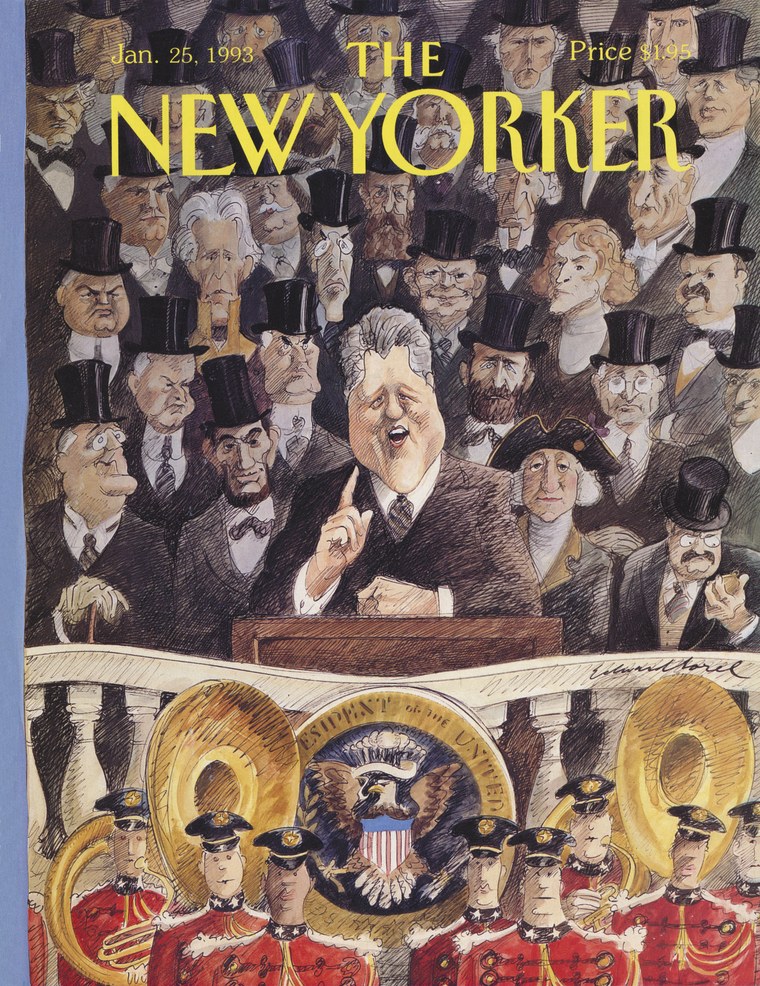 Edward Sorel, January 25, 1993. Image via The New Yorker.
This cover was published coinciding with Bill Clinton's inauguration into The White House as the 42nd President of the U.S. The crowd behind him depicts past U.S. presidents, and the previous Democratic presidents look happy while the Republican's appear concerned.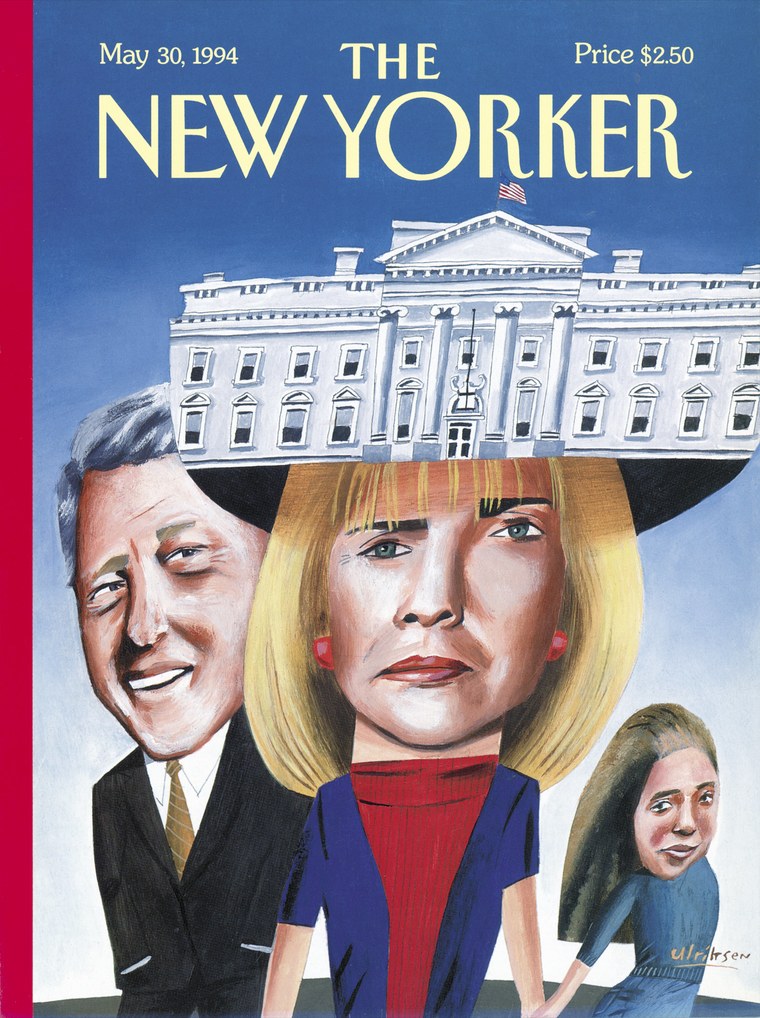 Mark Ulriksen, May 30, 1994. Image via The New Yorker.
Illustrated by Mark Ulriksen, the cover of this issue makes fun of the notion that Hillary Clinton is essentially running The White House.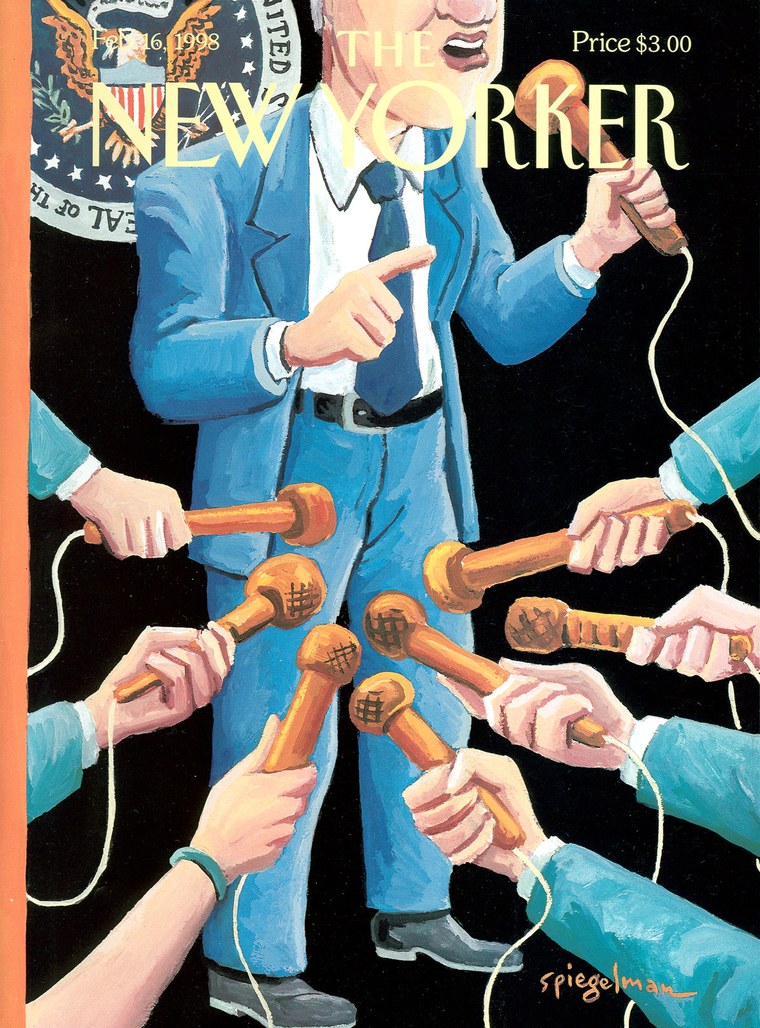 Art Spiegelman, "The Low Road," February 16, 1998. Image via The New Yorker.
This Art Spiegelman cover was initially rejected by the magazine, only to be accepted a week later. The cover ran in response to news of Bill Clinton's affair with Monica Lewinsky.
Edward Sorel, January 22, 2001. Image via The New Yorker.
Another inauguration cover from Edward Sorel, this illustration depicts George W. Bush being sworn into office. The image comically suggests that Dick Cheney is really in charge, as he tells Bush what to do by whispering in his ear.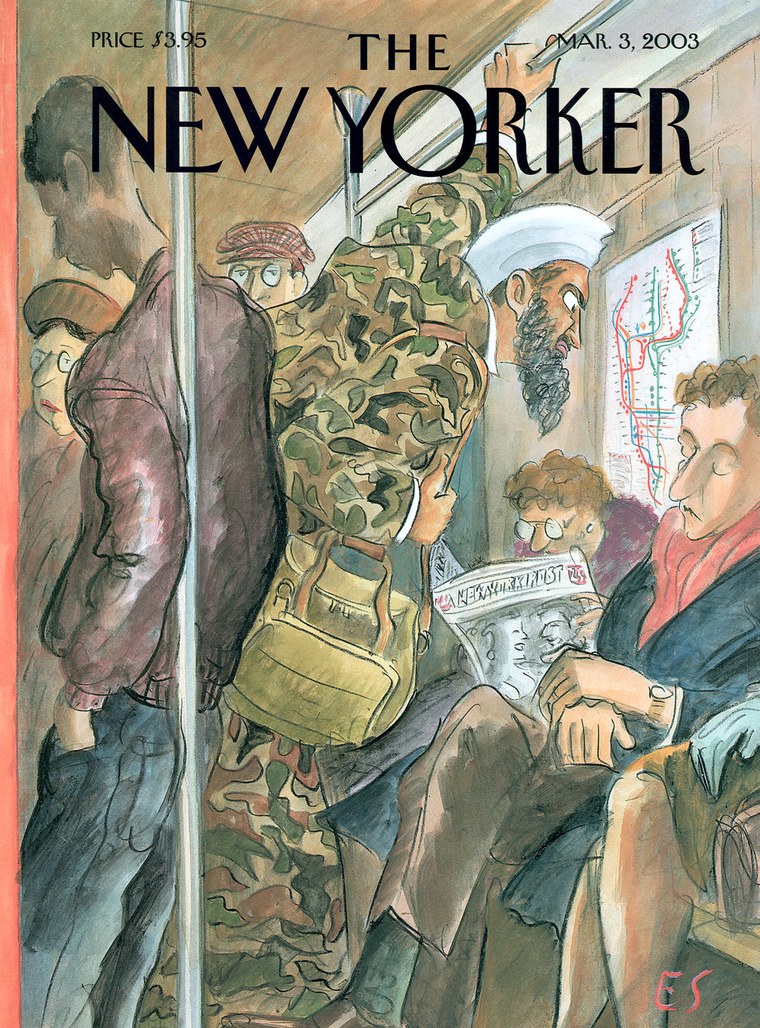 Edward Sorel, March 3, 2003. Image via The New Yorker.
Here, we start to see New Yorker covers become more daring. This cartoon is playing into American's fears post 9/11 of where Osama Bin Laden is hiding in plain sight.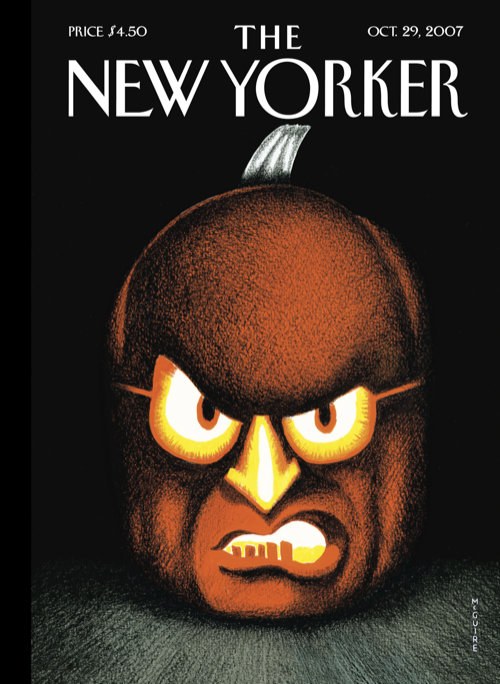 Richard McGuire, October 29, 2007. Image via The New Yorker.
For this Halloween edition, Richard McGuire put Dick Cheney on the cover as a sinister looking Jack-o'-lantern, clearly showing the magazine's opinion of the Vice President at the time.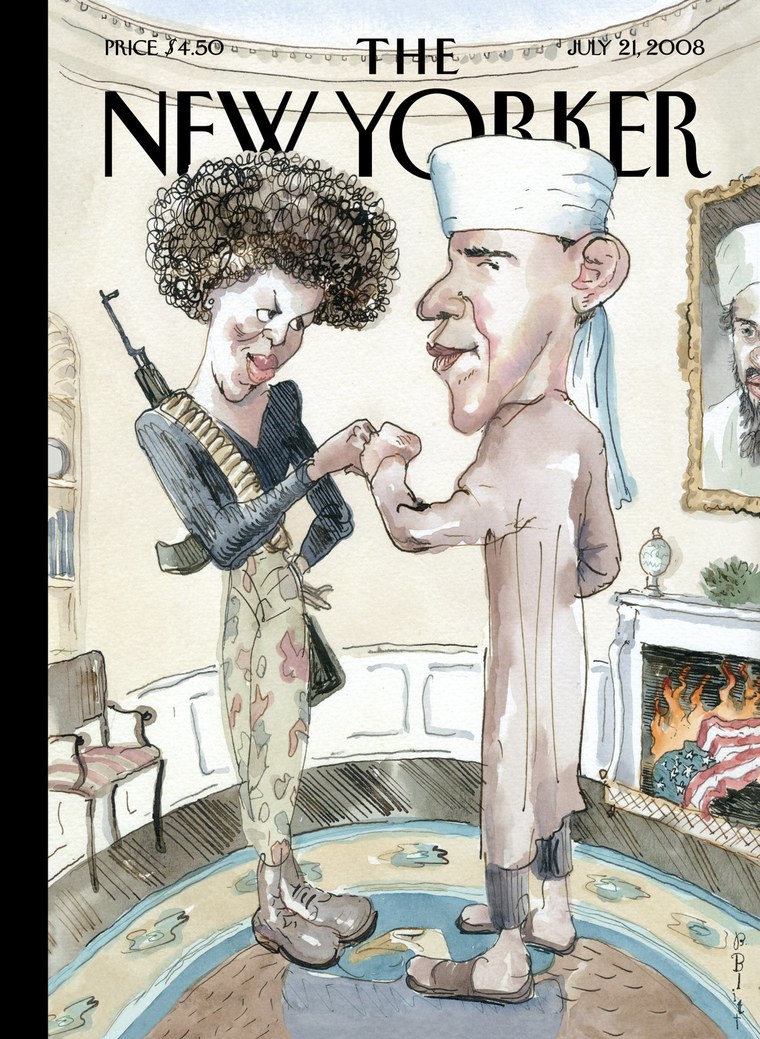 Barry Blitt, "The Politics of Fear," July 21, 2008. Image via The New Yorker.
Blitt's satirical attempt to address the outlandish rumors spread during the 2008 presidential campaign—that Barack and Michelle Obama were radical terrorists trying to destroy the country—received a lot of backlash, including from the Obama campaign who called the cover "tasteless and offensive."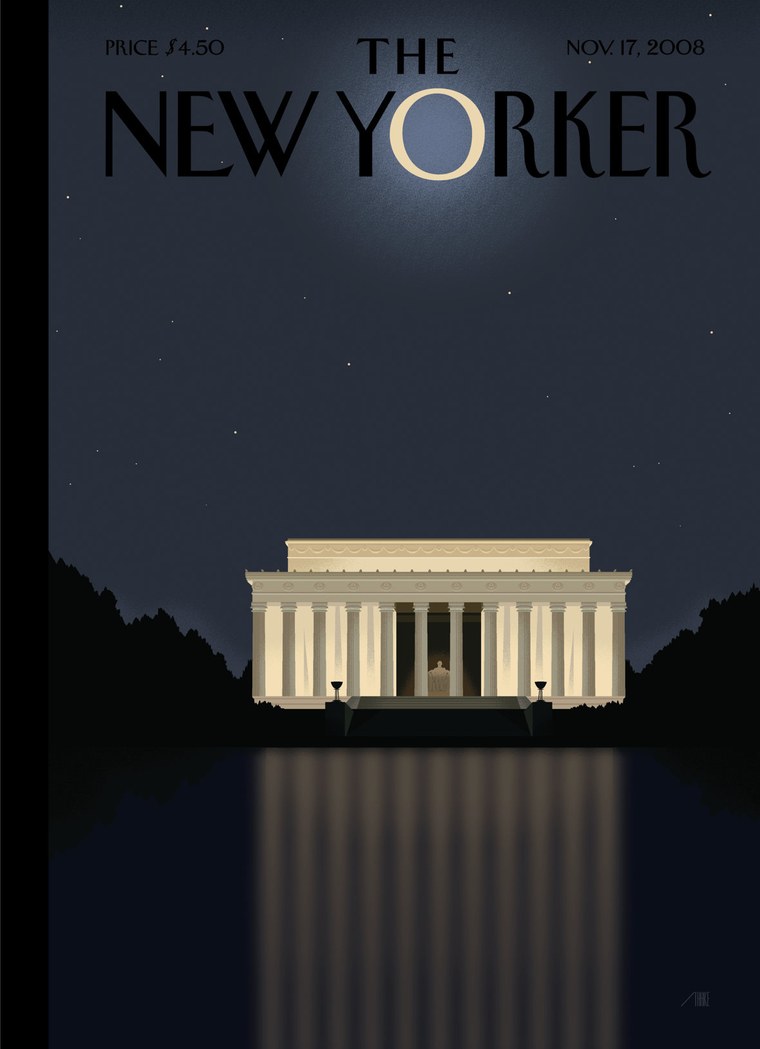 Bob Staake, "Reflection," November 17th, 2008. Image via The New Yorker.
Illustrator and designer, Bob Staake, was humbled to create the New Yorker cover celebrating Barack Obama's presidential victory. The serene scene, connecting Obama to Lincoln, highlights the groundbreaking and historic moment in an almost magical way.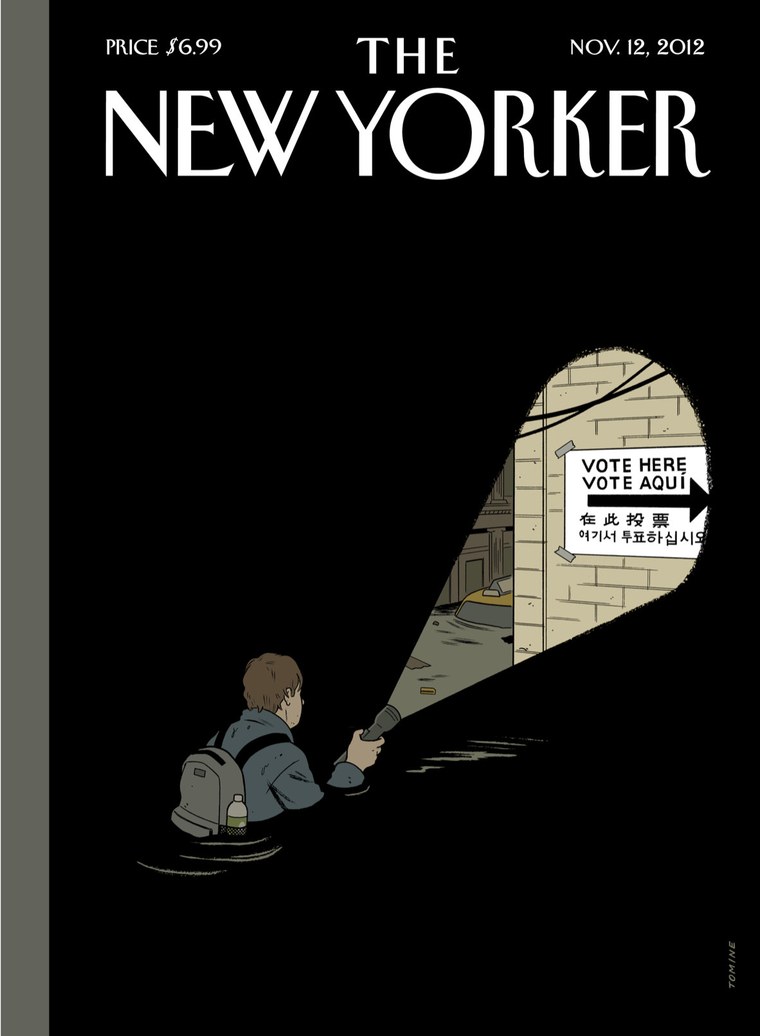 Adrian Tomine, "Undeterred," November 12, 2012. Image via The New Yorker.
This cover addresses Hurricane Sandy's effect on the 2012 presidential election. Tomine told The New Yorker, "For all its really horrible effects, I feel like the storm has made real a lot of issues in the election that were hypothetical, that were thrown around as debate topics—global warming; and Is Obama enough of a leader to handle a natural disaster? and Do we need fema? It's really interesting, and in a way useful, to see a lot of these things become actual issues that are right at hand."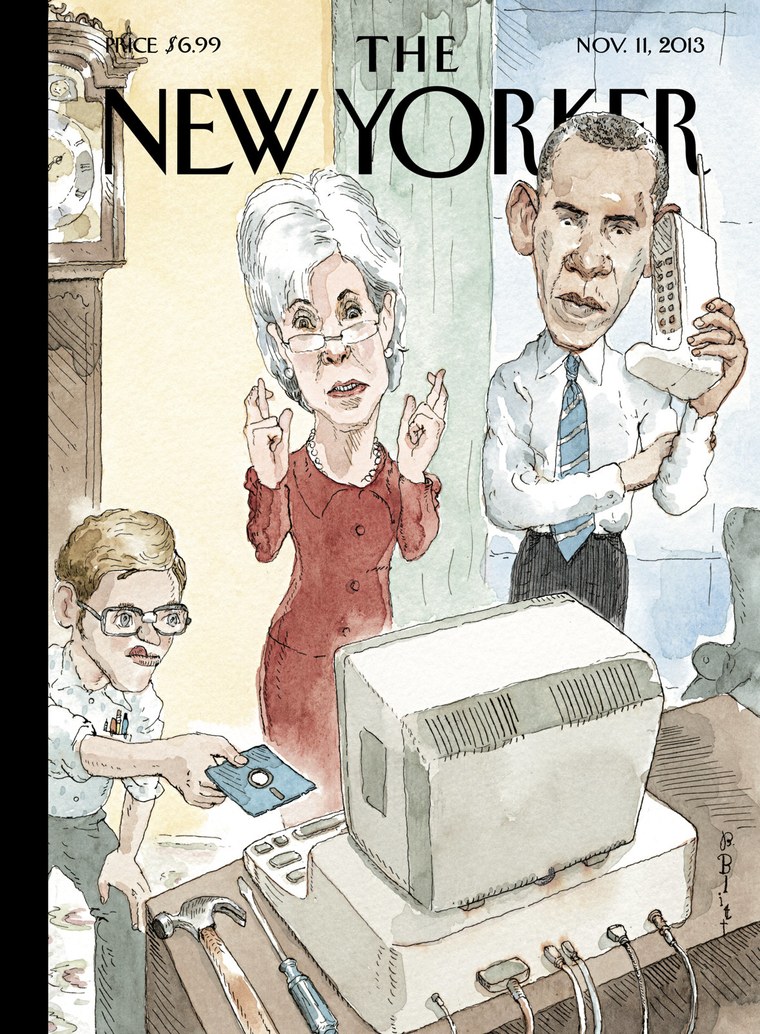 Barry Blitt, "Reboot," November 11, 2013. Image via The New Yorker.
Blitt's cartoon cover references the launch of Obamacare online, and the technical difficulties people experienced with it at first.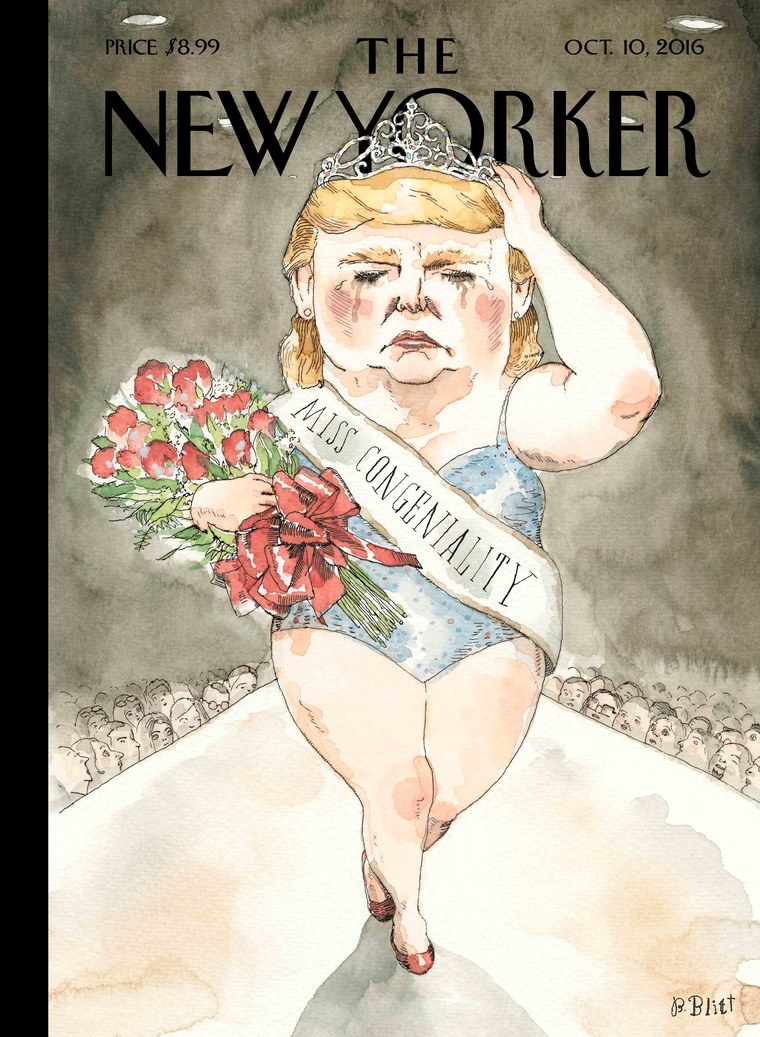 Barry Blitt, "Miss Congeniality," October 10, 2016. Image via The New Yorker.
In this satirical cartoon, Blitt criticizes Trump's misogyny—specifically his treatment of former Miss Universe, Alicia Machado, who he's referred to as "Miss Piggy" and "Miss Housekeeping."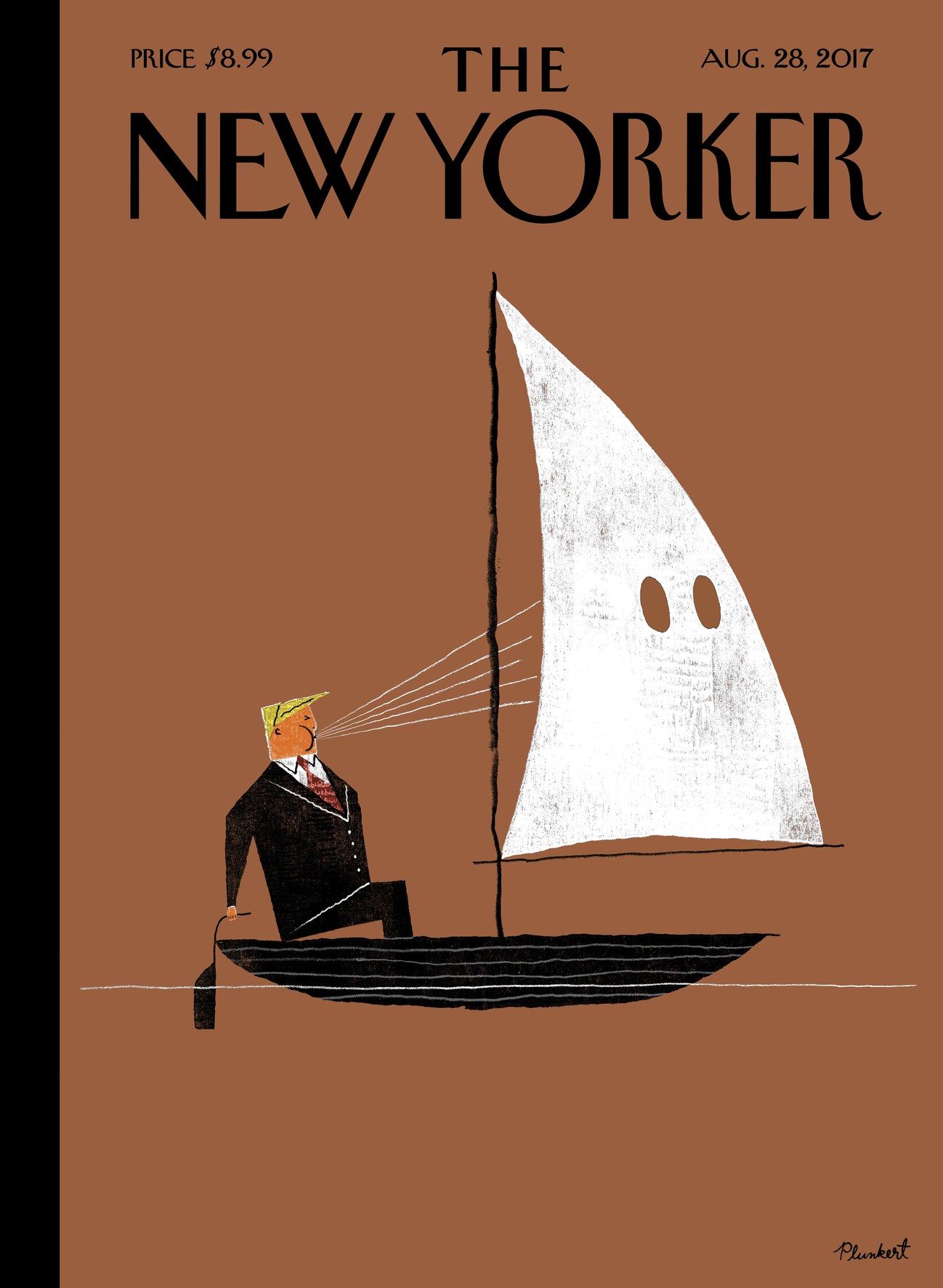 David Plunkert, "Blowhard," August 28, 2017. Image via The New Yorker.
President Trump's weak response to the violence in Charlottesville compelled artist David Plunkert to create this cartoon. Plunkert told The New Yorker, " A picture does a better job showing my thoughts than words do; it can have a light touch on a subject that's extremely scary."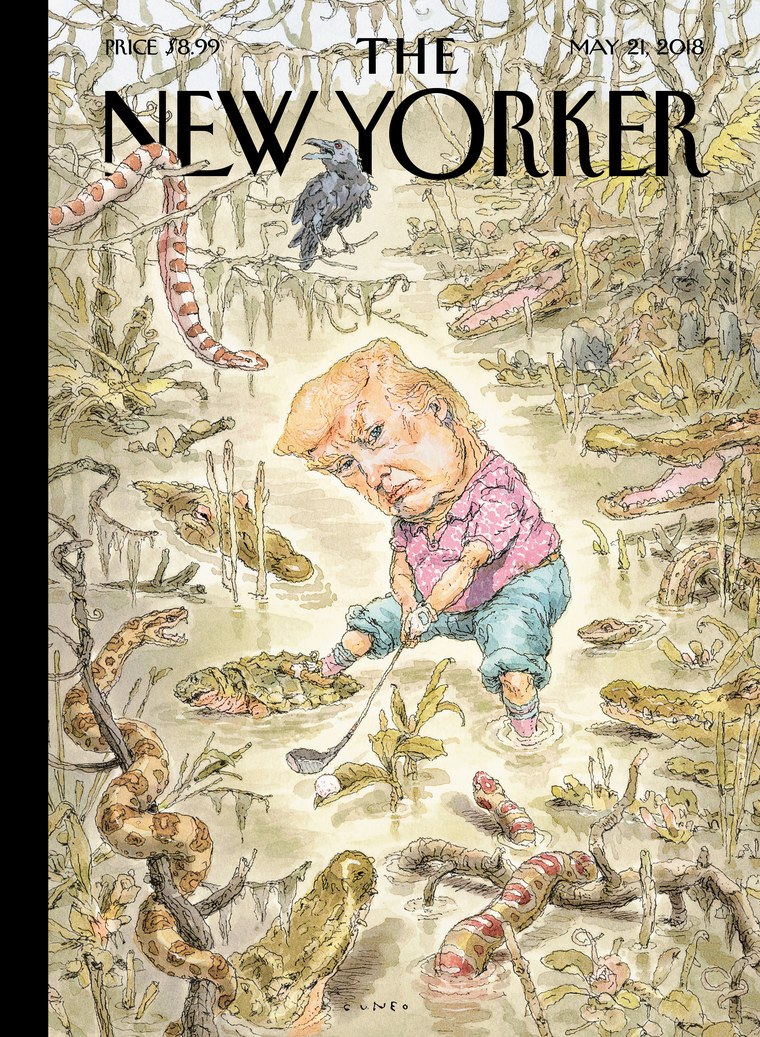 John Cueno, "The Swamp," May 21, 2018. Image via The New Yorker.
Through squiggly lines and a chaotic composition, Cueno makes fun of Trump's claims to "drain the swamp."
RELATED ARTICLES:
The Art History of Hillary Clinton & Bernie Sanders, From Blazing an Aesthetic Trail at the White House to Earning an Arts A+
How to Make Useful Art as a "Proposal for Alternative Living": Nicolas Bourriard Interviews Lucy Orta
Trading the Paintbrush for Pastry: Why Many New York Artists Have Been Turning to Food As a Response to Troubling Times