The stirrings of inchoate art movements or just deluded associations made by crazed sleepless journalists? You be the judge. Here's a roundup of art trends we found at Frieze New York, from the eerie proliferation of detached body parts to cracked vases and frolicking artworks. Read on, and see if those Jonathan Monk legs you bought were indeed the sexiest floating limbs on offer in the white tent on Randall's Island.
TREND #1: LURKING LIMBS
Arms, legs... disembodied.... Our explanation? Galleries are embarking on a bit of the art-world equivalent of insider-trading. Just last month, MoMA announced that a much-anticipated Robert Gober retrospective is slated for next year.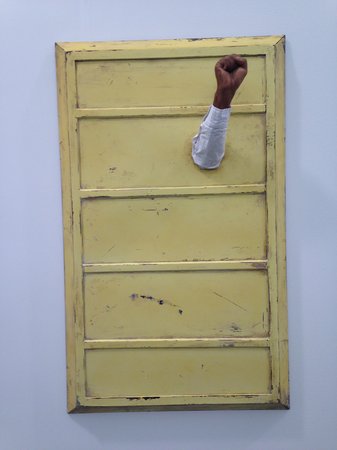 A hairy fist pumps through a yellow panel in the Hank Willis Thomas sculpture at Goodman Gallery.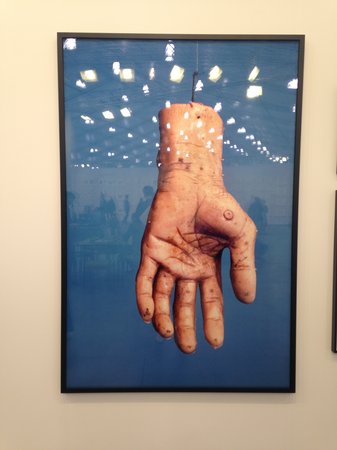 Paul McCarthyoffers fairgoers a helpful hand at Hauser & Wirth.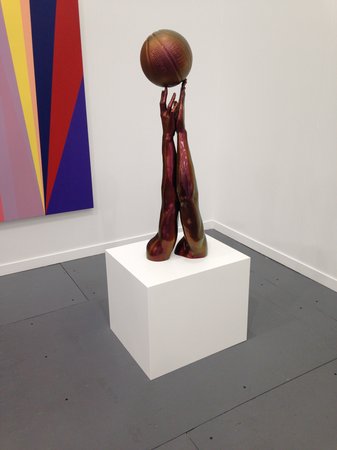 Another Hank Willis Thomas sculpture.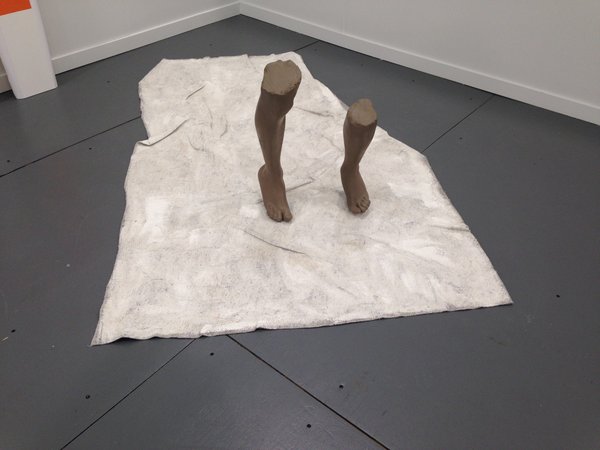 Guillaume Leblon goes the distance at Galerie Jocelyn Wolff.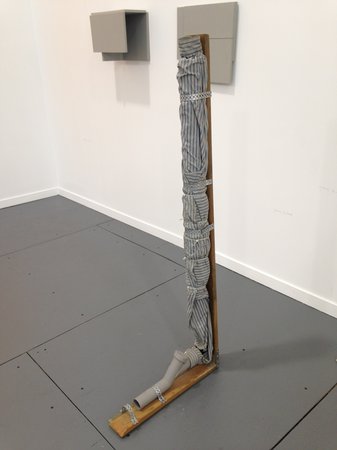 An extended sleeved pipe by Whitney Biennialist Jimmie Durham is for sale at Kurimanzutto Gallery.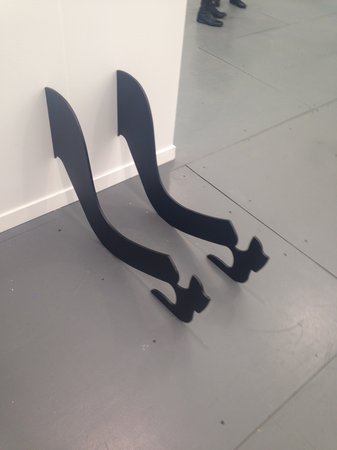 Casey Kaplan presents a pair of spindly legs by Sanya Kantarovsky.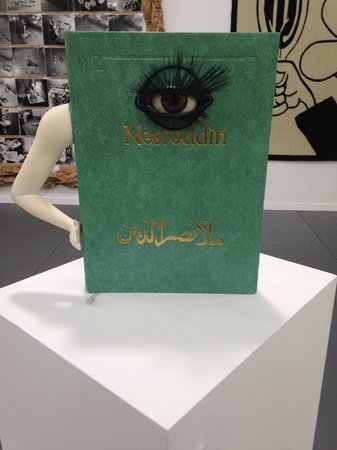 An arm rests akimbo along the spine of Slavs and Tatars's sultry blinking book at Raster.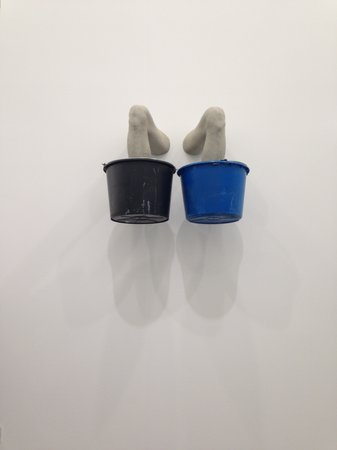 An Adam McEwen sculpture... getting a pedicure?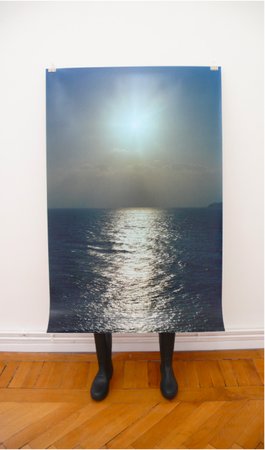 A pair of rain boots lurk behind a photograph in Shimabaku's sculpture at Galerie Wien Lukatsch.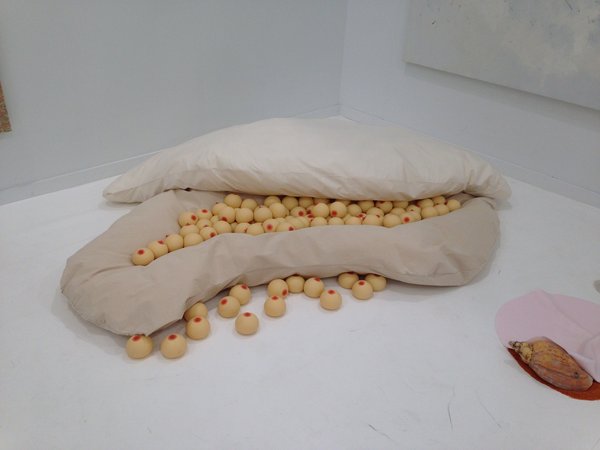 The sculpture ("boob bed" was one choice term used by passing art patrons) by Iranian artist Vanessa Safavi at the Breeder isn't made of detached limbs, per se, but you get the idea.
TREND #2: ART YOU CAN DANCE WITH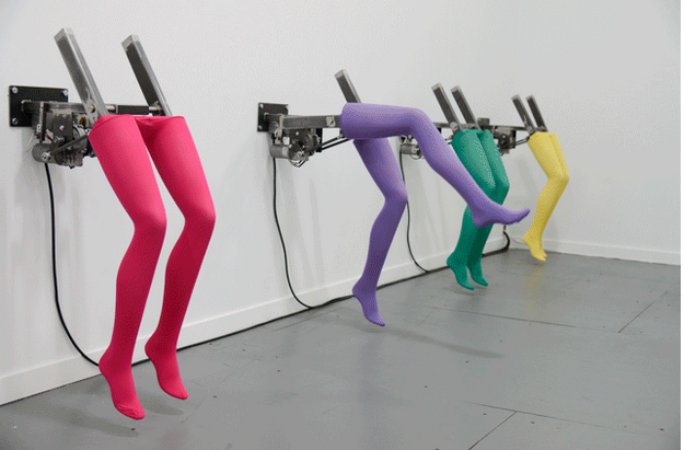 Straddling our sophisticated categories, this kinetic piece by Jonathan Monkat Galleri Nicolai Wallner combines the favorite limb theme and danceability. Bravo!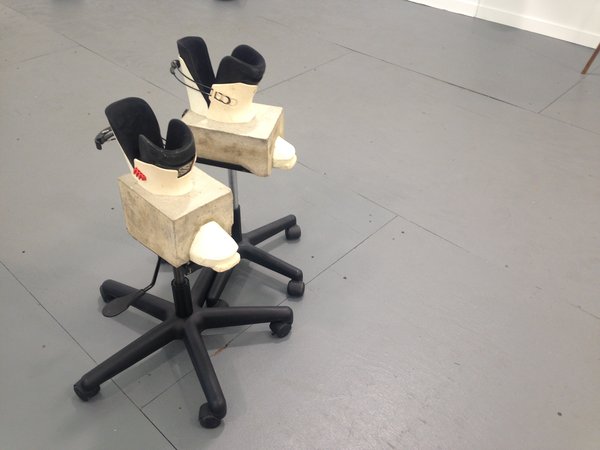 Artist Aki Sasamoto with Take Ninagawa Gallery performed in these office-chair skates at the Kitchen last month.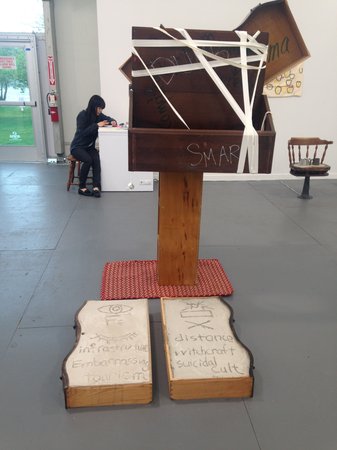 Sasamoto also danced around this cabinet work at the Take Ninagawa stall on Thursday.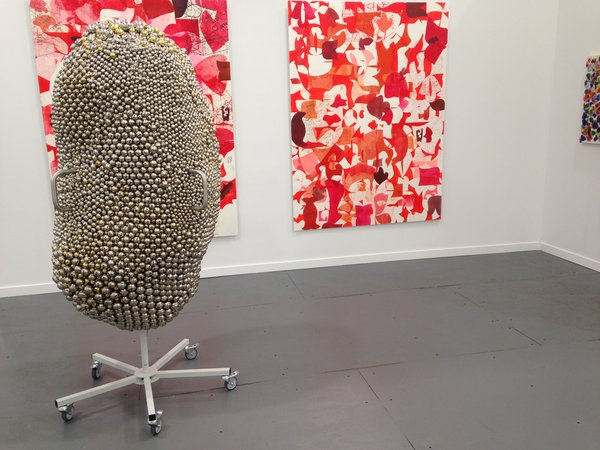 Haegue Yang's moving sculpture at Galerie Chantal Crousel can be driven around, awakening its chorus of bells.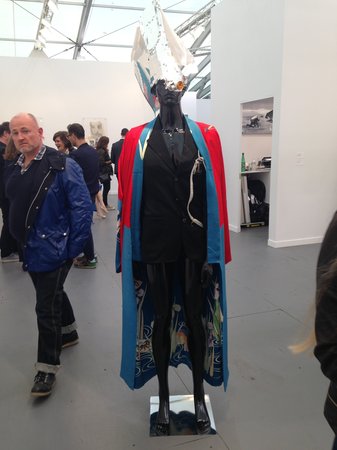 You could dance with this Isa Genzken sculpture at Hauser & Wirth. And you should.
TREND #3. ARCHITECTURAL ELEMENTS

In case you, Mr. or Mrs. Gazillionaire, needed more house.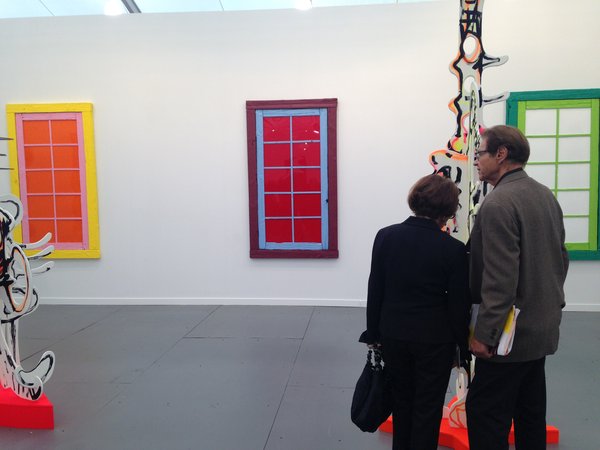 What a view. Windows by Ugo Rondinone at Almine Rech Gallery were all sold out by Friday.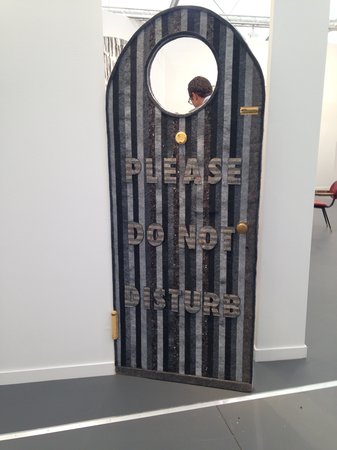 A courteous message found at Lehmann Maupin.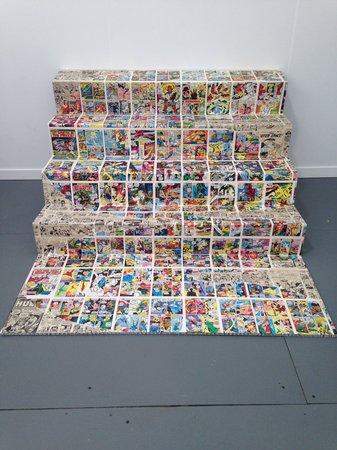 A Nikolas Gambaroff comic-book wrapped staircase showed at Overduin & Co.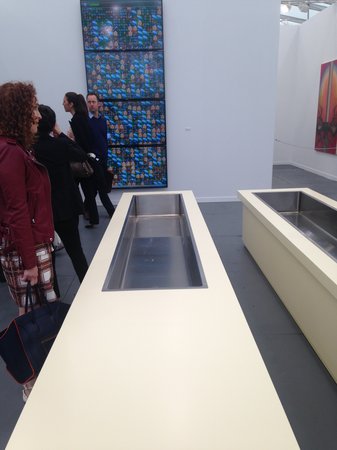 Team Inc. laid out two giant stainless steal sink-like sculptures by Daniel Turner.
TREND #4: VASES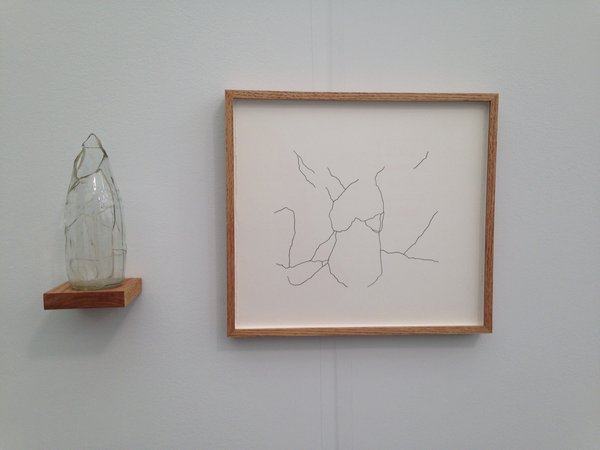 Jessica Silverman Gallery displayed early work by Israeli artist Amikam Toren.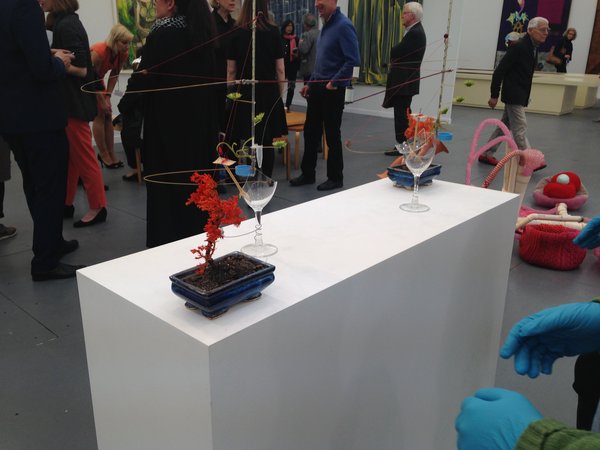 Broken wine glasses are like little displaced flower vases in Sarah Sze's sculptures at Victoria Miro.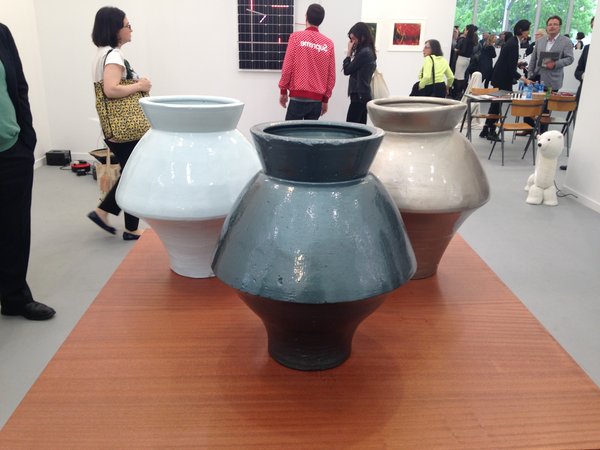 Ai Weiwei painted Han Dynasty vases with industrial paint at Lisson Gallery.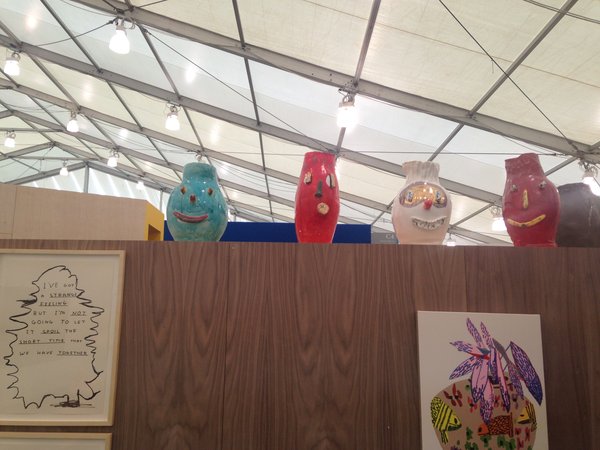 At Anton Kern Gallery's booth, Dan McCarthy's cheery, leery ceramic vases make faces at passing fairgoers.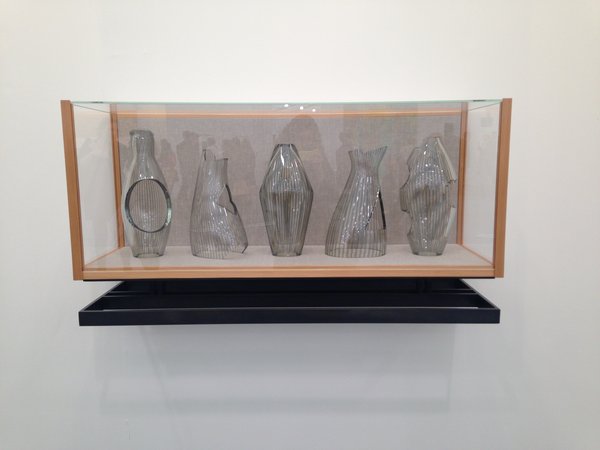 Josiah McElheny shows his cut-out glass vases with Andrea Rosen Gallery.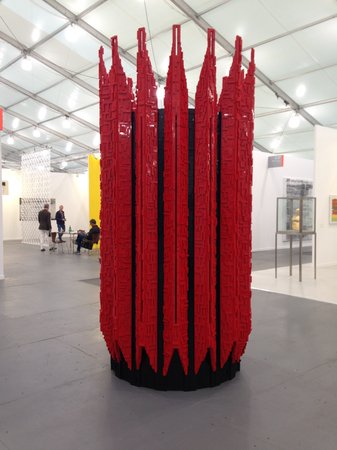 Made of legos, this hollow sculpture by Los Carpinteros showing at Sean Kelly Gallery could be a vase for like a really, really big bouquet of lego flowers. Whoa.
TREND #5: ART THAT'S HIDING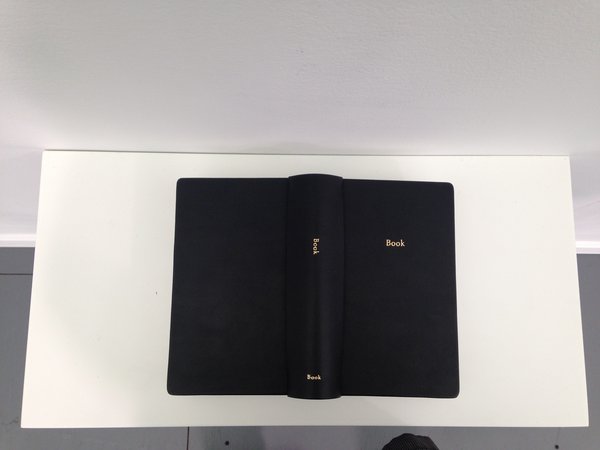 Under this biblical looking "Book" at Dvir Gallery, Simon Fujiwara has placed an iPad playing pornography. While you can't see it, you can definitely hear it.

Polish artist C.T. Jasper has edited out all human presence in the 1966 film Pharoah by Jerzy Kawalerowicz. It's pretty amazing to find yourself watching this mesmerizing, unpopulated film alone inside of a yurt.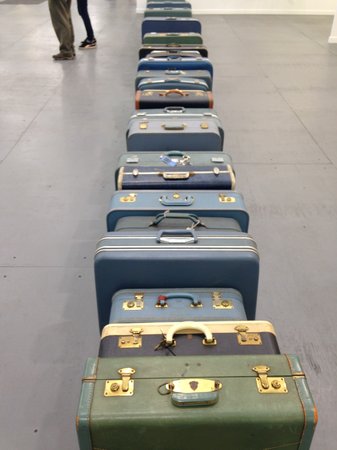 Zoe Leonard, who made the camera obscura on the top floor of the Whitney Biennial, will send the collector an empty vintage blue suitcase marking each passing year of her life.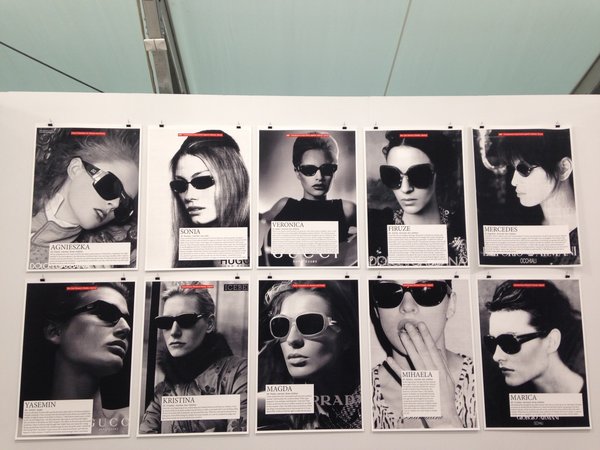 Artist Sanja Iveković amends sunglass advertisements to include descriptions of battered women in Croatia.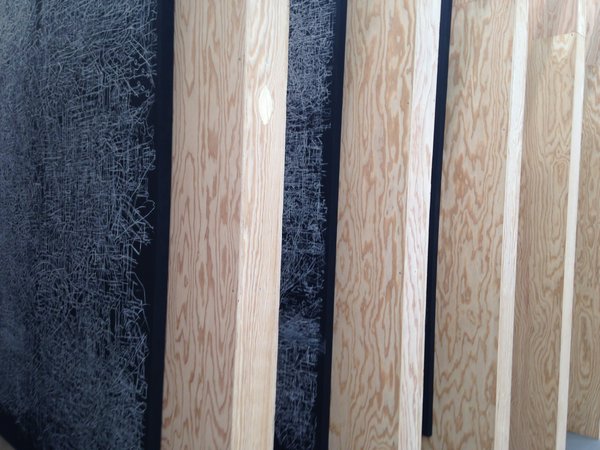 The chalk surfaces of the paintings in Rirkrit Tiravanija's untitled 2014 (freedom can not be simulated) at Gavin Brown's Enterprise remain concealed until you walk through the narrow interstices.