It's June in Switzerland, which means artists, dealers, collectors, curators, museum directors, journalists, and all manner of other art world denizens are descending upon the small city of Basel to get caught up in the swirling vortex of Art Basel, LISTE, and Volta. Of course, all that aesthetic appreciation and general hobnobbing is enough to give anyone a roaring appetite (and/or an acute desire for an alcoholic beverage). If you're a fairgoer looking for a culinary escape in Basel, these five top-tier establishments excerpted from Phaidon'sWallpaper* City Guide: Basel should provide just the respite you're looking for.
VOLKSHAUS
Rebgasse 12-14, T 061 690 9310, www.volkshaus-basel.ch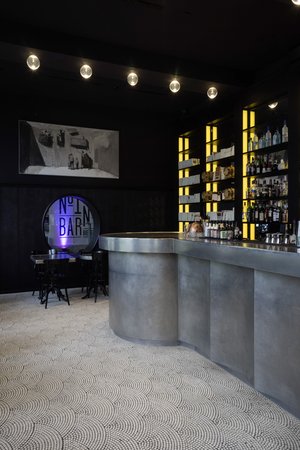 The People's House, a multi-venue hub in an historic 1925 building, was restored with flair by Herzog & de Meuron in 2012. Not only is there a fine bar, where you can people-watch all day over croissants or cocktails, there is a brasserie serving simple, classic fare, such as oysters and steak frites; a leafy courtyard, an ideal spot to enjoy a local Riesling away from the busy Claraplatz; and a concert hall, which hosts gigs and is home to Opera Basel. As ever with Herzog & de Meuron, it's all about the details, from the monochrome fan-mosaic flooring in the bar to the wooden chairs in the restaurant, inspired by the original Volkshaus seating.
WERK 8
Dornacherstrasse 192, T 061 551 0880, www.werkacht.ch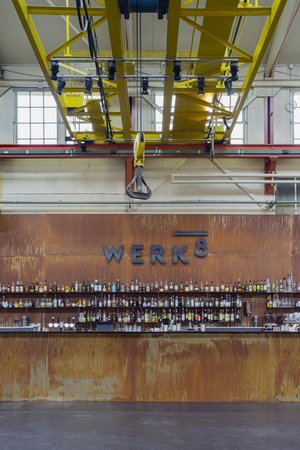 In a large industrial complex where gas compressors were once manufactured, this lounge/bar attracts, as is often the case in Basel, an eclectic, friendly mix: students, artists, and execs. Run by the same team as the popular restaurant 5 Signori (T 061 361 8773), also located in Gundeldingen, Werk 8 specializes in inventive cocktails, using ingredients like mushroom and rhubarb, prepared by Philipp Kiefer. Its spacious hall is warmed up with bright-orange details, seen in the tables and iron pillars, which complement the rusted metal sheets cladding the bar. The kitchen offers small plates as well as heartier fare, such as a club sandwich and beef tartare with whisky or cognac.
BALTAZAR
Steinenbachgässlein 34, T 061 283 1818, www.baltazarbar.ch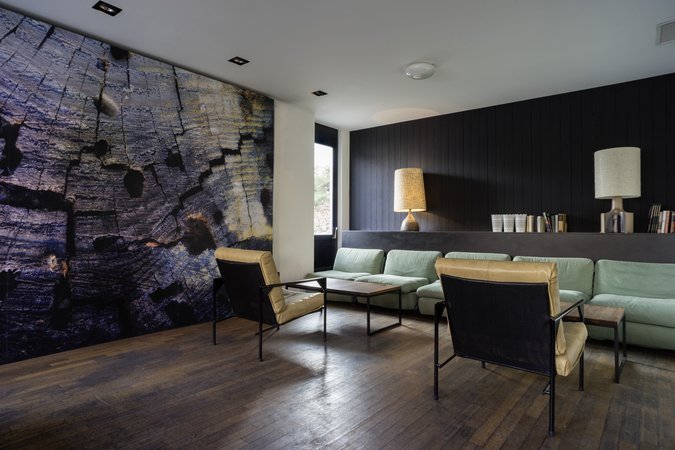 Up a steep flight of stairs, Baltazar's chic 1970s-style interiors and decked terrace with a Mediterranean feel were devised by the local creative trio Bravo Ricky. The exhaustive drinks menu majors on gin, with sodas by boutique labels. Perhaps try a local cherry brandy like Humbel's Kirsch Basler Langstieler Nr 2 or the Absinthe Janis, a Jura specialty.
VOLTA BRÄU
Voltastrasse 30, T 061 690 9129, www.voltabraeu.ch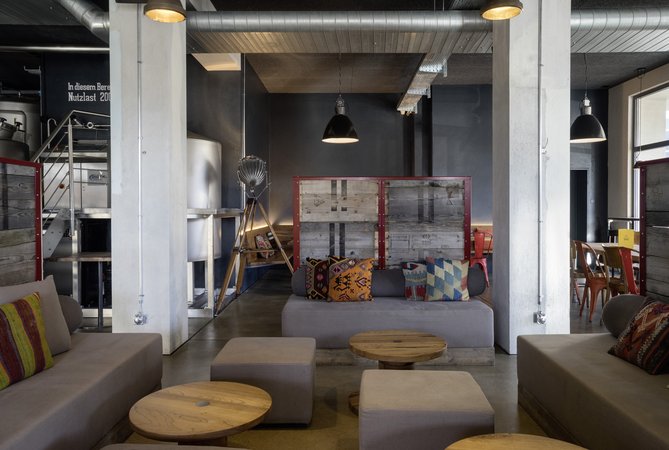 The electricity station that once powered the whole of north Basel is now a micro-brewery producing three unpasteurized beers: a blonde lager, a red ale, and an IPA. Designed by August Künzel and Hans Bernoulli and built around 1932, Volta retains an industrial feel, thanks to its raw walls, wooden cable spool tables, and exposed ceiling ducts. A cozier lounge area is perfect for sampling the concise menu of everyday classics, which includes pulled pork sandwiches, antipasti platters, and rich chocolate mousse. On summer evenings, the terrace is hugely popular. To go with your pint, order a chaser of Fernet-Branca bitters, which was once produced in neighboring Saint-Louis.
ACQUA
Binningerstrasse 14, T 061 564 6666, www.acquabasilea.ch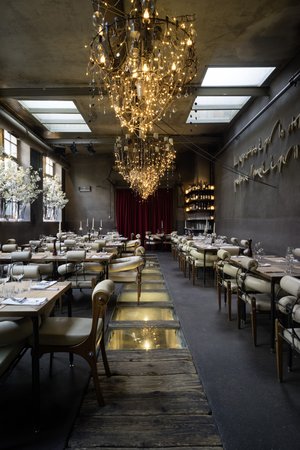 This restaurant/bar is located within an old waterworks (the fountain is visible beneath panes of glass in the flooring) and draws a lively crowd at weekends. They come for the atmospheric setting, thanks to the high ceilings, exposed brickwork, and fireplace; the excellent cocktails and antipasti (smoked salmon with fennel carpaccio, Norcia ham with melon and rocket); and the lovely courtyard terrace. The formal Italian restaurant serves fixed two- or three-course menus, with dishes such as carnaroli risotto with prosecco, salsiccia ravioli with sage butter, and panna cotta with apricot and amaretto sauce. The decor and elaborate seating are courtesy of Zermatt architect and designer Heinz Julen. Acqua is busiest from Thursday to Saturday, when there is a DJ in the lounge; it's best to book ahead.