What Copenhagen may lack in size, it certainly makes up for with a high quality of life, a tight-knit—but growing—experimental art scene, and an even larger appetite. With spaces including Kunsthal Charlottenborg and fairs such as CHART and the new Code Art Fair attracting a curious audience, this colorful city knows that hungry art hunters are arriving on its doorstep. Crafting menus that are iconically Scandinavian, Copenhagen's restauranteurs and chefs successfully blend local artisanry and flavors with a chic, modern, international twist to create a new Nordic cuisine. If you're heading north this season, pay a visit to any of these five picks from Phaidon'sWallpaper* City Guide: Copenhagen.
AMASS
Refshalevej 153, T 4358 4330, www.amassrestaurant.com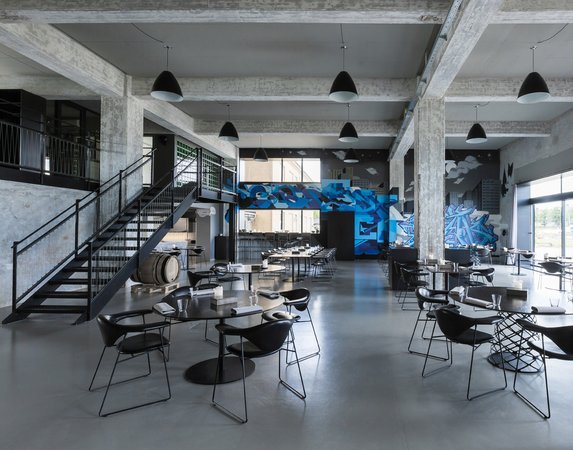 With his Noma pedigree, chef Matt Orlando now heads culinary matters at Amass, housed within a former warehouse in the Refshaleøen shipyards. The austere, stylish interior, courtesy of Jacob Gubi and Sofie Brünner, has Gubi-designed "Masculo" chairs and "Aoyama" tables. Meat is sourced from sustainable butchers Spis Min Gris, and the adjoining garden yields some of the produce for the artful, seasonal dishes.
LIDKOEB
Vesterbrogade 72b, T 3311 2010, www.lidkoeb.dk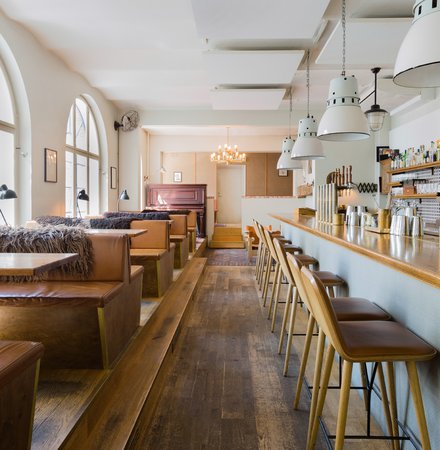 An obscure passageway leading through a courtyard and an 1880s stable ushers patrons to Lidkoeb, a cocktail bar that opened in 2012 in a former pharmaceuticals factory. The owners, Adeline and Rasmus Shepherd-Lomborg, have created a rustic yet elegant experience over three levels of the listed building. The first floor is bright and airy with large arched windows, while one flight up, the palette is more subdued. Both have a stylish mix of sleek furniture and bric-a-brac, creating a laid-back atmosphere in which to imbibe the craft cocktails. The signature drink, Lille Fortun, is mixed with gin, Chartreuse Verte, and house pale ale. Lidkoeb's Old Fashioned is a boozy affair made entirely from local spirits. The snug space on the top floor is reserved for the sampling of a wide selection of top-notch whisky.
LLAMA
Lille Kongensgade 14, T 8993 6687, www.llamarestaurant.dk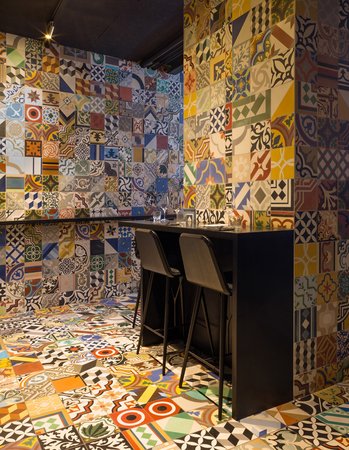 A sure thing for a night of frivolity, South American restaurant Llama draws the crowds with its bold flavors, potent cocktails, fun vibe, and dizzying decor, featuring roughly 30,000 handmade Mexican tiles on the floors and walls. A collaboration between Bjarke Ingels and Jakob Lange of architects BIG, Lars Larsen of design studio Kilo, and creative advisor Jonas Hartz, Llama is part of restaurant group Cofoco, which offers high-quality cuisine at democratic prices. From the spirited bar—Llama's beating heart—pitchers of pisco sour are dispatched to the four basement dining areas, each with a different mood. The ox heart served with chilli cream cheese, and ceviche, often prepared using Nordic fish, are some of the hits on the lengthy menu.
ØL & BRØD
Viktoriagade 6, T 3331 4422, www.ologbrod.dk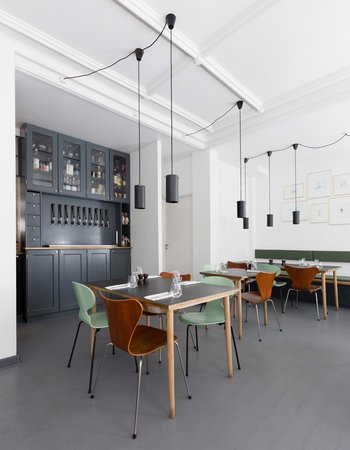 Mikkel Borg Bjergsø, a physics teacher who turned to micro brewing, has enjoyed huge success with Mikkeller, a craft beer company launched from his kitchen. After opening a few different bars, the empire expanded in 2014 with Øl & Brød (Beer & Bread). At lunch, the sleek venue, designed by Sofie Lysholm Jepsen and Nikolaj Eis, focuses on smørrebrød, the classic open-faced rye sandwich, with a modern twist in the unorthodox toppings of curried herring and veal sweetbreads. As etiquette dictates, it wouldn't be complete without a beer, and a shot, and Øl & Brød carries one of the largest selections of Aquavits and homemade schnapps in Scandinavia. In the evenings, the three- or six-course menus are paired with ales and spirits.
THE STANDARD
Havnegade 44, T 7214 8808, www.thestandardcph.dk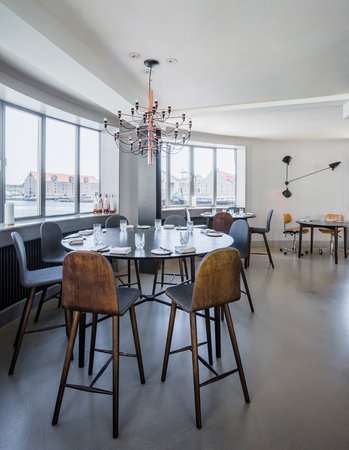 The old ferry building on beautiful Nyhavn harbour has been given a new lease of life by prolific entrepreneur Claus Meyer, who, in 2013, teamed up with Danish jazz pianist Niels Lan Doky to create The Standard. The art deco edifice, designed in 1937 by Kristoffer Nyrop Varming, now comprises three eateries and a jazz club. The design of restaurant Almanak, which serves up modern Danish cuisine, is a collaboration between Christina Meyer Bengtsson and Ulrik Nordentoft, as is that of the top-floor Michelin-starred STUD!O, where head chef Torsten Vildgaard eclipses all expectations with his sublime Nordic cuisine. Verandah, situated just beneath STUD!O, specialises in Indian cuisine in a setting by Danish-Italian duo GamFratesi.