Hometown
Detroit, Michigan
Lives and Works
California
Education
BFA, Painting, Otis Art Institute of Parson's School of Design, Los Angeles, CA, 1998
The Bath Academy of Art, Bath, England, 1985
American College in Paris/Parson's School of Design, Paris, France, 1985
Otis Art Institute of Parson's School of Design, Los Angeles, CA, 1983
Sandow Birk Gallery Art
Galleries
Permanent Collection
Metropolitan Museum of Art, New York, NY
Los Angeles County Museum of Art, Los Angeles, CA
Hammer Museum, Los Angeles, CA
Harvard University Museum, Cambridge, MA
The Getty Center, Los Angeles, CA
The De Young Museum, San Francisco, CA
Fine Arts Museum of San Francisco, San Francisco, CA
San Francisco Museum of Modern Art, San Francisco, CA
San Jose Museum of Art, Jose, CA
San Diego Museum of Contemporary Art, San Diego, CA
New York Historical Society, New York, NY
New York Public Library, New York, NY
Frequently developed as expansive, multi-media projects, Birk Sandow's works deal with contemporary social issues including inner city violence, graffiti, political issues, travel, war, and prisons, as well as surfing and skateboarding. Birk has maintained a continued interest in promoting awareness and understanding of religious texts, as was also the focus of Paradiso (2004), his illustrated version of Dante's Divine Comedy, and of societal conflicts as he highlighted in his The Depravities of War (2007) which narrated scenes of the Iraq War.
For his ongoing American Qur'an series, Birk transcribes the English-translated Qur'an using hand-lettered script inspired by the American graffiti writers of his surrounding Los Angeles neighborhood and follows the traditional formatting of the color inks and design of each passage. He then illustrates each sura with visual interpretations of the text, bridging the gap between the ancient lessons and everyday American life with painted vignettes such as grocery shopping, fashion shoots, surfing, house fires, landscaping, basketball, operation rooms, and airports. Birk's compositions mix contemporary form with that of Persian miniature painting and medieval manuscripts, which he has traveled the globe researching for over a decade. Compelled by the ongoing complexities of the relationship between Western and Middle Eastern societies, tensions heightened by the attacks of September 11th, and wars in Iraq and Afghanistan, Birk's series combats the misunderstandings surrounding Islam and the Qur'an.
Sandow Birk has had several solo museum exhibitions including: Katzen Art Center, San Diego Museum of Contemporary Art, San Jose Museum of Art, the Laguna Art Museum, the Sonoma Valley Museum of Art, and the Heidelberger Kunstverein in Heidelberg, Germany. His work has been included in group exhibitions at He is a recipient of Fulbright, Getty, and Guggenheim Fellowships, National Endowment for the Arts grants, and a Smithsonian Artist Research Fellowship Award.
Courtesy of P.P.O.W.
There are currently no works by this artist.
Follow
Sandow Birk
to get alerts when new works are added!
Articles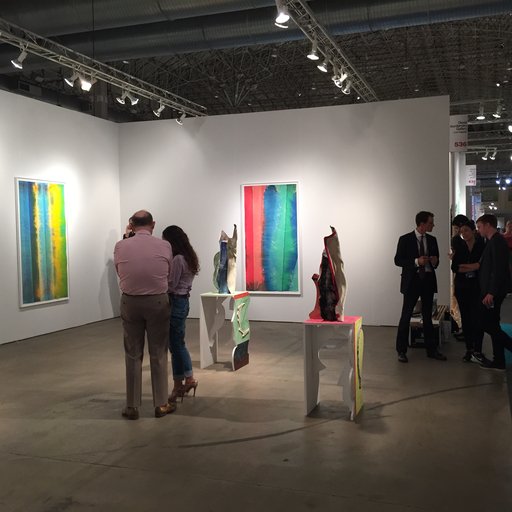 10 of the Best Artworks at EXPO Chicago 2016