Though geographically remote from the art world's leading centers, Iceland has an uncanny knack for drawing the attention of collectors, curators, and dealers to its rocky shores—partly because, for a country of notably few people, it turns out an outsize number of art stars. Take Ólafur Elíasson, who lent Iceland buzz when, at the 50th Venice Biennale in 2003, he converted the Danish pavilion into an empty palace of light, water, and air, and ascended to fame in the process. The country's extraordinary beauty certainly plays a role in its draw as well, as can be seen in Drawing Restraint 9 (2006), theMatthew Barney film that was a collaboration with Icelandic singer and conceptual artist Björk.
And now an even larger spotlight is being cast on the frozen island nation with the premiere of Explosive Sonics of Divinity, a soaring performance at Berlin's fabled Volksbühne, with set designs by the rising star of Icelandic art, Ragnar Kjartansson. In the piece, Kjartansson—who has made headline-grabbing turns in Performa and at the Venice Biennale, the ArmoryShow, and Luhring Augustine—and composer Kjartan Sveinsson explore the ideal of absolute beauty, a politically fraught topic in 20th-century German history. 
In his work, Kjartansson quests after moments of sublimity by fusing reality to illusion—a strategy he learned from his homeland's own sense of the past. "In Iceland, there is a 1,000-year history, and no proof that it existed, but there are all these stories—the poetry, the sagas," Kjartansson has said of his country's mystique. He's not the only one to be inspired by Iceland's ancient history and vibrant contemporary art community. Here are 10 other artists to know from the country's tiny but exceedingly rich scene.
BIRGIR ANDRÉSSON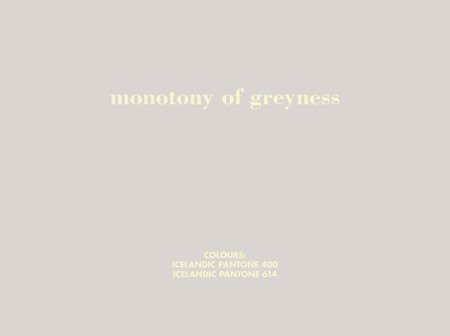 Born: 1955 (died 2007)
Hometown: Westmann Islands
Raised in a home for the blind, Birgir Andrésson, the sighted child of seeing-impaired parents, went on to explore the gap between language and perception through work that layers sparse, lapidary phrases on muted fields of color. While his concerns sound heady, the canvases are more formally playful than theoretical. Take his series Grey Colours in the Work of William Morris, in which he creates a fictional Pantone color set inspired by the natural landscape of Iceland and the 19th-century English Arts and Crafts movement headed by radical craftsman William Morris. Andrésson, who represented his country in the 1995 Venice Biennale, labeled the monochromatic grounds of such works as Monotony of Greyness (2006) "Icelandic" —though of course the colors exist everywhere. 
HREINN FRIDFINNSSON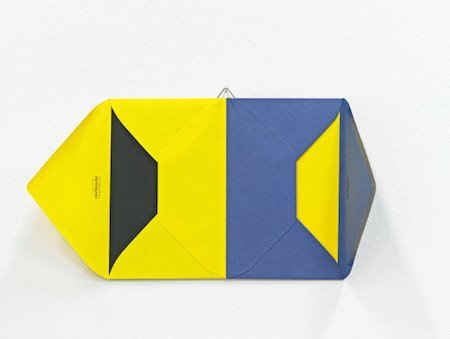 Born: 1943
Hometown: Dölum
Cardstock envelopes, horseshoe magnets, autumn leaves—the found objects transformed by artist Hreinn Fridfinnsson achieve striking abstraction, with little interference by the hand of the artist. Instead of restructuring reality, he gives it a dramatic new punctuation. Envelopes are matched up punningly to "correspond"; glass drops are arranged into a line of falling tears; cutout hands cast shadows, as if waving to themselves. The banal and mass-produced take on a poignant, human qualities. Larger conceptual questions also emerge. "I read what comes my way about physics and mathematics," said Fridfinnsson, "but I read as one who is uninitiated." This humility and questing spirit lends Fridfinnsson's work, for all its conceptual concerns, a warm accessibility. 
HRAFNKELL SIGURÐSSON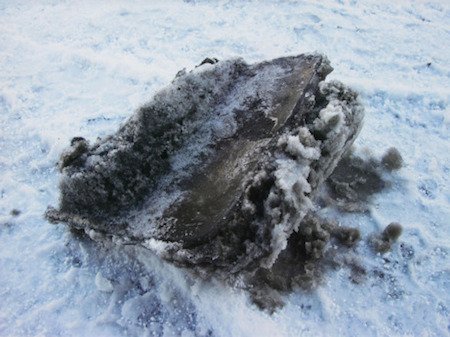 Born: 1963
Hometown: Reykjaví­k
Frozen chunks of snow are often the subject of artist Hrafnkell Sigurðsson, whose large color photographs recast the sublime status of nature in Iceland. In his Autocast series (2011), he captures the icy debris fallen from cars straight on, as if they were victims at the scene of a crime. The images might almost be photographs by Weegee, if he had been an Icelandic naturalist documenting technology's crimes against nature rather than the violent streets of 1930s New York—or, more humorously, analogues to the sociological studies by the famed typologists Bernd & Hilla Becher. Despite his clinical style, Sigurðsson's pictures are not symptoms of ecological nostalgia. From these marred elements, new, exciting sculptural forms emerge, where nylon and fiberglass tents flipped up side down float on the tundra, and bulging plastic garbage bags become objects slick, shiny, and sculptural. Like a scene of a crime, you can't stop looking. 
KRISTJÁN GUDMUNDSSON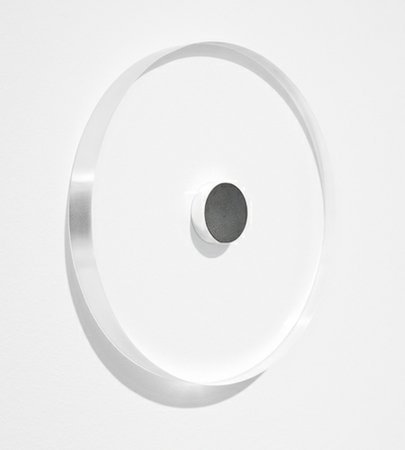 Born: 1941
Hometown: Snæfellsnes
The reduction of art to its most pure material form has guided the Minimalist project, and the Icelandic artist Kristján Gudmundsson continues in the tradition of Frank Stella and Donald Judd, by laying out industrial material at its most basic and bare. Simplicity in art, however, is rarely simple. Gudmundsson says he is attempting "to work within the field…that exists between nothing and something." The clear disc Drawing in Round Frame (2011) occupies this paradoxical state, with the work's importance depending on the viewer's intervention. Anchoring the viewer into the realm of real rather than illusory space, it plays out the struggle between material and effect, structure and subject, image and object.
ELÍN HANSDÓTTIR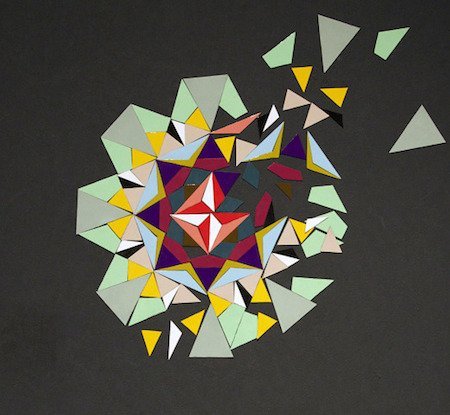 Born: 1980
Hometown: Reykjaví­k
In a foundational modern text that has influenced artist Elín Hansdóttir, American philosopher William James describes pure aesthetic experience as a state of "blooming, buzzing confusion." This quality of reality unsynthesized and unsifted is captured in Hansdóttir's bright colors and disorienting lights, which both heighten and baffle perception. Wildly vivid, Magnets (2010), appears as a disassembled kaleidoscope, while his architectural interventions like Peripheral, commissioned by Frieze Art Fair in 2007, dissect the white light spectrum into its red, green, and blue elements, converting the exhibition space into a hallucinatory passageway. While perception is confused and gradation made uncertain, the colors grow richer and contrasts sharper. Where meaning is lost, sensation is found. 
ORRI JÓNSSON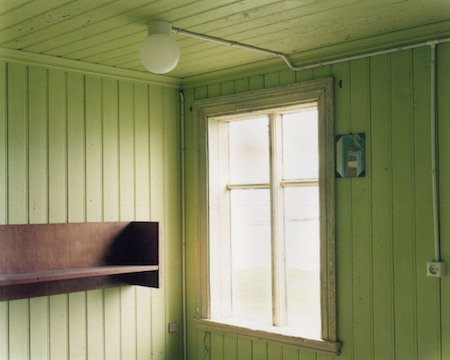 Born: 1970
Hometown: Reykjaví­k
In 1999, on family holiday in northern Iceland, artist Orri Jónsson discovered an abandoned farmhouse, and for the 12 years following he roamed through the country with his large-format analogue camera in search of other hollowed homes. It would be a mistake to call the resulting project "Interiors"—which includes works such as Interiors #56(2011)—precious or nostalgic. Within spaces unpopulated by figures, the tactile walls, worn corners, snagged fabrics, and left-behind trifles act as stand-ins for the past inhabitants, providing intimate studies of the missing characters. Jónsson's visual history of crumbling cement and peeling paint look like, if you were quiet enough, the surfaces might whisper stories to you.
ÍVAR VALGARDSSON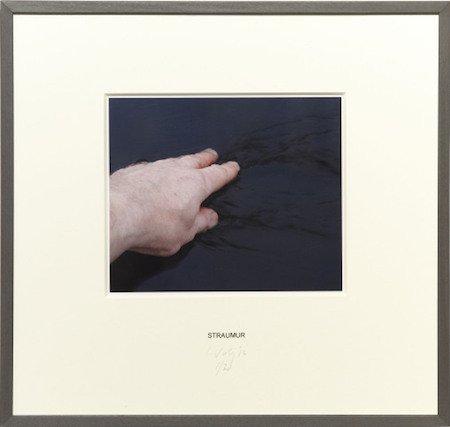 Born: 1954
Hometown: Akranes
A sculptor who probes the field of physics, Ívar Valgardsson creates rigorous, meticulously constructed installations. His materials include power lines, high-tension cables, oil, wall paint, home improvement tools, and digital microscopes. The teeny rectangular prism Uncounted Layers (2010), which appears like an excavated chunk of prehistoric stone, consists of hundreds of layers of paint layered one atop the other. In the print Current (2012), Valgardsson also makes unexpected connections between the natural and man-made. The subject is a hand reaching into a stream of water, but the poetic gesture alludes to the scientific—this river is a source of electricity, giving the titles its dual meaning. 
SIGURDUR GUDMUNDSSON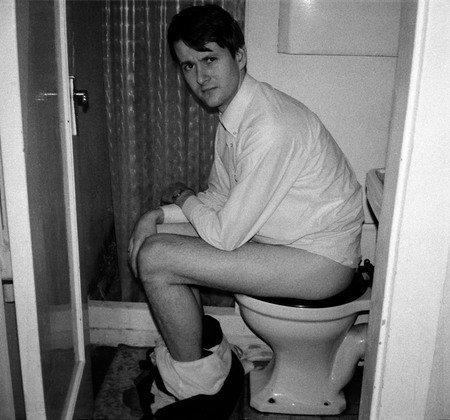 Born: 1942
Hometown: Reykjaví­k
In the 1960s, when many Icelandic artists decamped to Denmark, Sigurdur Gudmundsson, in his non-sequitur style, moved to Holland. Isolated from the art-world centers, he staged "situations" with idiosyncratic, Fluxus-like flair, parading through the streets with a flowerpot on his head or an ice-cream cone on his nose. On another notable occasion, the artist gave public lectures with a dildo strapped to his forehead. In Fragment(1969-2010), Gudmundsson stares back at the viewer from the toilet, a hint of accusation playing across his face. Performance, privacy, and perversion: how far should the artist expose himself for his art? Can he not even get a moment alone on the loo?  
FINNBOGI PÉTURSSON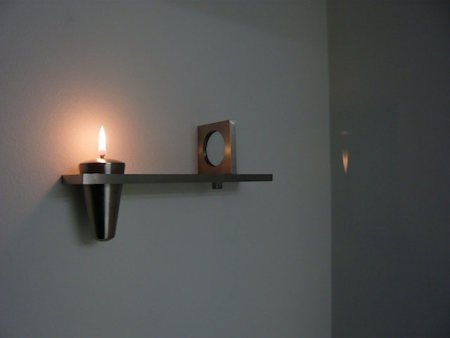 Born: 1959
Hometown: Reykjaví­k
In the 2001 Venice Biennale, Pétursson transformed the Icelandic pavilion into a large musical instrument. As visitors moved through the space, the building vibrated the tonal interval called the Diabolus, a sound outlawed by the medieval church. Mixing medieval doctrine and modern technology, Pétursson creates a strange interpenetration of time and space, in this work and others. He also pursues scientific interests, crossing sound and visual effects frequently, such as by using light and water to translate sound waves into operatic visual effects. In Flame (2008), Pétursson plays with fire in an optical illusion, flipping both the candle flame and the viewer's sensorial world. 
EGILL SÆBJÖRNSSON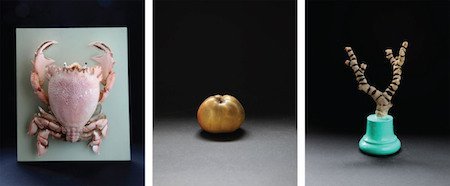 Born: 1973
Hometown: Reykjaví­k
Purses swing around in a choreographed dance; stones gallop across the desert like bandits; a king crab, among other objects, is photographed in dramatic lighting, as if a portrait of a dignitary. Artist Egill Sæbjörnsson, through a combination of music, sound, video, and projections—Sæbjörnsson himself is a musician and has worked with Björk—recasts the world around him into a series of caricatures, at once grotesque and enthralling. His is a sort of idolatry born from a divine boredom with the world, which worships the human capacity to imagine greater alternatives. In the triptych Dancing Palmtrees (2008), pronged shadows swivel and shake and leave little doubt to the full sweep of Sæbjörnsson's ecstatic, wild imagination.