With the outdoors beckoning, art travel booming, and everyone looking their tanned-and-fit best, summer is a season tailor-made for Instagram. But... are you following the right people? To get the most out of the app's visual splendors, here are a few art-world luminaries that you might want to add to your feed.
1. CECILIA ALEMANI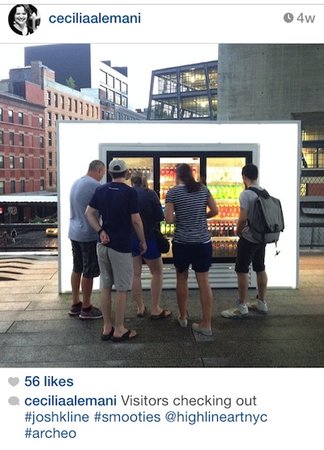 TAG: @ceciliaalemani
AFFILIATION: Donald R. Mullen, Jr. Curator and Director of High Line Art
WHY FOLLOW: As the curator spearheading the art programming on Manhattan's always-thronged High Line Art, Alemani has commissioned projects by Uri Aran , Carol Bove, Simone Forti, Virginia Overton, Andra Ursuta, and other expertly chosen artists. On top of her responsibilities for High Line Art, Alemani is a distinguished independent curator who has worked with the Frieze Art Fair in multiple capacities, most recently curating its New York edition's outdoor sculpture program. As a result, Alemani travels A LOT to see new art, and her instagram is a riveting repository of artworks and installation shots from venues around the globe.
MOST LIKELY TO FIND: An array of pictures of art on the High Line, natural beauty on the High Line, stunning vistas from the High Line, and events on the High Line, plus copious images from tentpole art events around the world that most of us can never make it out to, most recently Manifesta 10 in St. Petersburg, the Berlin Biennale, and Art Basel.
POWER COMMENTERS: Jerry Saltz, Sean Horton, Joshua Smith, Tony Shafrazi, Yvonne Force Villareal, Takashi Murakami , Chris Wiley
2. MILLS MORAN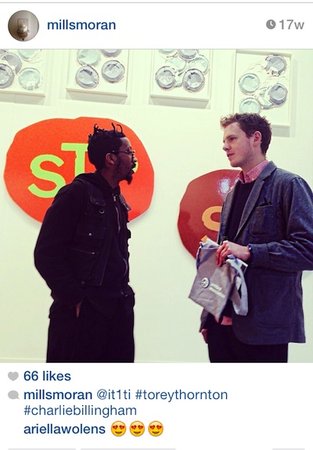 NAME: @millsmoran
AFFILIATION: Managing director of OHWOW
WHY FOLLOW: Opening first in 2008 in Miami and then soon after in Los Angeles, OHWOW is both a contemporary art gallery and a publishing house for genre-defying books. As a gallery, OHWOW represents rising-star artists like Daniel Arsham, Jacolby Satterwhite, Kon Trubkovich, and Torey Thornton alongside more established figures as Diana Al-Hadid and George Herms. With a roster consisting largely of budding New York-based talents, Moran is a past master at building buzz on both coasts, and his openings and parties reliably bring out the cream of the burgeoning L.A. art scene. As managing director of OHWOW, Mills Moran uses his Instagram as a insight-filled diary into his daily activities.
MOST LIKELY TO FIND: Pictures of artworks by OHWOW artists, aspirational photos of his lovely family, candid snaps of indie art-world luminaries, and images of different types of toilets in unorthodox locations
POWER COMMENTATORS: Piper Marshall , Ralph DeLuca, Torey Thornton, Meredith Darrow, Hugh Scott-Douglas, Eleanor Cayre, Sarah Aibel
3. HEATHER FLOW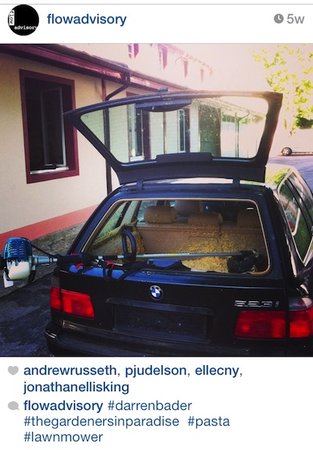 NAME: @flowadvisory
AFFILIATION: Founder of Flow Advisory
WHY FOLLOW: After finding her footing at MoMA PS1 and the American Federation of Arts, Flow founded Flow Advisory , an art consultancy firm based in New York that is centered around matching in-the-know collectors with work by the younger generation of artists. Since its inception in 2008, Flow has become a prominent player in New York and Los Angeles art scenes—particularly on the Lower East Side and other emerging-art gallery sectors—where she is known for her savvy in brokering deals. Following her Instagram is a shortcut to staying abreast of the latest talents.
MOST LIKELY TO FIND: Geo-tags from institutions across the world
POWER COMMENTERS: Nicolas Trembley, Bridget Donahue, Lucy Chadwick, Ajay Kurian, Nazy Nazhand, Brendan Fowler, Suzanne Vielmetter, Jonathan Viner
4. I CALL B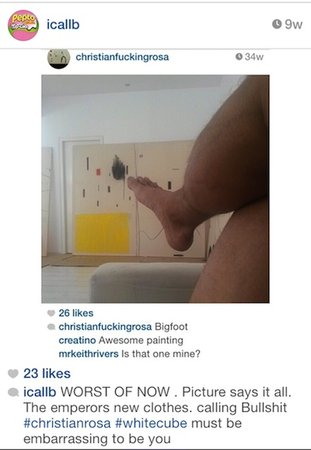 NAME: @icallb
AFFILIATION: Anonymous flamer site
WHY FOLLOW: An abbreviation of 'I Call Bullshit,' the incognito creator behind this account targets museums, artists, galleries, dealers, and celebrities with acidulous barbs and apparent impunity. The mantra is "don't believe the hype," and the poster's tactic is typically to post photos of artists, text from prominent articles, or even screenshots of other Instagram user's posts and then lay in savagely. "Enough of this ubiquity" is a dismissal levied at widely-exposed figures like Hans Ulrich Obrist, and woe betide an interloper who @icallb deems boring—the most vicious snark is reserved for the comments section. It's hilarious, even if the outsize nature of the vitriol can be a bit unsettling.
MOST LIKELY TO FIND: Swipes against Sterling Ruby, Wade Guyton, James Franco , Jeff Koons , and other art stars, interspersed with poop emojis and a hearty helping of profanity
POWER COMMENTATORS: Allison Gingeras, Adam Lindeman , Stefan Simchowitz , Brad Troemel, SellYouLater , Bill Powers, Devin Troy Strother
5. NIELS KANTOR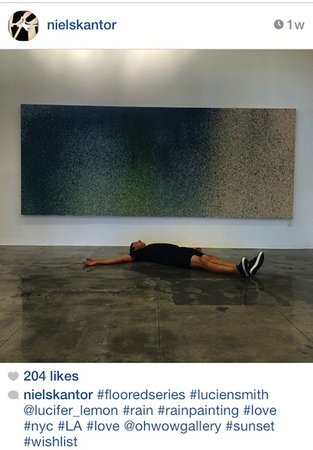 NAME: @nielskantor
AFFILIATION: Los Angeles dealer and collector
WHY FOLLOW: Opening his own gallery when he was only 25, Niels Kantor has always been something of an art prodigy, and no wonder—his father, Paul Kantor, was a forward-thinking L.A. dealer and collector whose galleries Motherwell, Rothko, de Kooning, and other leading postwar artists. Following in his dad's footsteps, Kantor sells work by artists from Warhol to Jacob Kassay—from 2005-7 he ran a shared L.A. space with Zach Feuer —and also vigorously collects works by buzzy emerging artists. Some of that buzz is of his own making: Kantor uses his Instagram to promote both artists from his gallery and advertise artworks in his collection or that he wants to acquire.
MOST LIKELY TO FIND: Vintage punk concert posters (many by Raymond Pettibon ), pictures of his plugged-in family (his toddler son Canon has his own Instagram), and works by artists like Nick Farhi, Brendan Lynch (and other Still House Group members), Adam McEwen ("#underrated"), Lucian Smith, and Kaz Oshiro, all tagged "#kantorcollection."
POWER COMMENTATORS: Lindsay Howard, Anita Zabludowicz , Eneas Capalbo, Leo Fitzpatrick , Stefan Bruggemann, Bridget Donahue, Bill Brady, Erik Foss, Pedro Velez
6. LOIC GOUZER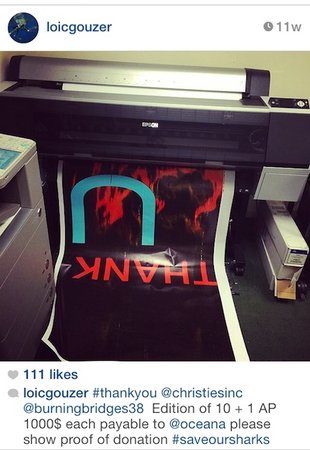 NAME: @loicgouzer
AFFILIATION: Christie's postwar and contemporary art specialist
WHY FOLLOW: As the curator of Christie's edgily branded "If I live I'll See You Tuesday" auction featuring fresh work by much-speculated-upon young artists, Gouzer ingeniously used his personal Instagram account to build anticipation for the sale by doling out sneak peeks of its 36 handpicked artworks in the run-up to the action. The tactic, which keenly targeted the Instagram-addicted collectors who hotly pursue such work, created a sensation—particularly after Wade Guyton, who had a painting in the show, responded to its inclusion by printing out a roomful of copies of the exact same digital file and posting photos on his own Instagram feed in what was seen as a bid to tank the piece's auction value. (It failed: the painting sold for an above-estimate $3.525 million.) Now he posts a mix of material, but expect more salesroom fare once the fall auctions roll around.
MOST LIKELY TO FIND: Photos of artworks—like work by Israel Lund, Rudolf Stingel , Dominico Gnoli, and a "present" from Mark Grotjahn—amid pictures from his Hamptons vacation (he gets there by sea plane) and environmental causes.
POWER COMMENTATORS: Gisele Bündchen, Adam Lindemann , Bill Powers, Derek Blasberg, Stellan Holm, Alberto Mugrabi, Tony Shafrazi, Beth Swofford, James Fuentes, Stefan Simchowitz, and a ridiculous number of models
7. KLAUS BIESENBACH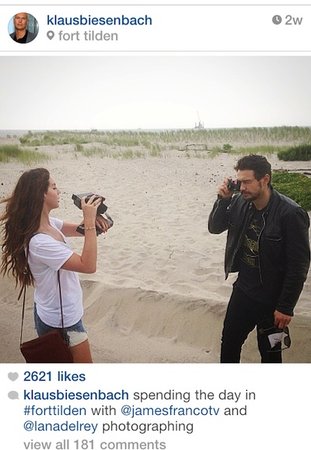 NAME: @klausbiesenbach
AFFILIATION: Director of MoMa PS1 and chief curator-at-large at MoMA
WHY FOLLOW: When it comes to museum directors, the German-born Biensenbach is the closest thing America has to a bona fide celebrity—and his Instagram account, filled with photos of the curator and his famous friends, might be the closest thing the art world has to Us Weekly . And that's a good thing. Using his powerful post to blur the divisions between fine-art and mass culture, art history and ultra-contemporaneity, Biesenbach is famous for bringing New York truly blockbuster events that redefine what a museum can be (just think of his 2010 Marina Abramovic retrospective and its lines around the block). An ardent technophile whose recent "14 Rooms" show was designed explicitly with Instagram in mind—he wanted to thwart it by creating uncapturable live experiences—he posts frequently and sometimes seems to cross over into using the service as a performative medium, as with his abundantly documented road trip down to Art Basel Miami Beach with the artist Korakrit Arunanondchai. He also uses it promote his passionately pursued cause of saving the Rockaways and developing it as an art destination.
MOST LIKELY TO FIND: Photos of Lady Gaga, Lana del Rey, James Franco , Marina Abramovic , Hans Ulrich Obrist, Patti Smith; scenes from MoMA PS1; pictures from his travels to art sites around the world; and daily photos of the view from Biensenbach's Lower East Side apartment window ("#window23").
POWER COMMENTATORS: Lana del Rey, Jerry Saltz, Thelma Golden, Mircea Cantor , Kipton Cronkite, David Benjamin Sherry , Ryder Ripps, and lots of committed James Franco and Lana del Rey obsessives (who say things like "Where's Lana" and "Tell Lana and James to date").