In case you haven't noticed, archives are all the rage in the art world these days. From Group Material co-founder Julie Ault's personal art collection from the 1980s and '90s on view at Artists Space to Fiona Tan's film of the Sir John Soane Museum's antiquities collection at the Philadelphia Museum of Art (echoing Alain Resnais's great 1956 documentary of Paris's national library, "Toute la mémoire du monde") to the Museum of the City of New York's upcoming show of graffiti art collected by the late artist Martin Wong, artists and institutions are devoting considerable efforts to showing groups of historical art objects gathered through an idiosyncratic personal vision—with that act of curation being foregrounded as an artistic gesture. And if that's not enough, just wait for the Whitney Biennial to open in March. Archives will abound.
Of course, the archive is hardly a new theme in contemporary art. The art historian Hal Foster's 2004 essay "The Archival Impulse" defined archival art as a genre that "make[s] historical information, often lost or displaced, physically present. To this end [archival artists] elaborate on the found image, object, and favor the installation format." Whether this happens in the form of projects dealing with real archival material or artworks in which artists use the archive as a theme (sometimes even inventing material), the idea of the archive continues to be an undeniable force and organizing structure in exhibitions today. Here we break down the basics of this complicated yet intensely contemporary genre, which easily elides from the hyper-researched to the totally surreal. 
HISTORICAL DOCUMENTS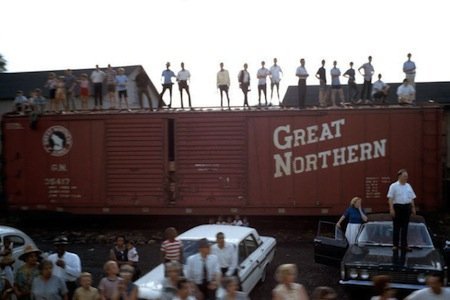 Paul Fusco's RFK: Funeral Train USA Tour (1968)
Often archival art calls upon the idea of institution or museum as a storehouse—a treasure trove of archives by definition—but, in addition, many museum curators have been major forces in fueling discussion about the archive in the work of artists today. The curator Okwui Enwezor's provocative 2008 exhibition at the International Center of Photography "Archive Fever: Uses of the Document in Contemporary Art" (the title of which references philosopher Jacques Derrida's 1995 book, Archive Fever) highlighted numerous examples of artists who employ archival documents in their work. The landmark show included artists among the likes of Glenn Ligon, Thomas Ruff, Andy Warhol, Stan Douglas, and Robert Morris.

Morerecently biennial curators have also given prominence to historical archives in their shows, most famously Massimiliano Gioni, whose Gwangju Biennale incorporated an enormous amount of documentary materials—from photographs of the victims of atrocities in Cambodia to Paul Fusco's photos of Robert F. Kennedy's casket being transported to Arlington—and who continued this emphasis through his 2013 Venice Biennale, which displayed such archives as a group of hundreds of small model houses built by an Austrian insurance clerk named Peter Fritz. Carolyn Christov-Bakargiev's much-praised dOCUMENTA (13) featured an extensive use of archives, and artists who employ archives, as well.
MONUMENTS

Thomas Hirschhorn's 2013 Gramsci Monument
Often archival art pays homage to a historical figure in the form of a monument, or by using the figure's life and/or work as an organizing theme. The projects of Thomas Hirschhorn are a prime example: for the past 15 years, the Swiss artist has raised monuments to his favorite philosophers, using archival material about each figure to create interactive installations. He created one for Baruch Spinoza in Amsterdam in 1999, one for Gilles Deleuze in Avignon in 2000, then one for Georges Bataille in Kassel, Germany, in 2002. The final work, for Antonio Gramsci, was mounted last summer within a housing project in the Bronx, and served as a community center as well as informational site about the Marxist thinker. This fall Jill Magid, meanwhile, mounted a show at Art in General dedicated to the work of Mexican architect and Pritzker Prize-winner Luis Barragán (1902–1988).
 THE IMAGINARY ARCHIVE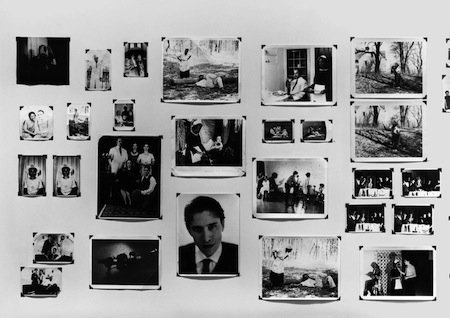 A detail of Zoe Leonard's archive related to the fictional singer Fiona Rae
A number of artists primarily use the archive as a framing device in order to realize invented characters or events. Zoe Leonard created the fictional Fae Richards, an acclaimed black actress and singer who "lived" from 1908 to 1973, for her synonomous archive dedicated to the "legendary" figure. Using film stills, publicity materials, photographs, and recollections, Leonard creates a rich history culled from the real lives and stories of black women in the early days of Hollywood. Through her invented character, Leonard began a conversation about very real issues that risked being forgotten. And Walid Raad's collaborative projects with the Atlas Group are in fact works solely produced by Raad, who created a website hosting the fictional group's archives related to the story of contemporary Lebanon. The archive has three distinct sections: files by imaginary people, files by anonymous people, and files by the "group" members themselves. By creating a falsely collaborative archive to achieve his aim's, Raad raises questions of identity, organization, and collective history. In another example, the artist Theaster Gates's first show was a survey of pottery made by a Japanese ceramicist who moved to the American South after Hiroshima and then died in a car accident—all of which, from the pottery to the fictional artist's story, was created by Gates.
THE INFLUENCE OF THE INTERNET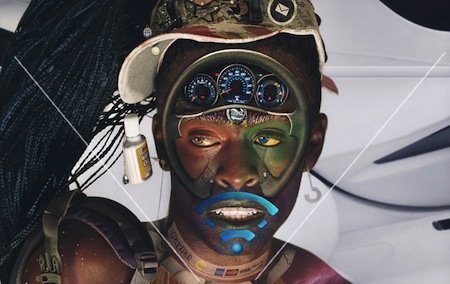 A detail from Ryan Trecartin's 2010 W magazine photos
As Foster notes in his essay, the Internet has normalized the collecting and compiling of information to the point where information itself can be viewed as a found object in the same way as the cast-off detritus Robert Rauschenberg incorporated into his combines. Even amateur archivists today have a overload of information to choose from thanks to the democratizing power of the Internet, making available everything from Google search results to streetviews and satellite images from around the planet to books and academic archives like JSTOR—a limitless trove of raw material that is enthusiastically incorporated into projects by artists like Ryan Trecartin and Jon Rafman, who make its provenance clear in their work. (Both artists appeared in the 2012 exhibition "The Artist as Archivist in the Internet Age" at the Bushwick experimental art space 319 Scholes.)
For Trecartin's Web 1.0: A Lossless Fall, for instance, he staged four portraits for W magazine in 2010 using extensive Internet research to completely restylize the images, for instance digitally superimposing an Acura steering wheel on a model's face, coloring one eye the hues of the Brazilian flag, and giving him a hairstyle ("ankle length micro braids") found on a hair site—all with images sourced from the Web. Rafman, meanwhile, has become well known for exhibiting images he finds on Google Street View, many of which appear online as ongoing archival projects, allowing for viewing 24 hours a day for anyone with access to a computer.