Here at Artspace we're celebrating the season of spring (which they say has already started). Here's what else we're celebrating this month:
YTO BARRADA
Pace Gallery, New York
April 5 - May 5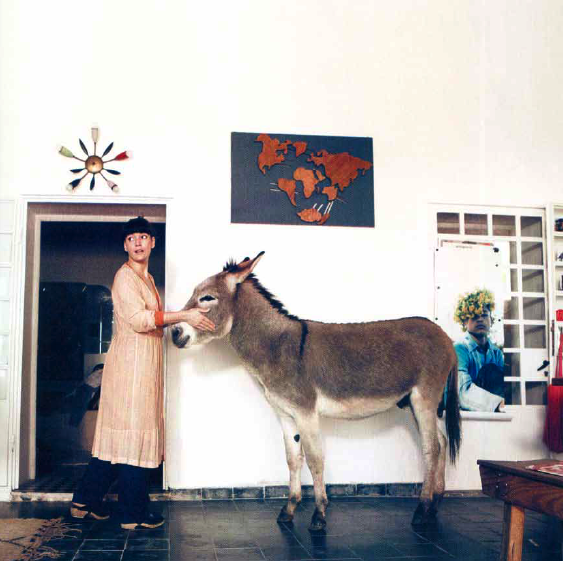 Yto Barrada, Image courtesy of the artist.
Though Yto Barrada is quick to correct those who identify her as a Moroccan artist, the Tangiers-born, Paris-raised, and current New Yorker's globally minded works often do find themselves rooted in Barrada's middle eastern home country. Her wide-ranging practice utilizes film, sculpture, and installations as a means to express her playful, anthropological studies of the world around her. Not overtly political, Barrada's work retains a sort of observational, academic cool with regard to her subjects; an attitude she cites as a result of her training as an historian at the Sorbonne. "How to Do Nothing with Nobody All Alone by Yourself" at Pace will be the artist's first solo New York gallery show, which is surprising given Barrada's illustrious CV. Her work has been exhibited at major institutions around the world, including the Tate Modern, MoMA, the Walker Art Center, and the Centre Pompidou, as well as the 2007 and 2011 Venice Biennales. She was Deutsche Bank's Artist of the Year is 2011, and a recipient of Robert Gardner Fellowship in Photography (2013), the Abraaj Group Art Prize (2015), the Canon Tiger Award for Short Film (2016), and was nominated for the Marcel Duchamp Prize in 2016. Opening this month, "How to Do Nothing with Nobody All Alone by Yourself" spans Pace's 57th street gallery's three floors, surveying the vast entirety of this prolific artist's work to date.
SHEIDA SOLEIMANI
Atlanta Contemporary, Atlanta, GA
April 12 - July 9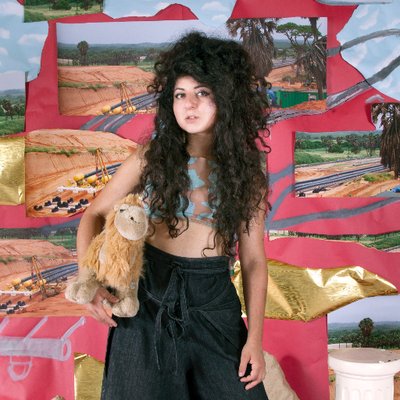 Sheida Soleimani, Image courtesy of the artist.
One of the most memorable booths at this year's NADA art fair was easily Rhode Island-based, Iranian-American artist Sheida Soleimani's. Represented by London's Edel Assanti gallery, Soleimani's surreal, riotous tableaus are immensely visually satisfying, while offering terrific punchlines for the petrol-military-industrial complex blighting the Middle East. Her works hit the nail on the head hard, and with a vaudevillian wit and spry satire that's reminiscent of Maurizio Cattelan. The works on view at NADA were all part of a series titled "Medium of Exchange" which has been traveling throughout the United States since its debut in London. Thus far, it has been exhibited at the Contemporary Arts Center in Cincinnati and CUE Arts Foundation. This month, "Medium of Exchange" will also be exhibited at Atlanta Contemporary. A professor within RISD's history, philosophy, and social sciences department, Soleimani makes radical work as an artist-activist that have been featured on publications including Harper's Bazaar, VICE, and Art Forum. Her work has been exhibited internationally, with solo shows at the Biel/Bienne Festival of Photography in Bern, Switzerland, ROMPONE gallery in Cologne, and her representative Edel Assanti gallery in London.
FLUCT
Signal Gallery, New York
March 23 - May 6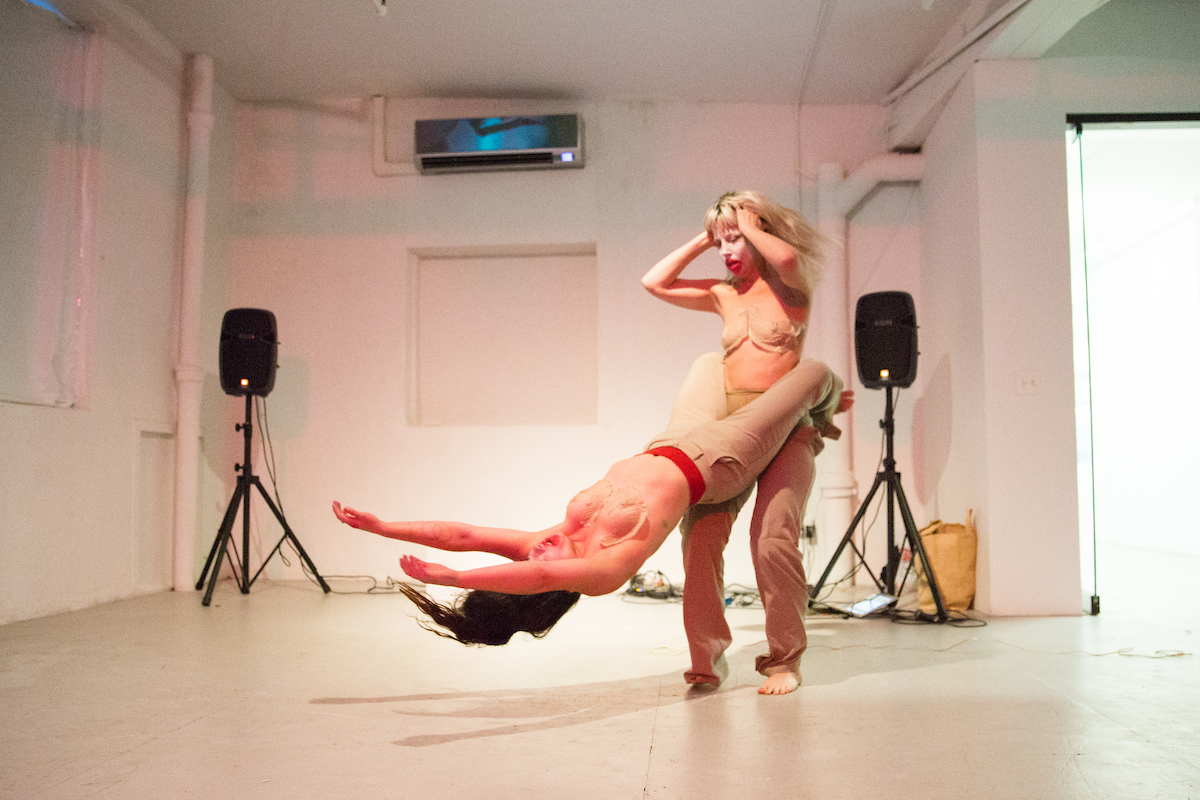 FlucT, image courtesy of the artist. Photo: Walter Wlodarczyk.
If you're in the Brooklyn arts community, chances are you already know (and follow) the performance artist duo known as FlucT. Comprised of Monica Mirabile and Sigrid Lauren, the team are a vital part Brooklyn's rising community of performance artists, and DIY institutions such as the newly re-established venue Secret Project Robot, which was re-opened early last year with the help of Mirabile, as well as Otion Front Studio—a cozy trailer-cum-rehearsal studio behind a gallery on Myrtle ave that was also founded by Mirabile, as well as Lauren. As FlucT, the duo choreograph visceral, dangerous, "violently intimate" performances that have all the thrills of Cirque de Soliel, but with far more subversive, political ends. In their own words, FlucT is "addressing issues in the capital obedience of American culture through choreography and performance." Their manic, tortured works are currently on view at Brooklyn's Signal Gallery, and it's a rare opportunity to catch them outside of their usual ephemeral, performative setting. Titled "is it god or am i a dog?", the multimedia exhibition features their choreography displayed through multiple video sculptures, all engulfed in the duo's original narrative soundscapes. As a pair, Mirabile and Lauren have choreographed and performed works at MoMA PS1, the Guggenheim, Performa, and Art Basel Miami 2017 to name only a select few. Their current show runs in conjunction with Fin Simonetti's "Pastoral Emergency," also on view at Signal and definitely worth a look-see.

GHADA AMER
Cheim and Read, New York
April 5 - May 12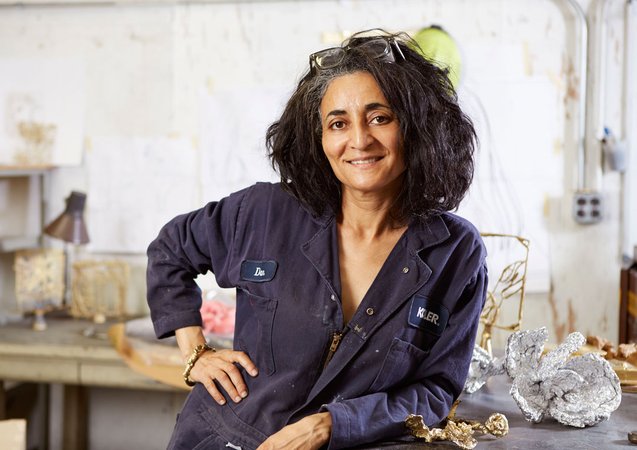 Ghada Amer, Image courtesy of Phaidon
In her fourth exhibition at Cheim and Read, Cairo-born artist Ghada Amer (b. 1963) will exhibit new painted and sculptural works. Amer is known for her signature erotic contoured figures composed of dense clusters of overlapping thread. With frequent nods to art historical references, namely the male-dominated Abstract Expressionist movement, Amer posits the roles of women as a subject rather than an object, and explores the differences and overlaps in Muslim and Western cultures. Since her debut at the the 2000 Whitney Biennial, Amer has become a highly-established name (her art is in a number of international permanent collections including the Art Institute of Chicago, el Aviv Museum in Israel, and Centre Georges Pompidou in Paris) but we are are especially excited for her upcoming exhibition, as it is the first time that the artist will exhibit works in ceramics, which she's experimented with in recent years. The artist's ceramic works harken to her painterly sensibilities, and defy the traditional conventions of ceramics. Says the director of Greenwich House Pottery, Adam Welch, "many artists currently converging on the medium (ceramics) generally do so in a manner distinct from their other art practice. Ghada set out to close the distance across her mediums."
YAEL MALKA
The Rubber Factory, New York
March 10 - April 18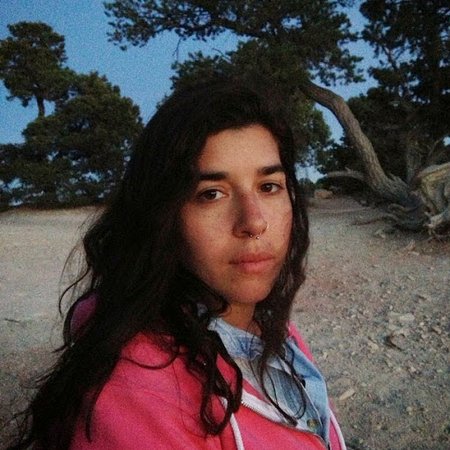 Yael Malka, Image courtesy of the Artist
Since graduating from Pratt Institute in 2012, Brooklyn-based photographer Yael Malka (b. 1990) has established herself as one to watch with stand-out works in a number of group shows at galleries including Bruce High Quality, Philadelphia Photo Arts Center, Sikkema Jenkins, and the Hudson Valley LGBTQ Community Center. In addition to her studio practice, Malka he has been commissioned to shoot for WIRED, Phile Magazine, New York Magazine, Bloomberg Businessweek, and The Outline. The artist's current solo exhibition Almost Touching at New York gallery The Rubber Factory is an exciting collection of new works in which Malka address intimacy, language, and culture. Her photographs are an exploration of the notions of concealment and exposure; specifically in terms of the queer community and what it means to reveal oneself to strangers, lovers, and friends. Alongside the photographs are there two text-based sculptural projects. Found text is of interest in many of Malka's works and often acts as a ground to expound upon. As a native English speaker, Malka is fascinated with convoluted translations of English phrases in non-English-speaking countries, and sees the phrases as "fragmented colonial artifacts" indicative of colonialism and globalization. The found phrases echo the disembodied gestures and fragmented interactions present in the photographs, teetering between the intimate and the unfamiliar.
EMILIO BIANCHIC
Postmasters, New York
April 7 - May 12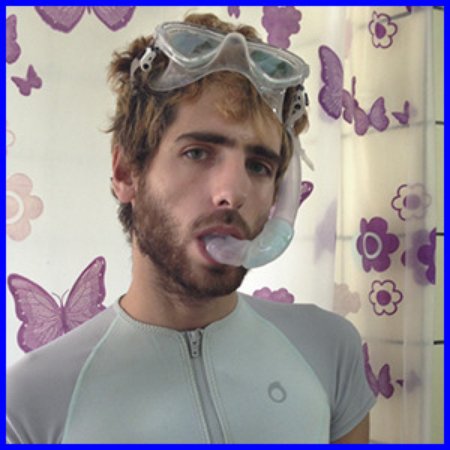 Emilio Bianchic, Image courtesy of the artist
In 2015, Uraguayan artist Emilio Bianchic's exhibition of video art at Tribeca gallery Postmasters was praised one of the most "memorable exhibitions of the year." More recently, the Bianchic's video piece with artist collective Básica TV (exhibited by UV Estudios of Buenos Aires) was named a highlight of NADA NY. This month, the artist returns to Postmasters with a solo exhibition of new works, aptly titled Ooh La La. With a central focus on artificial nails, Bianchic uses humor and the abject to explore a "manufacturing of identity." The artist gleefully describes his works as "una fiesta del error," or "a party of error," and does not shy away from absurdity. Bianchic's fascination for nail art began in 2013 and has since evolved in a delightfully hyperbolic fashion. The main piece of the exhibition is a video called "Fashion Number One Rule Number Rule Number One" which follows the artist (playing a fashionite and singer) from the knees down, (literally), his feet adorned with long acrylic nails as a hysterical narrative unfolds. For Bianchic, imperfection is an "asset, rather than a flaw."
MIYOKO ITO
Artists Space, New York
April 7 - May 6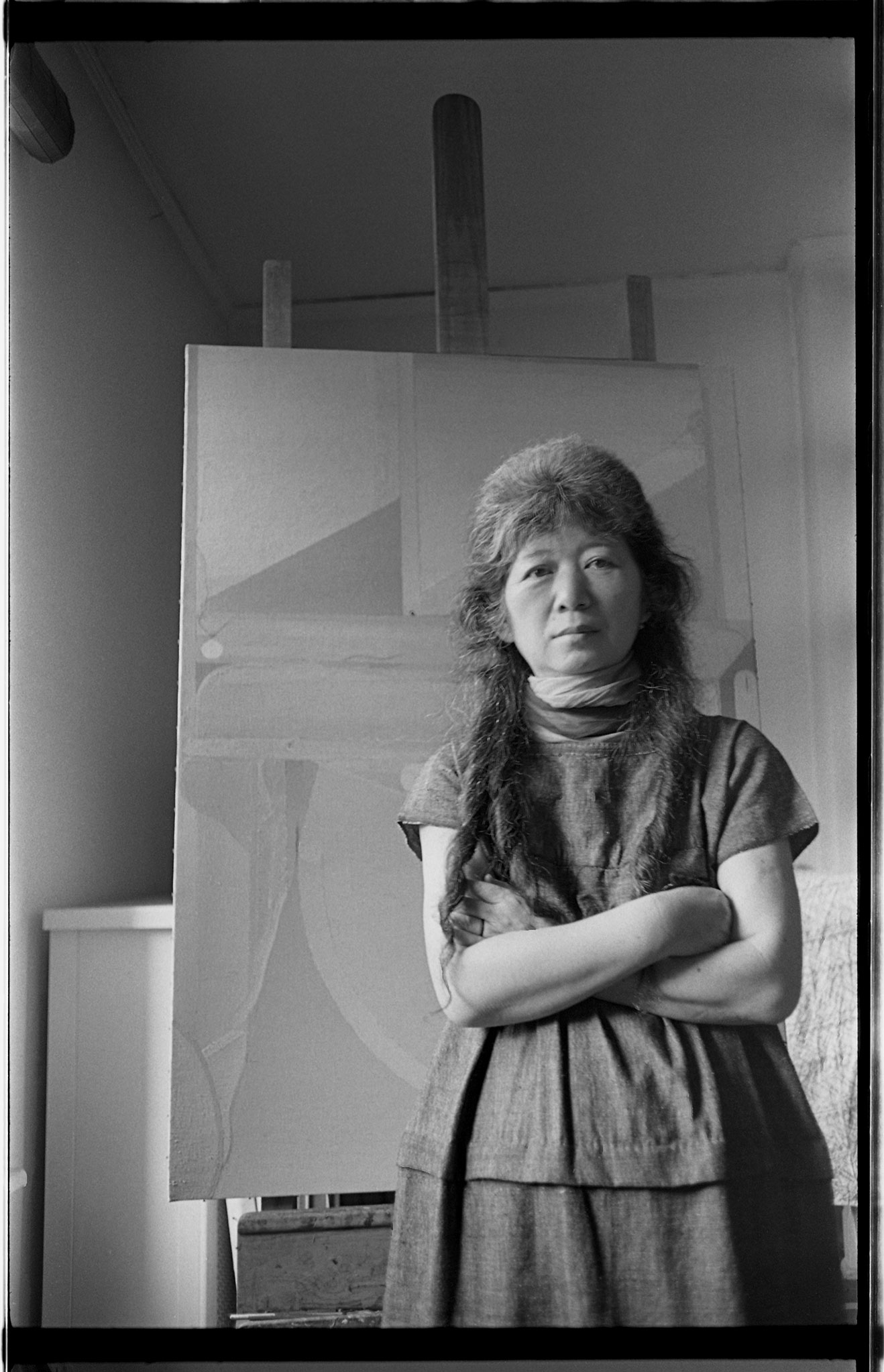 "Hearts of Hearts" at Artists Space presents the paintings of the late Miyoko Ito, who, despite having contributed significantly to the Chicago art scene from 1945 to 1995, remains under known in New York. Ito was born in 1918 to Japanese parents in Berkeley, California, before spending several years living in Japan with her mother. After experimenting with calligraphy and painting in Japan, she moved back to Berkley to attend the University of California where she studied watercolor. But, months before she would graduate, Ito was taken to an internment camp (this was 1942). Though she went on to attend the School of the Art Institute of Chicago, she never graduated. Though she was sometimes lumped with the Chicago Imagists—artists like Gladys Nilsson, Jim Nutt, and Roger Brown, who were her friends and fans—Ito was always working against the grain. Ito didn't succumb to the gestural trends of Abstract Expressionism, to the alluring images derived from mass culture in Pop Art, or the flat hardline compositions of Minimalism. Instead, her paintings of the '60s and '70s were abstract, but not fully, gently suggesting space—something that simply wasn't done during that time. Ito was included in the 1975 Whitney Biennial, though her career was more or less dormant until after her death. Recent exhibitions include the Berkeley Art Museum and Pacific Film Archive, Adam Baumgold Gallery in New York, VeneKlasen/Werner in Berlin, and a group exhibition at Marianne Boesky Gallery in 2015.
RELATED ARTICLES:
8 Artists to Watch in March 2018