Enlarging an object is a simple gesture, but one that has a long and illustrious history in the context of contemporary art, particularly Pop—look at Roy Lichtenstein's blown-up comic panels, or Jeff Koons's giant balloon dogs. The act of reimagining something at a larger scale (and in wholly different materials) often calls our attention to formal qualities that might be lost in a smaller object—and, frequently, implies a comical delusion of grandeur. Witness these memorable and monumental examples, excerpted from Phaidon'sThe Art Book, The 21st-Century Art Book, and30,000 Years of Art.
HABIBI
Adel Abdessemed
2003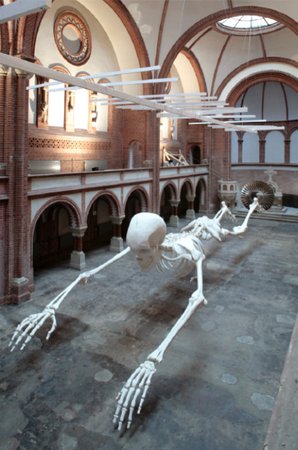 An enormous human skeleton with its arms outstretched hovers horizontally above the floor as if frozen mid-flight. Behind its feet hangs a large aircraft engine turbine, seemingly propelling the flying bones (although it could equally be sucking the skeleton towards destruction). Skeletons appear as reminders of death throughout art history, but Abdessemed's oversized sculpture seems more comical than sobering. Known for his provocative works tackling racial, sexual, and religious taboos, Abdessemed employs a wide range of media, refusing to limit himself to a single approach. Now based in Paris, he fled his native Algeria as a political migrant following the violent repercussions of the military coup that toppled the country's government in 1992. Although his sculptures, videos, drawings, animations, and installations can often be explicit in their shock value, many express the artist's deeper concern with the fragility of life and the violent effects that our globalized society has on the individual.
THE GIANT 2
David Altmejd
2007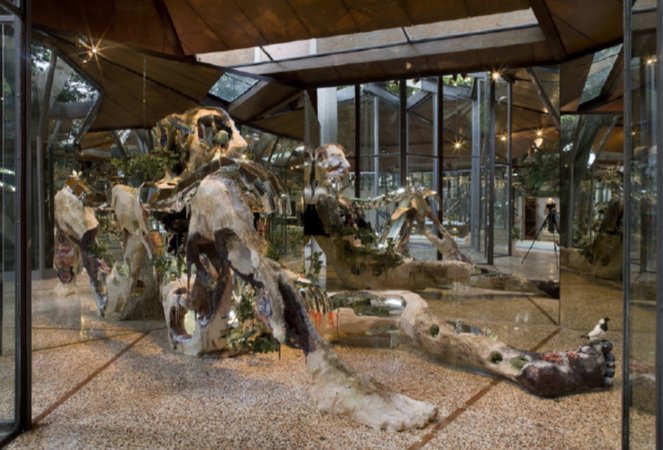 In Altmejd's fantastical sculptures and installations, one element seems constantly to be melting into the next. With The Giant 2, a sculpture that Altmejd made as part of his installation for the Canadian Pavilion at the 52nd Venice Biennale, the enormous reclining figure appears to be dissolving from within. While his hairy skin is viscerally real, holes in his legs and torso reveal his insides to be made from shards of mirror. A handcrafted sculpture of an owl has taken up residence in his face. Altmejd expresses the metaphorical qualities of his humanoid sculptures by confusing physical distinctions between inside and out. Faces might sprout crystals, or fruit, or miniature hands, for example, while their skin cracks apart and threatens to slough off entirely. Other sculptures by the New York-based artist, are predominantly abstract, such as The Orbit (2012), an ethereal plexiglas vitrine containing intricate systems of shimmering chain, cracked mirrors, cast hands, and a shower of cherries.
MAMAN
Louise Bourgeois
1999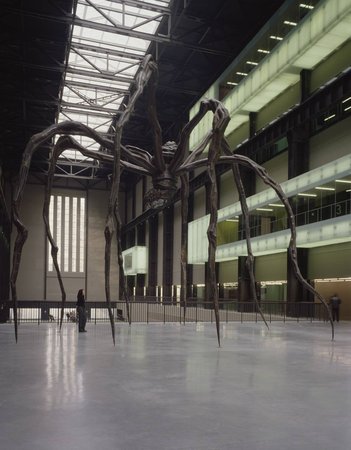 This spider—Maman (Mummy)—towers over the viewer; its eight steel legs forming large irregular arcs end in sharp, delicate points. Looking up at its spiralling body, a sac containing seventeen white and grey marble eggs catches the eye against the darkness of the creature's underside. Both intimidating and at the same time fragile, for Louise Bourgeois (1911–2010) the spider was the quintessential maternal gure. As she wrote to accompany a suite of nine etchings titled Ode à ma mère (Ode to My Mother) in 1955, "The friend (the spider—why the spider?) because my best friend was my mother, and she was deliberate, clever, patient, soothing, reasonable, dainty, subtle, indispensable, neat, and as useful as a spider. She could also defend herself, and me, by refusing to answer stupid questions." First studying mathematics until her mother's death in 1932, Bourgeois began her art training in Paris before immigrating to New York in 1938. Heavily influenced by Surrealism—which made its way to America via the influx of European artists who relocated there after World War II—Bourgeois's art is a mnemonic exploration of form and material, incorporating wood, rubber, bronze, steel, stone, and marble. Running through all her work is a psychological probing of childhood, where sexuality, innocence, and menace coexist.
HAHN/COCK
Katharina Fritsch
2013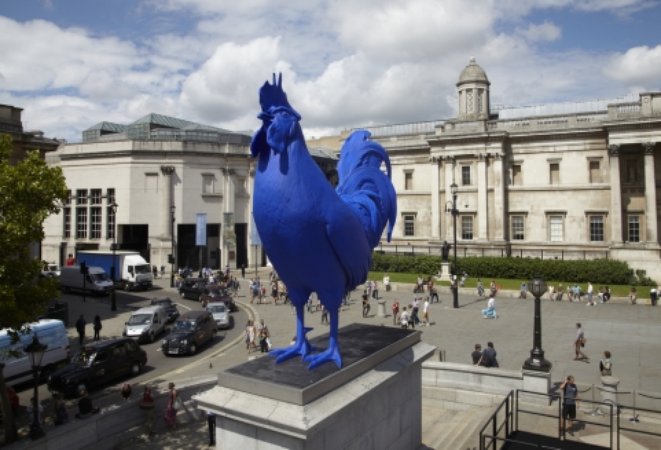 A huge blue cockerel perches proudly atop the fourth plinth in London's Trafalgar Square. Belonging to a rolling program of temporary artworks commissioned for the otherwise empty plinth, Fritsch's sculpture pokes fun at the patriarchal history of the square, which commemorates the triumph of British naval power at the battle of Trafalgar in 1805. Standing in the shadow of Nelson's Column, the irreverent rooster, with its double-entendre title, gently mocks the monument's phallic appearance and the site's general air of masculine posturing. Fritsch is well known for her highly detailed sculptures of animals and people rendered in industrial materials such as fiberglass and aluminium. At once seductive and unsettling, her works transform the familiar into something strange. Color is an essential element for the German artist, whose works are typically painted with a single matte shade, which gives them a dense, impenetrable feel and a hallucinatory, dream-like quality.
HASE
Gelitin
2005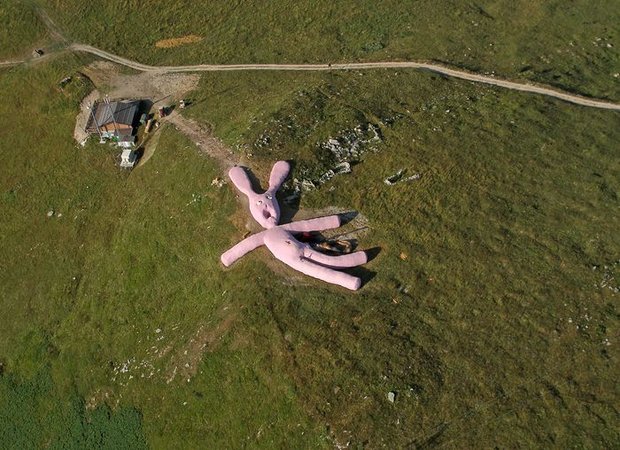 A 70-meter-long pink knitted rabbit, stuffed with straw, lies flat on its back across a mountaintop in the Piedmont region of Italy, above the village of Artesina. The floppy rabbit is smashed and broken, as if flung from space, or run over by a giant car, its enormous mouth agape and cloth entrails pouring from its side. It is the work of the Austrian art collective Gelitin, a group of four artists who, according to their official biography, met at summer camp in 1978 and began exhibiting work together in 1993. The group creates sculptures and installations that are by turns mischievous, provocative, and hilarious. Much of their work invites participation from its audience. Gelitin has announced that Hase will remain on the mountain, left to slowly disintegrate until 2025, when it will be twenty years old. Despite the artists' desire for decay, the rabbit is often lovingly repaired by visitors.
CARAPACE
Brian Jungen
2009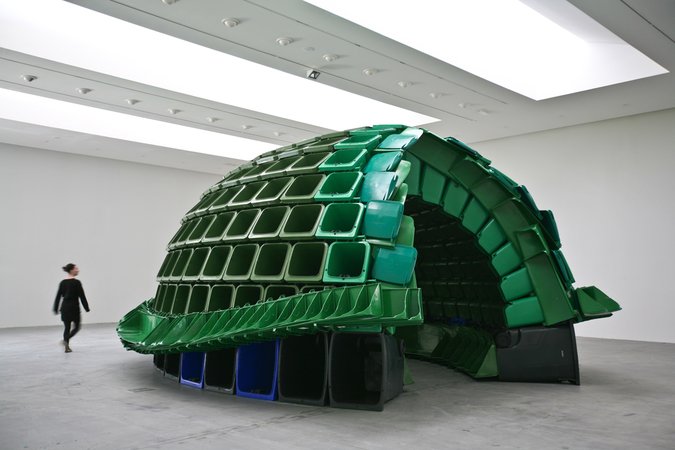 Jungen is one of the Dane-zaa people, a First Nation of northern Canada. Growing up, he experienced the resourcefulness and material innovation of his people due to economic pressures, as well as the wider commercialization of traditional First Nation craft techniques in response to tourism and globalized consumerism. Jungen, who now lives in Vancouver, has made a number of sculptures that refashion box-fresh consumer goods, such as Nike trainers or golf bags, into objects resembling tribal masks and totem poles. Carapace is a giant turtle shell—inspired by the early science-fiction writings of Jules Verne—made entirely from rubbish bins. He has created a fantastical shelter from objects that were intended for the sanitary disposal of waste (of which Western culture now produces more than ever). Jungen's sculptures undergo a process of re-mystification that sees consumer culture appropriated by a First Nations sensibility, and not the other way around.
PUPPY
Jeff Koons
1992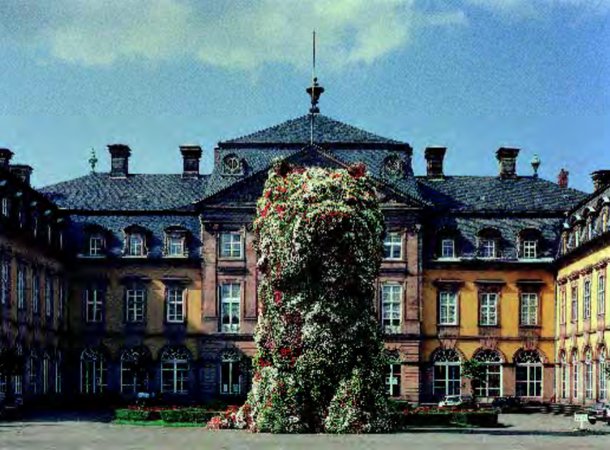 Evocative of the softness and cuddliness of a small puppy, a huge sculpture stands like a war memorial in the forecourt of an eighteenth-century building. It consists entirely of living plants, whose exuberant flowers provide color, while their withering away, which will lead to the work's self-destruction, is a metaphor for the impermanence of life. Koons's works are monuments of glitzy kitsch, or bad taste, in our age of throwaway culture, and the more shiny they appear, the more they appeal to his magpie eye. At one time Koons was a commodities trader, and he likes to include consumer goods of one sort or another in his sculptures. Floating in the center of an aquarium or entombed in a slab of plexiglass may be a vacuum cleaner or a basketball. When he cannot achieve the effect he wants, he may even have a new material specially made for a piece, sometimes at enormous expense.
GIANT HAMBURGER
Claes Oldenburg
1962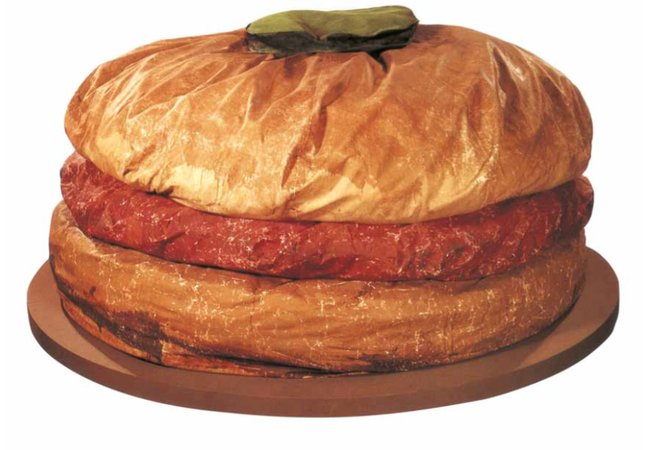 Absurd and kitsch, this massively over-sized version of a twentieth-century icon evokes a sense of incredulity. The artist's desire to imitate and displace one of the most potent symbols of American culture enhances its power and impact. Not only in its unconventional subject matter but also in its soft form it crushes all preconceived notions of traditional sculpture being solid and hard. Oldenburg was an American Pop artist concerned with making art from materials and products from the commercial environment. He wanted his art to reflect contemporary, everyday life in all its complexity and change. This work clearly takes its cue from the American "fast-food" empire that was developing, at meteoric speed, in the 1960s. In 1964 Oldenburg established a shop in Green Street, New York, from which he sold painted plaster replicas of food and other commodities.
MI FAMILIA MUERTA
Adrián Villar Rojas
2009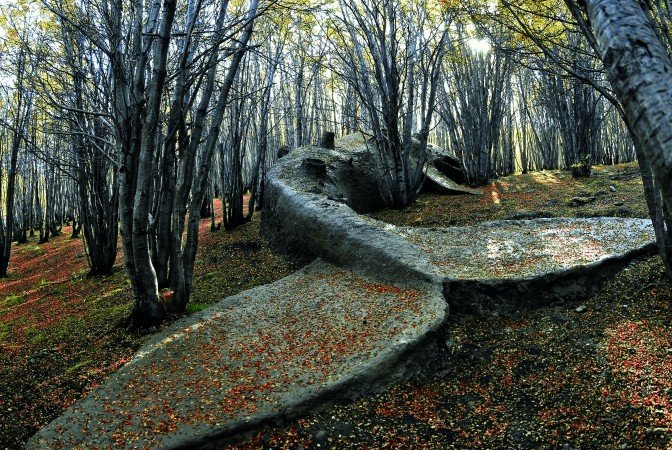 A gigantic sculpture of a whale lies stranded on the floor of a beech forest, among the fallen leaves, in the southern Argentinian city of Ushuaia. Although it seems entirely displaced, its surface is pockmarked with tree stumps as though it had lain there for decades. The whale presents a poetic image of grandeur and tragedy. Created for the End of the World Biennial, the wood and unfired clay sculpture will gradually break down and return to nature. Mi familia muerta (My dead family) dramatizes the uncertain future of the whale due to climate change, environmental degradation, and predation by man. Furthermore, it makes a wider commentary on a fragile and interdependent ecosystem, suggesting a parallel fate for human civilization—a point given elegiac expression in the work's title. Villar Rojas is best known for his large-scale, site-specific, and ephemeral sculptures made from materials such as unfired clay and mud, in which inevitable deterioration is a significant part of their meaning.