Landscape painting as a genre boasts a long and storied history, with artists from ancient times to the present taking up their brushes in an effort to capture the sublime beauty of the natural world. In these selections from Phaidon's exhaustive world art compendiums The Art Bookand30,000 Years of Art, we look back at some truly incredible vistas captured by 10 of the greatest landscape painters of modern history. Fair warning: if you've already planned a trip to the country for the end of the summer, these scenes may make your chosen destination seem drab in comparison.
[BROWSE MORE LANDSCAPE WORKS ON ARTSPACE HERE]
WANG HUI
View across Streams and Mountains, 1684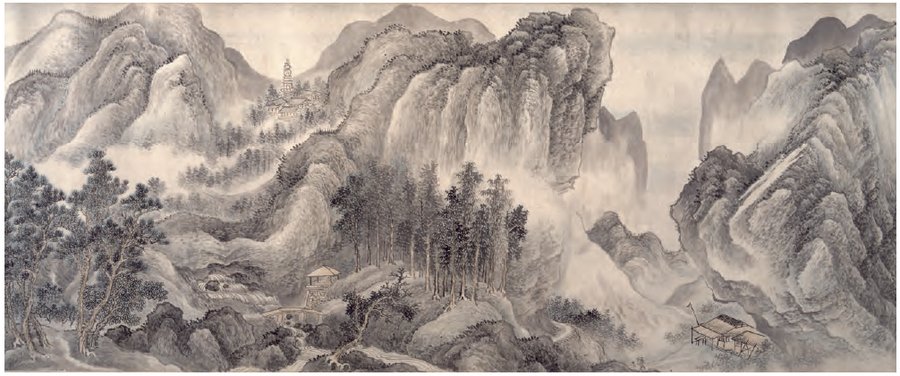 Wang Hui (1632–1717) is classed as one of the Four Wangs (the others being Wang Shimin, Wang Jian, and Wang Yuanqi) and one of the Six Masters of the early Qing dynasty (1644–1911), thus underlining his reputation as a prolific and successful landscape painter. Scholar-artists of this period drew their inspiration from earlier masters rather than from nature itself, and Wang modeled himself on the great Dong Qichang (1555–1636), who had urged his own students to learn from famous artists of the past. If this apparent promotion of conservatism discouraged originality, it still brought forth top-class work, and the mature Wang Hui developed an outstanding style of his own. Wang's use of the horizontal handscroll to reveal the unfolding scenery of mountain valleys and streams shows his love of subjects popular in the Song and Yuan periods (960–1368), and his admiration for Huang Gongwang (1269–1354) is clear from his densely packed mountains and trees. In the section seen here, he places two scholars in "orthodox" situations, one seated in a viewing pavilion close to a small footbridge, the other, carrying a zither, leaving a traveller's refuge accompanied by his servant. In the far distance a pagoda soars above a mountain temple, another familiar device to indicate human presence amid the vast enormity of nature.
JOHN ROBERT COZENS
Between Chamonix and Martigny, c. 1776/9
A traveller on horseback and his companion cross a pass above the tree-line in the French Alps. Their diminutive size and inconsequence are stressed by the overhanging rock above them and the monumentality of the spiked, snowy summit of the Aiguille Verte. From 1776 to 1779 Cozens travelled through Switzerland to Italy via the Alps and was overawed by the all-powerful presence of these mountains. A melancholy and poetic painter, Cozens's restricted palette of subdued colors evokes the magnitude of space and the unassailability of nature. Cozens is considered one of the most talented English landscape painters of the eighteenth century. He had a marked influence on J. M. W. Turner and John Constable; the latter claimed that he was the "greatest genius that ever touched landscape." Cozens painted landscapes in watercolour almost exclusively; he is known to have executed only two works in oil, one of which is now lost.
KATSUSHIKA HOKUSAI
Mount Fuji in Clear Weather, c. 1823–9
Majestically simple and unsophisticated, this view of the much-venerated Mount Fuji is direct and immediate. For many, this is the ultimate representation of Japan's most famous landmark. Rather than following the conventions of perspective, the Japanese artist Hokusai produced an image straight from his imagination, a view as fresh and pure as it appeared in his mind's eye. He was apprenticed to a wood engraver who taught him conventional painting and book illustration, but he later abandoned this for the colored woodcut designs of the Ukiyo-e (or "floating world") school, which concentrated on ordinary things in everyday life. He delighted in feats of artistic skill, dashing offin a few strokes of the brush the momentary landing of a sparrow on an ear of corn, for example. The bold simplicity of his designs and use of color greatly influenced European artists, particularly Édouard Manet and his circle.
FREDERICK CHURCH
Twilight in the Wilderness, 1860


The sun sets over the distant horizon, leaving behind a blood-red and orange sky reflected in a wide river. Gnarled tree branches stand out against the background like skeletons. Church has revealed the power of nature in all its glory. The only pupil of Thomas Cole, Church chose to banish man from his compositions and concentrate on nature in its purest state. After exploring his native New England, he went in search of dramatic and panoramic landscapes further afield. He explored the length and breadth of the American continent: he painted the volcanoes of Mexico, the tropical jungles of South America, the snow-covered peaks of the Andes and the icebergs of Labrador. Church recorded the uncharted marvels he saw with amazing skill, changing the texture of his paints, for example, according to the different natural forms he described. The epic grandeur and sublime drama evoked by his work epitomize the ideals of the Romantic movement.
CAMILLE PISSARRO
Landscape at Chaponval, 1880


This tranquil landscape embodies the bucolic peacefulness of the countryside. Vibrant hatching strokes have been used to enliven the painting's surface. With a very simple subject and a restricted palette of colors, Pissarro has achieved a range of subtle effects. A feeling of intimacy and direct personal contact with the scene, reminiscent of the paintings of Camille Corot, is enhanced by the skyline landscape which is depicted in a series of horizontal bands with very little sky showing. These bands, made up of field, houses, and sky, seem almost to sit on top of one another. His reduction of the landscape to a spontaneous, intricate web of rapidly applied pure tones is typical of the experiments of the Impressionists. Born in the West Indies, Pissarro arrived in Paris in 1855 where he became a prolific artist and a key figure in the Impressionist circle. He was the only artist to exhibit at all the Impressionist exhibitions.
PAUL CÉZANNE
Mont Sainte-Victoire, 1885/95
Purples, blues, yellows and reds create this mountain in the South of France. Rather than altering the tones of the colors as they changed with the light and shade, Cézanne changed the colors themselves. The mountain and surrounding landscape have been simplified into geometrical shapes and planes of color. The result is a painting that may not faithfully reproduce the scene, but which evokes its tones and volumes through the interplay of light and shade. Cézanne said that he "wanted to do Poussin again, from Nature." He achieved this by combining direct studies of the landscape with a Classical sense of form. Mont Sainte-Victoire, near the artist's home town of Aix-en-Provence, was Cézanne's favorite subject. He returned to it again and again throughout his career, producing paintings that were increasingly radical in conception. His reduction of nature into simple geometric shapes, and his use of bold colors, point to the later work of the Cubists and the Fauves.
FERDINAND HODLER
Lake Thun, 1905


Highly ordered and symmetrical, the formal elements of this painting have been carefully balanced to create a sense of calm. In the cool air of early morning the lake is pink, reflecting the glow of the rising sun. Our view of it has been restricted, flattened and simplified as if to present us with only the essence of the scene, with all unnecessary detail eliminated, and composed in a rhythmic pattern of layers of forms and color. Hodler evolved a highly decorative style of landscape with strong colors and outlines, using parallel motifs for his effects. He was influenced by Camille Corot and Gustave Courbet in the early part of his career but later his paintings showed the artist's interest in Symbolism, with its hidden meanings in objects, and in Art Nouveau, with its curling tendrils and stylized leaves. The linear, flat style that he eventually developed, using color as an important element, heralds the Expressionist movement.
LÉON SPILLIAERT
Moonlit Beach, 1908
At first glance the strong lines and broad bands of tone in this picture make it look like an abstract work of art. As the viewer's eye becomes accustomed to the painting, however, a beach scene becomes apparent; the sweeping, pale light of the moon highlights waves coming into the shore and dark breakwaters stretching into the sea. Similarly, the colors—which at first seem limited—become richer as the eye begins to appreciate the subtle differences in tones and the searing white of the rising moon. The artist has concentrated on the effect of moonlight on a beach at night rather than a realistic depiction of the scene, and has thus captured effectively the mood of this solitary place. Spilliaert is known for his economy of form in haunting landscapes that are devoid of human life. Most of these paintings were executed in and around his native Ostend.
JOHN MARIN
Maine Islands, 1922


Painted as if seen through a window, this watercolour plays with the ambiguities of space. Marin has taken a favorite subject, a traditional seascape, and simplified it into its most basic forms and bright colors. Standing in a room overlooking an expanse of sea dotted with islands, he has enclosed the scene within a window frame, making the view itself look like a flat painting hung on a wall. By doing this he is playing a visual game with perceptions of flatness and depth. Marin originally trained and worked as an architect, and his early works show the influence of James Abbott McNeill Whistler. He went on to develop a unique and individual style, filtered through Fauvism (with its distortions, flat patterns and violent color) and Cubism (with its fragmentation of forms and play on perceptions), but seen from an American perspective. Although he sometimes painted in oils, he is best known for his watercolors, usually of landscapes or studies of architecture.
HELEN FRANKENTHALER
Mountains and Sea, 1952
Large splotches of blue, green and red decorate this impressive yet delicate and lyrical composition. The artist has used an unprimed canvas so that the colors seep into it like ink into blotting paper as soon as they are applied to the surface. Although Frankenthaler has decided where to place the colors, the staining is beyond her control as it depends on the absorbency of the canvas. Mountains and Sea is her first major stained painting. Its rich colors, fluid forms, and ability physically to merge the foreground and background into the canvas had a substantial influence on Kenneth Noland and Morris Louis, who subsequently adopted this innovative technique. The abstracted quality of her landscape, the spontaneity of her colors, and the random quality of her staining are all elements that amount to an Abstract Expressionist painting. Her pictures are invariably large and evoke a unique sense of openness and delicacy.