The American artist Mark Bradford has just been announced as the official representative for the United States at the 57th Venice Biennale, which opens on May 13, 2017. It's a worthy honor for the abstract painter, who imbues his often monumental canvases with both pointed social commentary and a variety of collaged materials as he continues to break down the hard edges of the painted grid. His sustained yet constantly evolving approach has earned him solo shows in places like the Aspen Art Museumand the Whitneyand a 2009 MacArthur "Genius" grant, in addition to his new place of pride in the United States Pavilion (which will be presented by the Rose Art Museum at Brandeis University). For a quick primer on this important artist, we turn to this essay by the curator Adriano Pedrosa (excerpted from Phaidon'sVitamin P2).
Mark Bradford's large-scale pictures—it is hard to speak of "paintings" when so little paint is actually involved in the process—are devouring machines: they eat up all sorts of paper that the artist finds on the streets and glues to his works. Although seemingly abstract, to the careful viewer these works will reveal their true subject: the city and its streets. More specifically, they represent the neighborhood where Bradford grew up and still lives, where his home and studio (which occupies his mother's former beauty salon, in which he once worked) are located—the predominantly black and Latino neighborhood of Leimert Park in South Los Angeles.
In this sense, the work's primary material is literally uprooted from its highly charged context and becomes deeply contaminated by it: paper advertisements and billboard posters found on the streets are recycled into fine-art material. Sections of amassed newspapers may advertise legal services for divorce or debt, cosmetic improvements of different sorts or programs for achieving sobriety. Bradford describes this hitherto unnamed material, usually cheap, disposable, and often printed simply in one or two bright colors, as "merchant posters," referring to the promotional material of self- or family-run businesses. In increasingly technological times, where printed paper is being replaced by digital media both indoors and out, the artist becomes a "paper chaser."
Mark Bradford's Rebuild South Central, 2015
The resulting pictures are deceptively abstract. They are intricate and layered compositions, paper patchworks that conceptually weave a variety of urban threads. One might perceive nets, grids, and maps, yet it is difficult to draw, let alone close, a final circle. As such, they remain open to interpretation, up for grabs to viewers, critics, and collectors alike. Fully abstract they cannot be, since there is nothing autonomous, sublime, otherworldly, or detached from real life about these pictures.
Bradford's surfaces are loaded with the detritus of everyday life, an endless superposition of scraps of paper that carry their own meaning and history. And if the original sources seem to be rendered abstract, their DNA is never truly erased. If one were to ask what it is, ultimately, that the works portray, the answer would have to be the city itself. Metonymically, what is here is the city, the street, the economy, the periphery, the margins—a fragment of life in Leimert Park. Connections have been drawn with the work of Mimmo Rotella, Jackson Pollock, and Richard Diebenkorn, and one may speak of Neoplasticism and Analytical Cubism, but the true reference here is Hélio Oiticica, who brought street life and the favela to his pictorial works, pushing us to experience color and form through the body and life itself.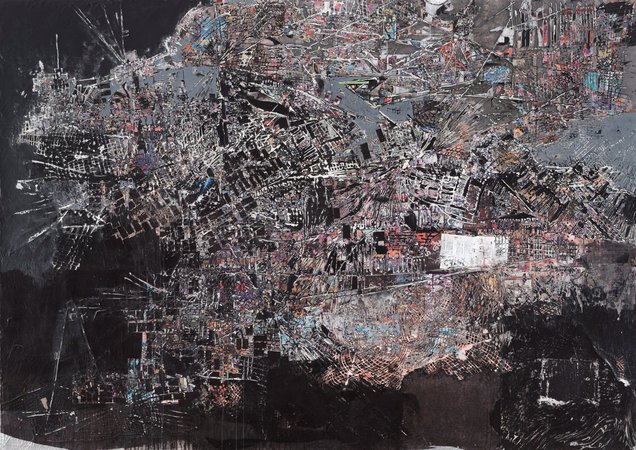 Mark Bradford's A Truly Rich Man Is One Whose Children Run Into His Arms Even When His Hands are Empty, 2008.
Bradford's pictures are deeply ingrained in city life, and if at times the messages of these pictures are plural and elusive, at others they can touch us in a direct and poignant way, as is the case with a work from 2008 entitled A Truly Rich Man is One Whose Children Run Into His Arms When His Hands are Empty.