With a history spanning five millenia and an incredibly vibrant and diverse culture of vastly different regions and influences, India is fertile ground for craftsmanship and design both rooted in tradition and innovating for the future. From snack time to providing clean water for rural communities, artisans and designers of the 21st century embody the country's multifaceted heritage in every object and creation.
From Phaidon's recent compendium Sar: The Essence of Indian Design, here are ten contemporary design objects that beautifully package a bit of India, old and new.
PANI PURI CART
Early Twenty-First Century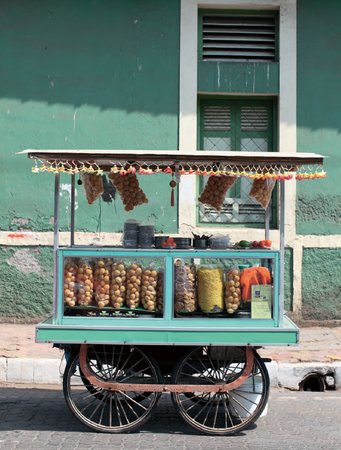 The iconic pani puri cart comprises rectangular boxes made of wood and glass fixed to a cart (thela), which serves as a mobile snack station. Each box has a series of compartments, within which are stored all the ingredients to make pani puri—the beloved street snack. No pani puri cart is exactly the same, all have small variations, although a typical distinction is that some have one level of boxes and others have two. The key is that the street vendor can easily move the unit to as many different locations as possible, thereby creating more business. The vendor stands behind the cart on one side, where he prepares pani puri (also known as golgappa or puchka). The puffed biscuit (puri) is filled with chickpeas, potatoes, and chilled spiced water (pani), and topped with tamarind chutney. Because dinner is often eaten after 9 p.m., a quick evening snack of pani puri on the way home is part of a tradition of street culture.
BOMMA
2010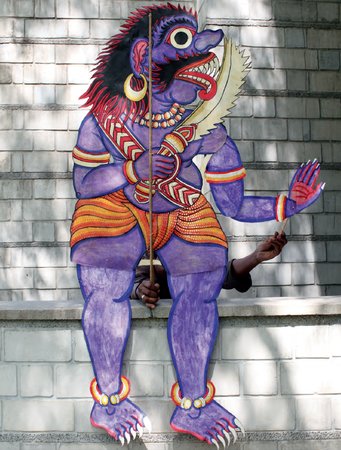 Nowadays symbols of an age-old tradition struggling to survive in today's culture of mass media and entertainment, bomma (shadow puppets) are delightful examples of traditional storytelling—tales from the two epic works of Indian literature, the Ramayana and Mahabharata, being the most popular. They stand 90 cm to 180 cm (35 in to 70 in) tall and are made from two to three reinforced deer, goat, or buffalo hides. The hand-cut skins, which are semitranslucent, are hand-painted with vegetable dyes on both sides. Handstitched joints for legs and arms and a series of bamboo splints attached to the back allow the puppeteer to manipulate the bomma, delighting audiences with their narratives. The puppeteers perform behind a white sheet that is illuminated with ample light so that the colors and shapes of the bomma shine through. The artist S. Anjaneyulu (b. 1959), who created this bomma, hails from a longstanding family of puppet makers and is dedicated to keeping the performing puppets alive, rather than simply offering them as souvenir or "craft" objects for sale.
MOJARI, MOJRI, MOJADI
2013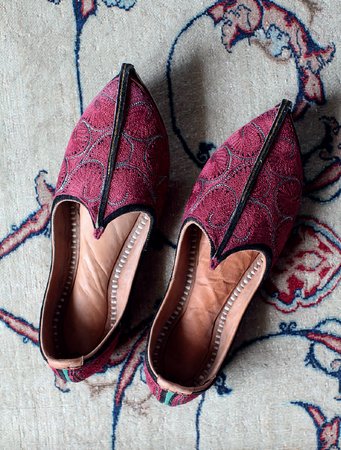 Introduced to India by the Mughals in the sixteenth century, the mojaris (closely related to jutis), traditionally with distinctly pointed toes and flat soles, have evolved into many styles, with production clusters throughout the country. Mochis—shoemakers of Jodhpur (a popular area for making mojaris)—use soft cow, goat, camel, or buffalo leather for the uppers and hard leather for the sole, moulded round a three-piece wooden cast. Densely embroidered uppers in bright colors, made in threadwork, zari (metallic thread), wool and leather cutouts, are common, although plain, unembellished leather shoes are worn by Rajasthani farmers, for example. The soles are attached using a thick, white-cotton chain stitch and there is generally no distinction between the left and the right foot. In general, men carry out the leatherwork while women freestyle with the embroidery. Worn by both men and women, mojaris have become extremely popular in recent years, especially for weddings and occasion wear. 
YASANCHE OUTDOOR LOUNGE
2013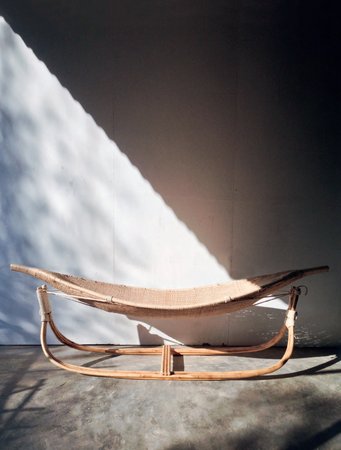 Environmental and sustainability concerns have led many designers to explore and work with bamboo, which grows rapidly and has a low environmental impact. A giant grass with qualities similar to wood, bamboo grows abundantly in India, particularly the Katlamara variety, known for its strength and durability, which is densely cultivated around the village of Katlamara in West Tripura. Yashesh Virkar's Yasanche Outdoor Lounge, a hammockcum-rocking-chair, is a handcrafted piece of outdoor furniture that blends traditional craft with contemporary design. The curvilinear structure is made using the bamboo-bending method, which uses a heating and cooling technique to flex it into the desired shape, and the seating or lounging surface is woven from rattan. Virkar (b. 1984), originally from Mumbai and founder of Yasanche, worked closely with designer and manufacturer Sandeep Sangaru (b. 1975) in order to develop his design, forcing the materials to their greatest potential.
BIDRI BUSINESS-CARD BOX
2014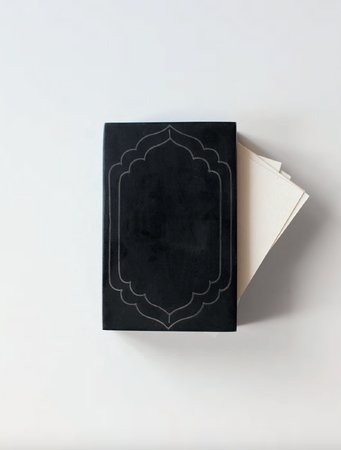 Metals from the earth and the unique properties of soil are instrumental in producing bidri ka kaam, or bidriware, an age-old technique practiced predominantly in Bidar, Karnataka. Bidri objects are handcast using an alloy of zinc and copper, which gives them their distinctive part-lustrous and part-matt-black surface. Once the object is formed, a metal stylus is used to etch the design, which is then inlaid with silver or brass. The black surface is sanded down and removed, ready for the final step in the process. A special variety of soil found only in Bidar is mixed with an ammonium chloride paste, which permanently blackens the surface but not the inlay. It is not known why the soil mixture forces the metal alloy surface to oxidize and blacken. This business-card box is just one example of the variety of contemporary objects made using the ancient bidri technique, others include vases, ashtrays, plates, and jewellery.
MARBLE BULBS
2015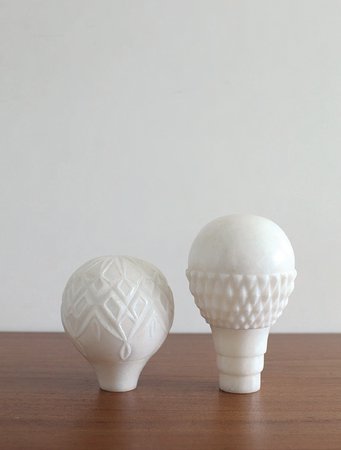 Rooshad Shroff (b. 1983), a Mumbai-based architect, challenges the use of traditional materials and handcrafted techniques. Carved from Makrana white marble, his Marble Bulbs are a play on the traditional filament light bulb. The creation of this light fixture pushes to the extreme the limits of the craftsman, as each bulb is carved by hand from a single block of marble. The interior is then hollowed out on a lathe machine using a tool Shroff developed especially for the project. Finally, solid brass holders are hollowed out on the lathe and an LED fitted inside. The thinness of the marble is taken down to 6 mm (1/4 in) so that the light can filter through. Inspired by cut-glass crystal, a range of over fifty different patterns have been made for the collection in varying shapes and sizes. The marble, which is quarried from around the town of Makrana in Rajasthan, is renowned for its translucent whiteness and is ideal for sculpting. It has been used for buildings such as the Taj Mahal and the Victoria Memorial of Kolkata.
MEHNDI STENCILS
2015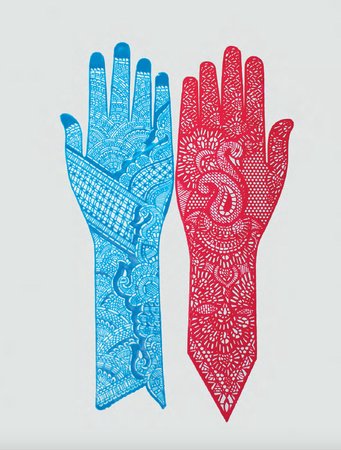 Mehndi art uses henna, a paste made out of the henna plant (Lawsonia inermis). The leaves of the plant are dried and crushed into a powder, mixed with water and natural herbs and left to soak for a few hours. The result is a thick paste, which, when applied to the skin, leaves a rich reddish-orange stain. Since antiquity, henna's best-known use across the Middle East and Indian subcontinent has been in the creation of intricate decorations on the hands and feet of women. The tradition of decorating the body for festivals and religious holidays is popular in both Hindu and Islamic cultures, particularly during bridal preparations. One or two days before the wedding, a bride and all her female family members gather together and hire a mehndi artist. Floral motifs and images of peacocks are drawn on both hands and feet of the bride to symbolize fertility. Although stencils for smaller sections are available, the hand stencils shown here allow for more complex designs. One side is slightly sticky so that it adheres to the hand, following its folds and curves. Unlike other stencils, these modern, rubber versions can be washed and reused.
PADUKA, KHARAWAN, KAROM
2015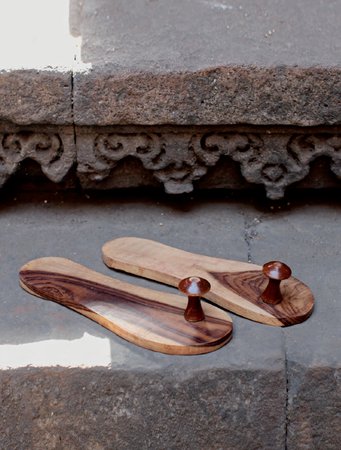 Minimal footwear that is associated with mendicants and with the holy footprints of certain deities, the traditional paduka is a simple wooden board roughly cut to the shape of a footprint. It has a post that is designed for gripping between the big toe and second toe. Padukas suit a mendicant's simple way of life, wandering from place to place. They are comfortable in the extreme climate and also offer protection from the ground, which can get very hot. The padukas shown here are flat, but often there are platforms at the toe and heel of the soles to raise one's feet off the ground. Although generally associated with sadhus and religious teachers, highly decorative padukas made from precious materials are worn by high-status individuals, such as royalty and holy men, and are even given to some brides as part of their trousseau. This variety bear ornate work such as inlay, repoussé, and carvings, depicting stylized motifs such as fish and hourglasses.
SPIRO
2015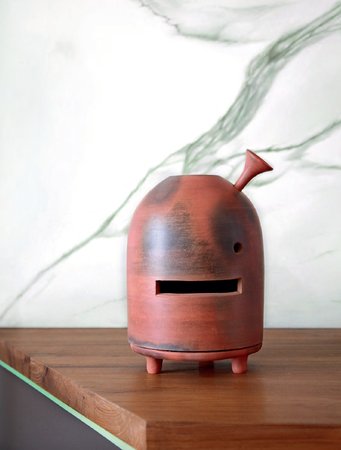 The Spiro terracotta speaker dock explores the idea of combining sustainable handcrafts and evolving technology. Designed by the artist duo Thukral and Tagra (Jiten Thukral, b. 1976 and Sumir Tagra, b. 1979), Spiro is a tongue-in-cheek creation based on their own environment: the cyber-city hub of Gurgaon that adjoins New Delhi and is a techno city that has evolved in the midst of surrounding agricultural land and villages. Thukral and Tagra worked with traditional hand potters of the region to make this two-part speaker dock in which a wireless speaker fits onto a round base and is encased by a cylindrical dome-headed cover. Cut-outs in the cover allow the sound—which travels up from the base—to be transmitted. Spiro is a playful reflection on the times in which we live.
WATERWHEEL
2015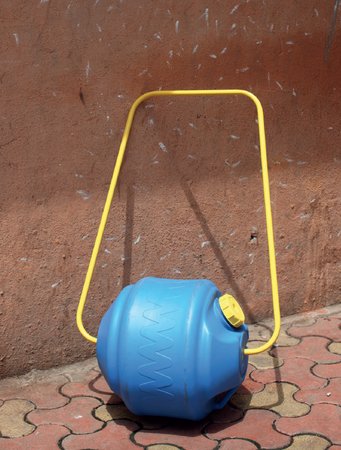 A socially innovative design, the WaterWheel was created in 2015 by non-profit organization Wello to ease the burden of daily water collection in rural regions. Women collect water from wells for their household's daily needs and carry it back in heavy containers on their heads. These wells can be several kilometers from their homes and the task is time-consuming and can lead to severe pain and spine damage. The WaterWheel is an affordable and ergonomic solution that enables the collection and transportation of up to five times more water—as much as 45 liters (10 gallons). The body of the wheel is made of high-density polyethylene plastic and the handle is made of powder-coated steel, making it durable and easy to handle on all types of terrain. The shape of the WaterWheel was derived from traditional water carriers, such as terracotta gharas and matkas (page 214). The familiar shape maintains cultural relevance but comes with handles on either side to allow for easier pouring and filling.