In the years before World War II, Paris served as the unquestioned capital of the international avant-garde, attracting French artists and eager expatriates alike to take part in its prestigious salons and bohemian cafe culture. It's here that Pablo Picasso made his name, where Constantin Brancusi began his explorations into the human form in earnest, and where Guillaume Apollinaire penned his immortal poems. It's also the setting that saw the rise of photography from a simple tool for documentation to a genuine artistic medium in its own right. From Eugene Atget 's surreal cityscapes to later formal experiments by transplants like Man Ray (a Pennsylvanian by birth), the creative ferment of prewar Paris produced some of the most important early examples of black-and-white photography—models to which photographers have compared their own efforts ever since. These six works, excerpted from Phaidon's The Art Book , give just a glimpse into this immensely productive and creative period in the history of photography.
EUGENE ATGET
Saint-Cloud , 1920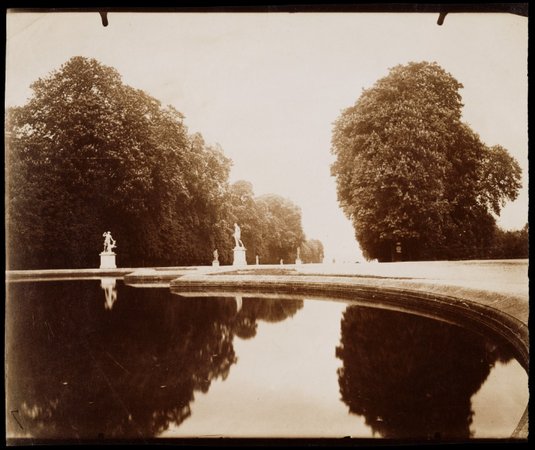 In this photograph of the large pond at Saint-Cloud, outside Paris, the conventional solidity of lawns, trees, and stone sculpture is transformed into an almost surreal illusion of surface and void, silhouette, and space. The vast trees billow like symmetrical clouds, starkly highlighting the white marble statues silhouetted against them. The atmosphere of the still composition, peopled only by frozen statues, is beautifully eerie. Atget began making documentary photographs of Old Paris in his middle age, eventually compiling a vast collection of saleable visual references for painters, designers and craftsmen. The most important feature of his images of street scenes, architecture, and parks was clarity. From 1914, however, he began to produce photographs imbued with an existential mood and metaphorical power that set them apart from his earlier work. It was this sense of elegiac disquiet and strange uncanniness that so appealed to Surrealists such as Man Ray and Jean Cocteau, who championed Atget's work.
ANDRE KERTESZ
Mondrian's Pipe and Glasses , 1926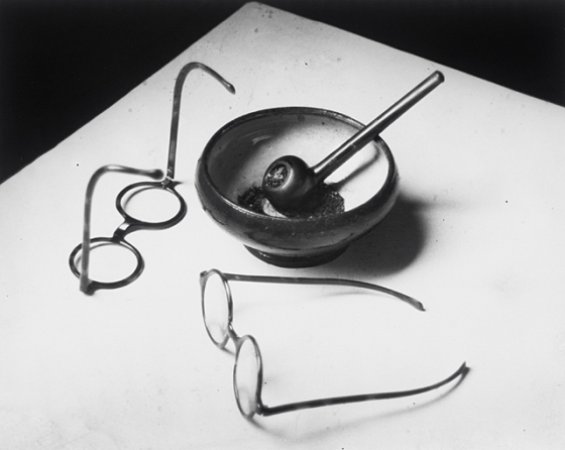 Two pairs of glasses and a pipe, resting in a bowl, have been placed on the corner of a table. The simple impact of these objects, along with their elegant arrangement, is illustrative of Kertész's pioneering approach to photographic composition during the first half of the twentieth century. Although on the surface the objects appear to have been chosen for their formal qualities, they have a rich associative value when it is realized that they belonged to one of the period's greatest abstract painters, Piet Mondrian. Taken in Mondrian's Paris studio, the image evokes the purity and clarity of vision that informed the Dutch artist's iconic paintings. Kertész had emigrated from his native Hungary to the French capital in 1925, becoming associated with many of the more progressive artists living in the city, including Fernand Léger and the Dada poet Tristan Tzara. The current work was included in Kertész's first solo exhibition held at the avant-garde Au Sacre du Printemps Gallery.
CLAUDE CAHUN
Untitled (Self-Portrait) , 1928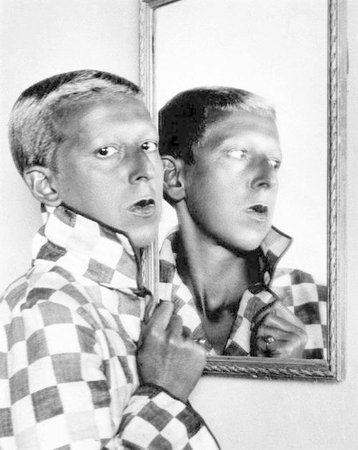 A figure looks towards us, confronting our gaze; their reflected image looks away. Is this a man or a woman? The photograph is in fact a self-portrait. Born Lucy Schwob, in 1919 the artist adopted the sexually ambiguous pseudonym Claude Cahun. Central to both Cahun's life and art was a questioning and destabilizing of established models of gender identity. During the 1920s and 1930s Cahun lived in Paris, where the subversive nature of her work led to a loose association with the Surrealist group of artists. In 1937 she settled in Jersey with her lover, stepsister, and artistic collaborator Suzanne Malherbe (Marcel Moore). Following the German occupation of the island in July 1940, the sisters, as they were known, began to produce and distribute anti-Nazi leaflets. In 1944 they were arrested and sentenced to death. Although the sentence was not carried out, much of Cahun's work was destroyed.
MAN RAY
Tomorrow , 1932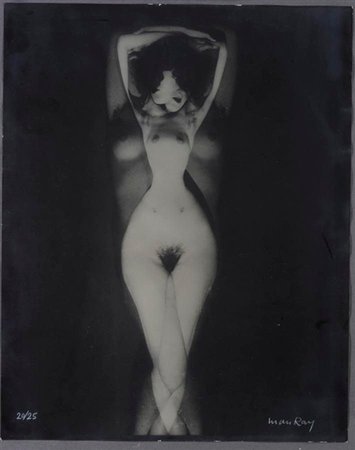 Displayed on a curved surface and ambiguous in its distorted triple exposure, this photograph suggests movement and sexual tension, dramatically emphasizing the female form. Man Ray was one of the most inventive photographers of his time, experimenting with and pioneering new techniques in what was then an exciting new medium. His rich, fertile imagination and irrational techniques as an artist fitted in well with the principles of Dada, an anti-art movement intended to shock and outrage. After studying art in New York, Man Ray founded a Dadaist group there and became a leading figure in the development of the Modern Movement. In the 1920s he moved to Paris, where he made several Surrealist films. Solarized images and the famous rayograph, a photographic image made without a camera, were his invention. Always at the forefront of the avant-garde, he influenced several generations of artists.
HENRI CARTIER-BRESSON
Juvisy, France , 1938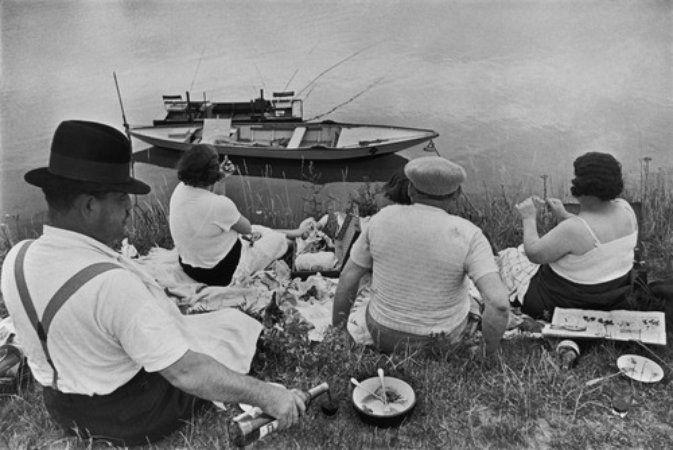 Four people, more than likely two married couples, picnic on the bank of the Seine. On the water below them is a small rowing boat; attached to it are numerous fishing rods. Although they have not responded to the photographer's presence, the image has been taken from close up. The shallow and flattened space of the composition creates the effect of pushing the group even closer towards the viewer. Taken two years after the French government passed a law guaranteeing workers two weeks of paid vacation a year, Cartier-Bresson's photograph can be seen to capture an important moment in the country's social history. The son of a wealthy textile manufacturer, Cartier-Bresson studied painting at the private art school of the Cubist artist André Lhote. Inspired by his association with the Surrealists, in the 1930s he turned to photography. Using a handheld Leica camera, he became a pioneer of an informal, candid style of modern photography that looked to capture the "decisive moment."