Do you have minimum one eyeball and a functioning pulse? In that case, you've at very least heard of cultural TV juggernaut Rupaul's Drag Race , the reality show that encourages sentient legumes like you and I to judge preternaturally gifted performers from the comfort of our crumb-covered couches. "She's death-dropping again ?" you opine of a Thursday eve as you wipe raw Cheeto dust on your old roommate's sweatpants. "How tired. " The program is currently in its 11th season, which means the volume of queens subjected to this particular gauntlet grows increasingly ungainly in scope as the years sashay away—it's hard to stand out from the crowd with so many skinny legends in the mix! Snootful of glitter after fistful of fishnet makes for a veritable smorgos-boy of dazzling glamour optics, but it MUST be remarked that the explosive brilliance of drag knows no kiddie reference pool; nay, we're talking depth, kids, so deep you have to stretch first. Most of these girls give great brain, if you know what I mean, and there's more than one art school casualty amongst the upper echelon of this crowd-pleasing Emmy magnet. As such, visual art references abound in the sumptuous panoply of texture and sass that defines Drag Race , and I'm taking it upon myself to itemize the very best ones for your reading pleasure.
Why?
Because this is serious art journalism , that's why. Jeez .
Here are 10 times visual art took center stage in the Drag Race universe.
1. TRIXIE MATTEL - ANDY WARHOL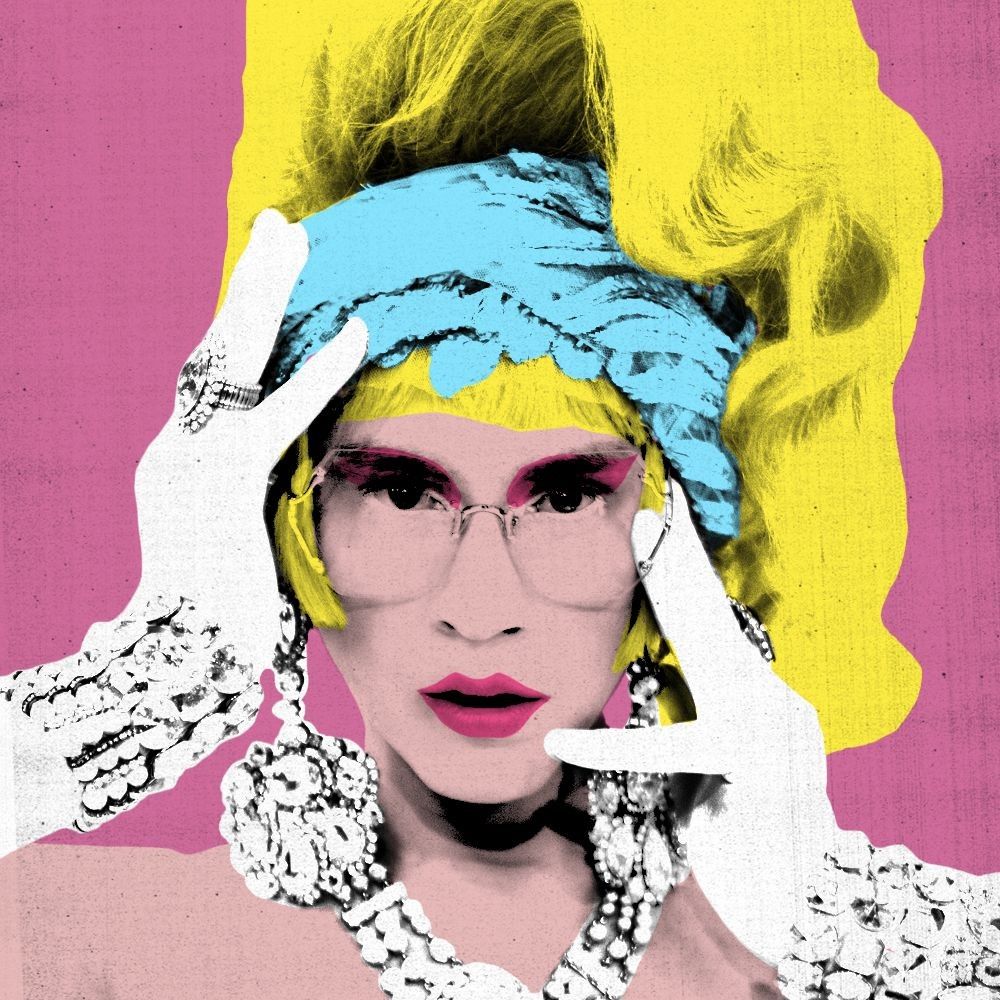 via Pinterest
All Stars Season 3 Episode 5 was Andy Warhol-themed, which largely involved RuPaul barking directions at various parties in a startlingly bad wig. The mini-challenge, a weird, hasty, "Superstar" photoshoot, revealed that most of the participants could not discern the difference between an alluring come-hither pose and a truly miserable mug, but real-life Barbie-cum-Chucky Doll Trixie Mattel came through in the clutch with a pitch-perfect '60s bubblegum look that got America's collective heart racing. Check out that drip ! As a nation, we were woefully unprepared, but not quite as unprepared as we were for her controversial win, recovery from which very nearly escaped the internet at large until about twelve minutes ago.
2. MIMI IMFURST - LEIGH BOWERY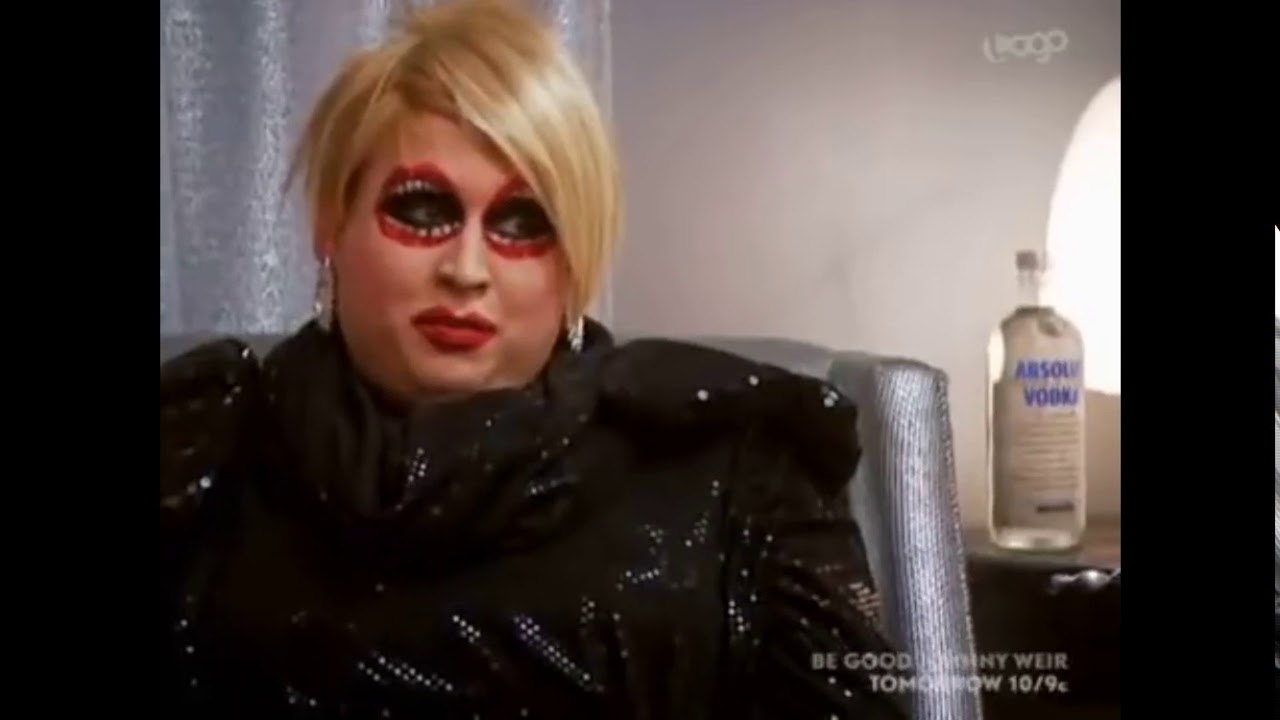 via Logo
In the first episode of All Stars 1 , history was made when an unstoppable force met its matching immovable object; powerhouse Mimi Imfurst inspired human catchphrase Shangela to deliver the single greatest rant in Untucked lore.
...You know the one, girl.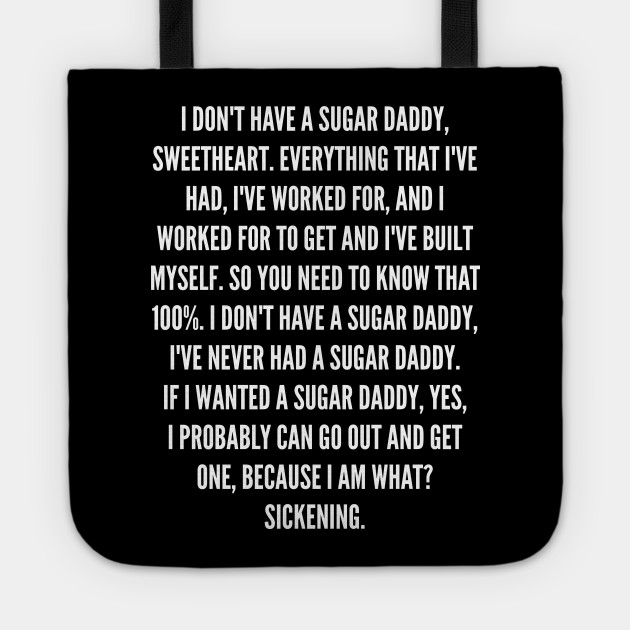 via tee public
Few people clocked Mimi's excellent costuming choice, during, however; her look was an homage to legendary Australian performance artist Leigh Bowery, whose avant garde aesthetic ushered in the illustrious "club kid" era of the '80s.
3. SASHA VELOUR - JEAN-MICHEL BASQUIAT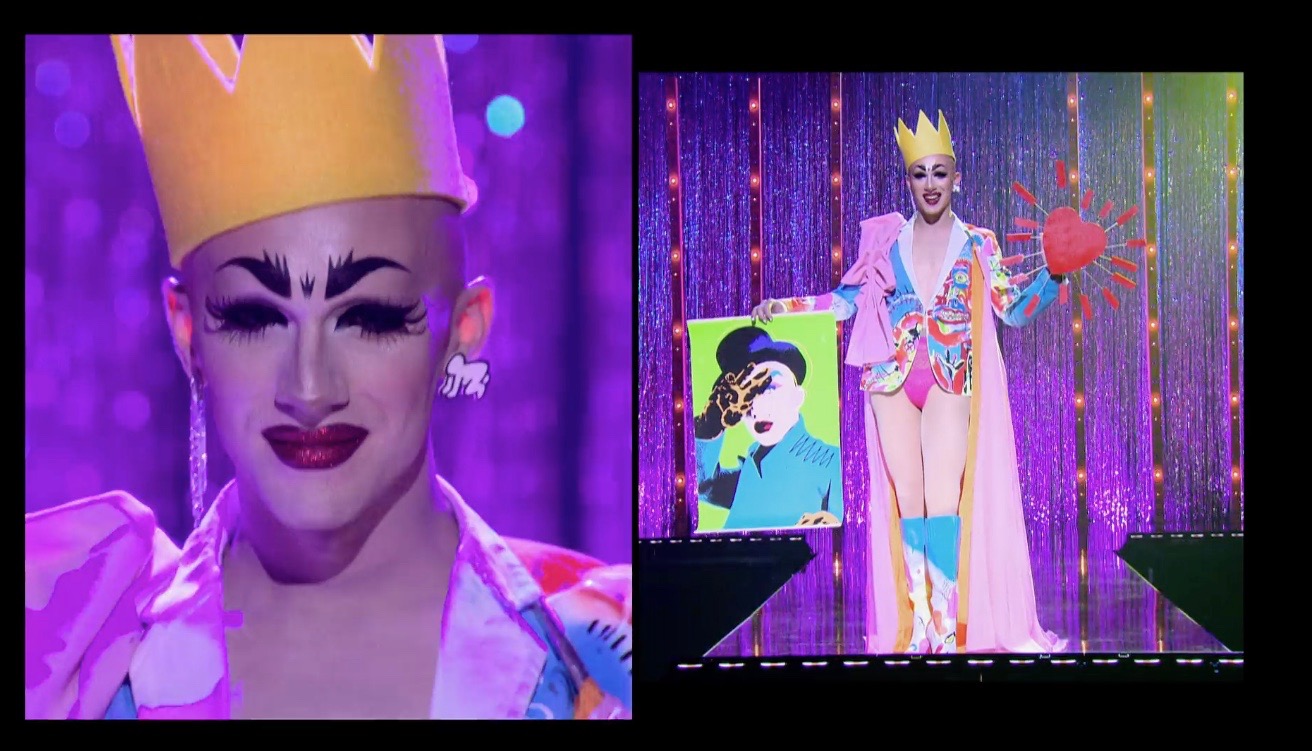 via Reddit
Sasha, Sasha, Sasha , my fabulous Fulbright baby! In episode 1 of Season 9, bald brainiac and former Pratt MFA student Sasha Velour stunned the judges with her "Hometown" runway ensemble, which included a hand-painted recreation of one of Basquiat's paintings on her stylishly tailored blazer, a Keith Haring -inspired heart, and a Warholian self-portrait in tow. Cheers to an educated lady!
4. KIM CHI - PABLO PICASSO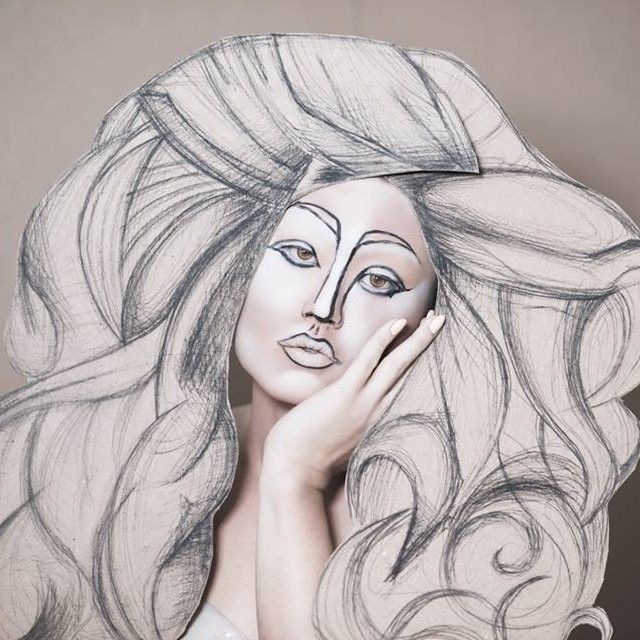 via Instagram
Everybody knows that the Chicago-based Kim Chi is one of the most visually intelligent queens currently working, but it's her Instagram that truly delivers the goods. Just drink in this stunning interpretation of Pablo Picasso's 1946 Portrait of Francoise , a testament to Kim Chi's unparalleled painting skills.
5. AQUARIA - SPALANCATI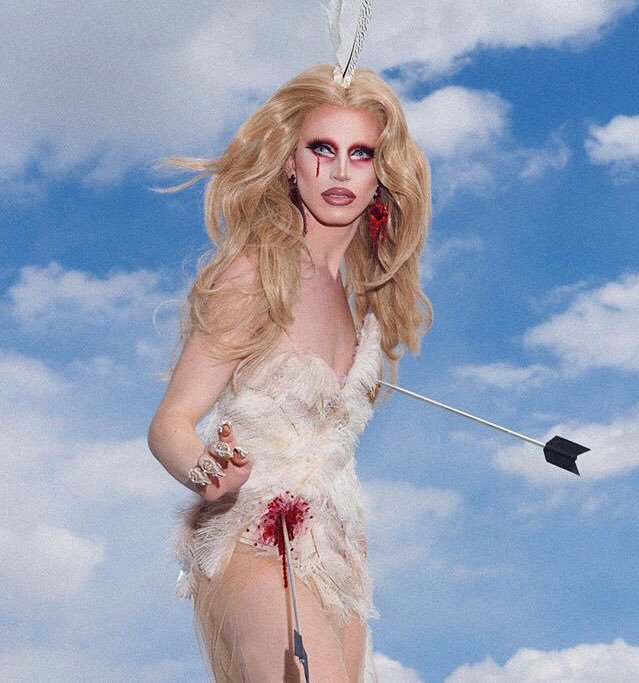 via tabloid art history on Twitter
Impossibly young fashion maven and quintessential Air sign Aquaria showed out on Episode 3 of her winning season with her take on the "feathers" runway prompt. Her tragically ethereal play on Maestro degli Occhi Spalancati's 1470 Saint Sebastian painting combined early Renaissance pathos with the resplendent eroticism of Swan Lake. We're all accustomed to gagging in response to a seasonal runway stomp, but tears , girl? Only a visionary like Aquaria could inspire this level of unfettered standom. We didn't deserve her then, and we don't deserve her now.
Now, this reference may not have been explicitly stated at the time, but I refuse to believe that Season 5 winner and charm-offensive extraordinaire Jinkx Monsoon did not use Henri Toulouse Lautrec as her blueprint for the spectacular can-can get-up she sported in her historically vital lip sync against known and respected assassin Detox.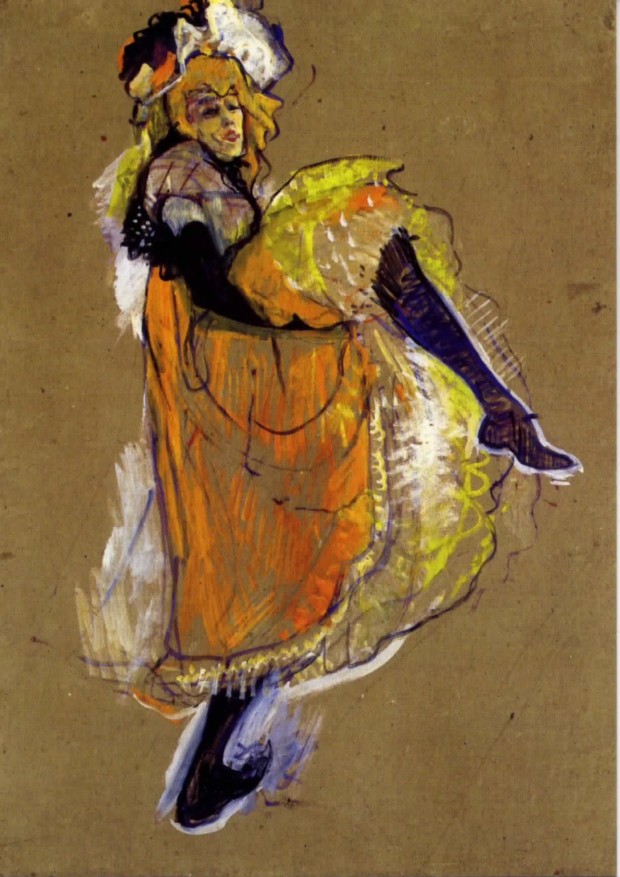 via Dailyartmagazine
Her character-driven interpretation of Yma Sumac's Malambo #1 stands the test of time, rather than the taste of lime her competitor attempted (no shade to Detox, she did her best... I just have a personal vendetta against neon).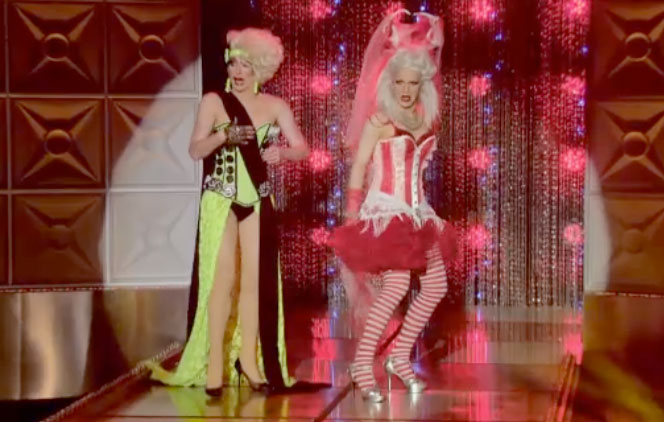 via Seattle Gay Scene
8. SHANGELA - YAYOI KUSAMA VIA LADY GAGA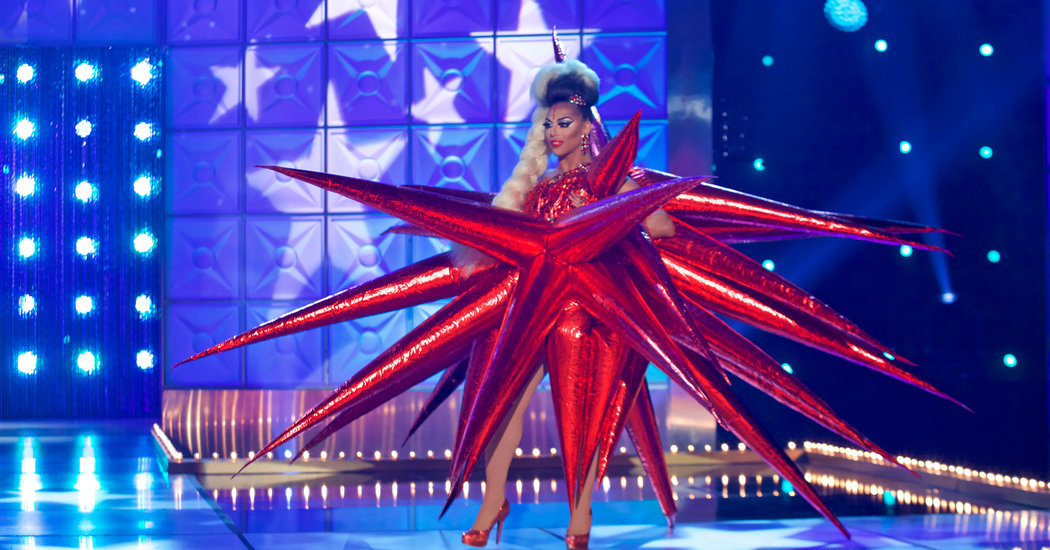 via NYT
In All Stars Season 3 Episode 7, eternal drag phoenix Shangela electrified the "Red For Filth" runway with a conic crimson inflatable extravangaza that shone almost as brightly as her nose highlight. The Gaga-inspired frock is a clear tribute to Yayoi Kusama on the pop star's part; the installation artist's signature phalluses wobbled towards Rupaul with plastic aplomb, and we stood mouths agape like baby birds waiting for a taste of Shangela's delicious flopsweat.
9. RAJA - ROCOCO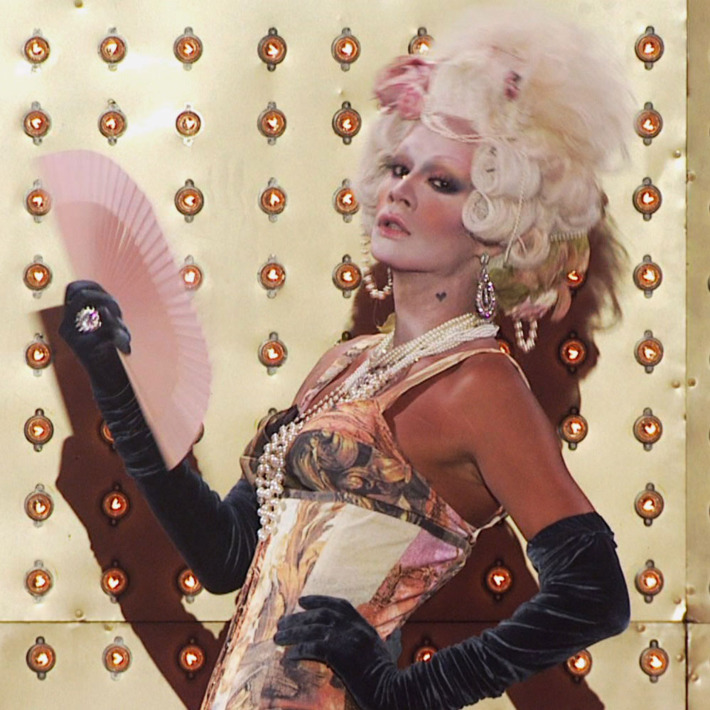 Season 3 winner and sartorial thoroughbred Raja served us frothy Rococo on slice during her "cake" themed runway charge on Episode 7. Her Marie Antoinette couture included a printed corset bodice smothered in Baroque scrolling and cheeky hints of Boucher-flavored flesh, just the sort of contrast to Raja's aquiline proportions that would knock the powder out of any dusty private citizen's wig.
RELATED ARTICLES:
What Gossip Girl Got Right (And Wrong) About the Art World
The Good, The Bad and the OMFG: Art's Complicated Relationship With Reality Television