Privacy is nonexistent in Tracey Emin's universe. Her work focuses on sexual misadventures, heartbreak, masturbation, and childhood trauma, among other things that most people avoid discussing. The shockingly intimate nature of Emin's extraordinarily honest work has put her at the forefront of contemporary art. Even if her unruly public appearances have occasionally overshadowed her more worthy achievements (Emin is only the second woman ever to be appointed professor at the Royal Academy), her 25-year-long career has produced art that is truly unforgettable. Here is a close look at the deeply unsettling and emotionally bare work of Tracey Emin, whose landmark first museum show in the United States—a survey of her neon works—has opened at MoCA North Miami. 


TAINTED LOVE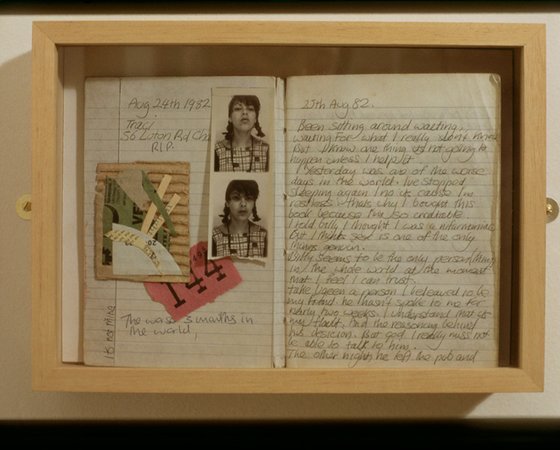 An installation shot from "My Major Retrospective" at White Cube
Emin's childhood photographs—later exhibited as part of "My Major Retrospective" her first show at White Cube in 1993, which established her as one of the YBAs—show her as a happy little girl, but it wasn't long before all that would change. At the age of 13, sexuality became a major part of Emin's life when she was raped by someone she knew. From then on, Emin was constantly thinking about what sex meant to her, and she would later go on to use art to exorcise her demons. Her 2004 film Top Spot, a semi-autobiographical account of a teenage girl's life in Margate, Emin's hometown on the southeast coast of England, depicts some of the horrors she faced as a child. 


BED, WRATH, AND BEYOND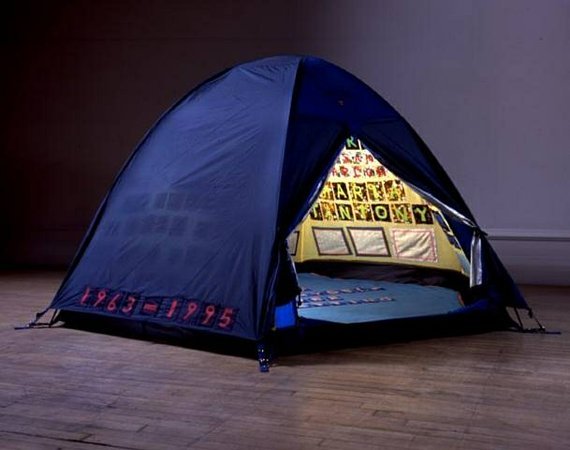 Everyone I Have Ever Slept With 1963-1995 (1995)
Emin studied painting at both Maidstone Art College and London's Royal College of Art, where she earned her M.A. in 1989, but gained more early accolades for her drawing, which from early on exhibited raw emotions. In her 1995 series "From the Week of Hell," Emin used drawings done in a spontaneous, sketchy style to work through the depression she faced when she had dental surgery, broke up with her boyfriend, and had an abortion, all in the course of a single week. Then came the readymades. For Everyone I Have Ever Slept With 1963-1995, the artist embroidered the names of the 32 people she had been with (as well as the other 80 that she had only literally slept beside) on the inside of a store-bought tent--thereby forcing viewers to crawl inside to experience the work. (Everyone has since been lost to a fire.) Even more famous is My Bed, the Turner Prize-nominated work for which Emin bared all by exhibiting her bed just as she had left it after a week's depression—used cigarettes, condoms, stains, and all.


NEON ROMANCE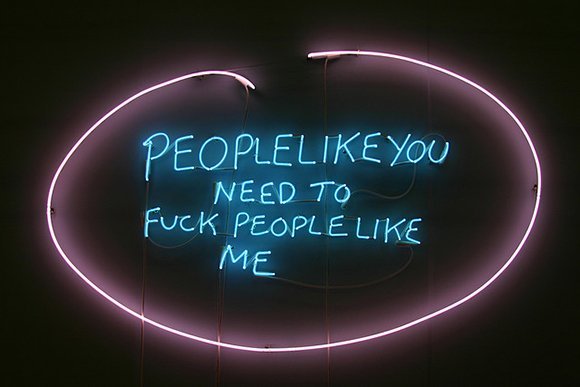 People Like You Need to Fuck People Like Me (2007)
"People like you need to fuck people like me," bluntly reads one of Emin's neon works, done in a script reminiscent of her drawing style. Many of her other neon works are less confrontational, but all are still extremely personal. Each includes a deeply heartfelt message about love nearly always tinged with sadness or anger—they might be seen as a more honest version of the sort of aphorisms found in Valentine's Day cards. The medium alludes to the neon signs of Margate, adding a layer autobiography to the works.


A FEMINIST TOUCH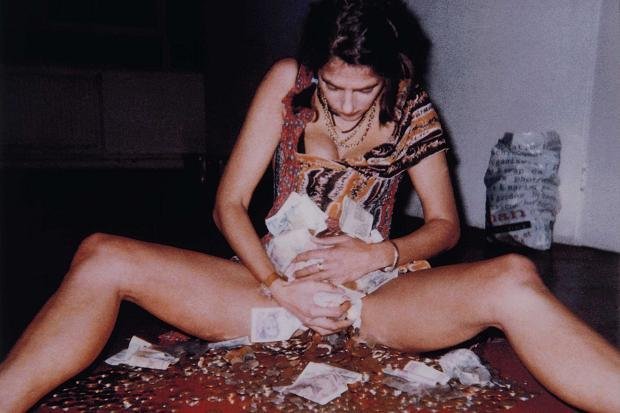 I've Got It All (2000)
When asked about the status of women artists, Emin frequently brings up the example of Louise Bourgeois, an artist whose work can often be had for a quarter of what comparable works by her male contemporaries' costs. Emin has also said that it's likely that she would not have had the same career if she had children. (Her longtime companion, a cat named Docket, seems to have done little to hinder her success, however.) Rather than capitulate to the biases of the art world, however, Emin has made it her goal to make art that is overtly feminine, frequently working in textile and embroidery to evoke the traditional crafts of domesticity. Thus an explicit, ferocious sense of female sexuality is always present, layered in both the subject matter and medium.


THE NOT-SO-YOUNG BRITISH ARTIST
In one of her confessional textiles, Emin has embroidered the phrase, "I do not expect to be a mother, but I do expect to die alone." The statement is almost disturbingly forthright, but such a phrase could not be more typical of the artist's work. For Emin, references to death become a way of exposing the human tendency to forget trauma, to literally and metaphorically bury regrets and other discomfiting feelings. Often, these death references allude to Emin's abortion, but sometimes, they simply reflect her experience of getting older. Emin has even sculpted her own death mask. Comparing earlier works—in which she typically depicted herself with legs spread—to the risqué drawings that were recently exhibited at Lehmann Maupin, Emin said that her legs were closing. That may be true, but she remains committed to making her personal life, heartbreak and all, an open book, no matter how old she gets.