In 1955, five years after shooting his common-law wife Joan Vollmer in the head in a disastrous, drunken attempt at a William Tell act and four years before his controversial book Naked Lunch cemented his place in the history of postmodern literature, the 41-year-old writer and heroin addict William Seward Burroughs II met the British-Canadian artist Brion Gysin . Burroughs credits the shooting incident with catalyzing his career as an author, writing in 1985 that "I am forced in to the appalling conclusion that I would never have become a writer but for Joan's death… I have no choice except to write my way out." His encounter with Gysin, on the other hand, sparked a decades-long friendship that led not only to the inspiration for his seminal novel but also an extended engagement with visual art.
Burroughs and Gysin in 1959 (Photo: Loomis Dean/Time Life Pictures/Getty Images/New York Magazine)
Burroughs met Gysin while taking in the carnal and chemical pleasures of Tangiers. A few years later, in the now-infamous Beat Hotel in Paris, Gysin introduced Burroughs to what he called "the cut-up technique"—a variation on a classic Cubist and Dada tool for associative creativity based around the random mixing and matching of fragments of text excised from newspapers and the like.
Gysin's method is widely credited as the inspiration for the disjointed, almost illegible narrative of Naked Lunch (written during the author's stay at the Beat Hotel), even if the book's schizoid characters and violent, pornographic passages are pure Burroughs. The literary cut-up arguably reached its apotheosis in Burroughs's Nova Trilogy of the 1960s, but it took him another two decades to expand it beyond the page and onto canvas, paper, and plywood.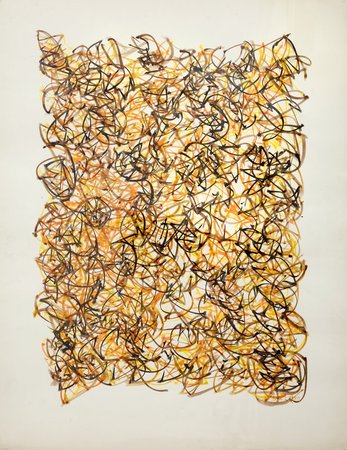 Untitled (1959), by Brion Gysin
Despite the mutual admiration of Burroughs and Gysin and their shared penchant for formal (and, again, carnal and chemical) experimentation, the intense response to Burroughs's writing meant that his fame quickly eclipsed his friend's. This difference in stature seems to have burdened him with a self-consciousness about making art. As the novelist and Beat contemporary Stewart Meyer said , "William could not paint while Brion was alive, though he wanted to. He did not want to overshadow Brion in that area, because he had already overshadowed him in every other area."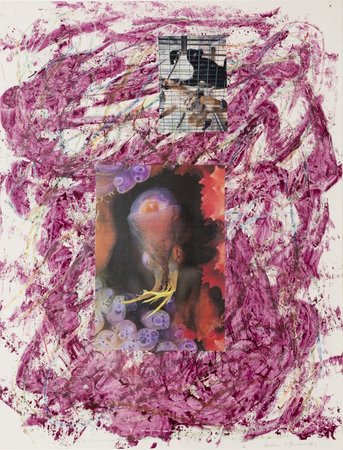 Blue Eyed Lemur (1992) by William S. Burroughs
It wasn't until Gysin's death, in 1986, that Burroughs began making visual art in earnest. From that year until his own death in 1997, Burroughs produced a bevvy of abstract compositions and collages which are clearly indebted to Gysin. (His concerns about outstripping his friend were not unfounded; Burroughs had his first solo exhibition in a New York gallery in 1987.)
Works like Blue Eyed Lemur, from 1992, show a continued fascination with the power of cut-up juxtaposition combined with improvisational, off-handed gestures evoking calligraphy, another long-standing interest of Gysin's. Others incorporate interests more specific to Burroughs; a number of his paintings (including Copper Termites ) were made by firing a shotgun at cans of spray paint set up in front of a canvas or piece of plywood.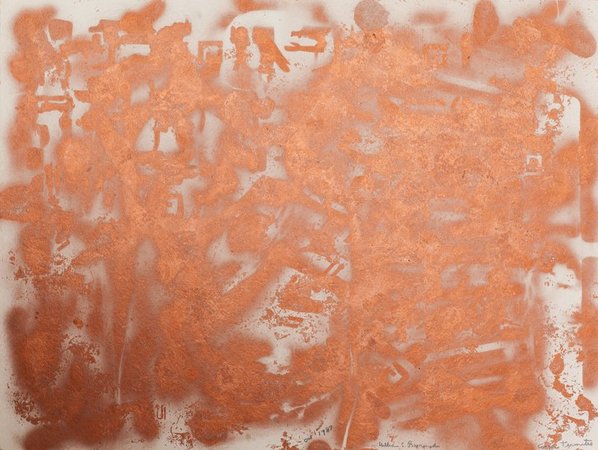 Copper Termites (1987) by William S. Burroughs
Violence is never far afield in Burroughs's work. A piece like The Assassin's Gun II with its red ink and spray paint needs little exegesis to connect it to Burroughs's personal life. Others are even more explicit, as in his marker sketch Jack the Ripper: The famed serial killer, wielding what is perhaps a scalpel, is riddled with holes from Burroughs's pistol.
It's hard not to read a bit of Burroughs's tormented personal history into these gestures. Are we seeing some kind of expression of remorse, or a celebration of the creative power of destruction, or both? Whichever the case may be, these pieces show Burroughs doing what he does best: mining his own life for details to be worked over, randomly rendered, and shot at in an effort to tell a new kind of story.