Your new JR print has arrived, you've hung it up, and your friends are coming over to take a look. What are you going to say when they ask you about this semi-anonymous artist and his work? Don't panic. Here are a few simple answers to their questions that'll make you sound like an instant JR expert. You'll find more in the newly updated and expanded Phaidon book JR: Can Art Change the World?
So what's his backstory?
JR is a 36-year-old French artist and activist, best known for pasting up large-scale black-and-white portraits of marginalized figures, in public places around the world. He first found international prominence following the 2005 Paris riots, when his public portraits of kids from the city's suburbs ( banlieues ), were screened around the globe by news broadcasters, as a means to illustrate a city on edge.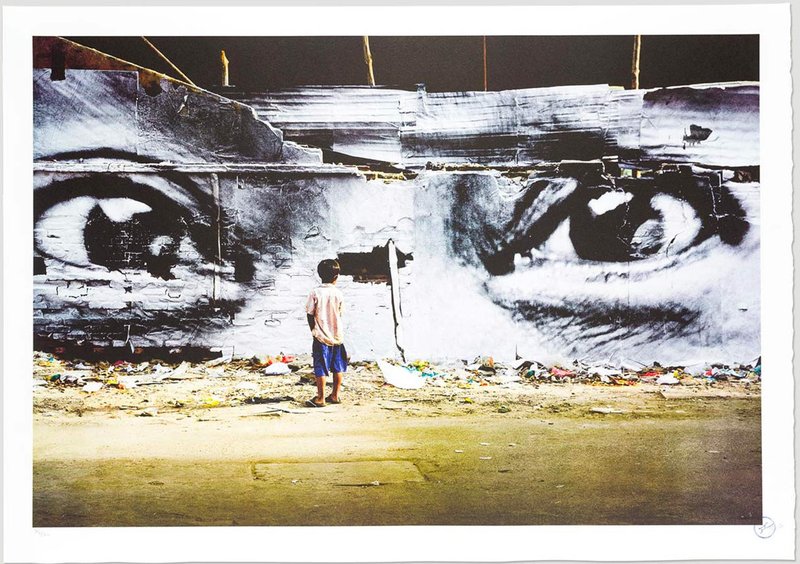 Action in Phnom Penh, Peng Panh, Cambodia - JR

I feel like I want to say 'Banksy'?
That's understandable. They both come from a graffiti background, and  they have both worked with the British dealer and gallerist Steve Lazarides – though JR now shows with the more prominent art-world institution, Perrotin Gallery (Takashi Murakami, Maurizio Cattelan, Pierre Soulages). Also, they both have a starry following. Yet, while Banksy's work can be seen in context of street artists such as Blek le Rat, JR's work can trace its origins back to the humanist photography of the 20th century, and forward towards more socially minded contemporary artists such as Rirkrit Tiravanija.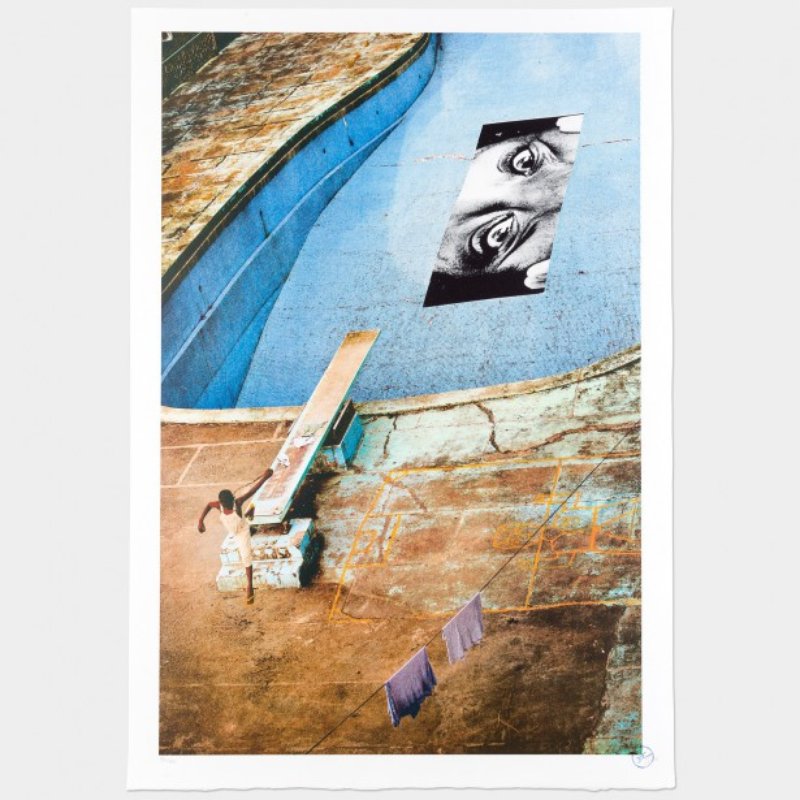 Swimming Pool, Intercontinental Hotel, Verticale, Monraovia, Liberia, 2008 - JR

So should I think of JR as a street artist?
Though he started out as a teenage graffiti tagger, JR prefers not to describe his work as street art. "I don't really like the term 'street art,'" he told the New York Times in December 2019. "My studio was the street for a lot of years, just because I had to install my work anywhere I could, and I didn't know anything else. For me it's art whether it's inside or outside. Sometimes it doesn't work in a gallery." Though of course, it has worked, both inside and outside galleries; JR's art has drawn huge crowds in large, public installations outside the Louvre in Paris, and on the exterior of the Tate Modern in London, and features in the permanent collection of MoMA, among other institutions.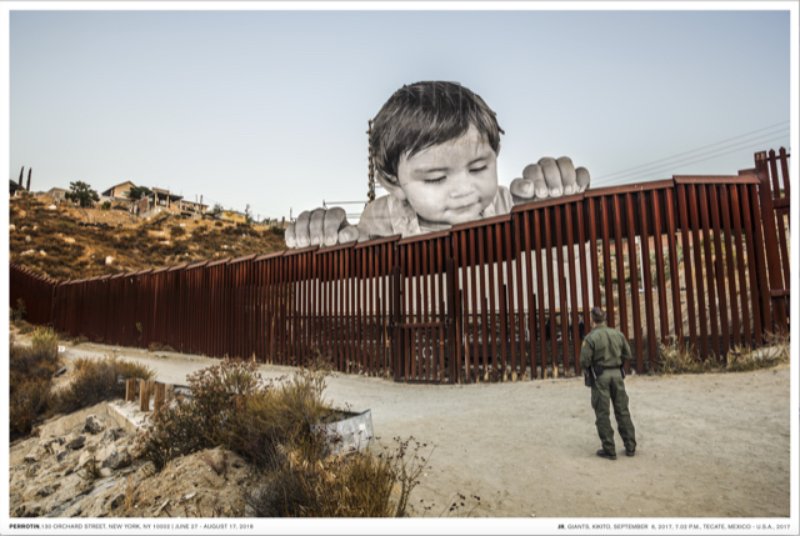 Giants, Kikito and the Border Patrol, Tecate, Mexico - USA poster, 2018


So if he isn't a street artist, what is he?
It might be better to think of him in terms of newer movements, such as social practice, a burgeoning field that emphasizes relationships with groups of people as part of the aesthetic quality of an artwork. Consider, for example, the huge, pasted-up images of Mexican toddler, Kikito, that loomed over the US border, back in 2017, or the images of Palestinian and Israeli citizens, pasted up side-by-side on the separation wall in Bethlehem,  back in 2007.
"Definitely, for me, the art is the process," the artist himself has said. "Each time I think, oh, it's finished, it's actually just the beginning. We created an image, but that's now gone. We're staged the ballet, and that's gone too; then we made a film, and now we're finding a way to show that film."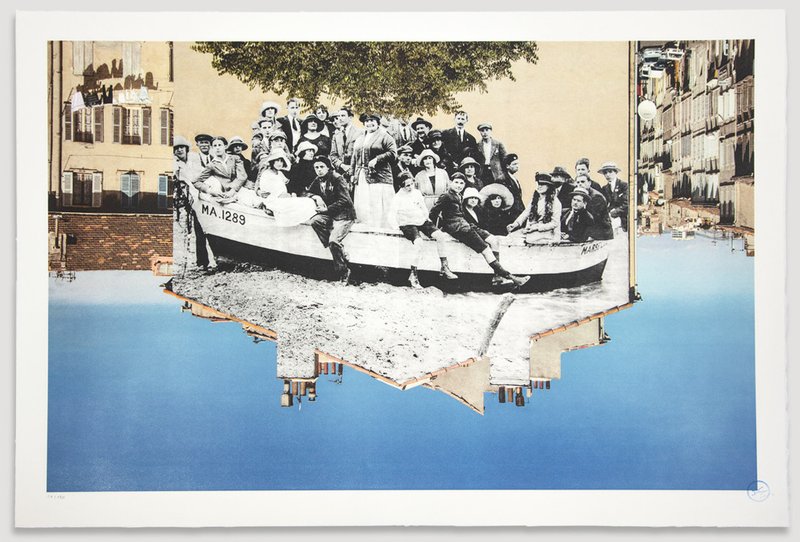 Unframed, un Groupe Posant Dans une Barque Amarrée Sur la Plage Revu par JR, Marseille Vers 1930, Marseille, France, 2019


Ballet? Film?
Oh, yes. JR first began working with ballet dancers in 2014, when the New York City Ballet commissioned him to create a large installation featuring dancers in the company. Since then, he's gone on to stage Les Bosquets, a choreographic work based around the 2005 Paris riots; and in 2017, he collaborated with the legendary director Agnès Varda, to shoot Faces Places, his Oscar-nominated documentary about small-town life in France.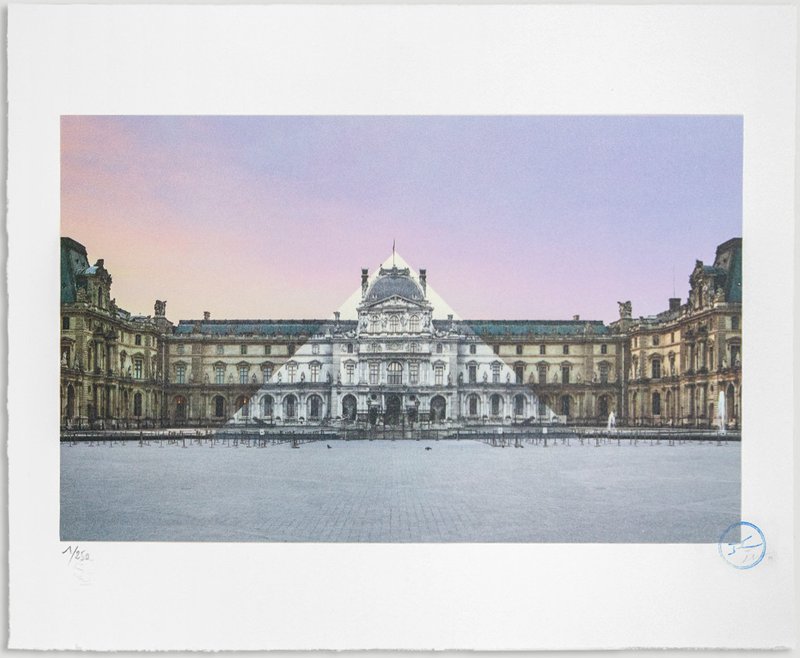 JR au Louvre, la Pyramide, 12 Juin 2016, 5H55 © Pyramide, Architecte I. M. Pei, Musée du Louvre, Paris, France, 2016, 2019


Should I know his true identity?
Although he doesn't publicly disclose his identity, he has never sought to mask his origins quite as thoroughly as some prominent artists. He's quite open, for example, about his date of birth (22 February 1983), and that 'J' and 'R' are his real initials. He's also candid about his parents' emigration to the French capital from Tunisia and Eastern Europe, and how he spent his early life in the suburbs of Paris.
He engages with the media more readily than other anonymous artists too, and is keen to add nuance and context to his art via his own interviews. Indeed, while in all public appearances he wears dark glasses and a hat to disguise his features, he's actually confessed to growing pretty tired of keeping sunglasses on all day long when he's in public.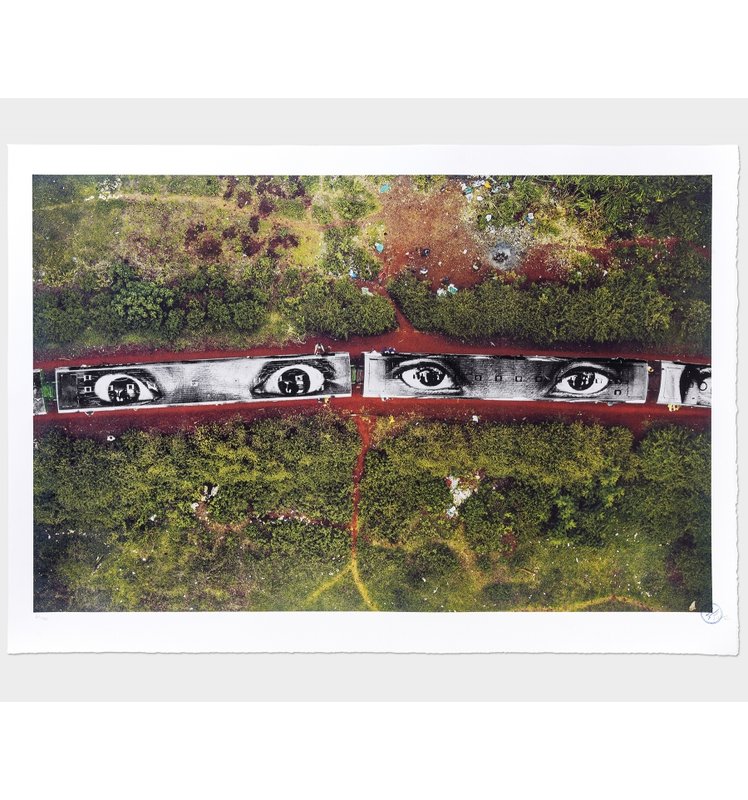 28 MM, Women are Heroes, Action in Kibera Slum, Into the Wild, Kenya
And how does he fund his big public works? While prominent arts institutions underwrite some works, many of his more challenging projects – such as his 2017 installations along the US-Mexican border – are paid for via his fine-art prints, such as these for sale on Artspace . Buying these furthers JR's art.  So buy his art and you're not only supporting JR, but also his causes.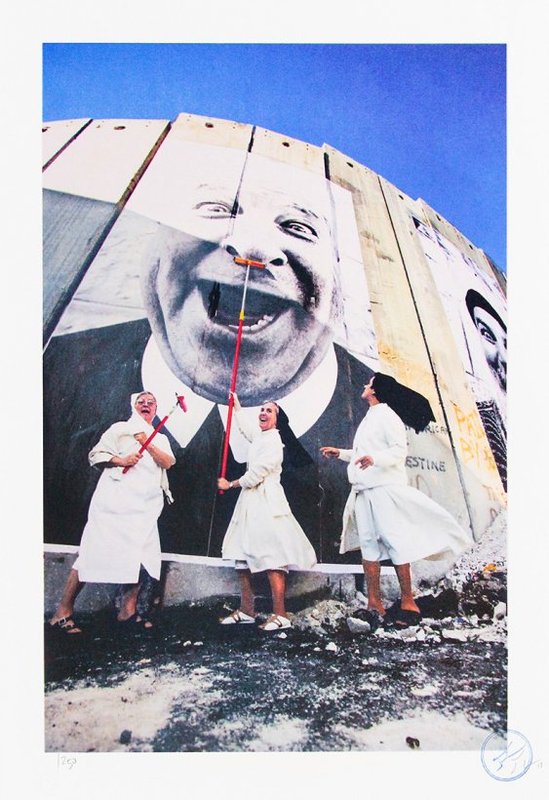 28 Millimetres, Face 2 Face, Nuns In Action,  Separation Wall, Security Fence, Palestinian Side, Bethlehem, 2018

And he has some pretty famous friends, right?
Oh yes. Robert De Niro starred in JR's 2015 short film, Ellis; Pharrell Williams composed music for JR's 2014 ballet, Les Bosquets, and the artist himself is also on good terms with Martin Scorsese, Sacha Baron Cohen, Madonna and Jennifer Lawrence, among others. Many of his friends are also his collectors, yet, despite this A-list crowd, his prices are still affordable - for now.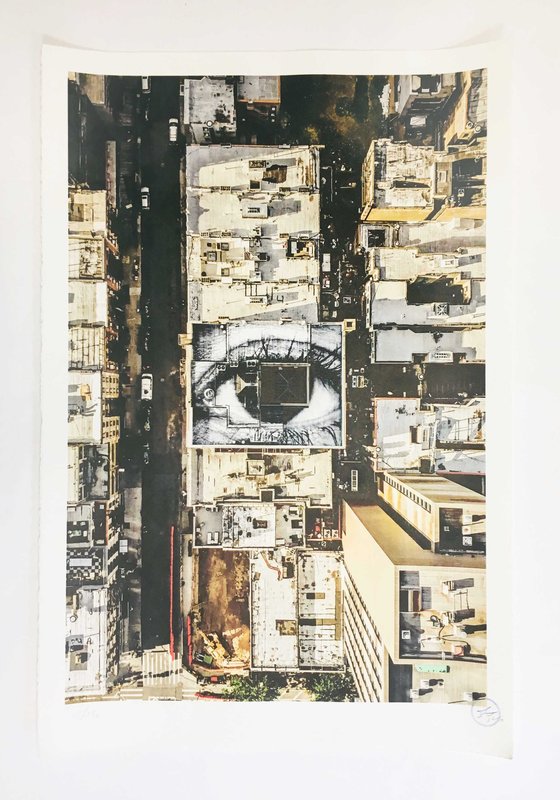 Migrants, Mayra, Eye in the Lower East Side, New York City, USA, 2018


What should I hang my new JR alongside?
Try social conscious black-and-white photography, such as pieces by Sebastião Salgado, Jan Yoors, or even Weegee; works by contemporary artists who also engage in activism, such as Ai Weiwei; street art by Kaws, Shepard Fairey, or pieces by JR's friends and collaborators, such as Vik Muniz and Os Gemeos. You could also try a salon-style hang with a cluster of JR works for real wall power.
Check out these 25 affordable JR works on Artspace now! (Or just scroll through our 5 highlights below).
[JR-works-module]