Each month, Artspace's resident advisor Hannah Parker shares the artworks on her collecting wish list. This time, she's focused on works by artists who turned heads at Frieze New York and TEFAF last week. Read about her irresistible infatuations, and add one to your cart before she does!
DERRICK ADAMS
Interior Life (Man) and Interior Life (Woman), 2019
$3,600 or as low as $317/month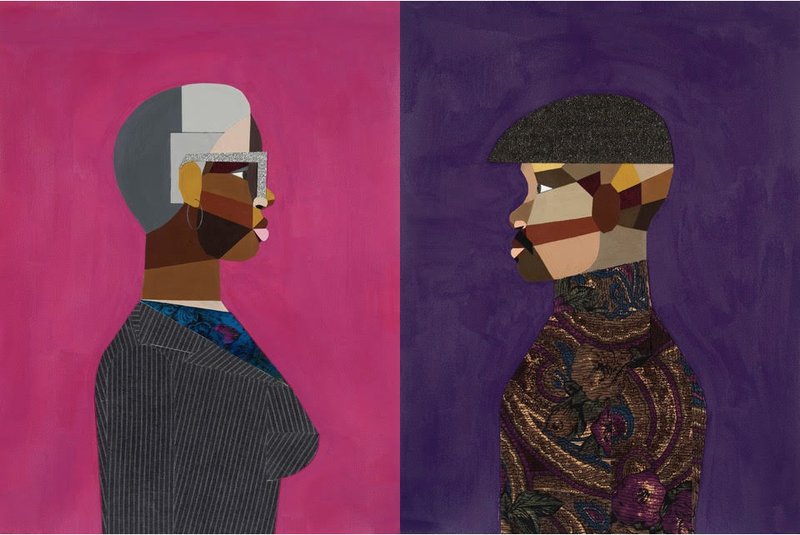 Derrick Adams, already a longtime Artspace favorite, had a positively delectable Frieze presentation, filling a candy-pink booth with glimmering bronzed multifaceted portraits. Adams's work, which examines the force of popular culture and society's relation to objects and texts, is earning increasing recognition, and this standout booth took that recognition to the next level, selling out within the first hour of preview day. To celebrate his successful booth, Artspace just added Adams's newest edition, Interior Life (Man) and Interior Life (Woman), to the site. This set of tactile portraits is representative of the artist's "deconstruction" series, in which he implements geometric shapes and elaborate patterning to the human figure. I highly recommend you acquire this pair for your collection before it too sells out... seriously, do not hesitate with this one.
JANE CORRIGAN
MALM, 2018
$4,500 or as low as $397/month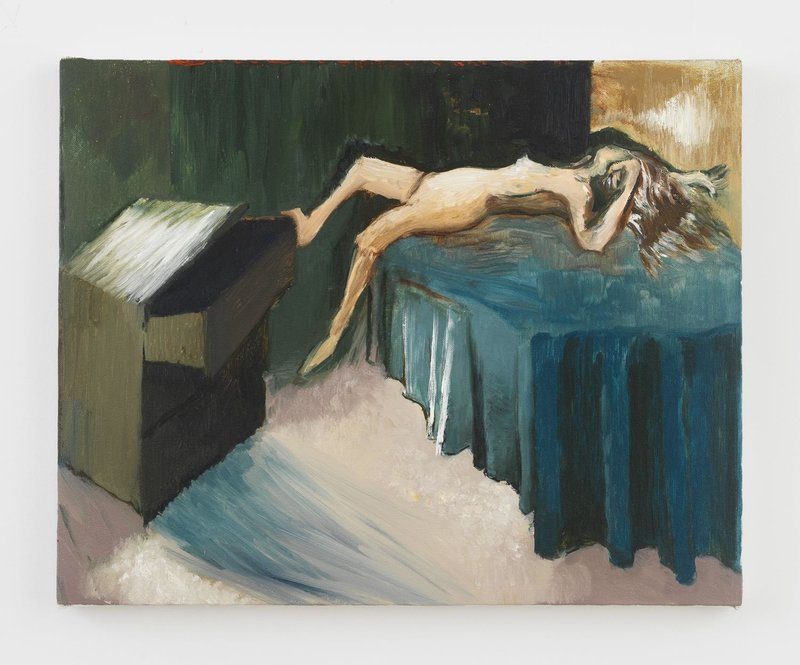 My brilliant colleague Loney Abrams already sung the praises of Jane Corrigan in her Frieze highlights coverage, but I must mention her again because... I love Jane Corrigan's paintings. Admittedly somewhat late to the game, I was captivated by her presentation at NADA Miami last December, and I've been closely following her work since. The artist's solo presentation at Frieze only reinforced my excitement around her figurative dreamlike paintings and I found myself returning to her booth more than once throughout the fair. Corrigan's wet-on-wet painting technique, in which the oil paint doesn't dry in between layers, is a risky one, and yet she nails it every time. Her paintings have so much movement and leave you wanting to learn more about her cast of characters. MALM is just one example of the intimate, surreal scenes she crafts, and likely won't remain available for long. (And don't forget, email advisor@artspace.com if you'd like to see other gems by this artist.)
GEORG BASELITZ
Falle (Trap), 2008
$6,200 or as low as $546/month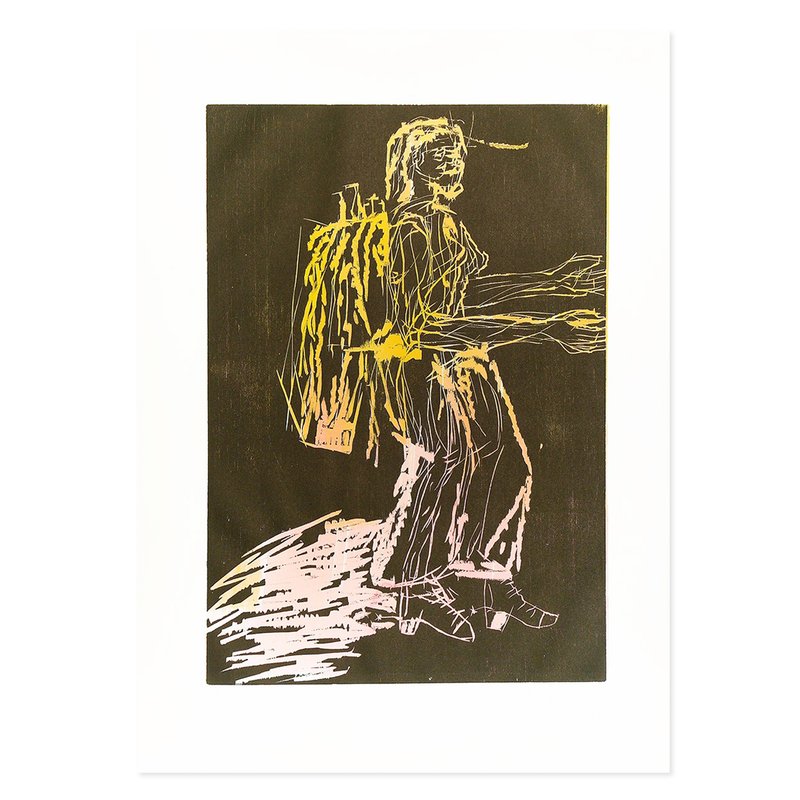 The German painter Georg Baselitz has earned quite a lot of institutional attention over the past two years. 2018 was the year of his solo exhibition, Georg Baselitz: Six Decades at the Fondation Beyeler, which coincided with Art Basel and then traveled to the Hirschorn Museum and Sculpture Garden in Washingotn, D.C. This year, Baselitz's solo exhibition, Baselitz – Academy will open at the Gallerie dell'Accademia di Venezia this week alongside the opening of the Venice Biennale. Such major exhibitions are always met with equally robust art fair presentations, and this past week was no different. Both Frieze and TEFAF were filled with monumental canvases by the Neo-Expressionist artist and there is no sign of slowing down now. Baselitz's market is already quite "mature," so you might want to consider a quality work, such as Falle (Trap), before it is out of reach.
RED GROOMS
Masters at the Met, 2002
$3,500 or as low as $309/month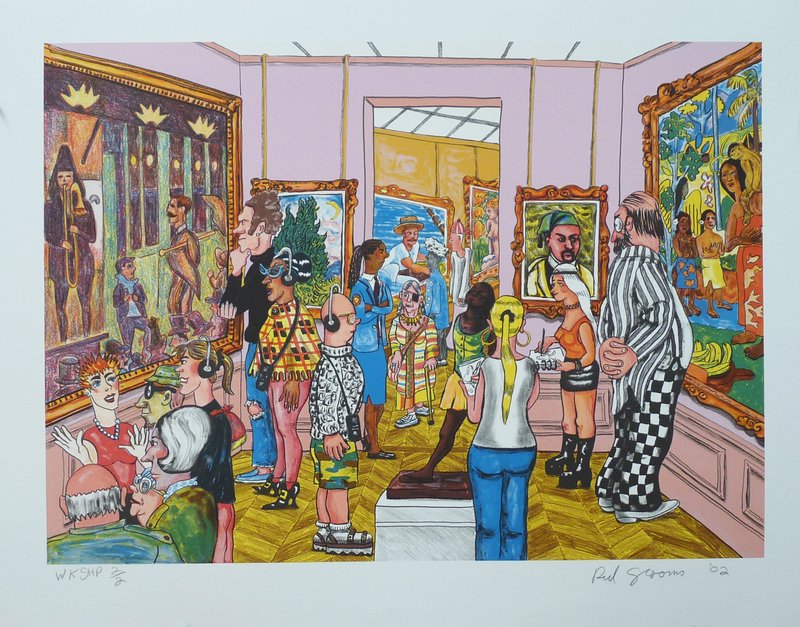 Red Grooms arguably had the most Instagrammed and talked-about "booth" at Frieze, taking the form of a $550,000 large-scale MTA bus filled with Grooms's characteristic passengers (titled appropriately, The Bus, 1955). I must say, as a native New Yorker who regularly rode the bus as a child (and in fact, took the bus to the ferry the morning of the Frieze preview), I loved it. It made me smile, it made me laugh; it felt like home. That is the feeling Grooms' idiosyncratic work elicits. It makes you think of those everyday encounters you have, be it with strangers, your friends, or family. While Artspace has a wide selection of artworks that will speak to your own experiences, I have selected another one that speaks to mine, Masters at the Met. In this scene, Grooms applies the same care and craft to the visitors he depicts as he does the artworks, reminding us that "by taking art too seriously, we may risk missing out on the abundance of aesthetic pleasures all around us in everyday life."
ROY LICHTENSTEIN
Roy Lichtenstein (Walker Art Museum and Pasadena Art Museum), 1967
$1,500 or as low as $133/month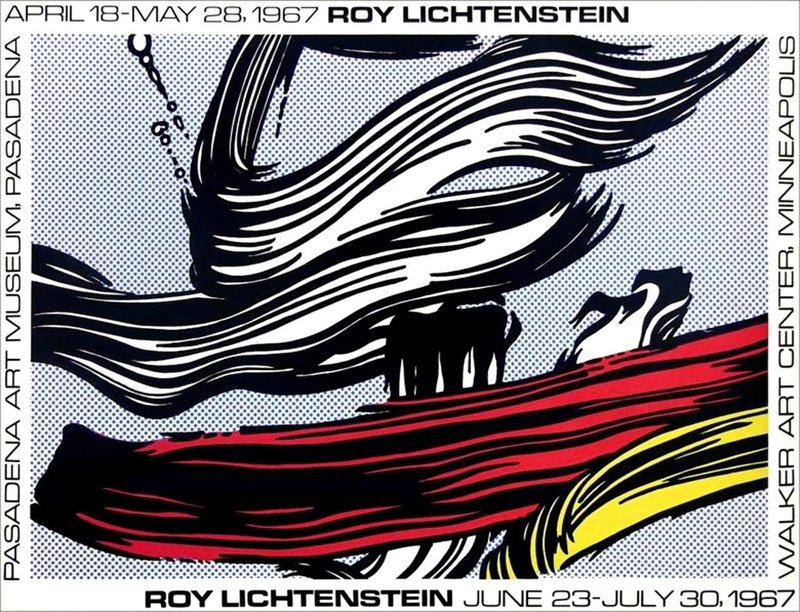 Gagosian's TEFAF booth dedicated entirely Roy Lichtenstein was so opulent, that they even 'ben-day-dotted' the carpet. Each artwork featured in the booth was exceptional and museum-quality, and one can guess how high the prices were. The gallery is also promoting the launch of a new book, Roy Lichtenstein: The Impossible Collection, which brings together 100 of Lichtenstein's memorable works. There's no question that Lichtenstein was (and continues to be) one of the most influential figures in art history. With each show, book, and auction, his market soars, so the real question is, which work are you going to add to your collection before it's too late? Why not consider the above exhibition poster for his 1967 shows at the Walker Art Center and Pasadena Art Museum. It features Lichtenstein's iconic brush strokes against the coveted ben-day dot pattern, and can be displayed in any orientation you wish. At $1,500, it's one of the more attainable works I've come across, so if I were you, I wouldn't hold my breath for anything more affordable.
If you'd like to see more available works by these artists, don't hesitate to reach out via advisor@artspace.com and I'll be happy to source additional works for you!