As you might have already heard, this week Sotheby's is auctioning off an archive of Supreme skate decks. The lot is part of a single private collection belonging to Ryan Fuller, who exhibited the decks last month at Jason Vass gallery in Los Angeles. To the relief of any anxious hypebeasts lusting after the collection, the works have been authenticated by StockX, the "Stock Market of Things," which guarantees that people buying and selling luxury sneakers are trading the real thing. The boards, which Sotheby's will auction as a single lot, is estimated to sell somewhere between $800,000 and $1,200,000. That's a lot of dough.
If you like arty skateboards, but don't want to spend over a million dollars on them, don't worry! You can buy similar decks on Artspace for much more reasonable prices by artists including Takashi Murakami, Mark Flood, and George Condo, whose work is also featured in the Sotheby's auction. For zero money, you can gaze longingly at the Supreme collection, which will be on display at Sotheby's 7th floor galleries through January 25th.
KEITH HARING
Man and Medusa (TK)
$700 or as low as $62/mon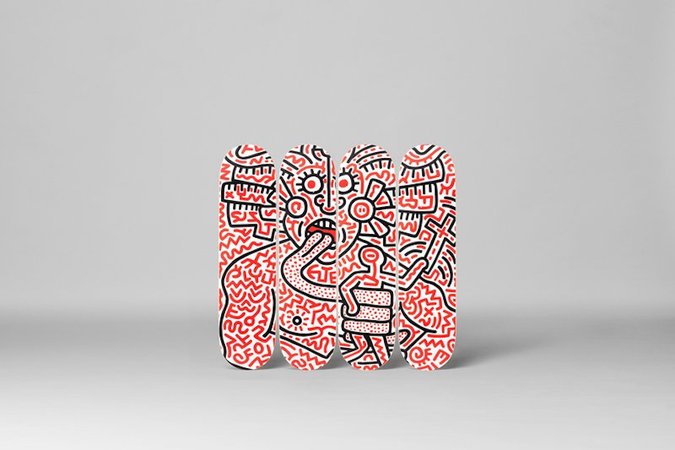 A gay icon of the '80s downtown art scene, Keith Haring's earliest artistic influences were Dr. Seuss, Walt Disney, and Charles M. Shultz's Peanuts comic strip. After moving to New York, he started out drawing in the subway station's blank advertisement boards, which garnered mass appeal and piqued his interest in public art. While he started selling work on the art market to support himself, Haring continued to make work throughout the city, including his famous "Crack is Whack" mural in Harlem. After being diagnosed with AIDS in the late eighties, as death and misinformation about the disease were rampant, Haring contributed works about HIV Awareness to groups such as ACT UP. While Sotheby's recently sold a Keith Haring Painting, sister cities-for tokyo (1985), for $4.5 million dollars, you can get his signature vibrant, graphic style for an actually affordable price.
PAUL MCCARTHY
Trump Posters, Women's Day March - Set (2017)
$5,000 or $440/mon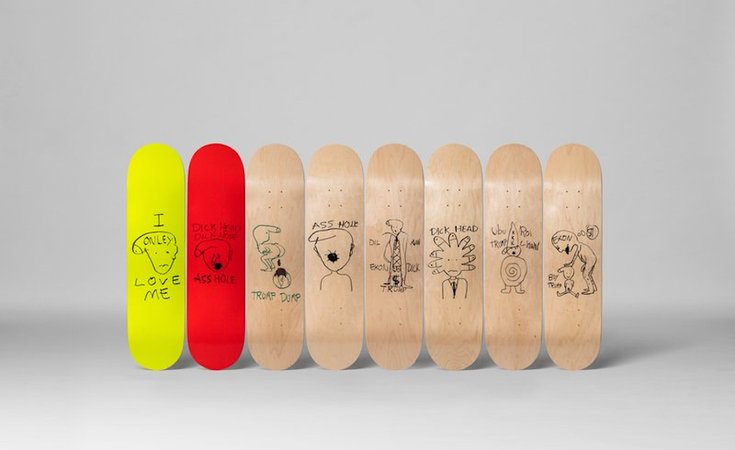 Paul McCarthy shows the perverted, sexual side of seemingly innocent figures, unearthing the hidden dark side of American consumerism and mass-media. Working across a variety of mediums, his figurative works use comedy to blur the line between high and low culture. Unsurprisingly, McCarthy collaborated with––and was a close friend of––artist Mike Kelley. These decks show McCarthy's signature style of humor: here, he uses a series of floppy dicks and buttholes to make fun of President Trump: our favorite deck features a phallus-headed figure pooping on the Earth under text which reads "TRUMP DUMP."
TAKASHI MURAKAMI
Unique Hand-Signed Flower Drawing in marker on skateboard (one of a Set of Three (3) Skateboards) (2017)
$3,000 or as low as $264/mo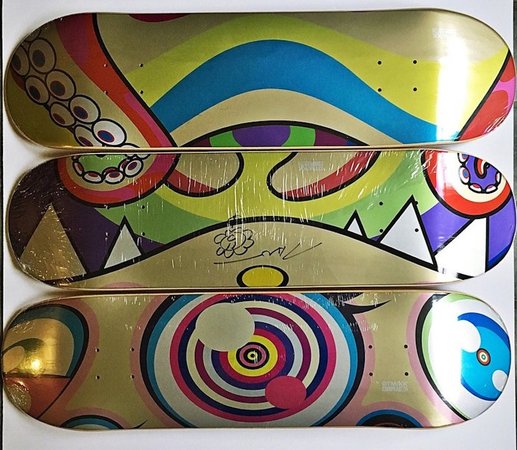 Takashi Murakami is frequently compared to Andy Warhol, which makes sense: the Japanese artist is best known for his Pop Art-y, anime-inspired motifs, including smiling flowers, psychadelic teddy bears, and blinking mushrooms. In addition to collabs with brands like Louis Vuitton, Murakami also created his own artistic movement, "Superflat," which combines the graphic practices of contemporary Japanese culture with the flattening print and painting traditions of its rich past. His pieces regularly sell for millions of dollars: Christie's just auctioned off a minor Murakami painting, Tan Tan Bo (2001), for five million dollars. If you don't feel like dropping that kind of money at the Sotheby's skate deck auction, which features some of Murakami's boards, you can pick up these signed(!) editions at Artspace.
RENE MAGRITTE
Décalcomanie (1966)
$500 or as low as $44/mon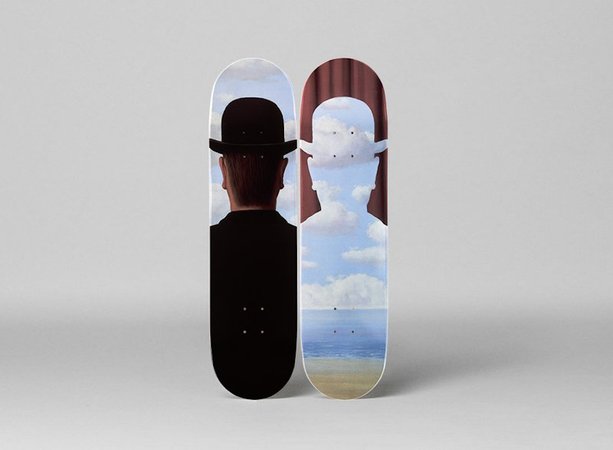 One of the most celebrated Surrealists and certainly one of the most famous Belgian artists, René Magritte was born in 1898. He worked as a draughtsman at a wallpaper factory and as a freelance designer before becoming involved with André Breton's circle of Surrealists, including Max Ernst and Salvador Dalí. Magritte became well-known for his mysterious imagery, which played off the juxtaposition between word and text, forcing his viewers to confront the nature of "reality." In perhaps his most famous work, The Treachery of Images (1929), Magritte depicted a wooden smoking pipe along with the phrase "Ceci n'est pas une pipe," or "This is not a pipe." He probably never expected that his imagery would adorn (affordable) skateboards, but we hope that he would approve.

GEORGE CONDO
Superman Skateboard (Limited Edition) (2010)
$2,800 or as low as $247/mo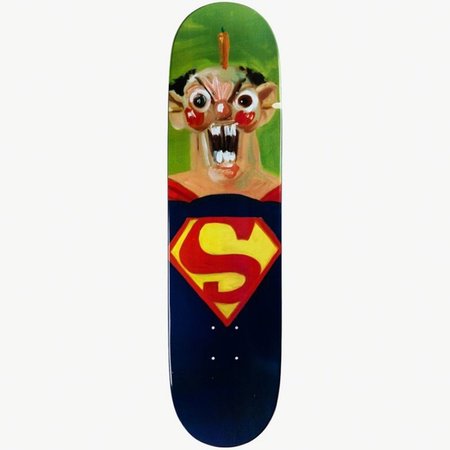 While he is perhaps best known for designing the five covers of Kanye West's My Beautiful Dark Twisted Fantasy, George Condo is also one of the most sought-after living artists today. Condo frequently recontextualizes works by Old Masters, dicing and splicing their imagery in a way that recalls Pablo Picasso; Condo once described his style as "psychological Cubism." While some of Condo's boards are included in the Sotheby's lot, this Superman deck offers a cheaper, hilarious alternative: Superman is bald, gnashing, and has a carrot balanced on his head.
MARK FLOOD
Mom Died, Dad Died (2014)
$1,750 or as low as $154/mo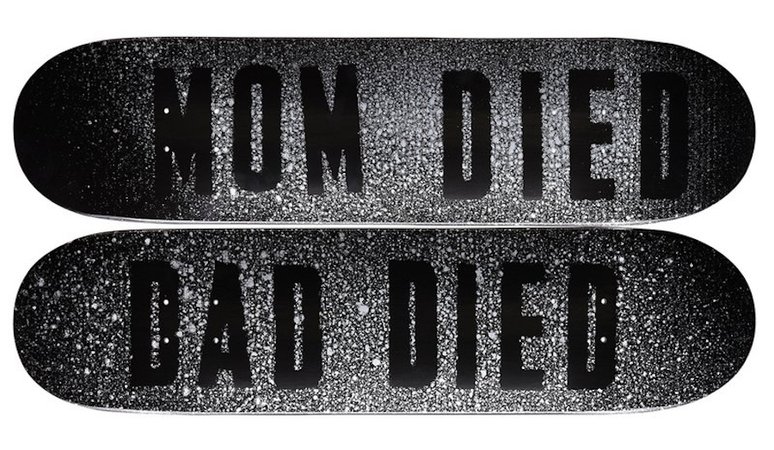 "FEEL NOTHING," "UNFRIEND YOUR PARENTS." So go some of Mark Flood's commanding texts stenciled on everything from a canvas to a full-sized training missile. Emerging from Houston's DIY punk scene, Flood began by making mocking collages of celebrities such as Anderson Cooper and performing with his experimental punk band Culturecide. It's fitting to see Flood's anti-establishment spirit––which has elsewhere pilloried the likes of Facebook, Google, and Apple––blasted across a skateboard. Instead of shelling out for Flood's decks via the Sotheby's auction, you can flip off your parents with Mom Died, Dad Died for only $154/month
ROGER BALLEN
Gooi Rooi (2017)
$250 or as low as $22/mo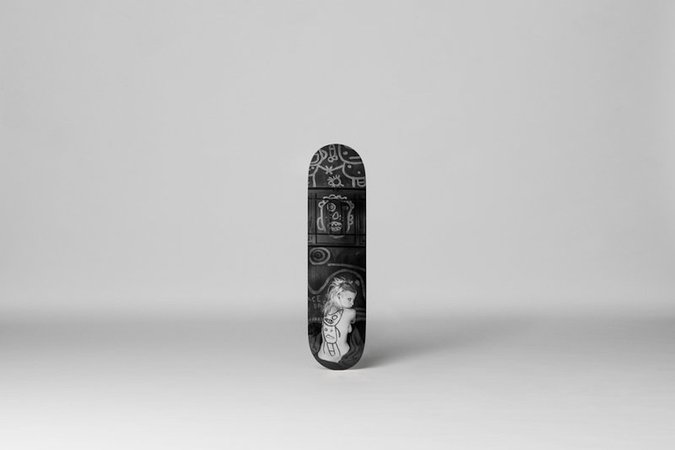 Gooi Rooi (2017) is a collaboration between The Skateroom, which produces limited edition artworks on skateboard decks, and South African artist Roger Ballen. Ballen is a photographer, specializing in black-and-white imagery. While digital photos claim to capture "reality," Ballen prefers working with analog, pushing to the medium to its moody, expressive limits before it goes extinct. His work is part of the permanent collections of art institutions such as the Brooklyn Museum and Munich's Fotomuseum, and has also received mainstream attention for his collaborations with South African rap-rave band Die Antwoord. At $22/month, Ballen's skatedeck is a cool, reasonably-priced addition to any collection.
[related-works-module]
RELATED ARTICLES
Auction Hack: Collect 5 Artists You'll See at Auction Tomorrow For Less
Steal Vs. Splurge: Join the Tate in Collecting These 6 Artists