If you're anything like us, you've been spending more time than ever sequestered indoors, which might be inspiring a more in-depth examination of your personal domestic aesthetic than you'd perhaps normally like.
The history of home depictions in art has typically been linked with swells in economic prosperity; 17th century European "genre painting" culvitated images of virutuous woman and their dominion over the familial hearth, for instance, and as the 1800s rolled around, the uber-wealthy  mercantile class started comissioning artisans to create small, meticulous watercolors of each room in their finely decorated, palatial mansions to place in display albums for posterity.
The way we nest says a lot about who we are, what we value, and how visual culture impacts our day to day lives. It's hardly an overstatement to center this kind of signaling as the primary impetus of the popularity of contemporary art - painting in particular - and its importance is reflected in the proliferation of creative commentary on the subject, ranging from the plaintive to the celebratory to the cozy, calming, and contemplative.
We've put together a collection of artworks that examine the domestic experience, tracking the emotional and psychological undulations of interiority. Ranging from up-and-coming names to legends such as David Hockney and Gustav Klimt. Here are 10 artworks that will help you reimagine yourself as part of the "in-crowd".
Roxa Smith - Reflections , 2009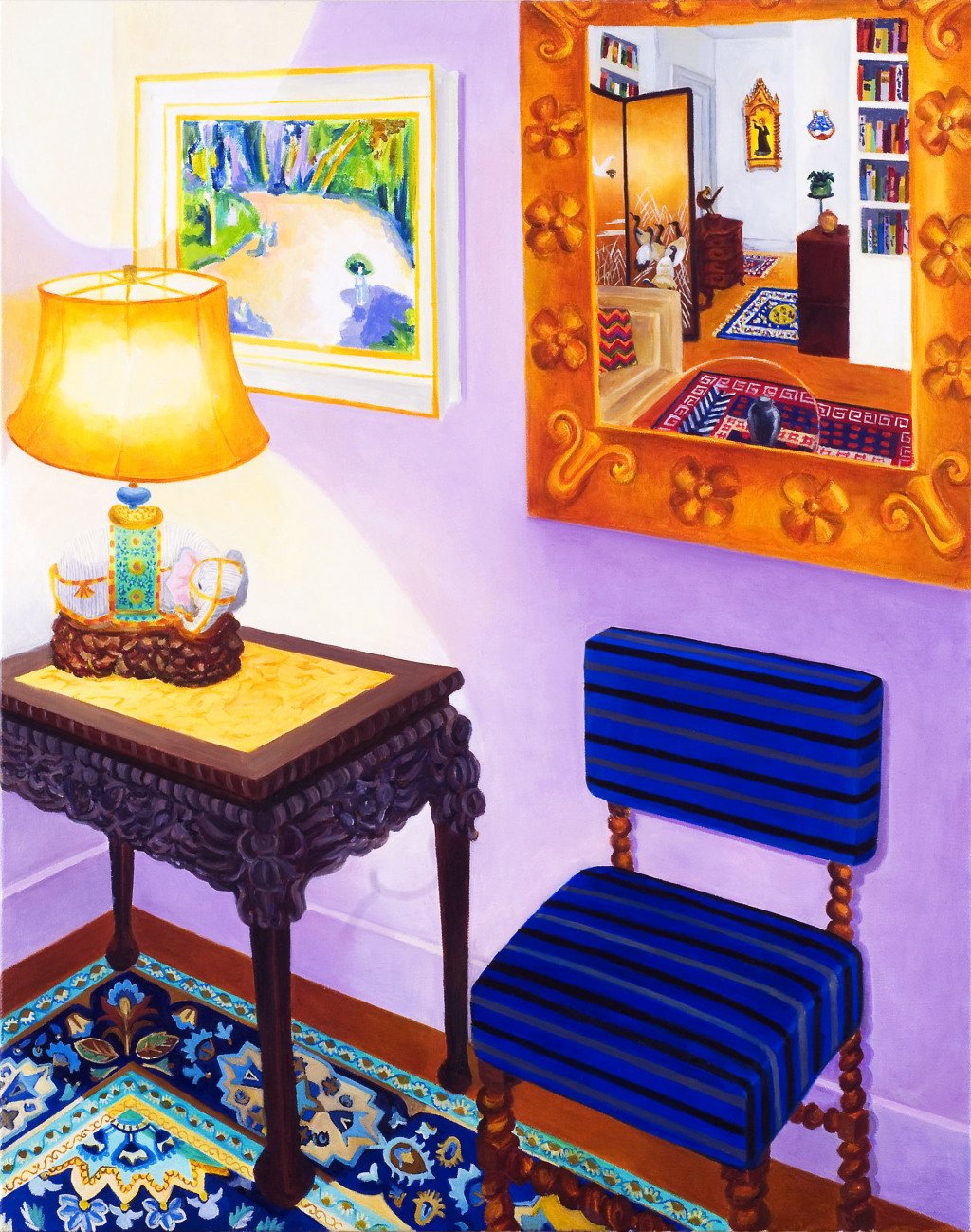 via Artspace, available now for $2,500
Smith's intricate paintings transform interior settings into formal arragements of pattern and line, ontologically abstracting the notion of the domestic space. Reflections exemplifies this process, enticing viewers to inspect a living space from the positional origin of its least considered segment, the entryway. Smith's painting of a landscape painting, placed behind a lamp as interior decor, speaks to the pleasing thingness of art itself; each of this house's features represents a different and specific choice based on the intersections of taste and necessity. Smith is based in New York, and was awarded a New York Foundation for the Arts Fellowship in 2012.
David Pugh - Pattern Series No. 3 , 2019
via Artspace , available now for $660
Kansas City photographer Pugh upends typical portrait convention in this stirring and rich composition. The subject's awkwardly prayerful pose and sickly-sweet, dated environment lends the piece a psychosexual charge,  underscoring the constructive aspects of human anatomy and the squishy, emotional core of man-made construction. The bedroom setting implies a vouyeristic intimacy that viewers are simultaneously presented and denied by the dynamic cropping and pink color palette, adding a gorgeously weird air of mystery.
Bruno Bruni - Il Cappotto , 1969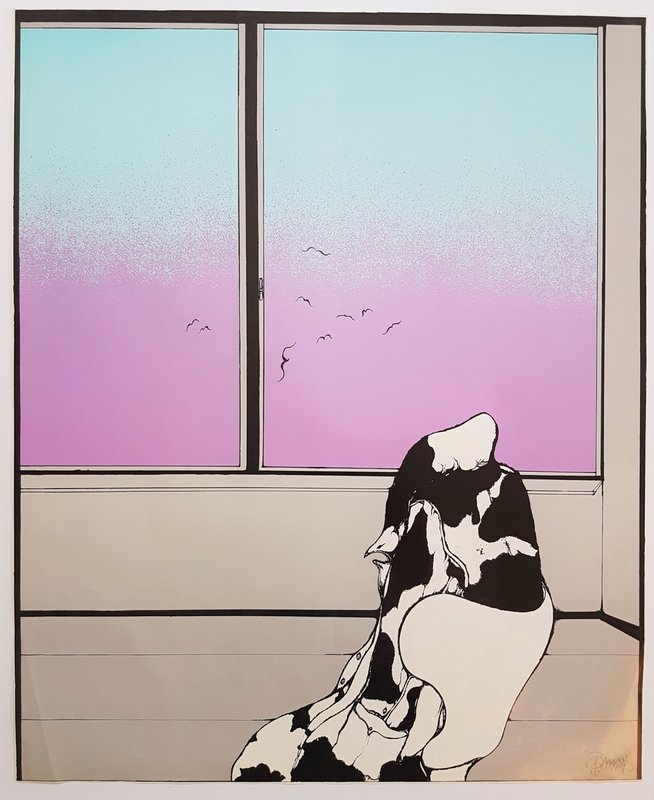 via Artspace, available now for $125
Bruni, an iconic Italian lithographer and Pop art progenitor in Europe, made his name through chimerical, zany erotic prints and sculptures. This sleek lithograph, titled "The Coat" in English, tells a potentially salacious story with surprisingly economic stillness. Drawing on the idyllic, minimalist layers of late 19th century Japanese block prints, Bruno creates compositional tension with color and line, positioning the viewer as purveyor of a domestic intrigue.
JJ Manford - We Will Make Great Pets , 2019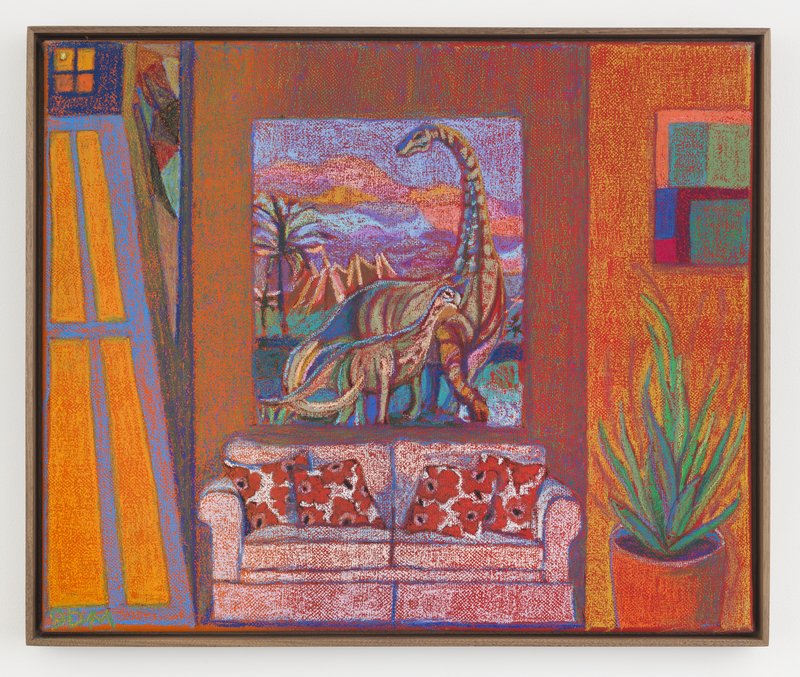 via Artspace, available now for $4,200
Manford's sly, grainy, charming interiors are composites of real and imagined scenes that explore the creature comforts of the contemporary artist. Each image mimics the process of memory-making itself, unfolding into delightful planar geometries that open up around the viewer's centralized point of view. This dinosaur poster and orange color palette feels both comforting and somewhat alien, further electrified by the cobalt underpainting to his neon-warm tones. Manford is a Brooklyn staple; a co-founder of the artist collective Underdonk, a Pratt professor, and a regular at Freight and Volume, NY.
Alexis Courtney - Groceries , 2012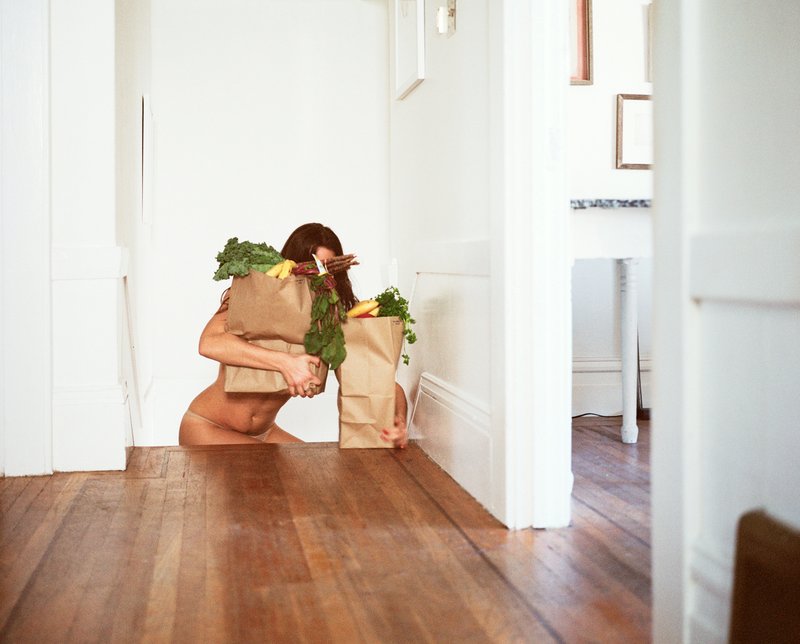 via Artspace, available now for $125
Courtney is a photographer who uses her own body, in the grand tradition of second-wave feminist Hannah Wilke, to comment on the metaphysics of connection, emotional malaise, and vulnerability. As she grapples with bags of produce in the stairs to her apartment, the viewer extrapolates a certain level of isolation, grotesque interiority, even, born of loneliness or loss of intimacy. Courtney's work has been exhibited in New York, San Francisco, Copenhagen, Miami, and Seattle, among other places, and she participated in the Arteles Creative Residency Program in Finland in 2014.
Shellburne Thurber - Writing Desk in Parent's Room , 2019
via Artspace, available now for $2,000
This quiet slice of cool-ly anxious nostalgia typifies Massachussetts-based artist Thurber's oeuvre; her photographs map the imprint of absent inhabitants on the places they call home, re-imagining the concept of "landscape" in the realm of personal architecture. A rumination on the way time lives within objects and space creates a contemplative, eerie space, Writing Desk In Parent's Home uses references to Golden Age Dutch artists like Vermeer to elevate the poignant pull of home. Thurber has shown her work all over the  world, including Jack Shainman Gallery in NYC, The Peabody Essex Museum in Salem, MA, and the Escuela Nacional de Fotografo in Buenos Aires, Argentina.
Gustav Klimt - Sketched Portrait, Lady with Scarf , 1919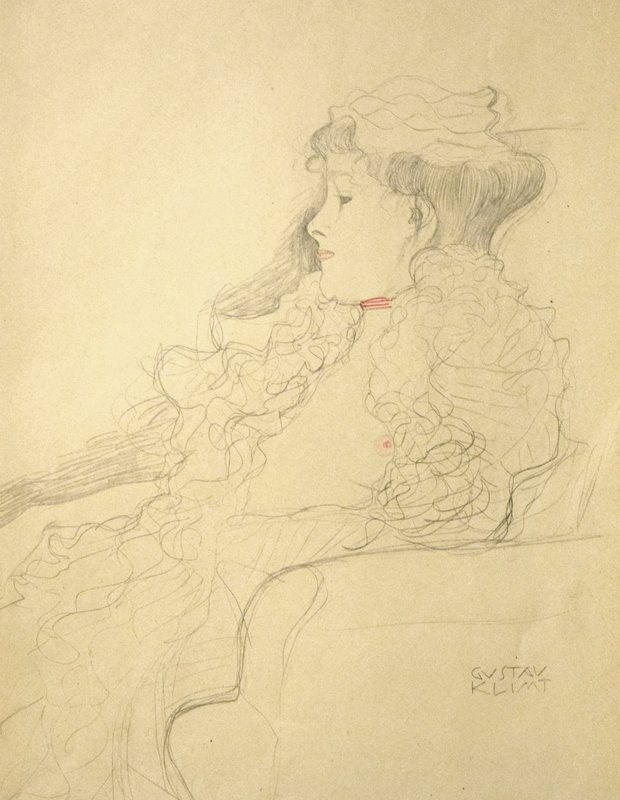 via Artspace, available now for $3,900
This tender tease displays Klimt's expert hand in all its subtle glory; a gentle, graphite study, less explicitly erotic than sensual, feels lived-in, intimate, and suggestive of a homey, extemporaneous studio experience and emotional reverence for the model. The Austrian Symbolist, best known for his opulently gilded art nouveau portraits of fin-de-siecle socialites and 1907 masterpiece The Kiss , set himself apart as an incomparable draftsmen, and his sensitive sketches transport the viewer to another, more glamorous time.
David Hockney - Cold Water About To Hit The Prince (The Boy Who Left Home to Learn Fear) , 1969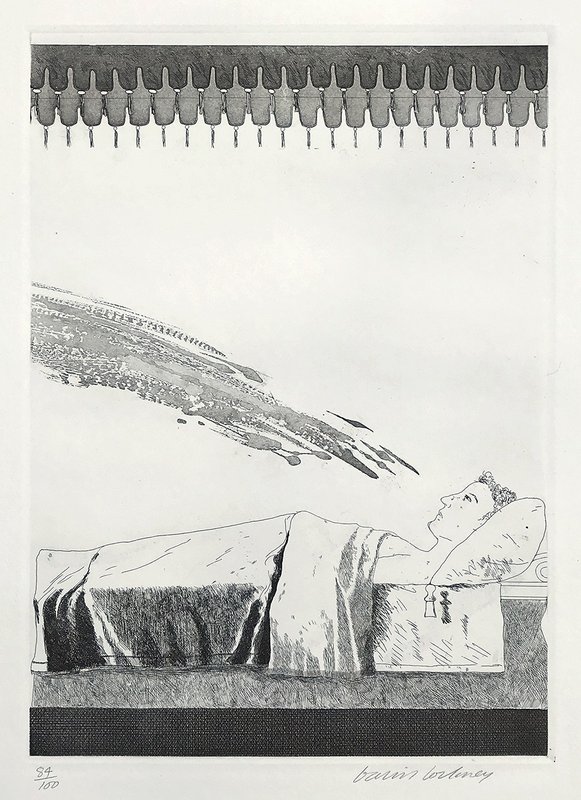 via Artspace, available now for $6,770
This existential Hockney etching is one of 39 images the artist created for a Brothers Grimm- inspired series, proofed and published by the Petersberg Press in London in assocation with Kasmin Gallery in 1970. Hockney selected six stories, including 'The Little Sea Hare' and 'Rapunzel', that covered a wide range of human experiences, and 'The Boy Who Left Home to Learn Fear' is no exception. The story follows the humbling of a youth who, through a series of mystical tests in a haunted castle, learns that his boldness is not always a boon. This image captures both the emergence of common sense, and the queasy, creeping anxiety that so often comes in the night.
RELATED STORIES
Art That Just Puts a Smile on Your Face
Unpopular Opinion: 5 Reasons Why I Really Hate "A Bigger Splash" Starring David Hockney