In theory, after March Madness, April offers a reprieve, with less logistics and more time for appreciation. But in practice, this is no longer the case—the art calendar has become a year-round steeplechase, with shows and events occurring the world over that cannot, in good conscience, be ignored.
A case in point: Those who assume that no one remembers their art history anymore would have had a lesson of their own to learn at the Annual Art Quiz, held in support of Parasol Unit, on April 2 at the Arts Club in London. The hosts included my favorite all-star Arab crew in the art world: Alia Al-Senussi, Abdullah Al-Turki, and Sharifa Al Sudairi, with the English establishment's Gregor Muir (director of the ICA) and Oliver "Olly" Barker (auctioneer extraordinaire at Sotheby's) as the reigning quizmasters. In the heat of the evening, I may or may not have tried to foment a bidding war for the most high-performing players on others teams and, when that failed, attempted to simply annex a team on a losing streak. As much as Olly appreciated the Russian brazenness, he kept his British calm and carried on.
Just two days after the quiz, Parasol Unit was opening of Shezad Dawood's exhibition "Towards the Possible Film." Some of you may remember, Shez's red-neon piece The Sovereign had my neighbors in Notting Hill claiming I was running a house of ill repute. With this latest exhibition, this wonderful and supremely intelligent artist is really stepping up his game, throwing in a set of hanging works alongside two new films and a trippy sculpture of the theorist Robert Anton Wilson.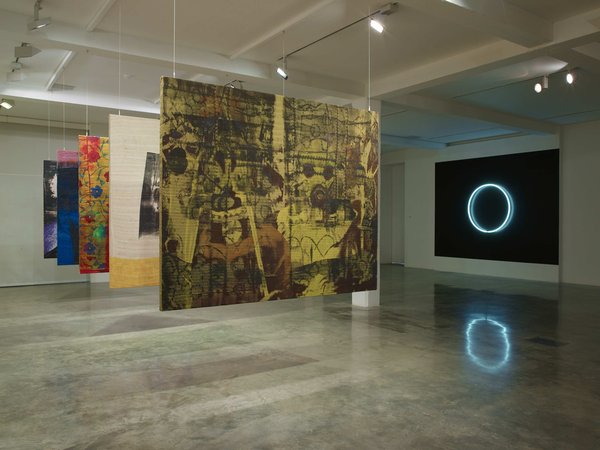 Installation shot of Shezad Dawood's Towards the Possible Film at Parasol Unit
Meanwhile, that same night, the Shoreditch-based Calvert 22 foundation was opening its exhibition "Circle of Friends," exploring the coterie of artists around the late, great Timur Novikov. As part of the Tate's Russian and Eastern European Acquisitions Committee (REEAC), I was treated to a special walkthrough with curator Ekaterina Andreeva. All the while, I had flashbacks to the major paper I had written on Timur—one of the true stars of Perestroika-era St. Petersburg—during my masters degree at the Courtauld Institute. Back then in 2008, few people in London knew who Timur was—kudos to Calvert 22 for putting together such a critical show.
Timur made gorgeous graphic tapestries and joked that he preferred that medium because it allowed him to pack an entire retrospective into a suitcase. This body of work originated with a series of collages about Oscar Wilde, Timur's not-so-coded way of expressing his sexuality under what was still the Soviet regime. Those of you who make it out to Manifesta this summer will have a chance to see more of his work in a special tribute planned by curator Kasper König—I'm going out there June 26 and can't wait! In the meantime, Calvert gives us plenty to enjoy, with works by Vlad Mamyshev-Monroe, Georgy Guryanov, and Sergey Bugaev-Afrika. The show is a must-see if you are passing by London.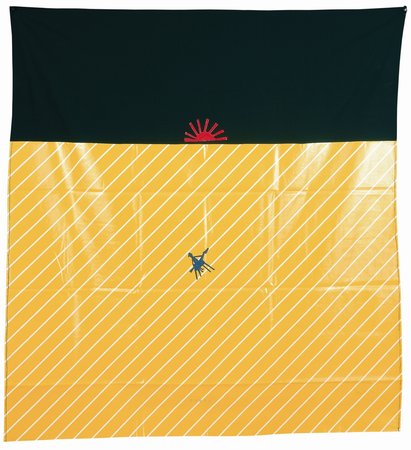 Timur Novikov's Timur Novikov's Don Quixote Meeting in the Red Sun (1998)
Timur and his crew were certainly revolutionaries, but they were far from the first in Russia's art history. That's why I was so thrilled to see the new hang of the Russian revolutionary posters at Tate Modern. As a special treat, REEAC organized a private lecture for us with the collector David King, who exhibited the posters at the Tate. I particularly loved seeing all the images of strong women, battling household chores and Fascism with the same fervor.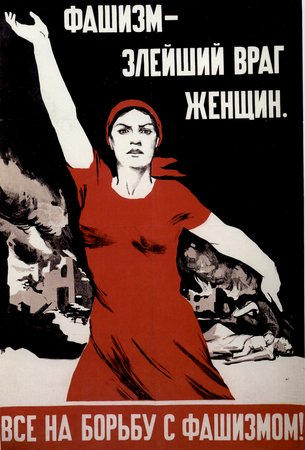 Nina Vatolina's Fascism – The Most Evil Enemy of Women (Lent by the David King Collection)
Now that London is finally in bloom, one hardly needs an excuse to get out into the park, but the new Serpentine Gallery gave me a great one, with "Design is a State of Mind," curated by Italian designer Martino Gamper for the Serpentine's new Zaha Hadid-designed Sackler Gallery. Gamper really seems to revel in his turn as curator, mixing Ikea alongside shelves by Charlotte Perriand and Ettore Sottsass. I really loved this Ignazio Gardella bookcase from the 1970s, which here was stocked with kitchen necessities.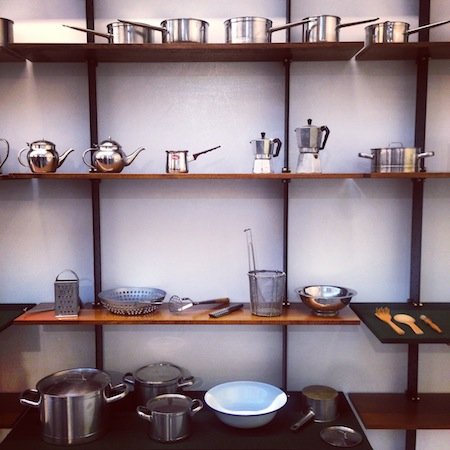 Full disclosure here: some of the non-Russian speakers among you might not know that I write an etiquette column for Russian TATLER. You can roll your eyes, but it's actually really fascinating to delve into the history of how we set our tables. I suggest that those of you who aren't convinced yet should check out the Josef Hoffman cutlery the Neue Galerie is offering on Artspace and then tell me it isn't an art.
I rounded out my month in New York, where I was pleased to say a few words at the 10th anniversary celebration for Performa, which was held at the home of Jeanne Greenburg-Rohatyn, who, along with Performa founder RoseLee Goldberg, has really raised the bar for women in the arts. I was honored to have the opportunity to applaud Performa's global footprint, particularly its commitment to Russia. Did you know that Performa and RoseLee already did two museum shows in Moscow, and that RoseLee's seminal book on performance is translated into Russian? And that's just one of the 100 countries Performa worked with over the past 10 years.
That same night, I was able to get a sneak peek of what's to come at Frieze New York at an event hosted by Katherine Farley and Jerry Speyer in their beautiful home. I am particularly looking forward to the panel featuring the women formerly known as members of Pussy Riot, Nadezhda Tolokonnikova and Maria Alyokhina, in conversation with the New Yorker's David Remnick. That's sure to be a showstopper, so don't miss it.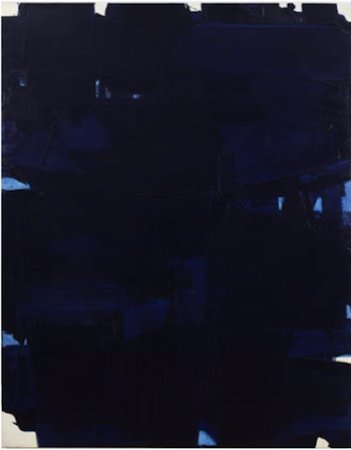 Pierre Soulages'sPeinture (1967)
I love how European New York is becoming, and how the art world in general has embraced the cross-Atlantic divide. NYC Galleries are popping up in London galore, and Europeans are coming to NYC. Stay tuned for Simon Lee Gallery opening its new space on May 9. In the meantime, I enjoyed the joint exhibition of Pierre Soulages presented by Galerie Perrotin from Paris and Dominique Levy (ok, she is a New Yorker, but hails from Lausanne). Walking into Dominique's part of the gallery, which focuses more on the historical work, you're sure you just found the Next Hot Young Artist, but then it turns paintings are the work of a 94-year-old painter! It's really worth seeing the show to contextualize the current rage with abstract painting.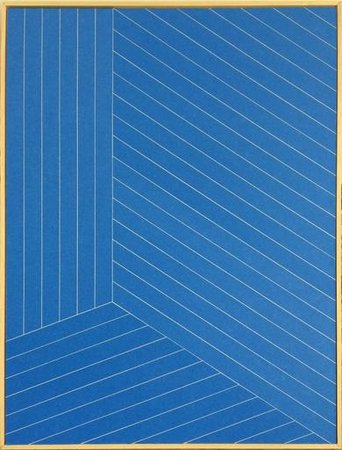 Isaac Brest's Down the Line (2014)
For those hungering for that Next Hot Young Artist, through, this year's Free Arts Auction was just the ticket. This year's benefit took place at the Garage on the West Side (not to be confused with the Moscow version) and was hosted by Marc Jacobs. It honored the fabulous Scott Campbell, who was launching a book with Rizzoli titled If You Don't Belong, Don't Be Long. That seems a little meta, considering that the main event was an auction of works by art world rising stars like Stillhouse Group's Isaac Brest, Pryce Lee, Jean-Baptiste Bernadet, and Chris Succo. So who will be the Next Hot Young Artist? Stay tuned for Frieze to find out.