From its founding in 2009 until February of this year, Dr. Cecilia Canziani worked as one of the founding directors of one of Itay's most exciting and forward-thinking contemporary arts organizations in Italy, the Nomas Foundation in Rome. She's since taken a position at the Accademia di Belle Arti in L'Aquila to teach an impressively titled class called "Phenomenology of Contemporary Arts" while also contributing to publications like Cura and Flash Art. Here, the erudite art expert weighs in on some select works from Granpalazzo 2016, open May 28 and 29 in the Palazzo Rospigliosi in Zagarolo (outside of Rome).
FALKE PISANO
The Body in Crisis (Notes on Repetition, Distance and Representation), 2011
Ellen de Bruijne Projects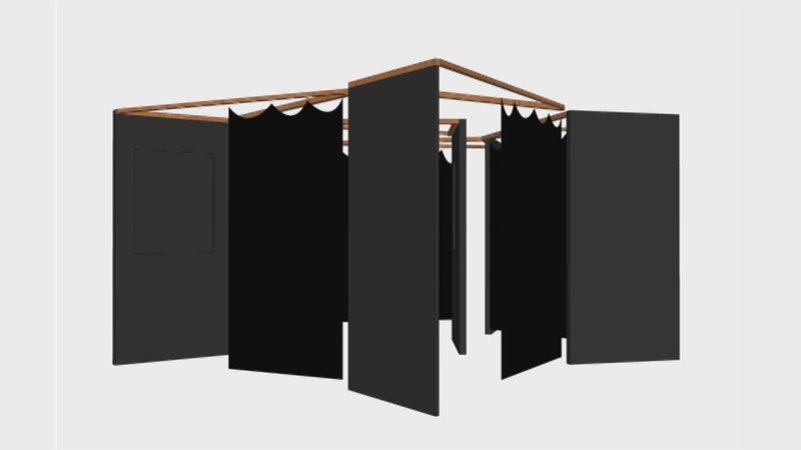 Most of Falke Pisano's works resonate with her own voice—a distinct, apparently detached and yet pervasive voice with text and images written over it, partially erased when other elements (tightly linked to what she is saying yet acting as visual interruptions) reiterate and erase, highlight and distract. The voice in Pisano's work is a note to self, a way of retelling herself—and therefore us—the story that she is also recounting through objects, and images, and diagrams.
ANDREA KVAS
To Be Titled, 2016
Ermes Ermes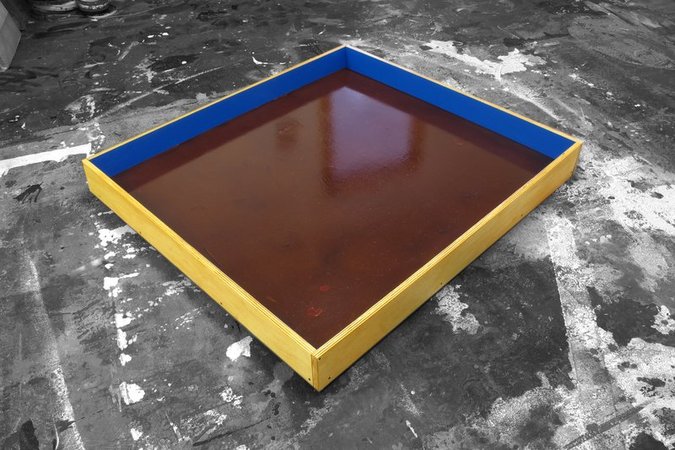 The ambiguity between painting and sculpture, or a possibility for the painting to position itself in space as an object, is always at the centre of Andrea Kvas' work. Pigments are often emulsified with glue or resins, thus making the surface of painting a solid object, or translating a board into a reflecting, immaterial presence. The occurrences and accidents that inform a work while it's being made are always part of the final result, although the shape and position of the piece are often not permanent. I like the impression of potential reversibility that his work suggests, the incorporation of the residual as a structural element.
ARMANDO ANDRADE TUDELA
Untitled (M.B.), 2015 (top) and Untitled, 2015 (left)
Francesca Minini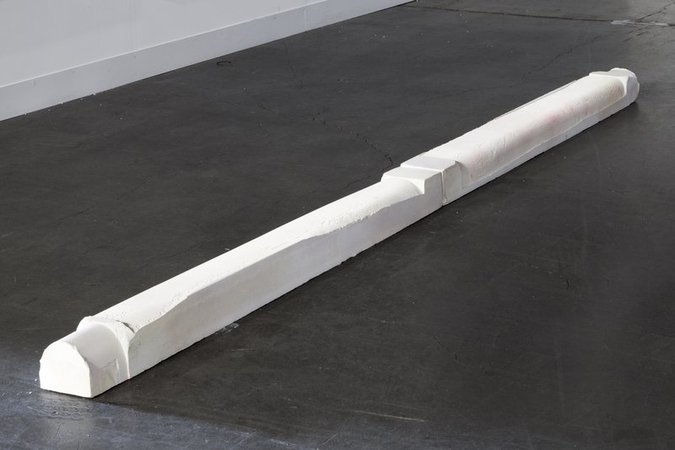 The notion of transformation and translation is also present in these works by Armand Andrade Tudela. Both the reflecting surface on the wall and the elongated floor sculpture evoke a body through fragments, allusions, and lacunae. The sculpture is an ambiguous, seductive piece. Made of plaster, it could be molded or carved. It retains a state of suspension, a phantasmatic appearance that counterfeits the gravity and materiality of sculpture. Perhaps the photographic work on the wall reinforces the impression of the sculpture to question perception, just as the skin tone grid pressed onto body fragments reorganizes and redirects our vision.
ANNA BARHAM
-52nthjt3k8, 2015
Arcade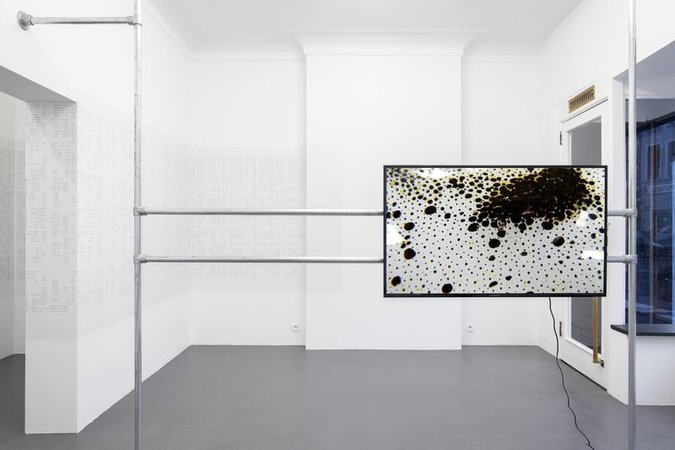 Anna Barham's work is concerned with language as sign and with the materiality of communication. Her video work is often presented on a steel structure that articulates the image in space, similar to how the video sequences are edited: through rhythm and composition, sign and pause. The surface of her work is sleek, metallic yet always seductive. Here the footage shows the reaction of the skin of a squid to contact, a visual translation of the effects of proximity, a kind of bodily writing. It is a mesmerizing image—I would go on watching it forever.