The cultural theorist Timotheus Vermeulen first made a splash several years ago with his essay and webzine Notes on Metamodernism (co-written with Robin van den Akker ), which tracked the ongoing emergence of an earnest post-postmodern sensibility in the movies, books, TV shows, and artworks of recent years. (The metamodernist banner has since been taken up by everyone's favorite crossover star Shia Labeouf , with mixed and often mystifying results).
Now, as assistant professor of cultural studies and theory at the University of Nijmegen in the Netherlands and director of the Centre for New Aesthetics , Vermeulen is continuing his explorations into the ways in which creators are responding to the conditions of the 21st century, most recently in his book Scene from the Suburbs: The Suburb in Contemporary U.S. Film and Television . Artspace took time out of his busy schedule to ask him about the works that caught his eye from NADA + ART COLOGNE COLLABORATIONS , on view as part of Art Cologne April 14-17. Browse all the works at the fair here .
ANDREA BÜTTNER
Phone Etching , 2015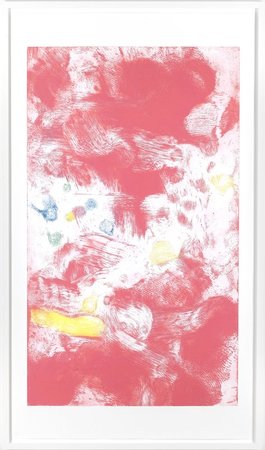 It sometimes seems to me that Andrea Büttner's entire oeuvre is a reflective rearrangement of the hierarchies that structure our thoughts, feelings, and interactions with the world—the things, the animals, the humans around us. This includes aesthetic hierarchies such the relationship between words and images, figuration and abstraction, surface and depth but also material hierarchies, and organizational hierarchies, and social hierarchies, democratizing, or rather still perhaps rehierarchizing, everything from the near and the far to the infrastructural and the contextual to gender binaries to shame and pride.
This phone print, too, with its questions about size, and about surface and hapticity, and simulacra and materiality, and God knows what else, puts my head and body in a spin, as if the specifically disciplinary stylistic registers of Flaubert and Woolf have been extrapolated to a general intermedial way of life.
KARSTEN FODINGER
Domestic Wildcard - 150 cm , 2014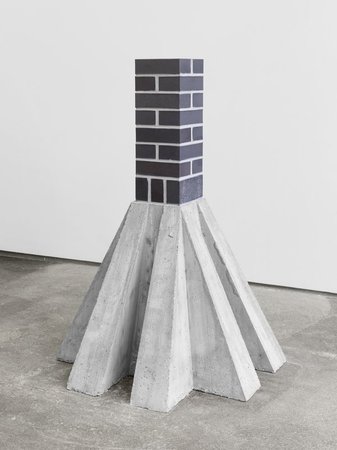 I suspect there is far more to this sculpture (and I may be mistaken in my assessment), but from what I can tell from the photo, Fodinger has built a rocket made from brick and concrete, i.e. materials made to anchor something to the ground. In its simplicity, it feels like a surprisingly effective entendre.
SOFIA HULTEN
Artificial Conglomerate , 2010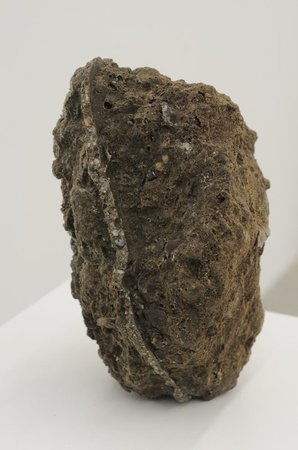 I guess it is fair to say that I am interested in the works of Sofia Hulten for much the same reason I feel such a close affinity with the projects of Andrea Büttner: they estrange the relations of the world around us, both those the world has with itself and those we have with it, by duplicating it with a difference. I think this work—a stone modeled after a real stone and made from the original's material—is particularly successful.
YAMINI NAYAR
Garden for Laborers , 2015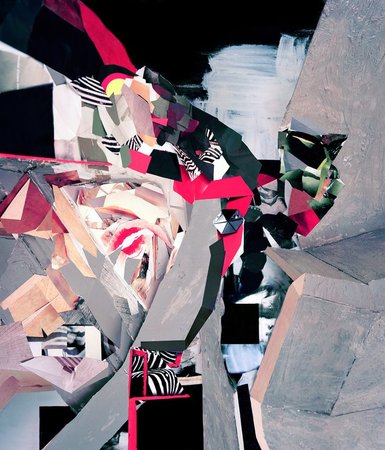 As far as I can see, this photograph seeks to interact, internally as well as with the viewer, on so many levels: the level of color palette, of texture, of materiality (actual and virtual), of artistic discipline (post-Internet, photo abstraction, collage), and especially perhaps reference or intertext, citing more discourses, genres, styles and artists that I can even begin to imagine. A garden for hard labor, indeed.
HAYLEY AVIVA SILVERMAN
Persistence , 2016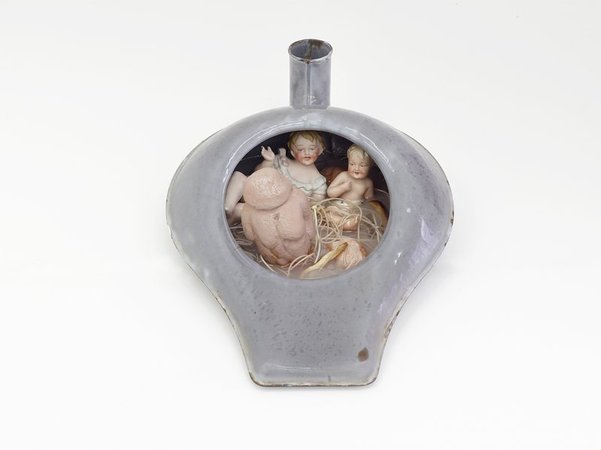 Wow—I find this small sculpture (or sculptural collage, or installation, or however you want to call it) incredibly difficult to come to terms with. I am constantly pushed and pulled between different points of entry, engagement, and interpretation, and, perhaps because of this, it is extremely intriguing. I would be very keen to see this object up close, to move around it, look into it, and smell it.