Last month, the young art collector Tiffany Zabludowicz was given temporary access to an empty corporate suite in a Times Square office building and decided to transform it into the site of a three-week artist residency. She launched the project, called Work in Progress, with a column on Artspace musing on whether fine-art can ever really be an office job.Part two chronicled the artists' happy embrace of the setting, where Gerhard Richter met Slack, the productivity-optimization app. This week, Zabludowicz concludes her account of the residency with a valedictory column to debrief us on the fruits of her short-lived startup.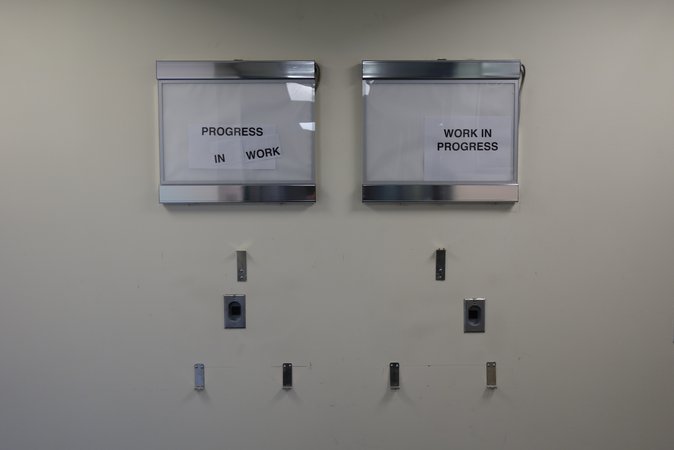 A very official welcome

During the residency, our neighbors in the building kept popping in to ask us what kind of company Work in Progress was, probably intrigued by our sharpie-on-paper signage. At one point I heard one of the artists respond, comically, "We are an art production business." By the beginning of last week we really were. Each artist worked quietly in their own offices, with total efficiency and determination. Cyril Duval pointed out that in a regular office, meetings take up a large portion of the day. That was certainly the case for us—a constant flow of gallerists, curators, collectors, and art writers came in for studio visits and to see the space in action. Our coffee runs became more and more regular. We all started arriving earlier and staying later. The momentum was rolling, and it was non-stop creativity. Business, in other words, was booming.
Sarah Meyohas had to leave for Brazil on Friday, May 20th, but in her wake she left some scrawled notes on the glass wall of her office explaining (to those who could understand it) the inversion of chemicals to create synthetic opals, which she had been researching with a lab at Harvard. She also left two cylinders filled with a milky substance, which slowly evaporated throughout the week, leaving an opalescent sheen on their glass edges. I shut and locked the door of her office, leaving it an empty fish-tank of an artist's studio.
On Thursday afternoon I received a text from her from Brazil. During her time at the residency she had put in a trade, her first short ever. She was shorting Abercrombie & Fitch and last Thursday earnings came out. She had just come back from a waterfall and an excited position. Business success!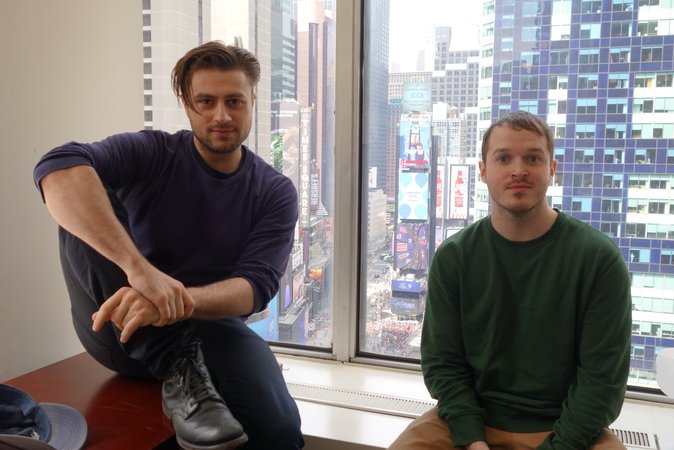 Josh Citarella and Brad Troemel

On the same day as Sarah left, Etsy took down Brad Troemel and Joshua Citarella's online store of conceptual art products, UV Production House. The timing was problematic, as Brad had to present on the store on a panel at e-Flux that night. With no store to show, he used a found Google image of a urine conversion device, one of their less subtle products.
It's no wonder they got removed when a product, "airBNB Housing Solution: remain on your Lower East Side apartment's fire escape in a hanging tent while guests pay off your months rent" went completely viral, being re-blogged and disseminated throughout the Internet well outside of art-centric spheres. The amount of traffic to their store had to catch Etsy's attention, and with such playful "products" it was unsurprising that the company could detect something that violated their terms and conditions of sale. Brad and Josh were not deterred, however, and continued to create their wares while patiently and optimistically communicating with Etsy about the store's return.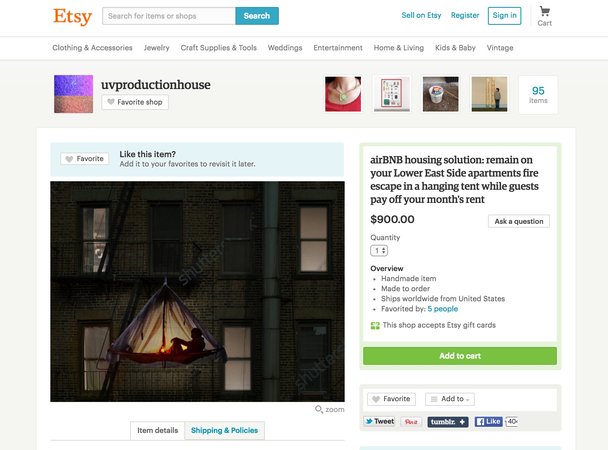 The fatal Etsy posting

Haley Mellin finished her paintings and prints with quiet and precise efficiency, sending them off to Detroit, where they will be shown as part of "War Games," a show curated by Benjamin Godsill in a stunning abandoned church. She bought into the office a couple of precious color copies of her Reader, the most comprehensive collection of essays about Post-Internet art to date. I flicked through it regularly during the week. Haley left on Thursday and her office was shut and locked: another fish-tank. What remained were some unused prints, a palette on a paper plate, and a few other art-making tools.
I had noticed that more and more dancers began to appear in Sigrid Lauren's office. She converted two office chairs into dance props by inverting one and ripping the other apart and nailing them both to desks. These became anchors for dance, and she began to think about the suction that the canyons of Times Square evoke from above, and how muscles could reflect that.
Violet Dennison continued to work throughout the night and invited her artist friend Coco Young to collaborate with her. They began to make a film of the square below, zooming in with a long-distance lens onto the bustling action on the street and also onto the people in offices across the way. Cyril delved even further into the square, wearing fun clothes to infiltrate the crowds and taking a lot of selfies for a publication. He also began to make friends with a Russian street artist called Khasan, whom he watched paint every morning on his way into the office.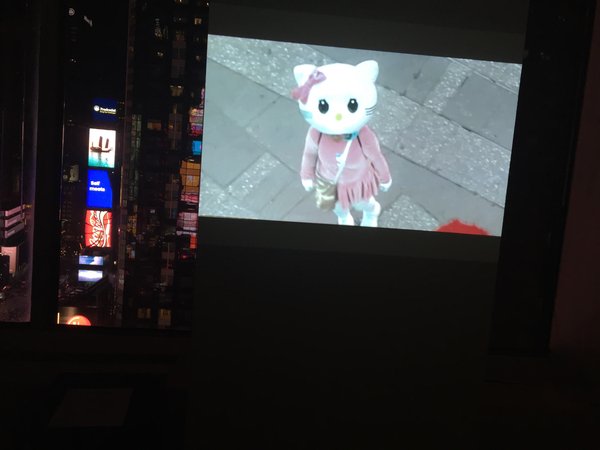 Violet Dennison and Coco Young's film

By Wednesday of last week, the energy hit overload and all talk became about the opening on May 26th, our "Office Hours" party-cum-open-studio event, which was hosted in collaboration with Performa Visionaries. Cyril decided he was going to involve Khasan in a performance. Sigrid was going to activate a black-walled room that had a glass front wall, which was probably used for presenting slide presentations by the office workers who preceded us. Violet was going to show her film, and Brad and Josh wanted to do presentations on UV Production House. We had only 48 hours before the opening, and the office was buzzing. 
On Thursday morning I got a call from Violet. She wanted to turn her office into what was essentially a solo show, and asked if she could bring a large sculpture from her Brooklyn studio, half-expecting me to say no to this wild suggestion on the day of the opening. But our little corporation was built on spontaneity, and so I found a man with a van, and before I knew it Violet had arrived with a large metal structure made up of tangled metal rods, which found its perfect home in the middle of her wonderfully hectic studio floor. She also acquired colored filters to cover her lights, and her office glowed red and pink, enchantingly.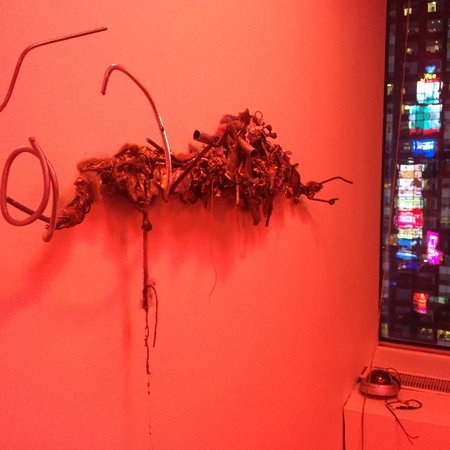 Violet Dennison's office

Next door, she installed her film projector onto a pillar. Viewers could watch the 40-minute footage of Times Square, which had a vintage quality, in front of the backdrop of a view of what was depicted on screen in close-up. At one point Coco said that she had been working on a film for four months and was as happy with this film, which had only taken her and Violet four days to make. The office space did encourage quick action and incredible creations. In one empty office, Violet placed across the floor three bionic coffee-cup sculptures, It is our pleasure to serve you (or profane words scrawled black across the sun), 2015, which seemed as though they had crawled out from under the desk. 
On Thursday evening, the event began and Performa Visionaries and a fun assortment of friends began to arrive. I was thrilled when Sherry Dobbin—director of public Art at the Times Square Alliance—popped by the office. The night before I had finally stayed up late enough to see Jennifer Steinkamp's amazing flowers dancing across the screens of Times Square at midnight, as they were doing every night as part of her guerrilla show organized by Times Square Arts. Sherry said that she loved the residency, as it was for her just more proof that art belongs in Times Square. 
We were all thrilled when on Wednesday, Etsy restored the UV Production House store, removing only a couple of problematic products from the Internet. On Thursday night, Brad and Josh displayed in their office a slideshow of screen shots of UV Production House on a large Mac screen placed atop a stack of brown wooden desk drawers. Dull black chairs were laid out around the edge of their office, evoking the atmosphere of a waiting room. Against the backdrop of Times Square at night, they began to present the project to people as they milled through. After presenting their work to so many visitors throughout the residency, Brad and Josh were ready to describe the project with great fluidity and skill. In our little Sterling Cooper, they had both become Don Drapers.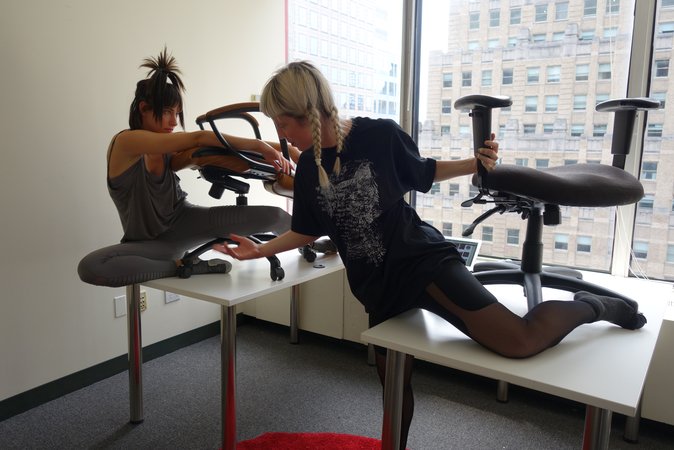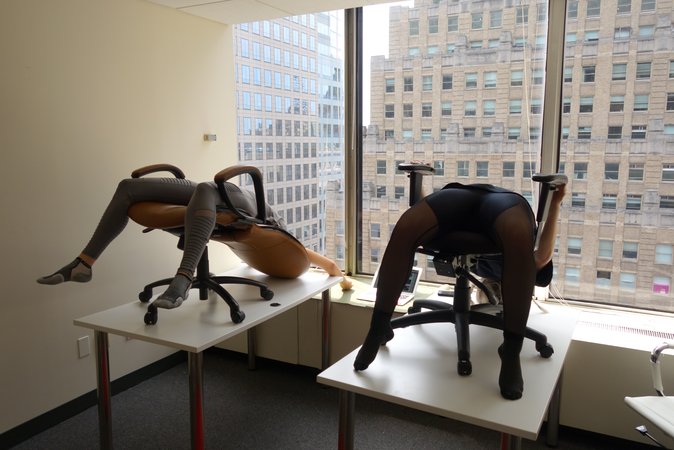 Sigrid Lauren rehearsing for her performance in her office

At one point we moved everybody towards Sigrid Lauren's performance, where she sat radiant in a white shorts suit in a white office chair and gave muffled instructions against a rhythmic beat to her dancers, who used the dismantled office chairs to move with pulsating gestures against a backdrop of an empty screen emitting an eerie blue light. Then we shifted to the other side of the office to watch Cyril Duval tie a rubber band around an inflatable hotdog, which he had covered in a bombproof material so that it still maintained the shape of the inflatable but was harder and stronger.
The yellow rubber band suggested bondage, and mustard. The hotdog was displayed in the middle of a brightly lit glass-walled office, and crowds gathered around outside it, watching as Khasan came and spray-painted the bun of the hotdog. Cyril didn't like its original dull beige color, and Khasan painted it a vivid bright orange and yellow instead.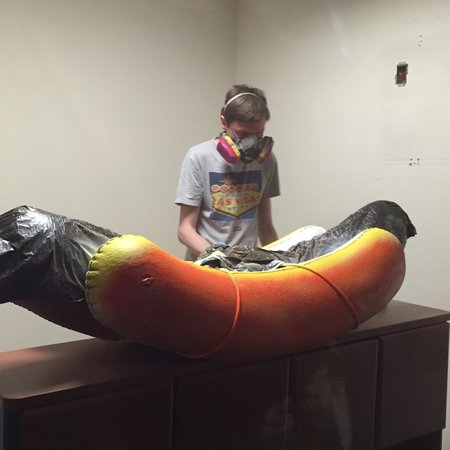 Khasan at work in Cyril Duval's performance 

After the performances, the night became a lovely and joyful celebration. Later, we headed to Planet Hollywood to finally experience some true Times Square dining. After a mandatory photo at the photo booth, we sat down with large goblets filled with a mysterious blue substance and ate tacos and sliders.
So, back to my original question: "Can making art be an office job?" It certainly can't be a real office job—a desk and computer alone weren't enough to satisfy these residents, who, inspired by the space, ended up expanding out of their offices and filling the whole floor with explosive and creative energy. However there is something to be said for bringing artists into an office space in Times Square. It's simply inspirational—especially when one only gets access to it for such a short time. I was surprised to observe that, instead of stifling individuality, an office space actually encourages creativity. Maybe that is because the setting streamlines productivity—or maybe it was the dancing lights of Times Square, shining in, that threw everybody into such a thrilling fervor of art-making.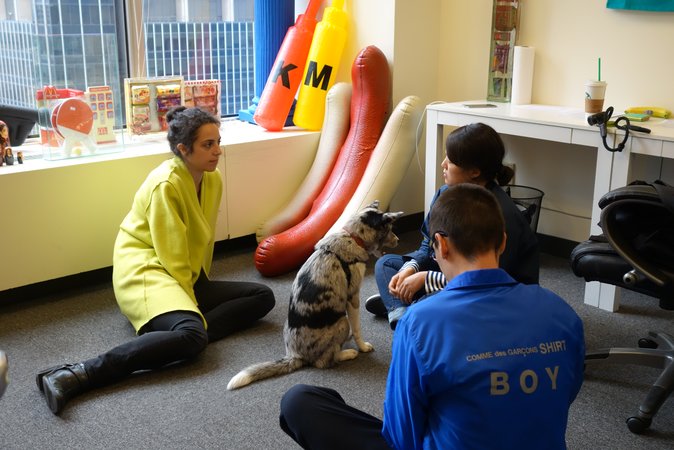 A business meeting, called together by a dog

Over the weekend, it was with a heavy heart that I watched the artists begin the huge task of clearing out their offices, leaving the space ready for demolition so that the next office could begin to move in. Lucky them. On Monday, Violet and Coco had a screening of their film for their friends, and then on Tuesday—after FLUCT used the space to do some final filming—everything was cleared out. But at least we had these three weeks to launch an LLC, go toe-to-toe with Etsy, create unforgettable artworks, and activate this magic space.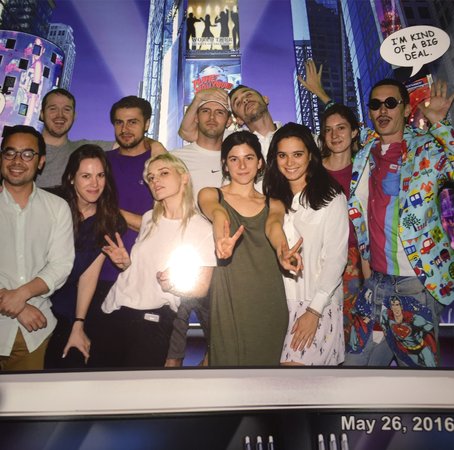 The "Work in Progress" staff and friends at Planet Hollywood