Move over, Instagram: there's a new social media app clawing its way into the art world. If you're under 25 and creative, you probably already know about Periscope. If not, what you need to know is that it's a live-streaming social video app that allows users to broadcast their lives to the world in real time. Also: it was recenlty acquired by Twitter. So why is Periscope a big deal for art? While Instagram and other photo-sharing services are perfect for documenting two-dimensional artworks and for capturing the now-ubiquitous #artselfie, Periscope supports the recording of all the fun things that happen IRL: experiential art, performances, openings, talks, concerts, interviews, and more. Scoping is about to become part of the popular vernacular, and I, for one, can't wait. 
Full disclosure: the first time I used Periscope was at a One Direction concert. I held up my iPhone and hit the button saying "live broadcast." Within minutes, hundreds of viewers were watching my shaky hand filming four boy-banders singing on a distant stage. Comments of profuse gratitude filled my screen from users the world over, and I received literally thousands of likes in the space of an hour. The app captures live performance in a way that other social media apps simply can't—you can actually record whole musical sets in real time.
Later, on my way to Paris for the opening of the show "Co-Workers: Network as Artist" at the Musée d'Art Modern de la Ville de Paris, I watched Hans Ulrich Obrist interview Bogosi Sekhukhuni and Tabita Rezaire about their work in the show from the comfort of my seat on the Eurostar. If the interview were taking place in public, I would have had to fight for a spot—luckily Obrist is an early adoptor (no surprise, really) of the app, so I was already clued in by the time I arrived in Paris and no worse for wear. The next time I used the app was at the DIS after-party for "Co-Workers" at the Yoyo club beneath Palais de Tokyo. French rappers were jumping around the stage, belting out their lyrics in front of a psychedelic projected video background as a crowd of mostly artists stood watching in the underground Brutalist space.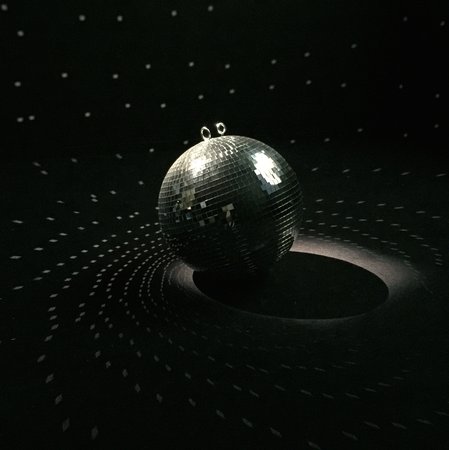 Trisha Baga in "Co-Workers"
Obrist interviewed Jon Rafman on Periscope well before his solo show at my family's Zabludowicz Collection had even opened, but I was the first to scope the exhibition itself. I started outside the museum and ended up having a 30-minute discussion with commenters about two of his New Age Demanded marble sculptures that sit in the courtyard. In general, it isn't really possible to truly capture a sculpture, which is meant to be experienced from 360 degrees, in a photograph. On social media, most photographs of a sculpture are taken from the same angle—look at the thousands of pictures on Instagram of the huge KAWS sculpture Along the Way at the Brooklyn Museum, for example, almost all shot from the front (with somebody posing at the sculpture's feet) at pretty much the same angle.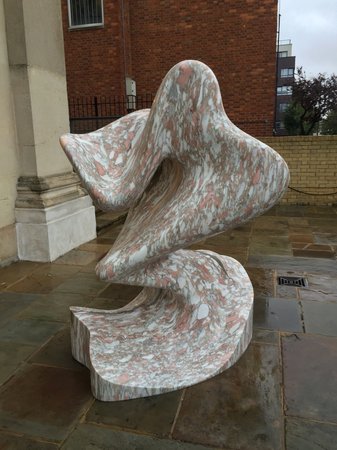 One of Jon Rafman's "New Age Demanded" sculptures outside the Zabludowicz Collection 
Scoping takes sculpture to the next level. I could dart around Rafman's sculptures, zoom in and out, focus on details, and show every angle of the work, all the while responding in real time to questions and comments from viewers. It was fascinating—I was hit with really intricate and sometimes surprising questions from total strangers about what I thought about the sculptures, how I reacted to them emotionally, and what they actually were. It was a thrilling and decidedly 21st-century experience.
Rafman's show blew up on Instagram, but while everyone got their own art selfie in the ball pit (see above), the full experience of the show couldn't really be captured in pictures. With Periscope, I could film and share the entire event, where thousands of people were clambering into ball pits, entering new worlds with Oculus Rift goggles, or being shut into "cockpits," those little cupboards for viewing video art. The footage was of course unedited, so genuine moments of joy and euphoria (as well as panic and disgust) appeared uncensored on social media. Their reactions could be captured in real time. As a result, Periscope dovetails nicely with the contemporary trend toward immersive installations, designed for an in-the-moment experience and therefore perfect for live broadcasting.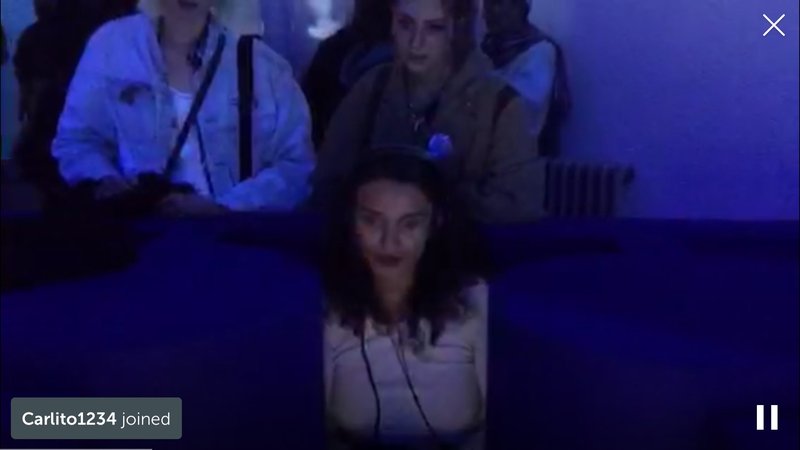 A Periscope screenshot at the Rafman opening
I then took Periscope to Frieze, where I had a totally different experience. On the first day, I walked around with my iPhone and was met with suspicion and wary glances. People shied away from the camera, and there was a noticeable degree of aggression when I walked into booths or entered conversations with the app still running. There were some positive moments, like when Rafman, watching me from somewhere else, helped me in describing the artist Timur Si Qin's work. But it was with relief that I took a seat in the collective AYR's installation/recharging oasis and began to charge my iPhone (perhaps unsurprisingly, Periscope is a battery sap). After some rather awkward chats with the Frieze invigilators, Alessandro Bava of AYR noticed me and asked if I was Periscoping, declaring his love of the app. We then engaged in a 10-minute discussion about his installation, recording it all for our followers on Periscope. I had friends commenting questions to ask him, which I obediently related. The power of Periscope for recording conversation is another huge and largely untapped feature, one that I look forward to exploring.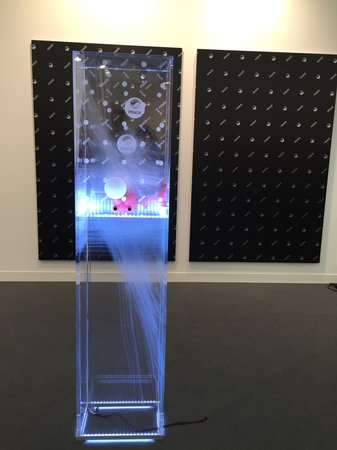 Timur Si-Qin at Frieze
Engaging with Periscope as both a viewer and user has been an exciting and somewhat strange experience. I've watched live performances at the Hammer Museum in Los Angeles, I've shared my Frieze highlights with friends and strangers alike, I've watched live interviews by Hans Ulrich Obrist without any of the crowds, I've had conversations about art with hundreds of people I've never met, and I've entered into fascinating conversations IRL that would have never occurred without scoping. At the same time, I can't help but wonder if subjecting every moment of life to social media's sticky gaze is wholly positive—I fear the day when I will have to watch live events with a sea of cell phones scoping around me, each user creating their own video of the same event, each obsessively documenting the real. Even so, I'm about to head to New York for Performa, the annual performance art fair, and I can't wait to use Periscope to capture performance art live.