Yesterday we shared our favorite paintings from NADA Miami. Now take a look at these jaw-dropping sculptures, from a bottled witches brew to a literal life saver.
PAUL KOPKAU
Blue Lobster, 2017
12 x 21 x 11 inches
321 Gallery, Brooklyn, NY
$4,000 USD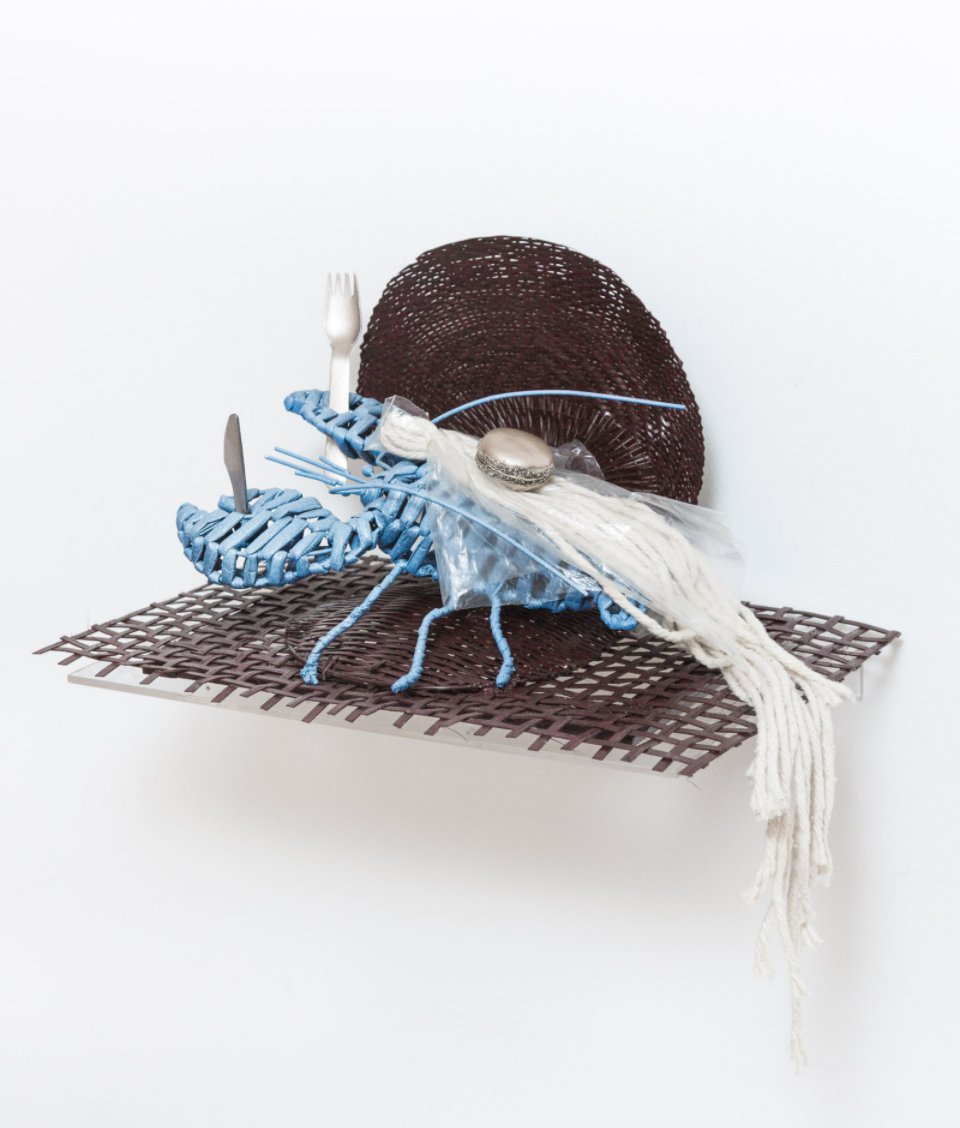 Before heading down to Miami, we asked both Alice Gray Stites (curator of 21c Museum Hotels) and Patton Hindle (director of arts at Kickstarter) to share their favorite works from our NADA preview, and they both picked Paul Kopkau's work at 321 Gallery. I stopped by to see what all the hoopla was about, and it turns out Kopkau's sculptural tableaus are more than just eye candy. His figures made of mops represent laborers in a capitalist system where signifiers of class and power are mutable. The lobster was once a bottom-feeder so often fed to prisoners in the Northeast that the inmates protested; now of course they're the most expensive dish on the menu, a delicacy reserved for the wealthy. Kopkau's three-dimensional compositions also play with Le Corbusier's ideas of the Modular, a system of proportions anthropometric in scale. Kopkau, Michigan-born and Brooklyn-based, had his first solo show at Company Gallery earlier this year.
LAZAROS
Spell for the Power of Binding, 2017
21 x 12 x 12 inches
Capital Gallery, San Francisco, CA
$3,500 USD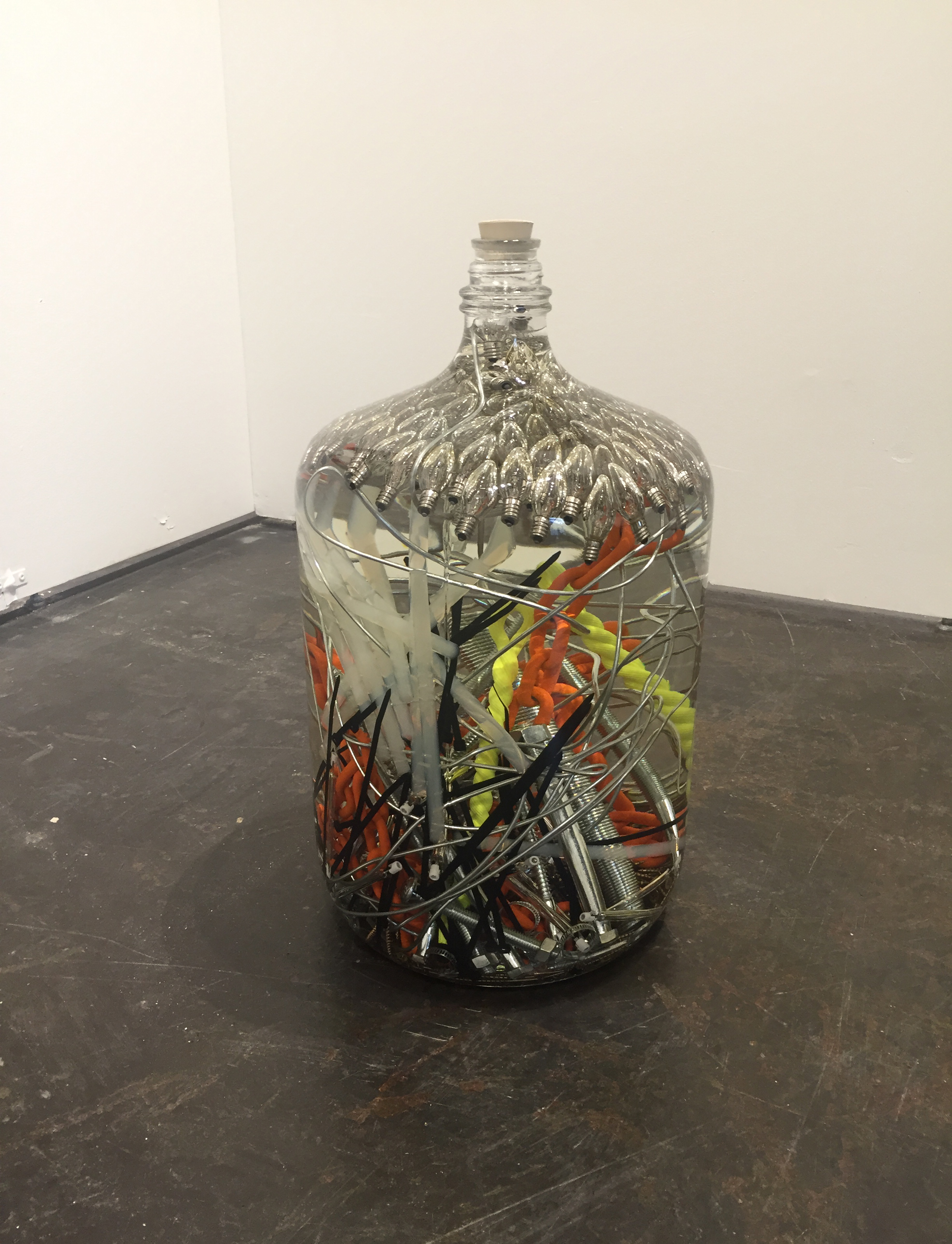 Whatever you do, don't get on artist Lazaros's bad side. He's a witch, and he and his Los Angeles coven is well versed in spell casting. In fact, the three sculptures on view at Capital Gallery's booth are spells—distilled and corked, but nevertheless, spells. Capital's booth attendant tells me that witchcraft isn't all that different than artistry; whether producing an artwork or spell, Lazaros looks for materials that project a certain feeling or mood, rather than simply sourcing ingredients from some kind of witch supply store. In the case of Spell for the Power of Binding, aluminum wire, construction hardware, chain, light bulbs, twist ties, zip ties, clamps, and hot glue sticks are submerged in mineral oil. For those of you not so familiar with the lexicon of witchery, "binding" spells can be positive or negative and are meant to restrict someone's actions, or in some cases, "bind" them to another person, object, or situation. (You may have come across this practice in the news recently—there are apparently thousands of "resistance witches" that cast binding spells on Donald Trump once a month.) I asked the gallerist whether the sculpture ran the risk of symbolically "leaking," unintentionally targeting the owner of the work; he wasn't sure. So while we highly recommend checking out Lazaros's charged sculptures, we can't guarantee you won't be cast forever under his spell, literally.
HUGH HAYDEN
Untitled Lexus Dashboard, 2017
60 x 60 x 25 inches
JAG Projects
$8,500 USD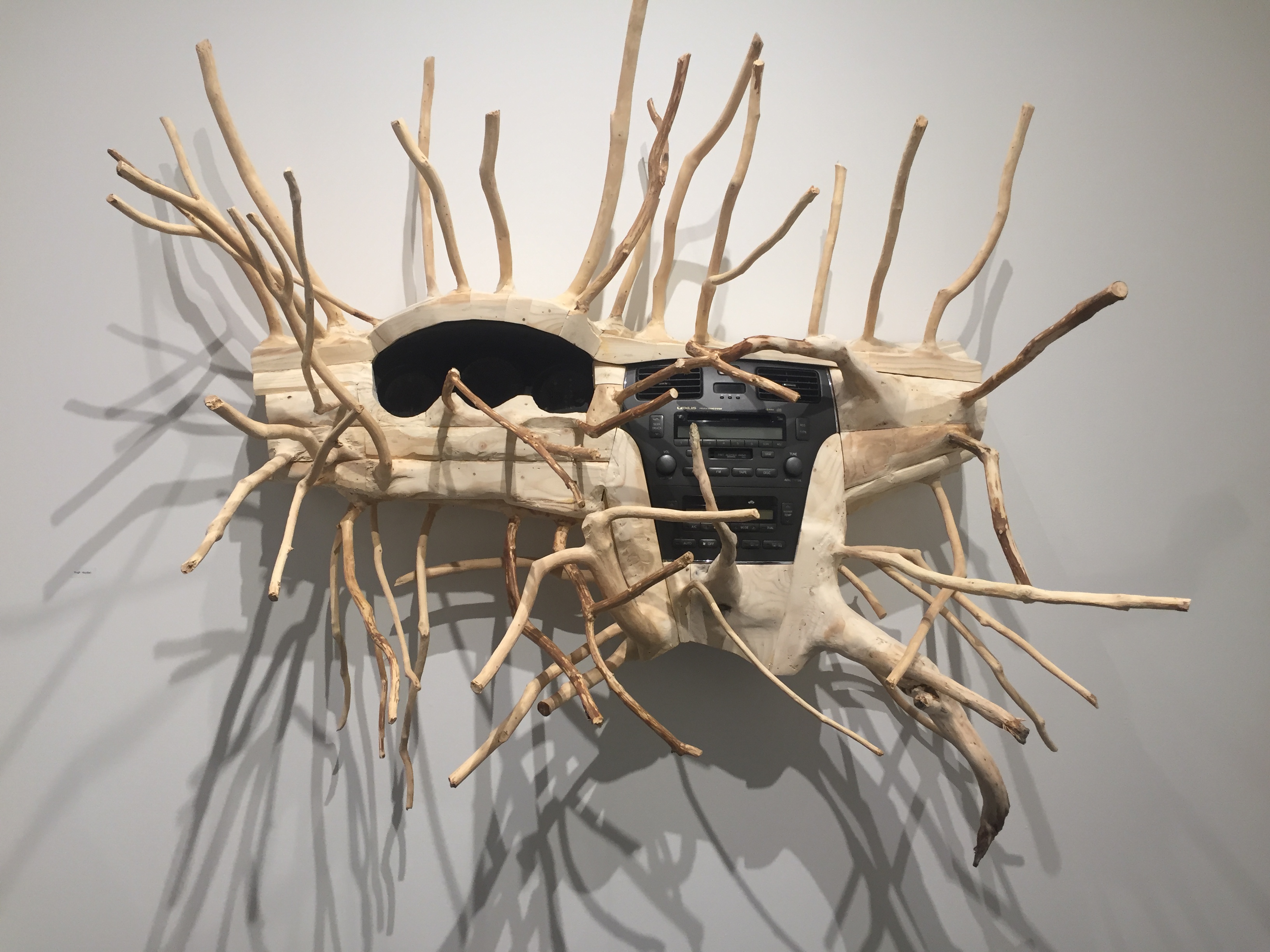 Hugh Hayden was one of the first people I met when I moved to New York seven years ago, and it's been a pleasure too see all the different paths he's explored since. (When I met him he had just graduated architecture school at Cornell, now he's about to receive his MFA from Columbia University.) Jesse A. Greenberg, former co-director of recently defunct lower east side gallery 247365, now dealing under a roaming project titled after his initials, said he first met Hayden when he was invited to a dinner party designed by the artist. Ropes strung through holes in the table were tied to each guest's wrists; when one person lifted their fork to their mouth, another person's arm was dragged towards their plate. Now Hayden is working on a series of artworks that ruminate on the notion of the American dream. In this sculptural wall piece, the dashboard of a 2002 Lexus ES 300 is inlayed into a knotted maze of wood. "The ES 300 was an entry-level luxury car that I saw everywhere in the early 2000s. It was the kind of car people bought when they felt they had 'made it.'" For Hayden, the tree acts as a kind of camouflage, a technique the artist has used on a few different objects, from an Adirondack chair to a mirror. "They also kind of look like antlers," Hayden says. Like the ES 300, the sculpture is a trophy, a symbol of having won.
JOSH TONSFELDT
Untitled, 2017
24.8 x 43.3 x 3 inches
Simon Preston Gallery
$18,000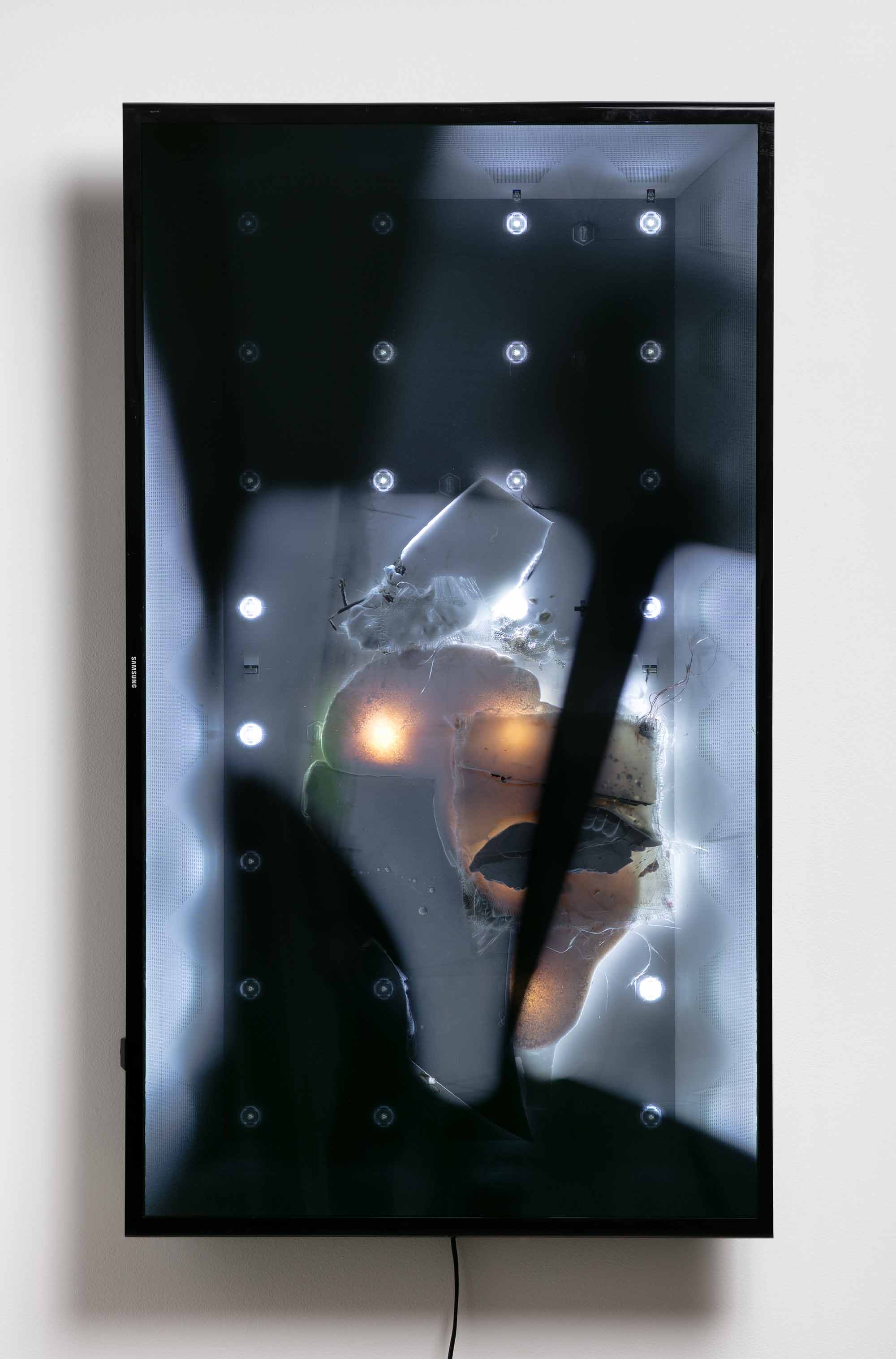 You might be wondering what a video piece is doing on this list of sculptures, but don't scoff prematurely—you're not looking at a television; you're looking in a television. Josh Tonsfeldt has removed the prism film in the television's cavity that ordinarily reflects light onto the screen (Tonsfeldt also uses this prism film in his static wall pieces, giving them a lenticular-like affect.) The result is a strangely disorienting viewing experience. At first glance I thought that the three dimensional space was simulated in a video, before realizing that I was really just looking into a broken monitor. While lights pulsate in the background, a video taken by the artist from the inside of a driving car plays on the surface. When parts of the video include a lot of darkness, the television's innards underneath are revealed. (To see a video of it, click here.) Tonsfeldt's interest in how images are captured and shared has us rethinking the term "screen space."
BRACE BRACE
Stardust White (Kawasaki), 2016
29 inches in diameter
BFI, Miami, FL
$4,500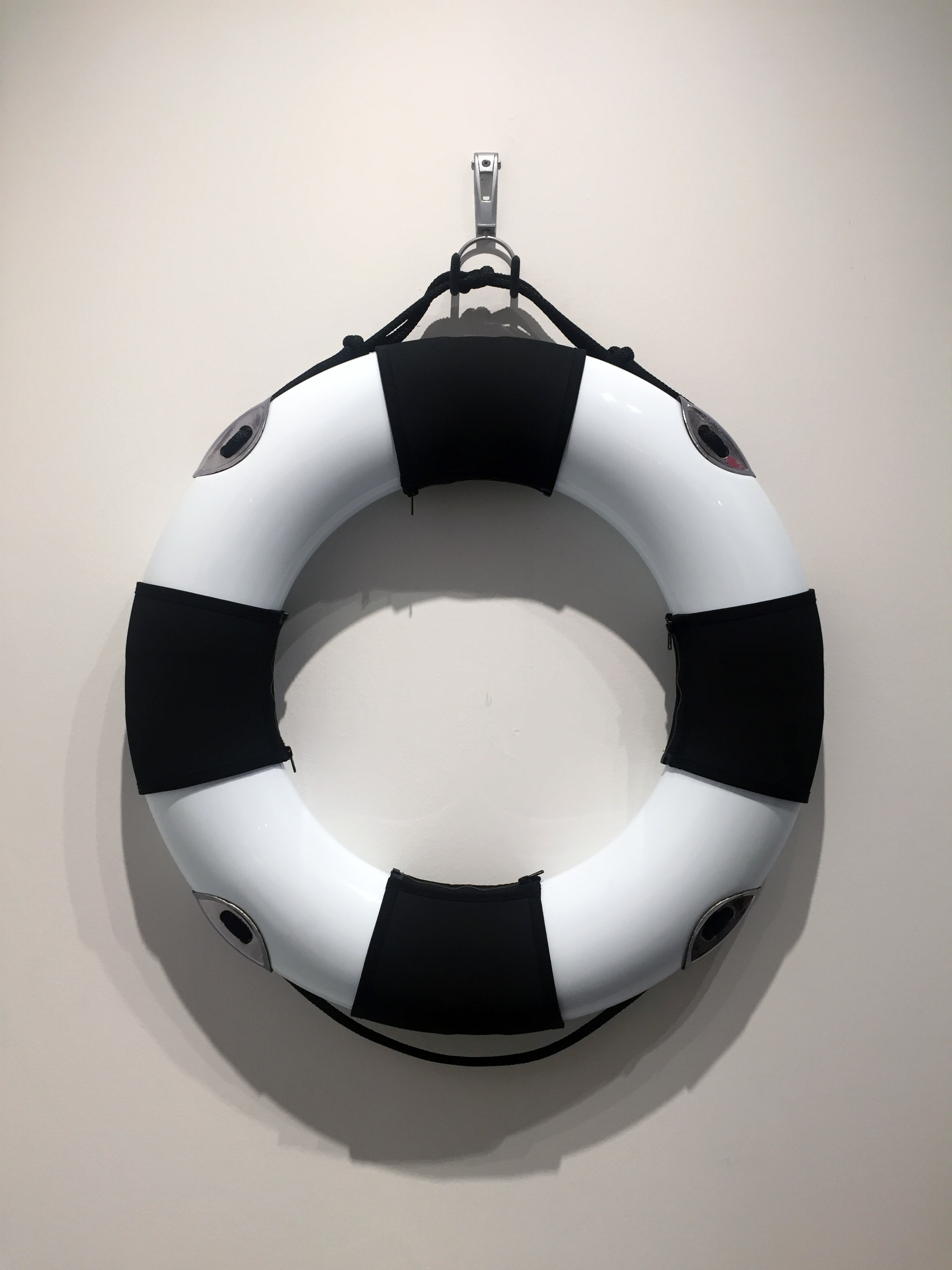 A particularly relevant work in the wake of some of the worst flooding the U.S. has seen since Hurrican Katrina, Stardust White (Kawasaki) is a luxury floatation device produced to comply with the Coast Guard's safety requirements (yes, it floats), made entirely of high-end materials. The work comes from Brace Brace, an emergency equipment brand founded by artists Annika Kuhlmann and Christopher Kulendran Thomas "to reimagine the aesthetics of safety." In the booth, the piece is exhibited alongside an advertisement for it—typical of how the duo organize their exhibitions. So whether you're looking for a conversation piece, or a some fancy survival gear, Brace Brace has you covered.
RELATED ARTICLES:
7 Painters to Know From NADA Miami 2017