NADA Miami opened Thursday and continues through the weekend, with galleries bringing an immense amount of energy and some truly remarkable works. Below are some pieces that resonated all day long.
SHANNON CARTIER LUCY
Woman with Tulips , 2019
Lubov, New York, Booth 10.13
$10,500
Slightly surreal, totally uncanny, Shannon Cartier Lucy's paintings present private scenes influenced in part by her upbringing in strange environments. Painting in a traditional, figurative style, Lucy injects intense moments of emotional resonance with the slightest compositional anomalies. From a fishbowl on a stove, to a woman laying in bed encased under a plastic furniture slipcover, moments of danger and uncertainty are constants in her work, made routine in the world she's crafting. Raised by a schizophrenic parent, Lucy states in her writing about these paintings that, "It was customary in my home to find a toaster in the freezer or The Holy Bible in the dishwasher." While many of her figures are rendered with their faces obscured, cropped, or facing away, this portrait looks towards you, and you're left deciphering if the woman is crying, as her hands graze a bouquet of pink tulips hanging upside down above her. Lucy received a BFA from NYU and is based in Nashville. Her upcoming January solo show with Lubov will mark the return of her work to New York after two decades away.
JAMILAH SABUR
Mnemonic Alphabet (A/Alud) , 2019
Nina Johnson, Miami, Booth 6.03
$10,000 - 15,000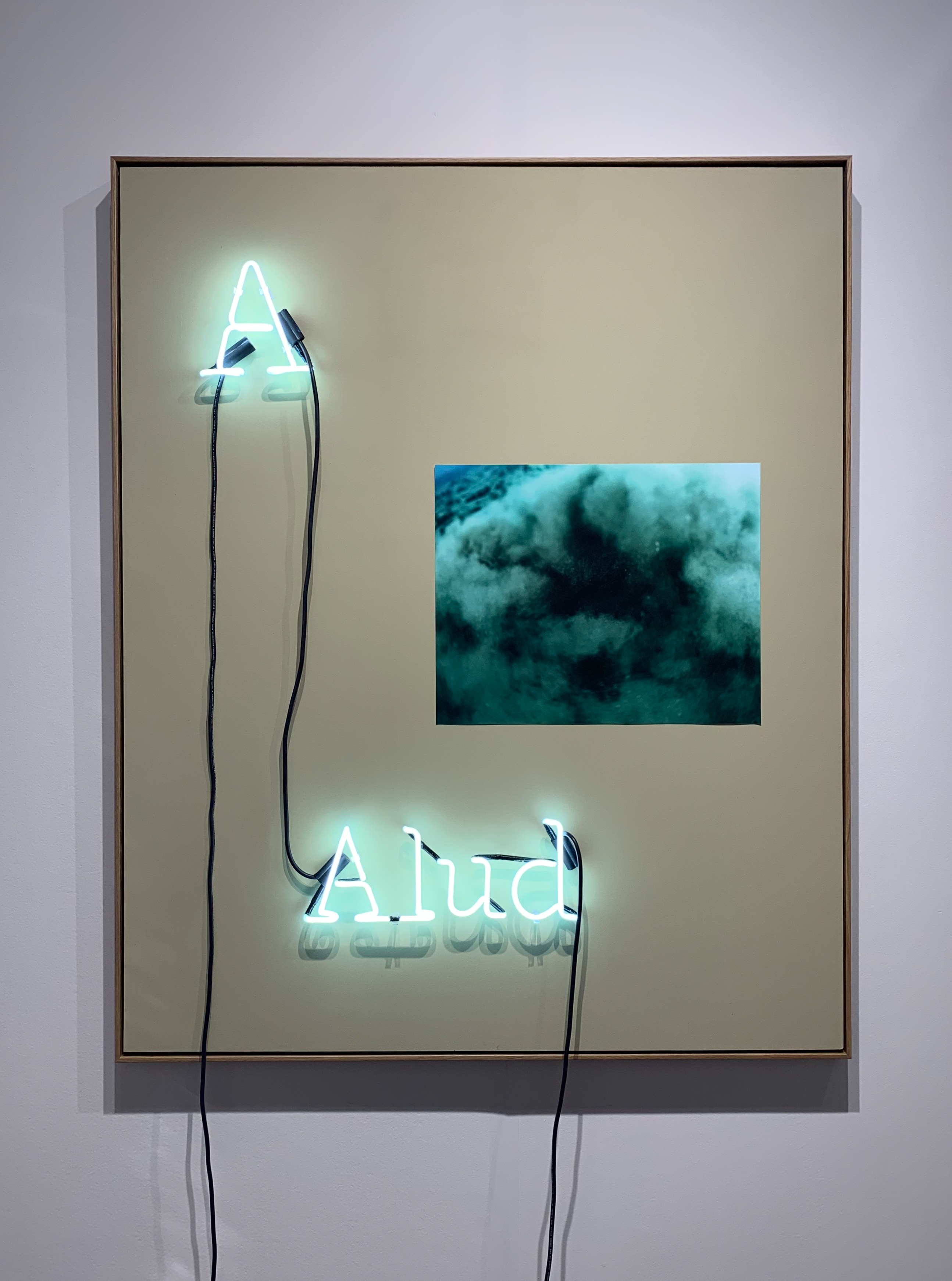 Jamilah Sabur is in the process of crafting a universal language, one letter at a time. It begins here with the letter A, where Sabur is showing Mnemonic Alphabet (A/Alud) with Nina Johnson. I was fortunate enough to run into Sabur at the fair, who said she approaches the series out of order, following a compositional formula with the featured letter in the top corner, followed by an image she selects from her personal archive, and then an illuminated word she associates with that letter. The format is familiar, reminiscent of a page in an alphabet book. Here, the word Alud radiates from white neon lights. Spanish for 'avalanche,' the word crashes downwards with the same intensity of the cloud of sediment pictured above it. Sabur was born in Saint Andrew Parish, Jamaica and is currently based in Miami, Florida. Currently, a similar work from Sabur is prominently displayed nearby at the Pérez Art Museum Miami.
SUZANNE JACKSON
Woodpecker's Last Blues , 2013
Burnaway, Atlanta, Booth 10.01
$75,000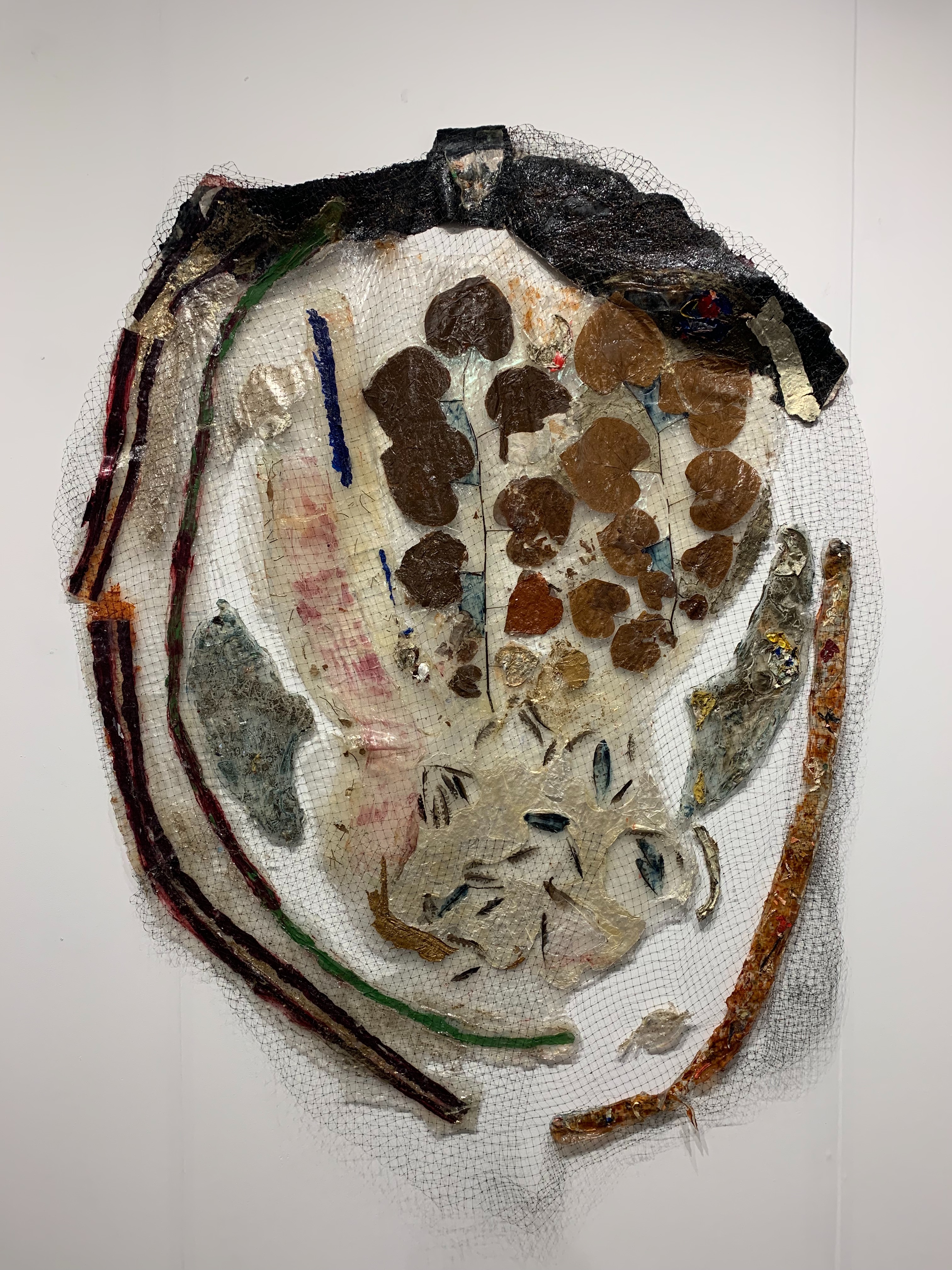 Atlanta-based magazine Burnaway is a newcomer to NADA this year, and their booth, featuring five Georgia-based painters is an absolute must see. Suzanne Jackson's work in the booth is particularly stunning, from Entering, Departing Leaving, Ascending - Luminous Souls (2019), which flanks their booth like a proscenium curtain, to Ancient Leaf ( 1975-1984), which was reworked over the course of nine years as new iridescent acrylic paints were made available. In the 1960s, Jackson founded Gallery 32 on Lafayette Park Place in Los Angeles, giving early exhibits to black artists like David Hammons , Timothy Washington, and Betye Saar . In Suzanne Jackson Five Decades , Saar remarks on the "concrete imprint" Jackson made running this space at a time where some spaces were presenting integrated exhibitions but black artists were generally ignored. Since 1998 Jackson has lived and worked in Savannah, Georgia and her recent work like Woodpecker's Last Blues breaks from the canvas. In this piece from 2013, Jackson is beginning to answer the self-imposed question, "How does one suspend acrylic paint?" Her method here involves building upon a thin black gridded material that Erin Jane Nelson , executive director of Burnaway, tells me is deer netting from Jackson's backyard. The woodpecker feathers embedded in the paint are a kind of memoriam to a bird Jackson's cat killed. The title of the work alludes to Jackson's love for music, and Nelson tells me that Jackson (always reaching across disciplines) runs a public access radio show in Savannah for Jazz as well. As if I wasn't enthralled enough with this work already, I'm reminded by Nelson that the sale of anything in Burnaway's booth directly supports the 501(c)3 non-profit's mission to bring critical dialogue and artist resources to one of the most politically polarized, ecologically threatened, and economically disadvantaged parts of the United States: the American South.
CHLOE SEIBERT
untitled figure , 2019
MICKEY, Chicago Booth 4.14
$6,000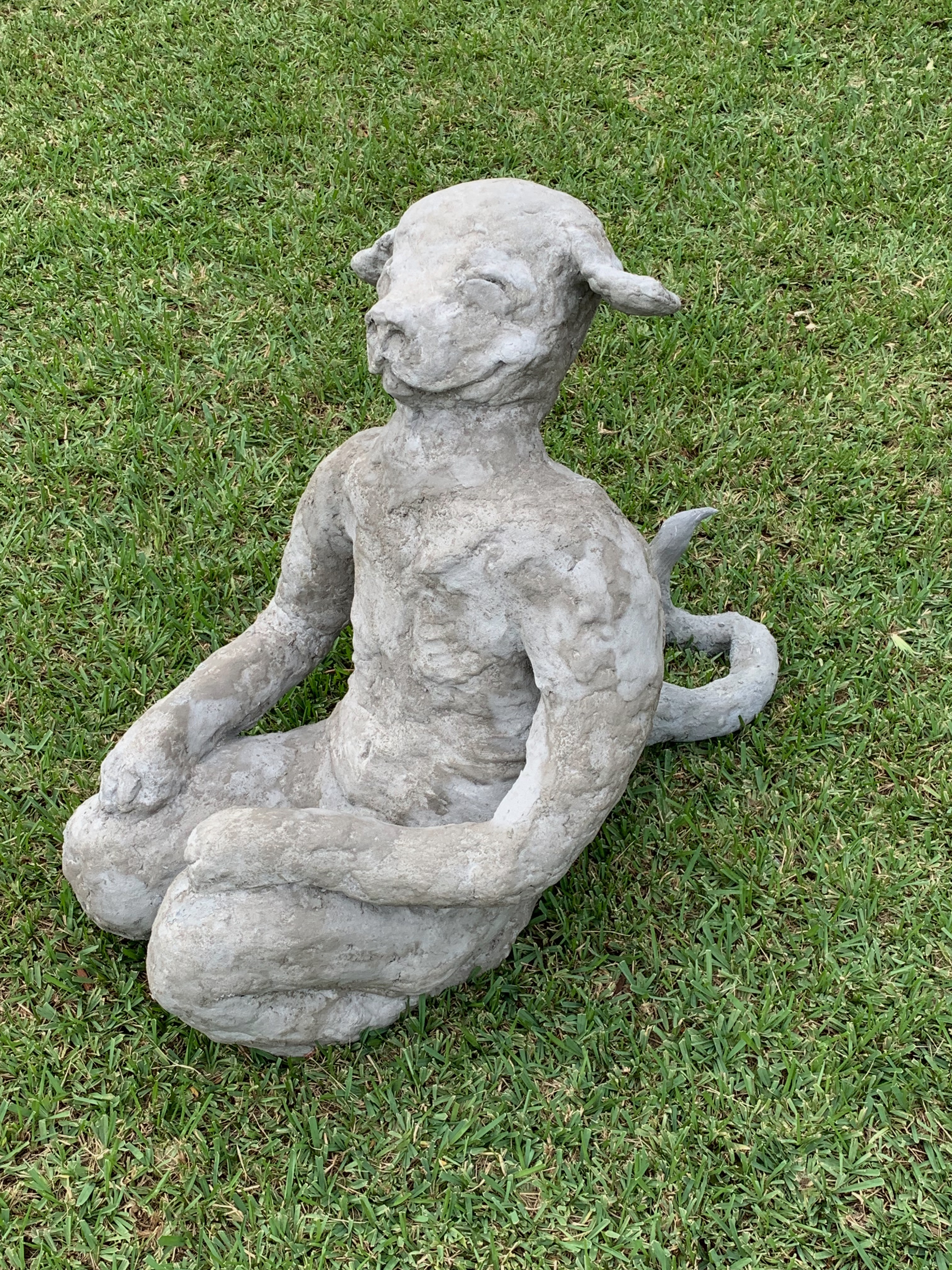 Outside in the sculpture garden, Chicago-based gallery MICKEY presents a roughly human-scaled sculpture by Chloe Seibert as part of NADA's Special Projects. The dog-faced, devil-tailed humanoid is kneeling, with a broad smile, exuding a kind of deviant self-satisfaction. Seibert produces these anthropomorphs with immediacy out of cement, fiberglass, wire mesh, foam, and found objects, encapsulating charged feelings of desire, perversion, bliss, and shame. I'm told that one of the found objects encased in untitled figure is a "brick up its ass." Out here in the garden, fairgoers kneel around it, taking similar stances as they take a breather from the crowded fair, and untitled figure , undisturbed, grins ear to ear amongst them.
STEPHANIE TEMMA HIER
Did you let them skim the cream off , 2019
Franz Kaka, Toronto, Booth P.02
Price Undisclosed (Sold)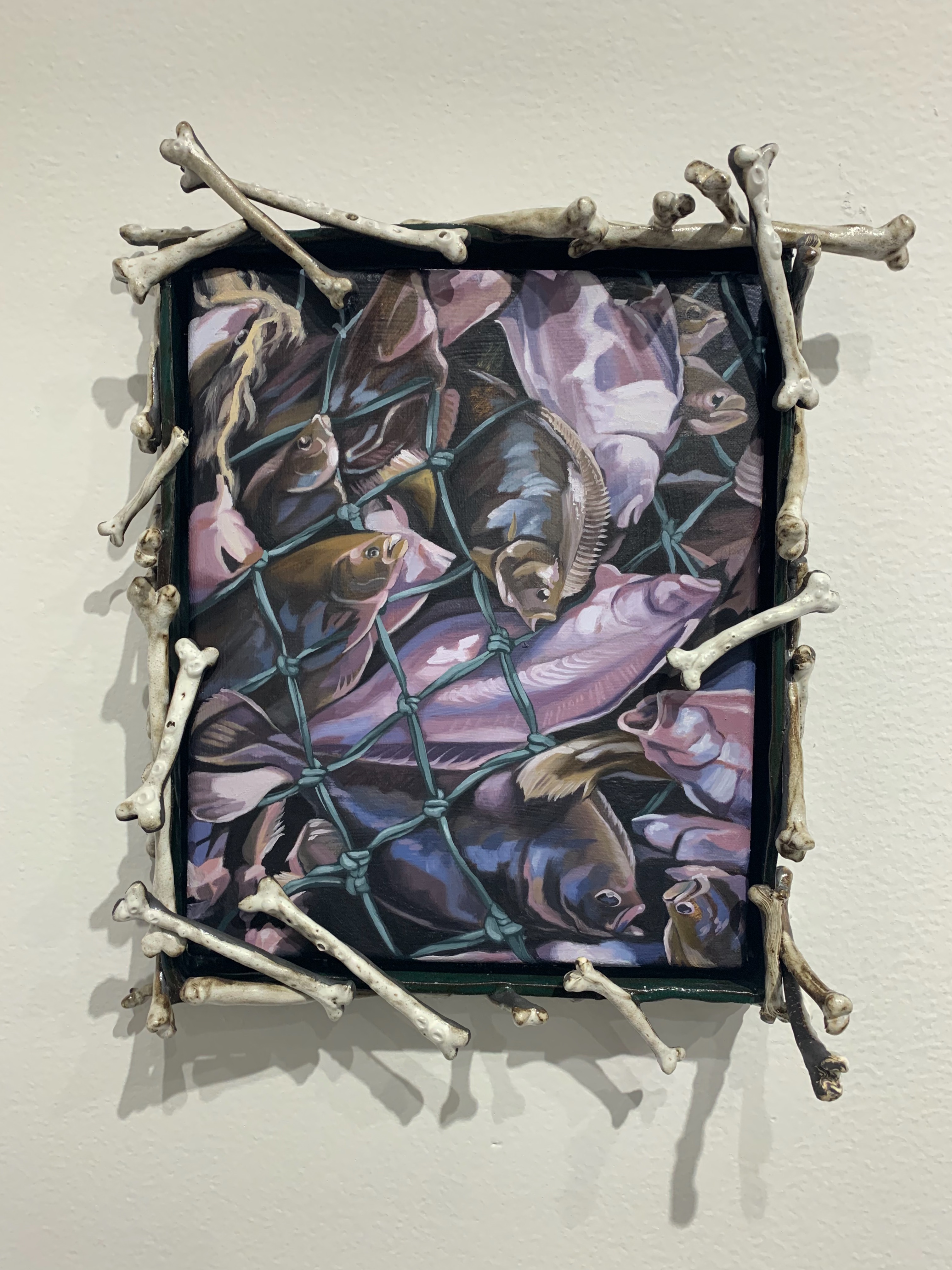 I've long been a fan of Stephanie Temma Hier's richly symbolic works, which I can honestly describe as a lot of fun. Visually, they're phasing between different dimensions often, from her immediately recognizable three-dimensional frames, to her trompe-l'œil tropes and pop-punk habit of applying super flat temporary tattoos directly on top of her paintings. Hier's paintings on display at Franz Kaka refer to images equally at home on the internet and throughout art history, as she addresses depictions of abundance, consumption, and death. Framing plays a role conceptually and physically, with her elaborately constructed ceramic frames, and the work she's doing to metaphorically reframe the subjects and objects she paints.
COREY PRESHA
Side Chick , 2019
Malcolm X (MX) Gallery, New York, Booth 10.10
$4,500
The history of hatred in American humor is a recurring source that Corey Presha pulls from in his painting work. The series of paintings he's showing at NADA was catalyzed in part by a publishing project Presha co-runs called SUN, through which the artist re-published the Black Panther Coloring Book. The coloring book, originally produced by a member of the Black Panther party depicted black children revolting against policemen and slave drivers and was rejected by higher-up members of the party who thought it was too provocative to release. As part of a concerted campaign to slander and grow public resentment of the Black Panther Party, the FBI redistributed an edited version with excessively inflammatory captions of the book. Now, redrawn, reinterpreted and reimagined, this source imagery influences Presha's dark, humorous paintings which, fittingly, can be found at Malcolm X (MX) Gallery, where their high-contrast black and white palette makes the booth starkly stand out.
MARK BARROW & SARAH PARKE
Woman II , 2019
JDJ, Garrison, Booth 10.09
$9,000 (Sold)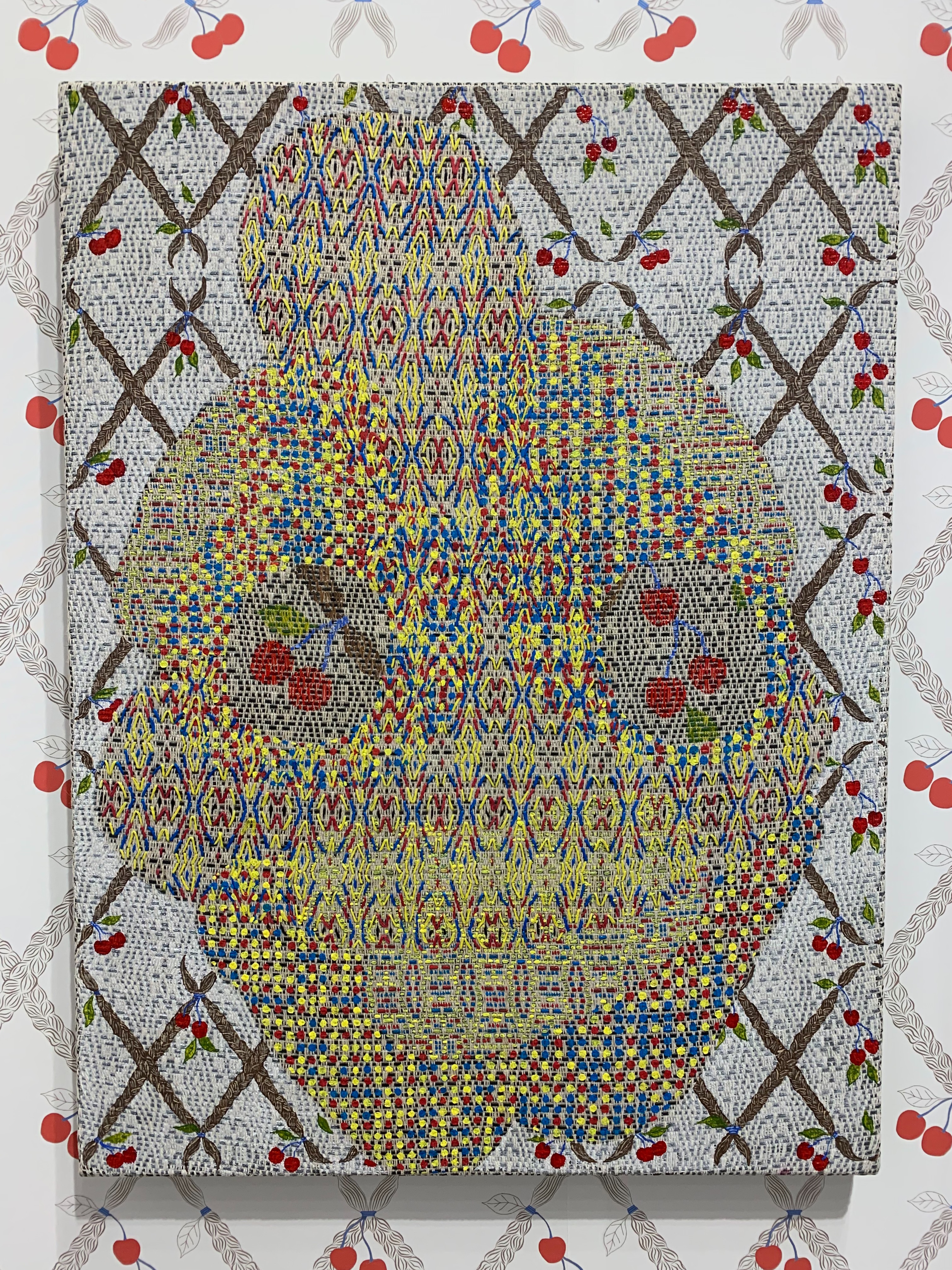 Since 2013, Sarah Parke and her husband Mark Barrow have exhibited under a joint moniker, collaborating during the entire production process of these incredibly detailed multimedia works. The paintings begin with Parke weaving tightly patterned fabrics that becomes the canvasses that Barrow lays paint on top of. The mathematics-heavy, collaborative process results in exceptionally intricate flat works, and as their collaborative process becomes further entangled, it's becoming more challenging to differentiate who performed which actions to create these delightfully enmeshed works.
RELATED ARTICLES:
Under $25k: 7 Remarkable Works from Art Basel Miami Beach 2019