Younger galleries and project spaces brought their best to NADA Miami this year, possibly putting more energy towards the fair in response to the news that NADA will be canceling their New York fair next spring, opting to promote their member's gallery programming instead while other fairs happen in the city. There were plenty of standout works at this years fair, and I was repeatedly drawn to artists working with myths, surrealism, fantasy, and other strategies in imagination that feel very appropriate after another anxious, uncertain year.
SUMMER WHEAT
Beekeeper, 2018
Artadia, New York, US
$12,000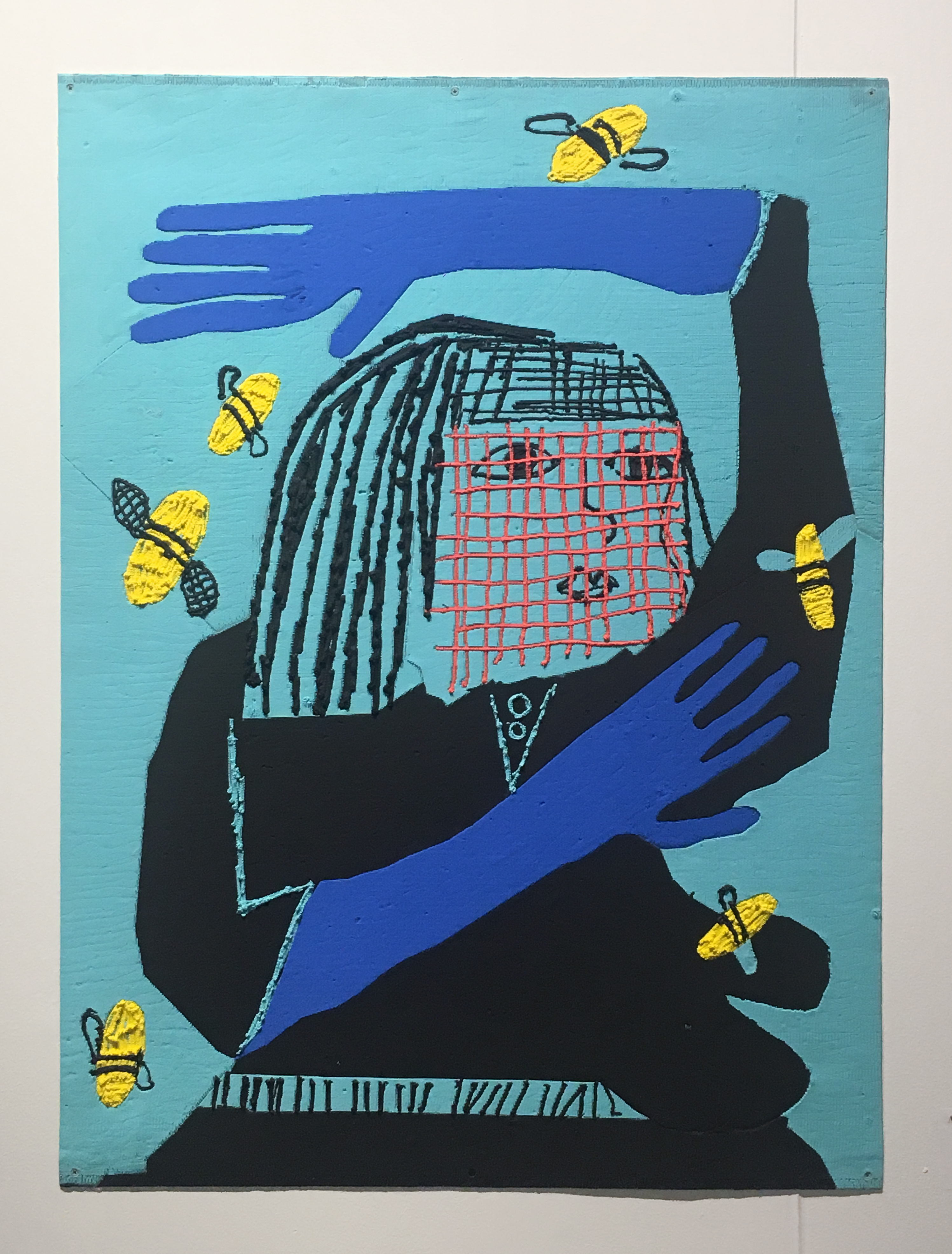 Summer Wheat's paintings in Artadia's booth were created in the artist's signature style of pressing acrylic point through a mesh screen. The inventive process yields a richly textured canvas, that on first read comes across more like beadwork on a tapestry. This work in particular, from her "Beekeeper" series, was striking, with the central figure in a protective pose, swarmed by chunky yellow bees. The woman pictured is protected by another screen, a part of her bee-suit that connects back to the gridded material of the mesh screen itself that the painter utilizes as a canvas. The women in her paintings perform labor that has often been made invisible in the history of art, and here specifically she illuminates the work women do across cultures to nurture relationships between the human and the animal, and the human and the environment. Summer Wheat received the NADA Artadia Award at NADA New York in 2016, and while this Beekeeper painting sold yesterday, Artadia showed me a selection of sketches from Wheat that she prepares before beginning a larger painting, and there are some fantastic compositions available for commission.
NATE PLOTKIN
Leather Garments in the Garden, 2018
SHRINE/Sargent's Daughters, New York, US
$4,000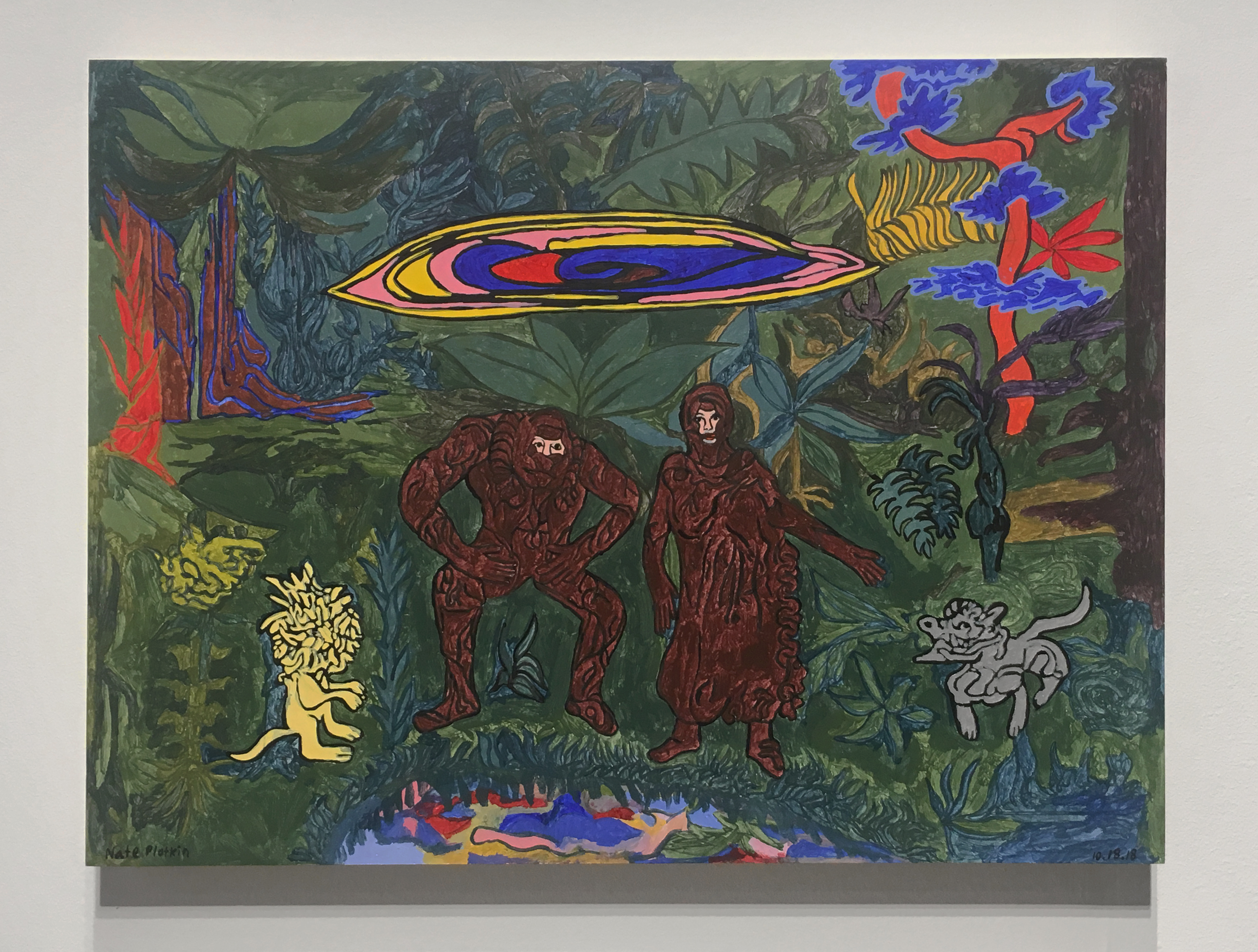 SHRINE and Sargent's Daughters co-presented a booth this year, after having just moved in together in August to a shared space on East Broadway, where they will "present unique programming in separate sections of the venue, and will occasionally work together to curate ambitious joint exhibitions in the full gallery space," according to their announcement in July. Scott Ogden of SHRINE shared some info on Nate Plotkin with me, who was showing a collection of small acrylic paintings on wood panels in the booth. One, featuring what I assumed was a Sasquatch couple, caught my eye in the morning and I returned to it throughout the day, mystified by its two central subjects, covered in fur and looking right towards me. I asked Scott about the title of the work and he told me Leather Garments in the Garden, evoking a narrative of fantastic big foot cosplay—even more bizarre than I had originally imagined—all taking place underneath a psychedelic wormhole that feels like it's about to engulf and abduct the multi-species communion below it. Plotkin is largely self-taught, after dropping out of the Maine College of Art to pursue a more specialized art-education path, mainly through mentorship. He currently lives and works in Brooklyn, and all of his works are made with no preparatory sketches or planning, changing fluidly as they are being made.
EMMA PRYDE
Sphinx II, 2018
King's Leap, New York, US
$1,700- 2,600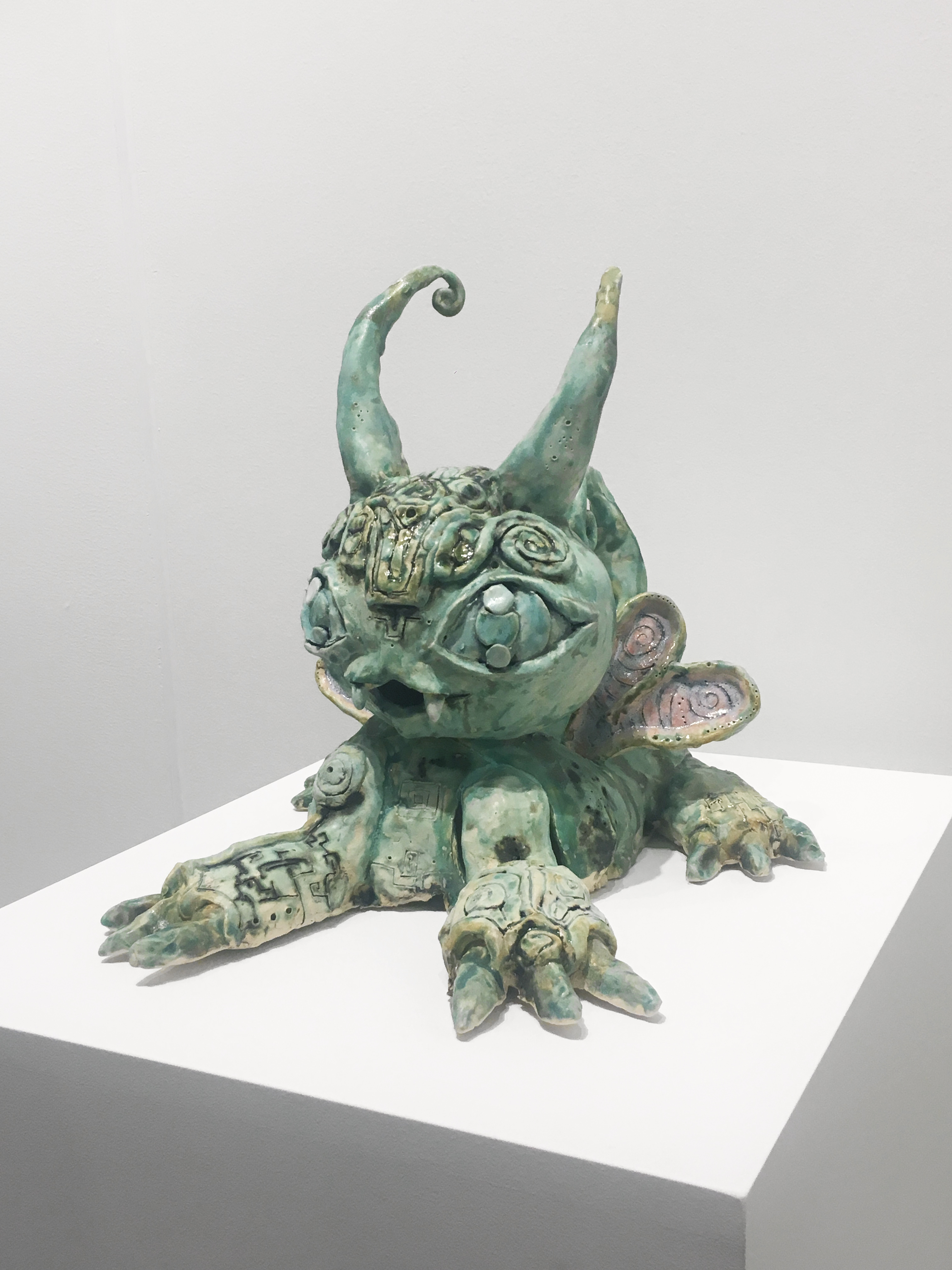 I've been following Emma Pryde's work online for about a year now after seeing documentation of her solo show, "Nature's Prophet," at King's Leap. When the gallery announced a solo presentation of her work for NADA this year, I made sure it would be the first booth I checked out. Emma Pryde's practice constructs a contemporary mythology in a cotton candy color pallet from an expansive iconography drawing on everything from the Pokémon dolls she had growing up to the Greek mythology she's read. The figures emerge from the kiln with such a high level of craft as Pryde forges a new mysticism that's hauntingly adorable. Alec Petty of King's Leap told me about a story in Greek mythology featuring a sphinx. The Greek sphinx, both a woman and a monster, exiled towards the edge of town because of her habit of killing men. As he drew connections in Pryde's practice between girlhood and fantasy and history and darkness, I thought about how the Greek sphinx was in some ways a chimera of chthonic ancestors—a figure born from other mythological creatures living underground, and how exciting it was to see this atemporal sphinx, rendered in clay, splicing stories and characters thousands of years apart into a form where the eras live simultaneously, all at once, in a new icon.
PAUL ROUPHAIL
Old Scratch, 2018
Smart Objects, Los Angeles, CA
$4,000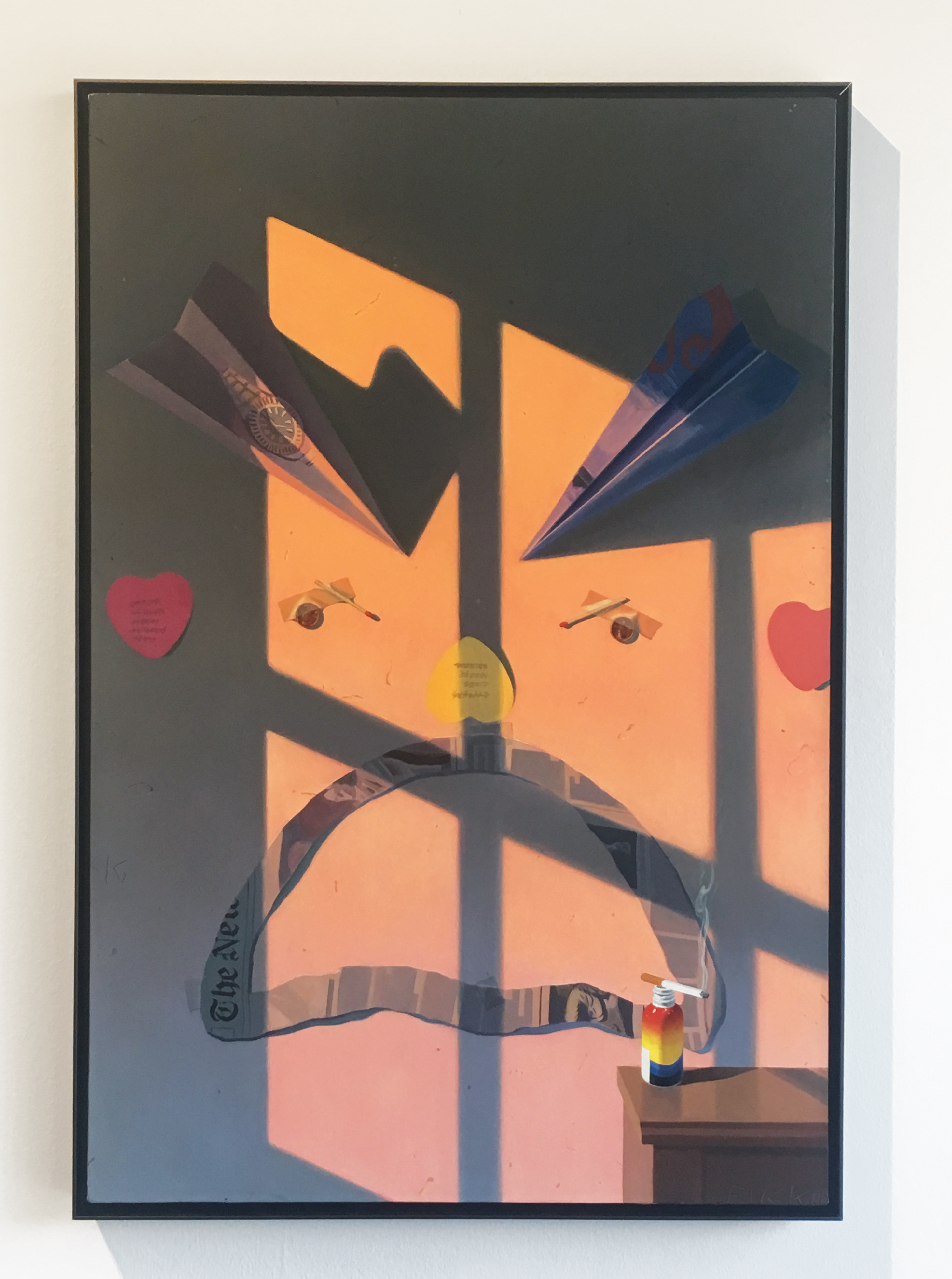 At Smart Objects, Paul Rouphail stacked a still life of trompe l'oeil tricks on top of each other while painting views from his studio in Philadelphia at sunset. Taking inspiration from Surrealism, Rouphail's work Old Scratch looks way back into the history of painting to Giuseppe Arcimboldo's 16th-century portraits, where he arranged fruits and vegetables into smiling piles of portraiture. This fall Rouphail had his second solo show with Smart Objects titled "The Ideal Room," where he showed a series of similar paintings animated by objects balanced precariously, igniting and floating, into delightfully puzzling compositions. In addition to Smart Objects, Rouphail has had recent solo and group exhibitions at Nicelle Beauchene Gallery, Fisher Parrish Gallery, the Miller Gallery at Carnegie Mellon University, and White Columns online.
SHARIF FARRAG
Untitled, 2018
LEFEBVRE & FILS, Paris, FR
$1,300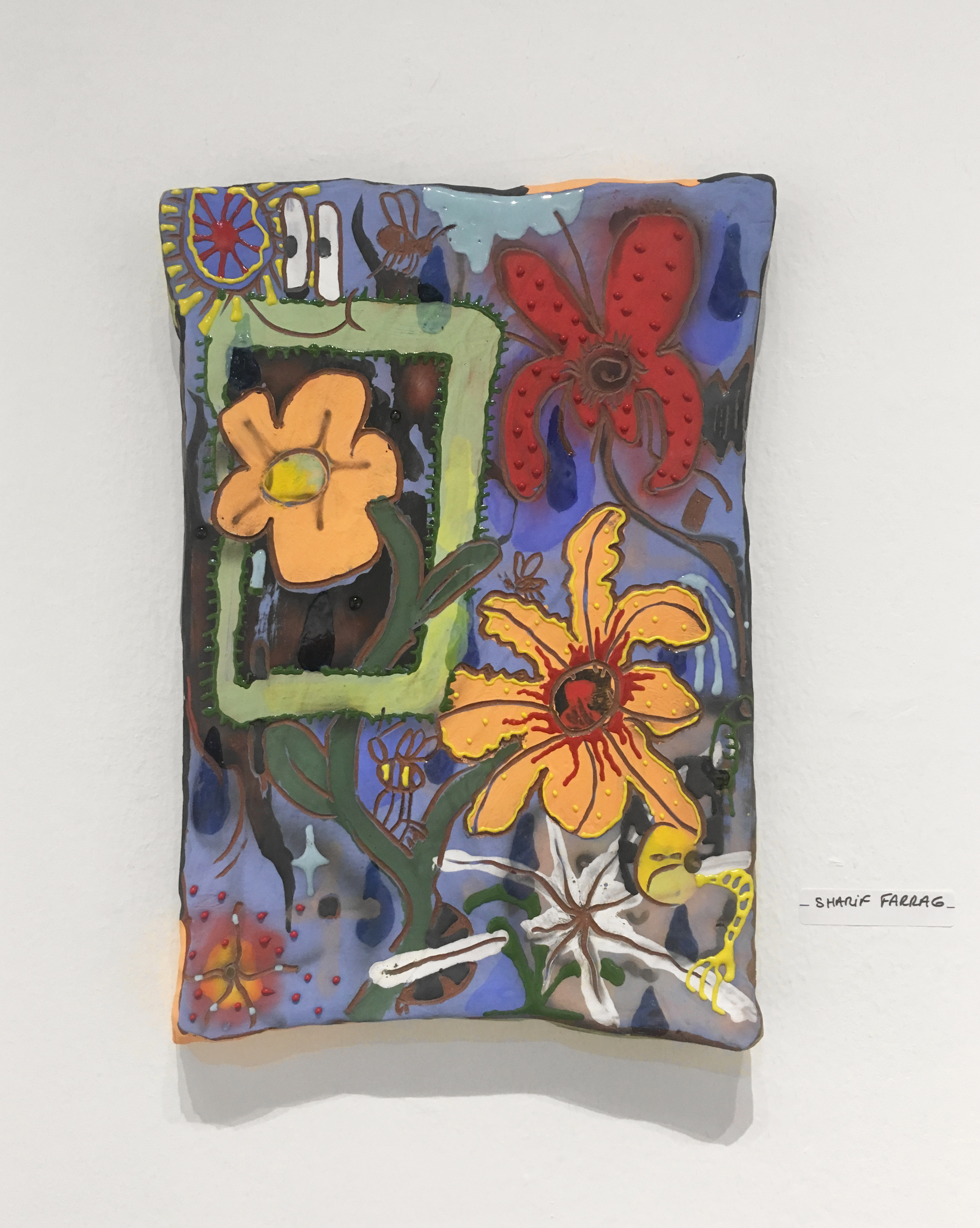 In an interview with Young Space, Sharif Farrag was asked to describe his work in three words, and he went with "spooky, groovy, curious." Farrag grew up in the San Fernando Valley near Los Angeles and used to do graffiti when he was younger. As a first-generation American growing up Muslim in the United States post-9/11, Farrag notes that street art was a useful tool for carving out space for self-representation. The work above, which does not have a title and I was told by his gallerist was made just two weeks ago, is one I would consider "groovy" to use Farrag's categories, with its big smiling eyes in the top left corner feeling particularly mellow. Sharif Farrag is also showing work with Ghebaly Gallery, where a series of "Garden Jars" has some spookier moments. His ceramic works build on traditional techniques he learned while exploring his parent's Egyptian and Syrian heritage, but they resist tradition as well, incorporating some of the same bright colors and punk aesthetics of the graffiti Farrag initially found as an artistic outlet.
EMILY LUDWIG SCHAFFER
I Think No One Can Hear Us Here, 2018
Galerie PACT, Paris, France
$9,000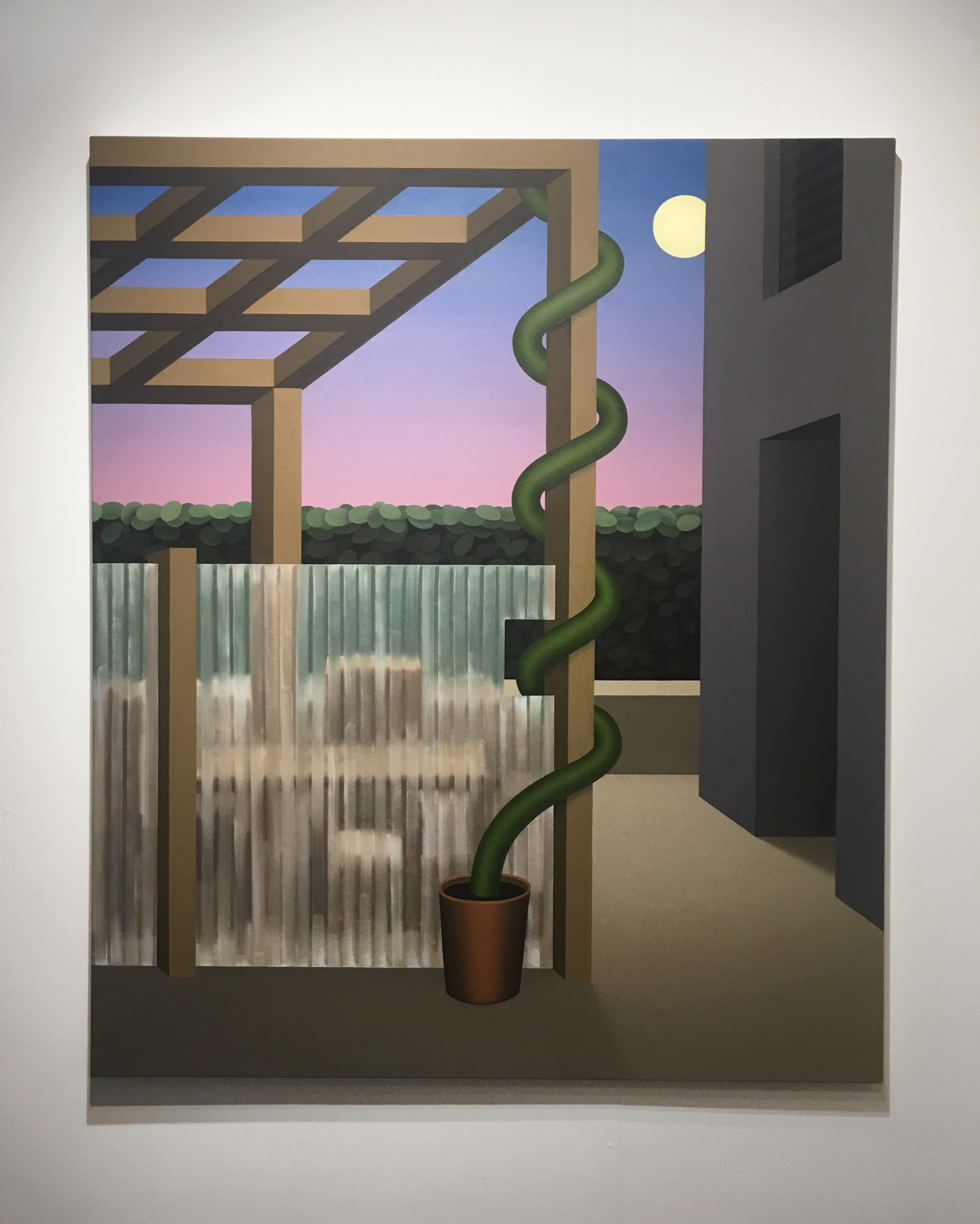 Emily Ludwig Schaffer's imagined spaces are silent and absent of people, eerily beautiful and perfectly still. In this large painting, she renders a courtyard, which is a familiar site if you saw the paintings she displayed with PACT for her first solo exhibition, "Stone Tapesty," this summer. In this work, I Think No One Can Hear Us Here, the silence moves past tranquility to the point where it's is almost unnerving. The plant, which retains the same thickness all the way through, snakes mechanically upwards, but it too feels frozen. Schaffer was born in San Francisco, and currently lives and works in New York, having graduated with an MFA from Columbia University in 2017, and a BFA from the Rhode Island School of Design in 2010.
BASEERA KHAN
I'm As Good As You Are, 2018
Housing, NY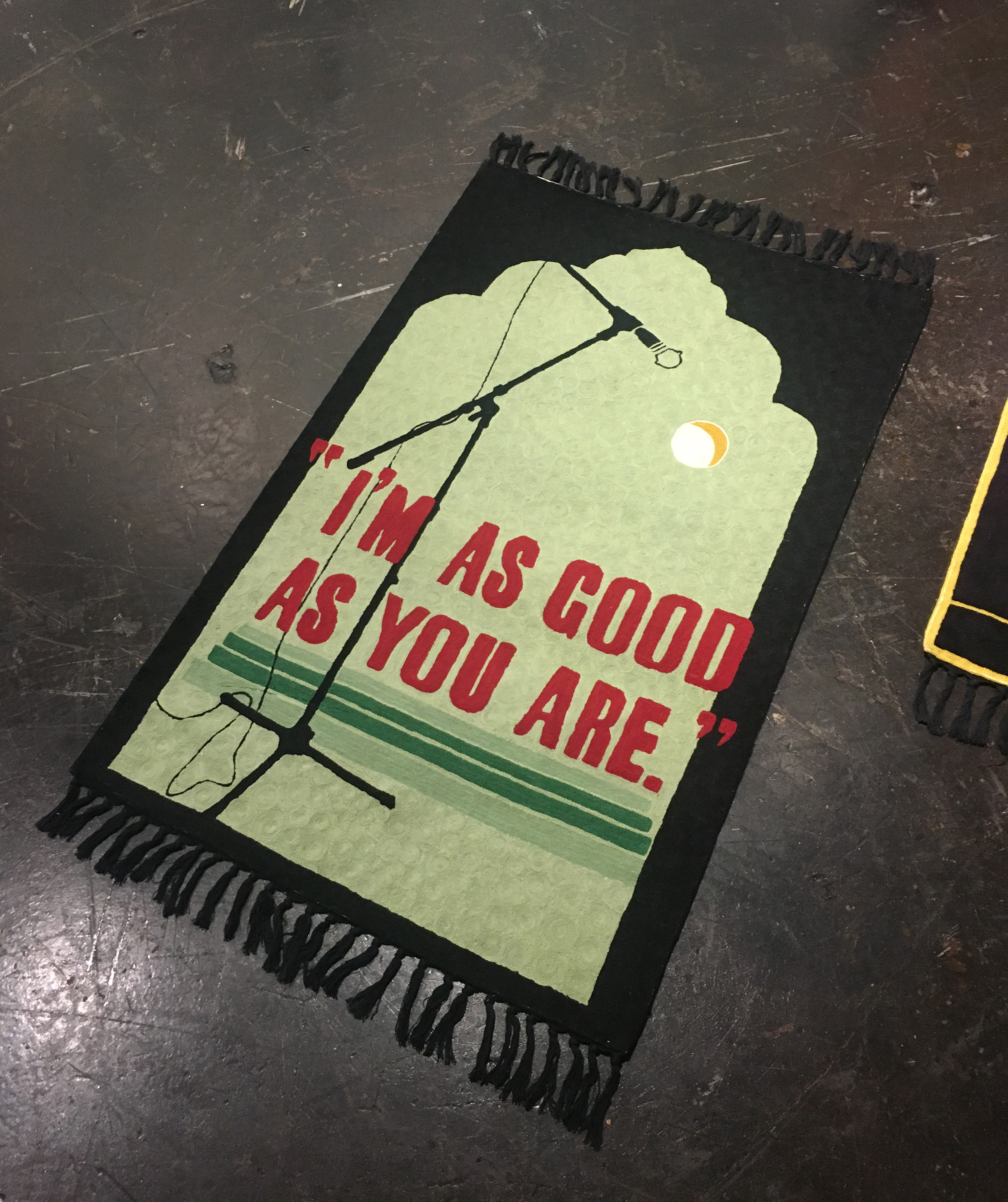 Baseera Khan's I'm As Good As You Are is a handmade wool rug custom-designed by the artist and fabricated in Kashmir, India. Produced in an edition of ten, it is part of her series of Psychedelic prayer rugs, which I am told can be used as functional prayer rugs, or displayed as artworks. Khan has been working with weavers in Kashmir to produce these, and is currently working on larger works with the artisans. Artnet listed Khan as one of 14 emerging women artists to watch in 2017, and in a review from Art in America, Jane Ursula Harris writes that "Khan's interpretive explorations of Muslim identity are complex, offering a recuperative, adaptive model at odds with the reductive stereotypes Islamophobia breeds." Her interdisciplinary practice, which incorporates sculpture and performance, is highly personal, based on her experiences growing up in Texas as a queer, femme and Muslim, and continues to navigate how those identities intersect in America today.
LILA DE MAGALHAES
Tired of Walking, 2018
Ghebaly Gallery
Price Undisclosed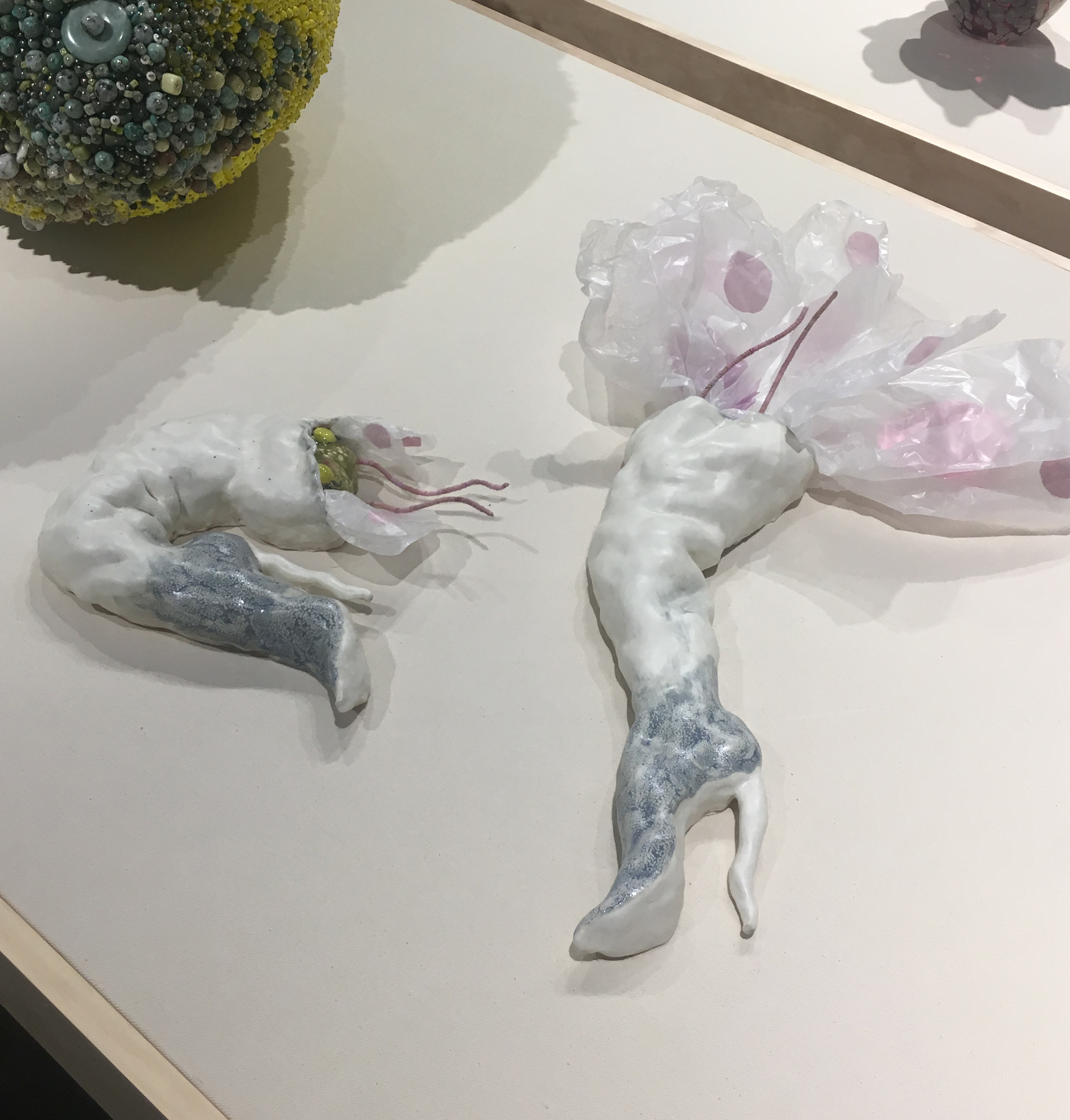 These high-heeled boots lay limp on the table at Ghebaly Gallery, solidly ceramic but appearing as soft as fried eggs. Lila de Magalhaes has a number of works here, both ceramic sculpture and embroidered paintings. Dreams play a huge role in her practice, and sometimes nightmares do too, as the booth is scattered with large ceramic teeth, a series made in response to recurring dreams Magalhaes has where her teeth fall out uncontrollably. Her strange and beautiful solo show last year at Adobe was an Artforum critic's pick, and I was so excited to see her work in person.
RELATED ARTICLES:
8 Affordable (and Covetable) Artists to Discover at PULSE Miami
Advisor Bill Cournoyer's 9 Art Basel Miami Beach Highlights
From Judy Chicago's Fireworks to Softchell Crab BLTs: Escape Basel's Booth Mania With These Events (and Restaurant Recs)