Preview day at Frieze this year was treacherous. With what felt like 100-degree temperatures inside the tent, sifting through the eye candy to find the hidden gems wasn't exactly fun. So, we took it upon ourselves to do the hard work for you. Here are eight great artworks by a range of artists—from emerging up-and-comers to canonized mainstays—for $10,000 or less. We may have nearly dehydrated ourselves to find them, but discovering these works made it all worth it.
TAU LEWIS
Cooper Cole, Toronto
Friendliness and the Whisperers, 2018
$8,000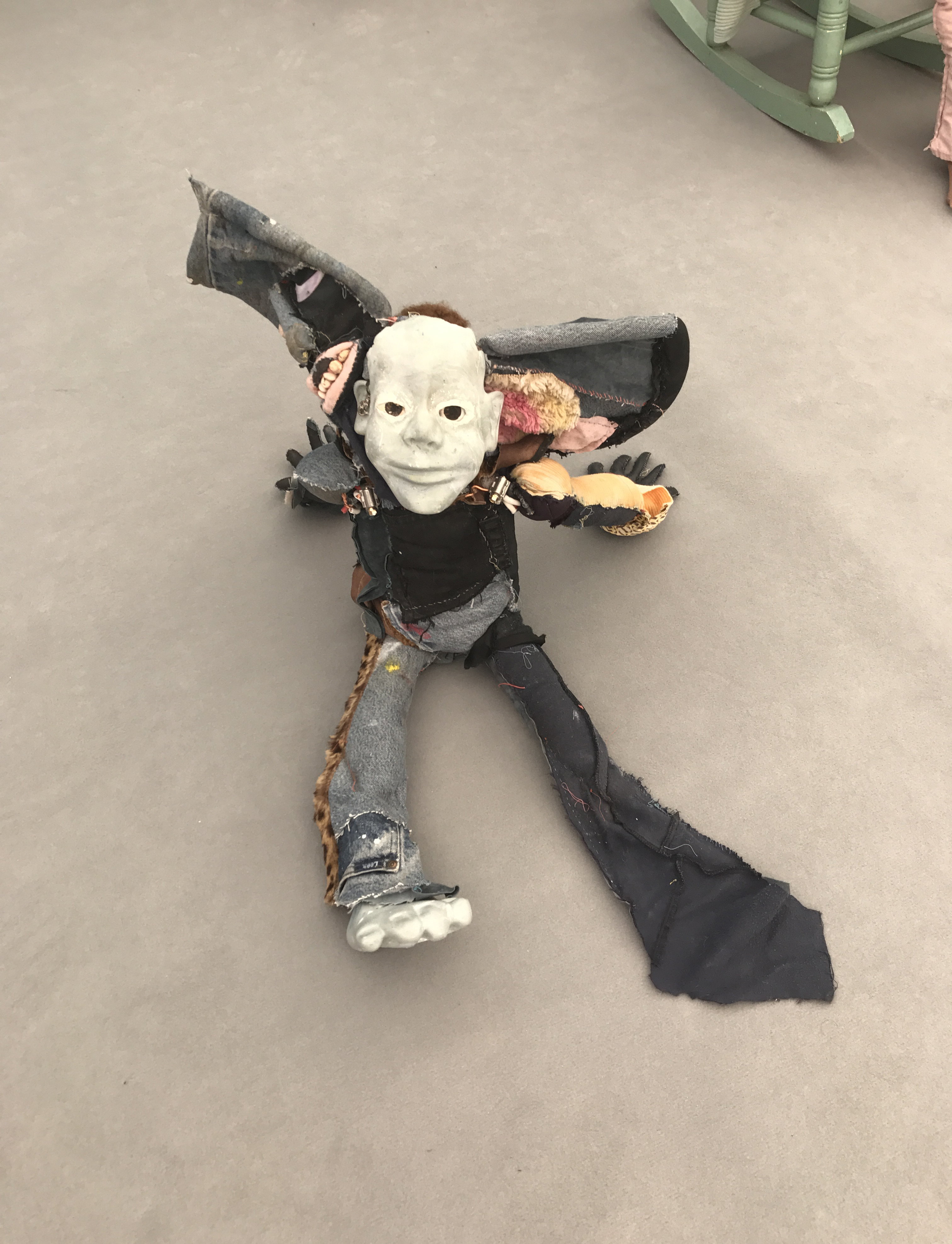 Canadian artist Tau Lewis has a busy week; in addition to her solo booth with Cooper Cole at Frieze, she has a solo show opening tonight at New York's window gallery Jeffry Stark, and a two-person show with painter Cheyenne Julien at Chinatown's Chapter gallery opening this Wednesday. To top it off, Frieze awarded Cooper Cole the Frame prize this year. According to a press release, the jurors of the prize "commended the manner in which the presentation dealt with sculpture in an incredibly unique way. They felt the young self-taught artist's work was rich and intense, and that this radiated out from the booth." Like Curtis Talwst Santiago (also featured on this list), whom Lewis did a two-person show with at Cooper Cole in August of 2017, Lewis is deeply inspired by the places she has lived, and "the relationships between black people and the environment, and the history of those relationships," the artist tells Artspace. "I think of these figures as landscapes, because they represent places I've come from," says Lewis. The figures are made from scrap metal Lewis found in rural Canada, sea shells from Jamaica (where the artist's family is from), and industrial materials found near her studio in Toronto. Cooper Cole's booth has several of Lewis's figures on view that range in size; this piece, for $8,000, is the smallest.
MICHAEL WANG
Foxy Production, New York
Mariopteris Upper Silesia, 2018
$5,000 (framed)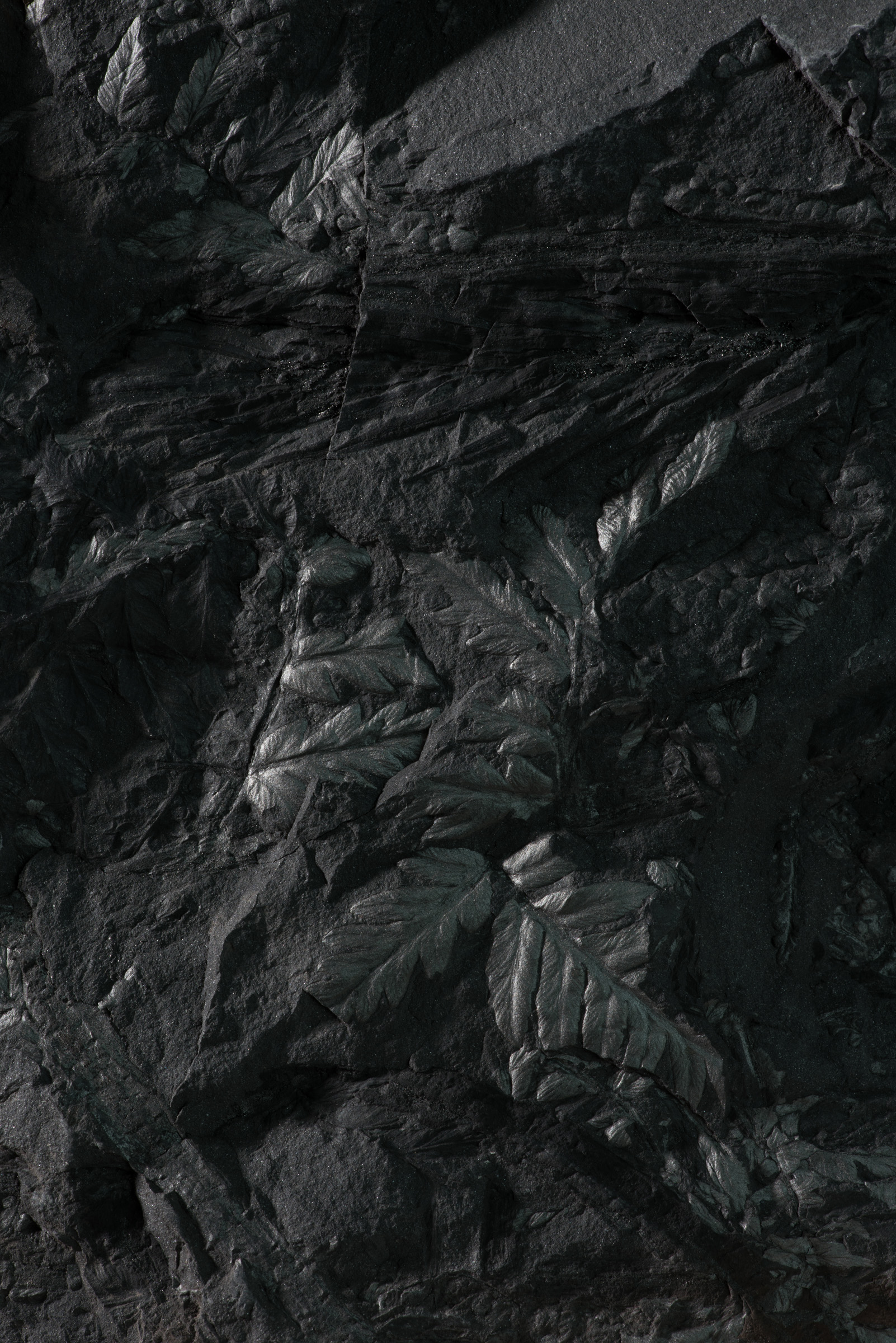 This photograph is part of a series called "Carboniferous" by artist Michael Wang, which depicts coal deposits that contain fossils of ancient plants. These plants once formed the Earth's very first forests, and now, their remains are harvested as coal—a resource that has helped pave the way for environmental pollution and destruction. Like much of Wang's work, which uses "species distribution, climate change, the global economy" as media—this image appears cold, bleak, and almost industrial. But view it up close (and with some background information for context) and you'll see a wonderfully graceful and complex image with subtle shifts in color and texture. It's no wonder Wang's work is densely layered and conceptually rigorous; the highly educated artist holds a Masters in Architecture from Princeton, an M.A. from NYU, and a B.A. from Harvard.
CURTIS TALWST SANTIAGO
Rachel Uffner, New York
Sir Santi, 2018
$3,500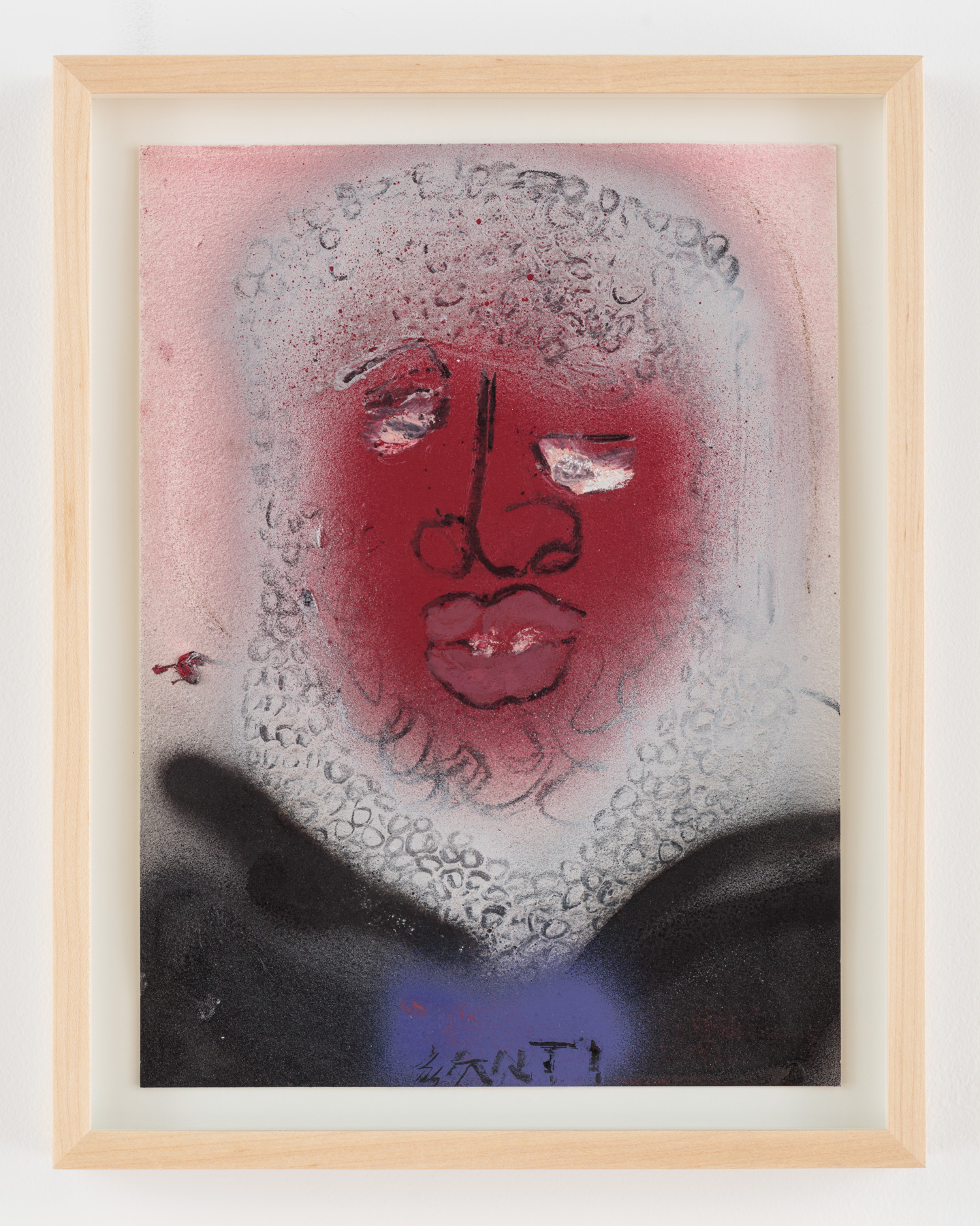 Having shown his work at institutions like the Studio Museum in Harlem, the Perez Art Museum in Miami, and the New Museum, artist Curtis Talwst Santiago is, according to Rachel Uffner's booth attendant, "interested in the history of where he's living." Born to Trinidadian parents in Canada, Santiago had recently been living in Lisbon, Portugal where he became interested in the regional history of the Moorish empire. One African knight in particular, as depicted in the 16th-century painting Chafariz d'el Rey, inspired the portrait on view at Rachel Uffner's booth, alongside the artist's chainlink headpieces and miniature dioramas that continue the narrative. "Once you put on a knight's mask and armor, you become genderless," the attendant tells Artspace; Curtis's work often explores "issues of transculturalism, memory, and ancestry in the contemporary Diasporic experience." Rachel Uffner is currently exhibiting a solo show of Santiago's work, on view until June 24th. Meanwhile, he has a solo at the Eli and Edyth Broad Art Museum at Michigan State University and will be showing at the upcoming Biennial de Dakar.
MADELINE HOLLANDER
Magenta Plains, New York
Arena, 2017
$3,500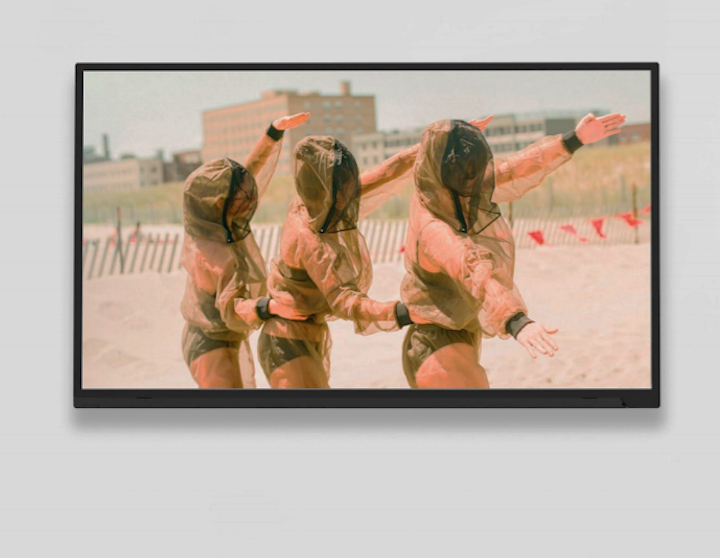 In August of 2017, artist Madeline Hollander staged a performance on Rockaway Beach in Queens involving three dancers and several "beach-combers," or trucks that collect trash and rake the sand. The subsequent video poetically addresses the current global "sand crises," or the fact that huge amounts of sand are being mined from the ocean floor and shipped all over the world in order to meet the demand for cinder block and concrete production. The video itself is slow, mesmerizing, and repetitive; as the trucks create pristine surfaces in their wake, the dancers mark the sand with their choreographed movements as they follow behind; their markings in turn are erased by the circling truck. A mixture of drone footage and on-the-ground camerawork, this video is worth checking out for anyone interested in contemporary dance and movement.
JASPER JOHNS
Mitchell-Innes & Nash, New York
Figure 0 (from the Black Numeral series), 1968
$10,000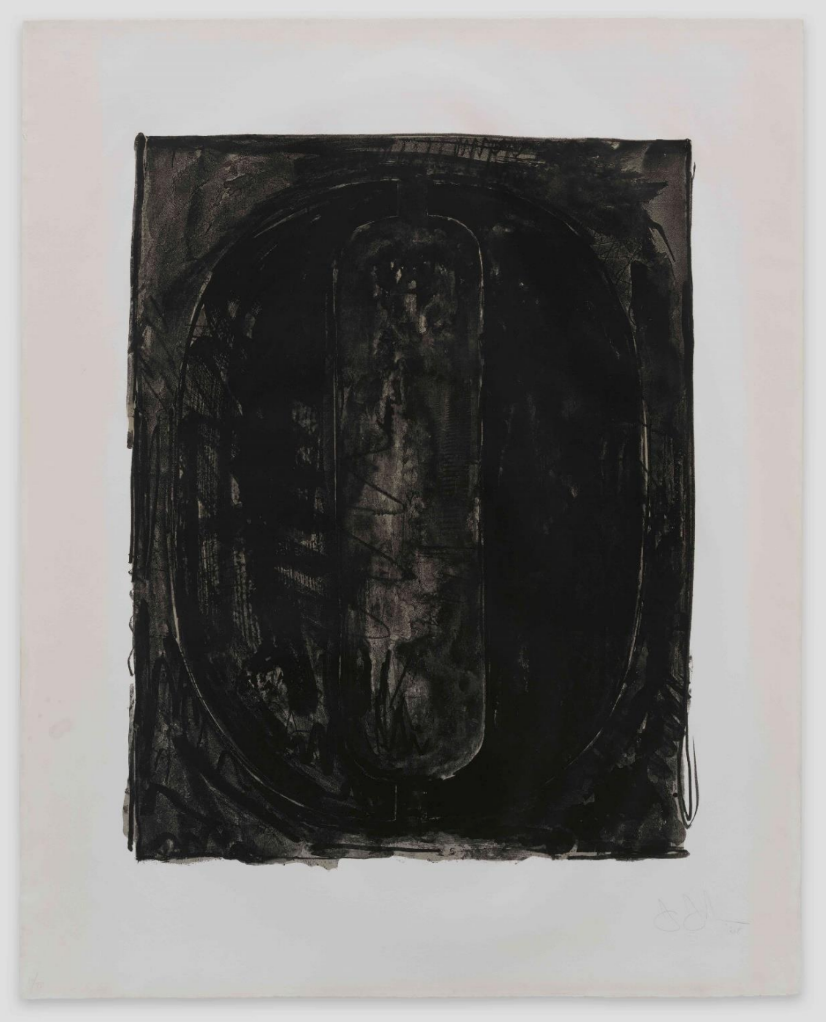 Perhaps the most well-known on this list, the work of post-war art pioneer Jasper Johns has sold for upwards of $30 million dollars—making this $10,000 print an eye-catcher. This lithograph comes from a series of works called the "Black Numeral Series" that Johns made over a five-week period in 1968 as an homage to how the artist first got his start. In much of his early work, Johns painted numerals, letters, and symbols, which, according to the famous critic Leo Steinberg, "represent no more than what it actually is." Unlike painting an object, person, or landscape, painting flat numerals was conceptually unprecedented in that it gave form to something abstract. This particular print is one in an edition of 70, and only second to John's flag paintings, is quintessentially characteristic of the artist's famed oeuvre.
JULIE BÉNA
Galerie Joseph Tang, Paris
Installation view
$8,000 (wall works); $10,000 (sculptures)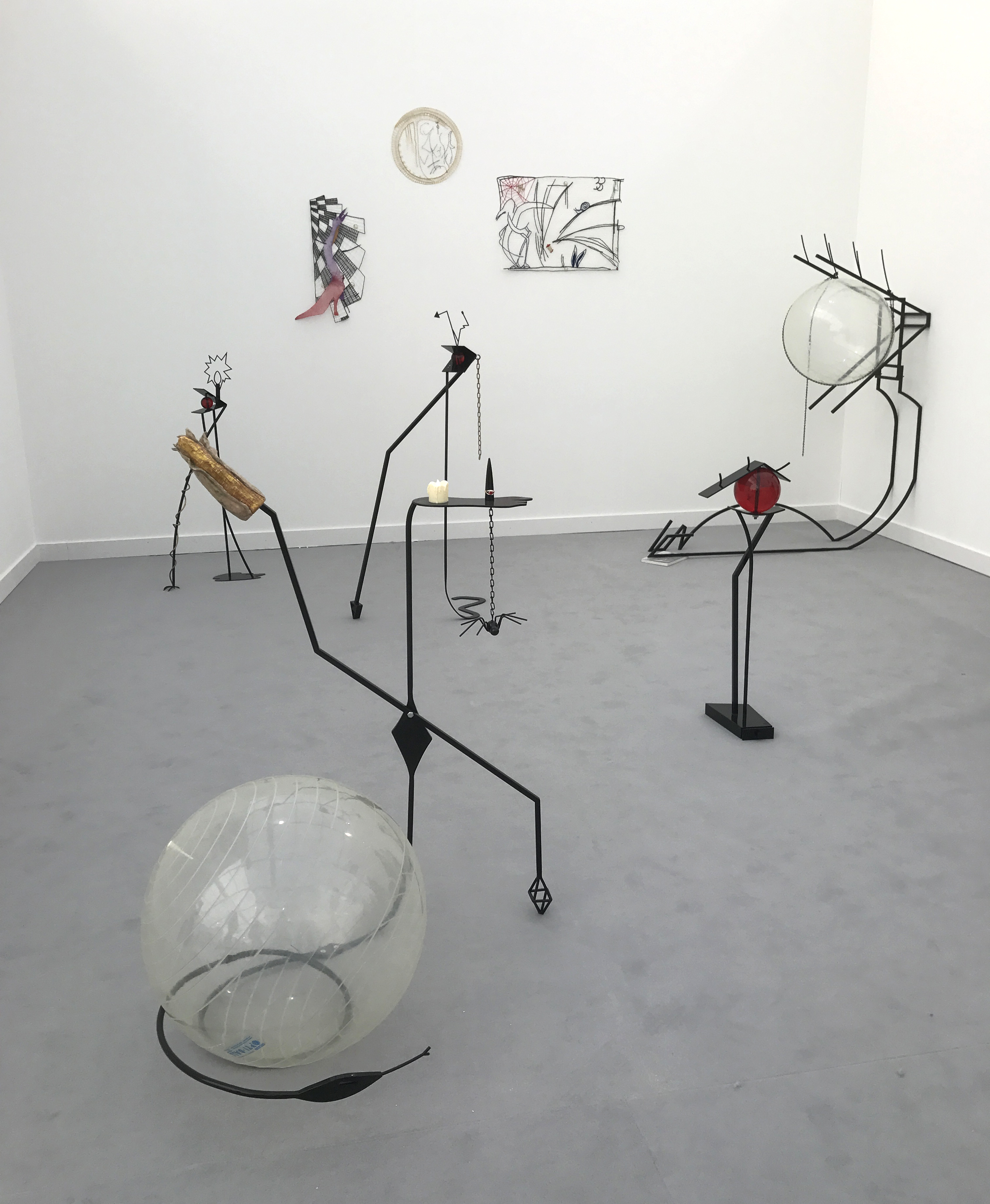 Despite the fact that Joseph Tang's booth is filled with sculptures and wall pieces, the artist on view—Julie Béna—considers herself a performance artist. In their native habitat, these objects live as parts of an elaborate, ever-changing set—an interactive backdrop for the artist's "chapters" in which a narrative consecutively unfolds. The artist—who has performed recently at the Palais de Tokyo and ICA London, just to name two—references literature, film, and pop culture; in one performance, she uses Pantopon Rose, the only female character in William S. Burroughs's Naked Lunch, as an avatar. "It's cheap to say, but these objects really are part of a fictional universe," the artist tells Artspace. These "objects" include lace wall pieces that the artist fabricated by working closely with a group of women in the Czech Republic who hand make lace and embroidery in a communal setting.
KOICHI ENOMOTO
Taro Nasu, Tokyo
At the time of the deluge (Identity sideslip) (2017)
$3,500 (framed)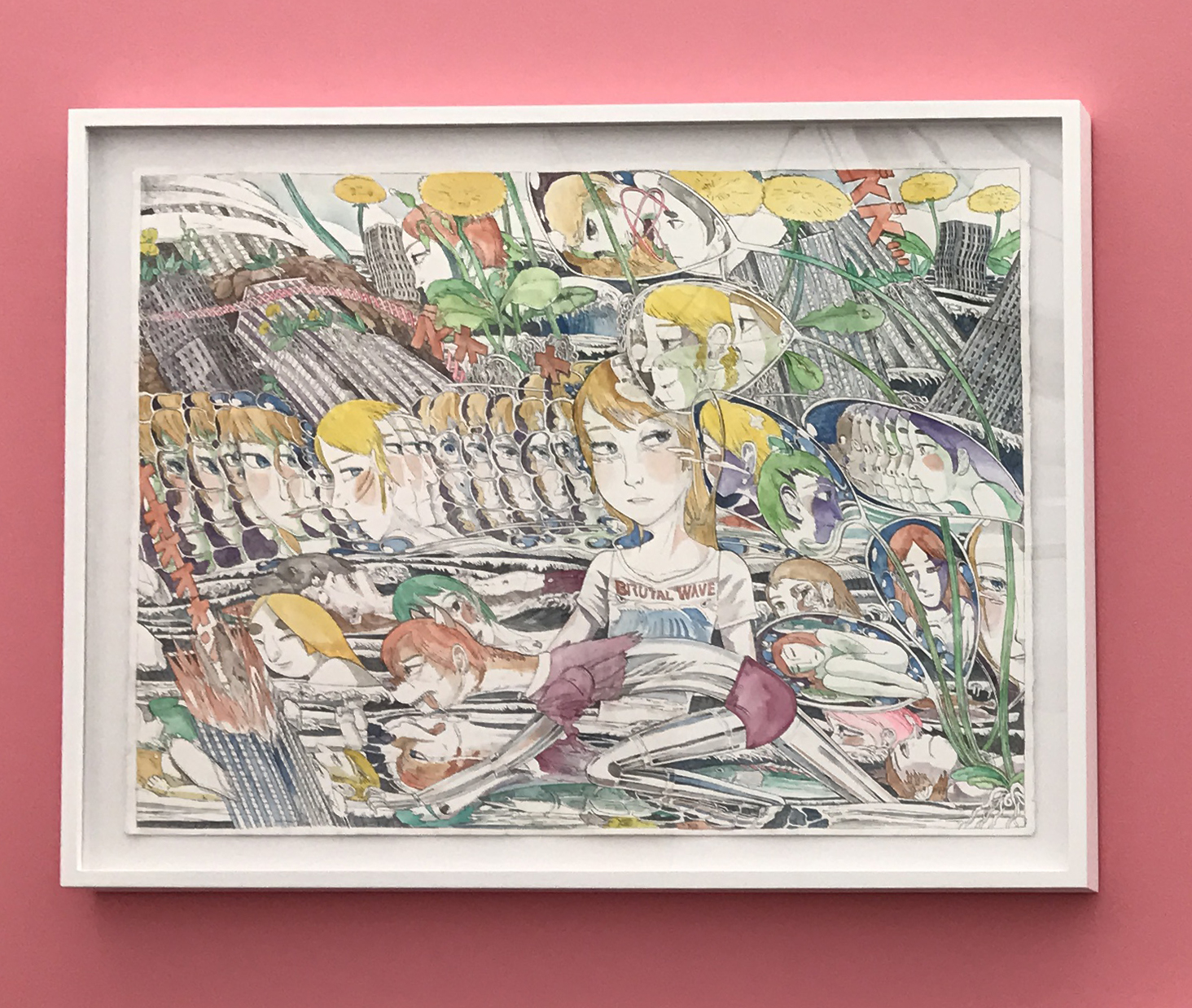 Though Japanese artist Koichi Enomoto had already been well known for his manga-style drawings, the artist transformed his technique and subject matter after he experienced the 2011 earthquake and tsunami in Japan. Since, his speculative paintings illustrate the survivors of a futuristic, post-apocalyptic world. "The artist doesn't have a negative view of this world," however, according to the booth's attendant. Instead, "he's excited about the new species and new lives that will adapt and thrive to a new environment wrecked by tsunami." Taro Nasu's booth has several framed drawings and two large paintings on display, all of which feature semi-human, semi-animal characters, fractured figures, and aquatic landscapes. Here's to keeping Enomoto's fantasy's just that—fantasy.
ANN AGEE
P.P.O.W., New York
Hand Warmers (2017-2018)
$1,000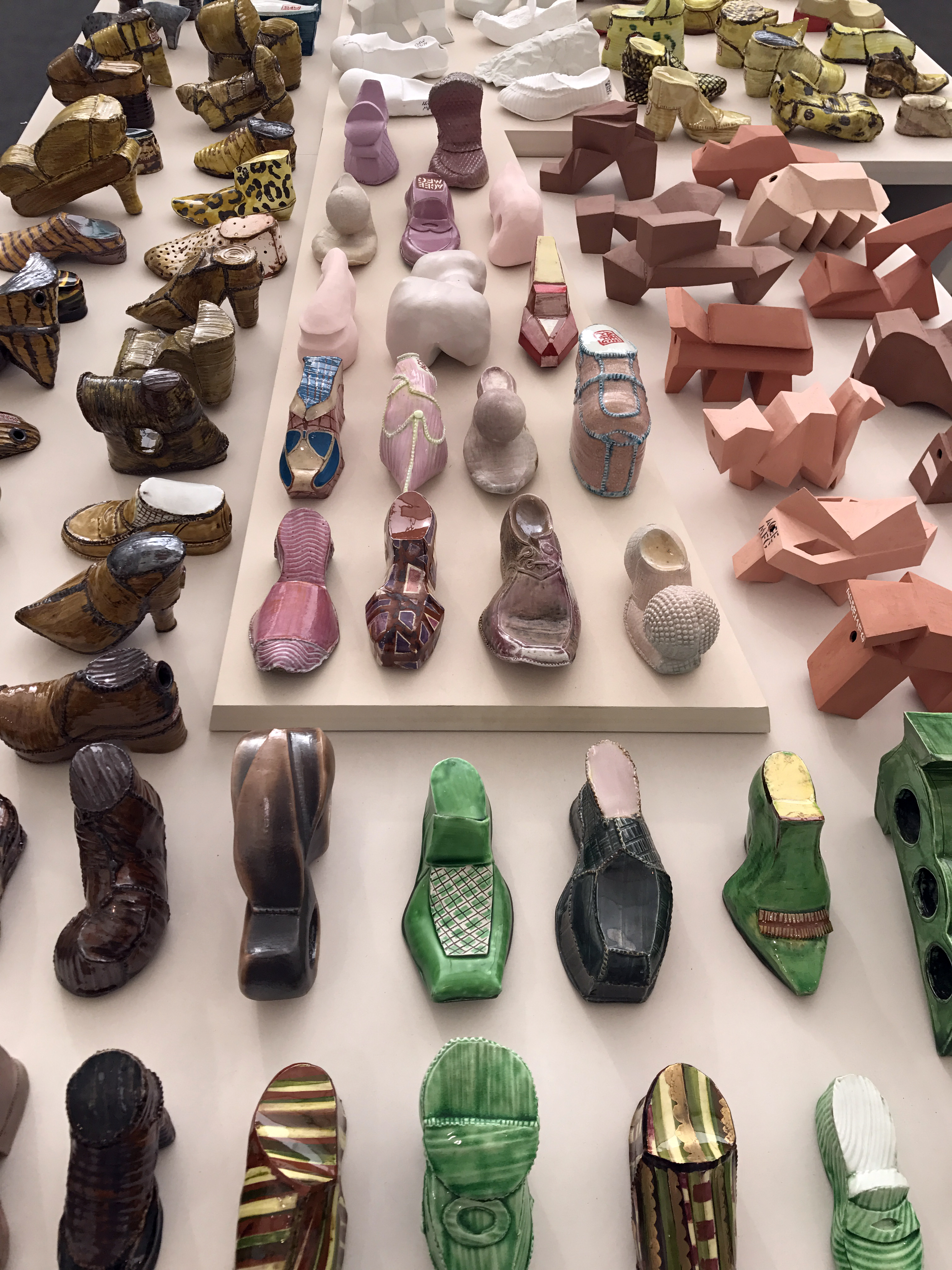 Renowned ceramicist Ann Agee was visiting Italy a few years ago when she came across a traditional ceramic hand warmer—a vessel with a cork stop that could be filled with hot water and held to keep warm. For the past two years, she's made dozens of shoe-shaped hand warmers inspired by a diversity of global and historic footwear, from Chinese foot-binding shoes to contemporary sneakers, and each one is delightfully unique. Collectors have been having a blast selecting their favorite shoes, or finding multiple to pair together, from this eclectic assortment on view with P.P.O.W., a gallery the artist has been working with since 2001.
RELATED ARTICLE:
Is That What I Think it Is? 6 of the Most Outrageous Artworks at Frieze