Frieze New York opened to VIPs yesterday on Randall's Island, where we scoured the isles for artworks that seemed to offer something new to the fair. Though we can consistently count on seeing some of the same ol' tried-and-true market darlings from one fair to the next, we were surprised to find that many of the gallerists we spoke to were using the fair as an opportunity to introduce an artist brand new to their roster. Whether this willingness to experiment is due to confidence and security, or because the "safe bets" haven't been working well recently, the newly represented artists at Frieze are, from a collector's point of view, worth keeping an eye on (and worth buying now before the inevitable price hike.) Here are seven artist highlights from the fair, many of whom are recently represented.
AMITAI ROMM
Veda, Florence, F20
ILOVEWITHNOLIMITATION (Circadian Rythm), 2018
$20,000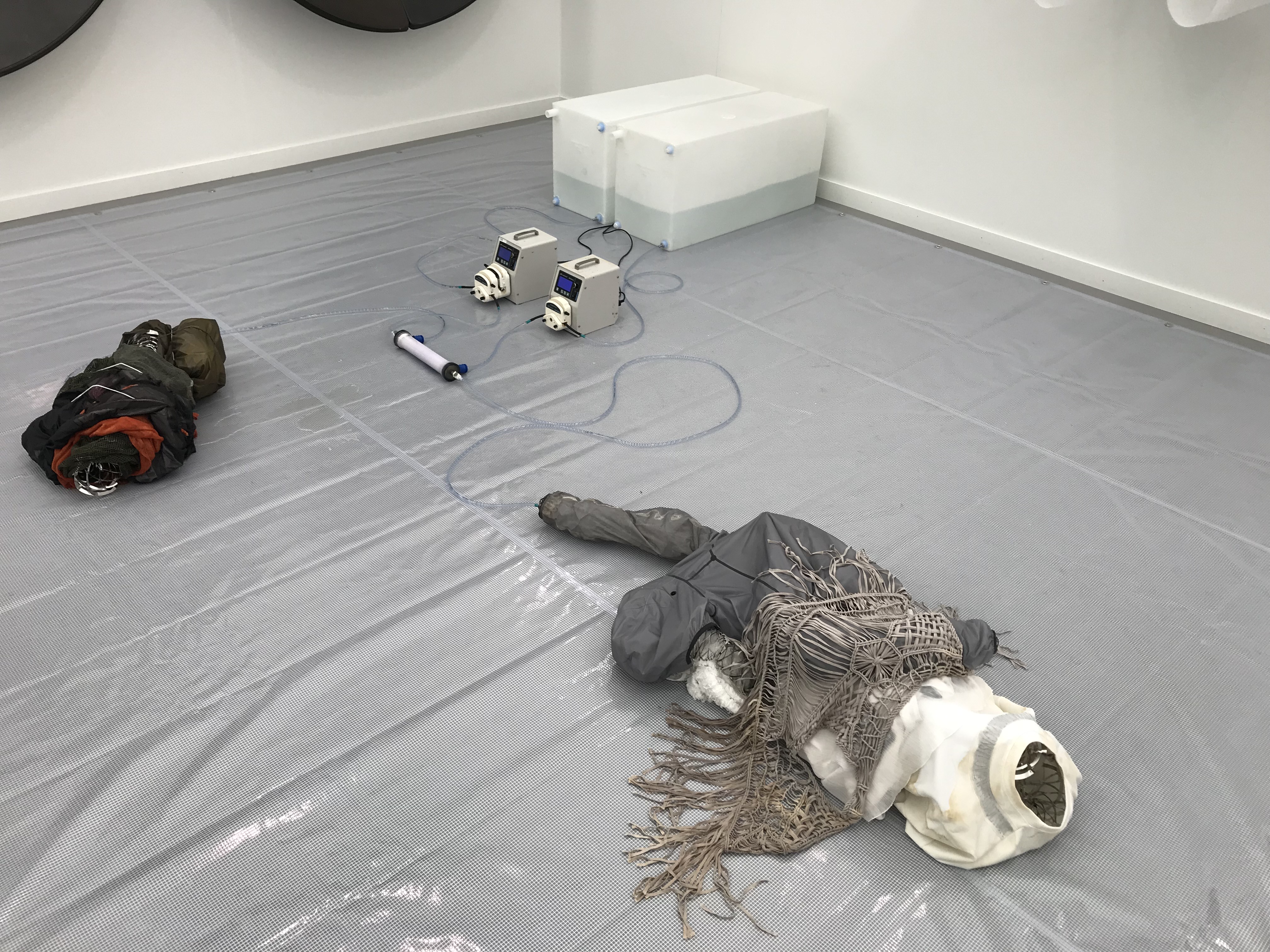 At Veda gallery's Frame booth, Copenhagen-based artist Amitai Romm presents three installations that, though distinct, act in unison in a post-apocalyptic fantasy. Science fiction meets stark reality in this narrative, where "salvaging scrap metal, analysing algae DNA, and drawing are all equally necessary activities." In addition to his art practice (or perhaps as part of it), Romm is a co-founder of Diakron, a studio for interdisciplinary research and practice that lists as its members artists but also curators and a Ph.D.-holding researcher at the doctorate school Space, Place and Technology at Roskilde University. Romm is also co-founder of Primer, "a platform for artistic and organizational development, located in the headquarters of the global water technology company, Aquaporin in Kgs. Lyngby, Denmark." Romm's interdisciplinary interests are readily apparent at Frieze, where the artist has installed an osmosis filtration system involving a thin biotech membrane that syphons synthetic human sweat from two containers to two sculptures made of clothing and fabric on the ground. Though an actual body is absent, the forms are figurative and corporal nonetheless, with appendages that behave like protective shelters for the disembodied sweat they contain. As the solution evaporates, a coating of crystalized salt is left behind. "The work suggests the dynamic formation of a body," writes the press release, "a synthetic life form that has yet to find its own skin." Veda will be exhibiting a solo show of Romm's work at the end of the month; their presentation at Frieze marks the first time they've worked with the artist.
JANE CORRIGAN
Galerie Antoine Ertaskiran, Montreal, F9
A Light, 2019
$8,500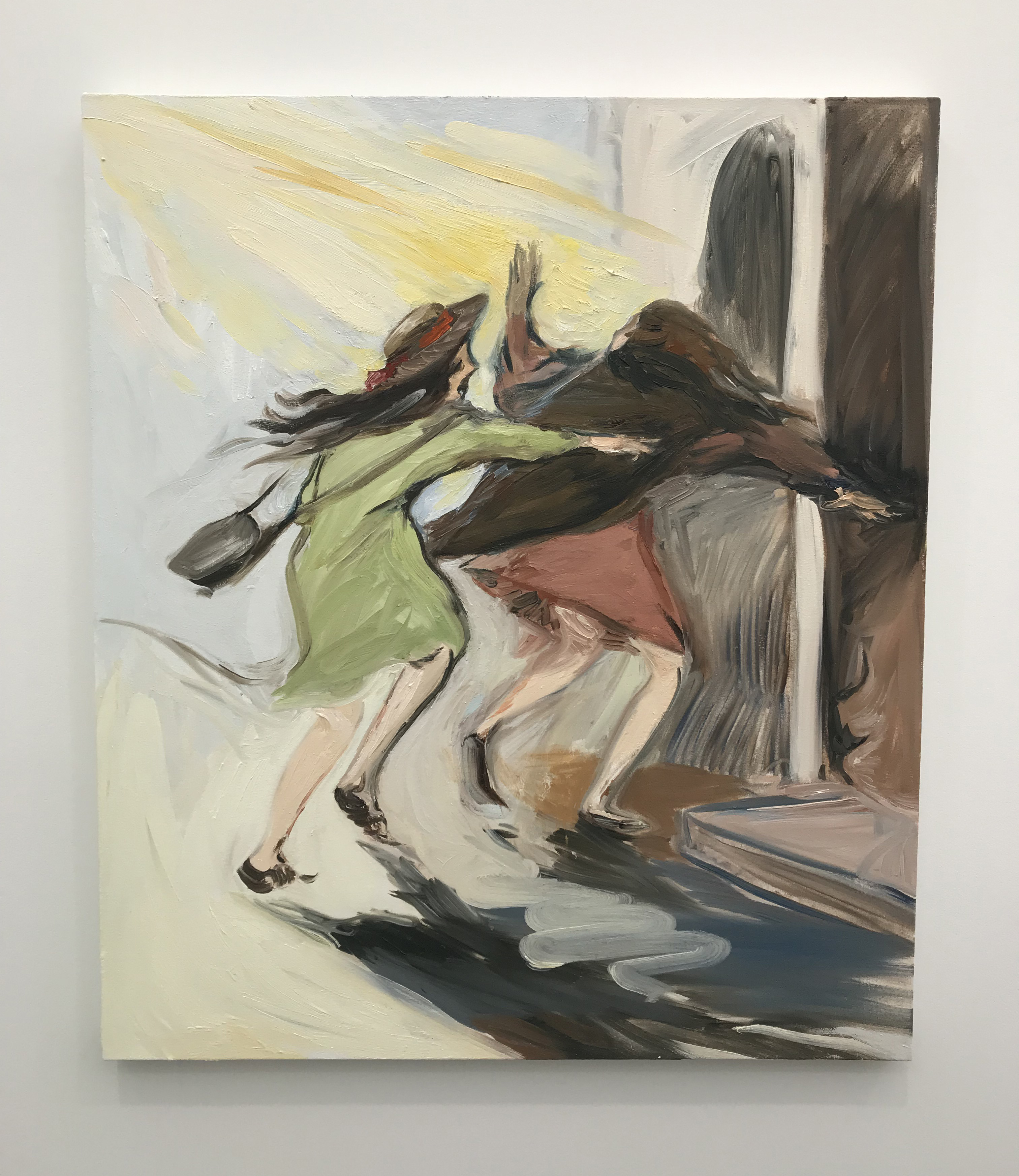 One of the more difficult decisions we made at Frieze wasn't whether or not to feature the work of Jane Corrigan, but rather how to land on just a single painting to feature here; they're all good. (And they're all new.) The artist paints wet-on-wet, meaning she doesn't let the oil paint dry in between layers—a move that risks muddy brown hues and overworked compositions. To prepare, Corrigan paints small oil sketches on paper; the resulting paintings retain the fluidity and movement of wet paint. Her characters, mostly young women from her imagination, could be from almost any time period; her scenes could be almost anywhere. Her primary subjects are vague; it's her smaller, off-center, secondary subjects that tether the artist's compositions to art historical, religious, and mythological references: cherubs in the clouds, a goat on a cliff, a beaming ray of light shining down from the heavens. Corrigan grew up in Shawville, Canada and moved to New York to attend graduate school (SUNY Purchase, 2009). She's currently in a group show at Antoine Ertaskiran in Montreal, and has previously held solo shows at White Columns, Kerry Schuss, Retrospective, Feuer/Mesler, and Marinaro. Corrigan is currently in a group show at Galerie Antoine Ertaskiran, but this booth at Frieze is the first time the artist has had a solo presentation with the gallery.
MARIA ANTO
Lokal_30, Warsaw, F9
La Chasse, 1969
$30,000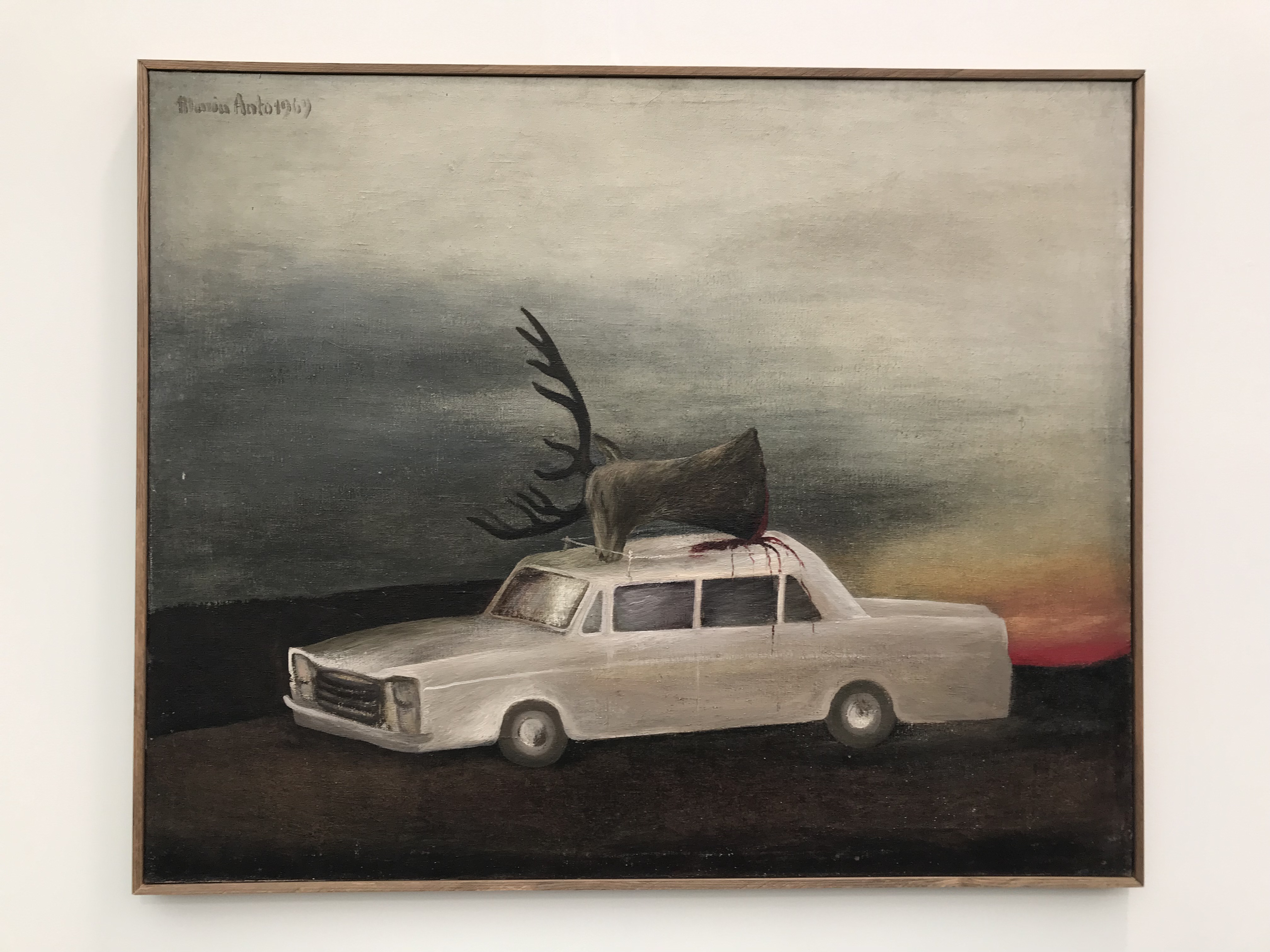 Lokal_30 gallery in Warsaw used their booth at Frieze as an opportunity to "refute the claim about the absence of Surrealism in Polish art," showing works by Maria Anto, Magda Moskwa, and Ewa Juszkiewicz. Ironically, Anto despised being labeled as a Surrealist painter during her life (she passed in 2007 at the age of 71), and yet her work was often compared to artists like René Magritte and Max Ernst, with whom she was friends. In the '60s and '70s, she was one of the most popular painters in Poland. "She found success with her art, but was also a very successful mother, husband, and lover," a booth attendant tells us. "She was a very warm person who cared for everyone." In the 1980s, her works became more political in response to the Polish communist government's mandate of martial law from 1981 to 1983, an effort to quell political opposition. Throughout her career, Anto consistently made moody paintings that featured confident women, tropical and nocturnal landscapes, and visible traces of her experience living in the Nazi-occupied Warsaw during her childhood. Her paintings were a means of escape. Surrealism is having a comeback (we wrote about the forgotten women of Surrealism here), and Anto reminds us why it's so worth celebrating.
KYLE VU-DUNN
The Breeder, Athens, B13
The Witch, 2019
$8,000 - $10,000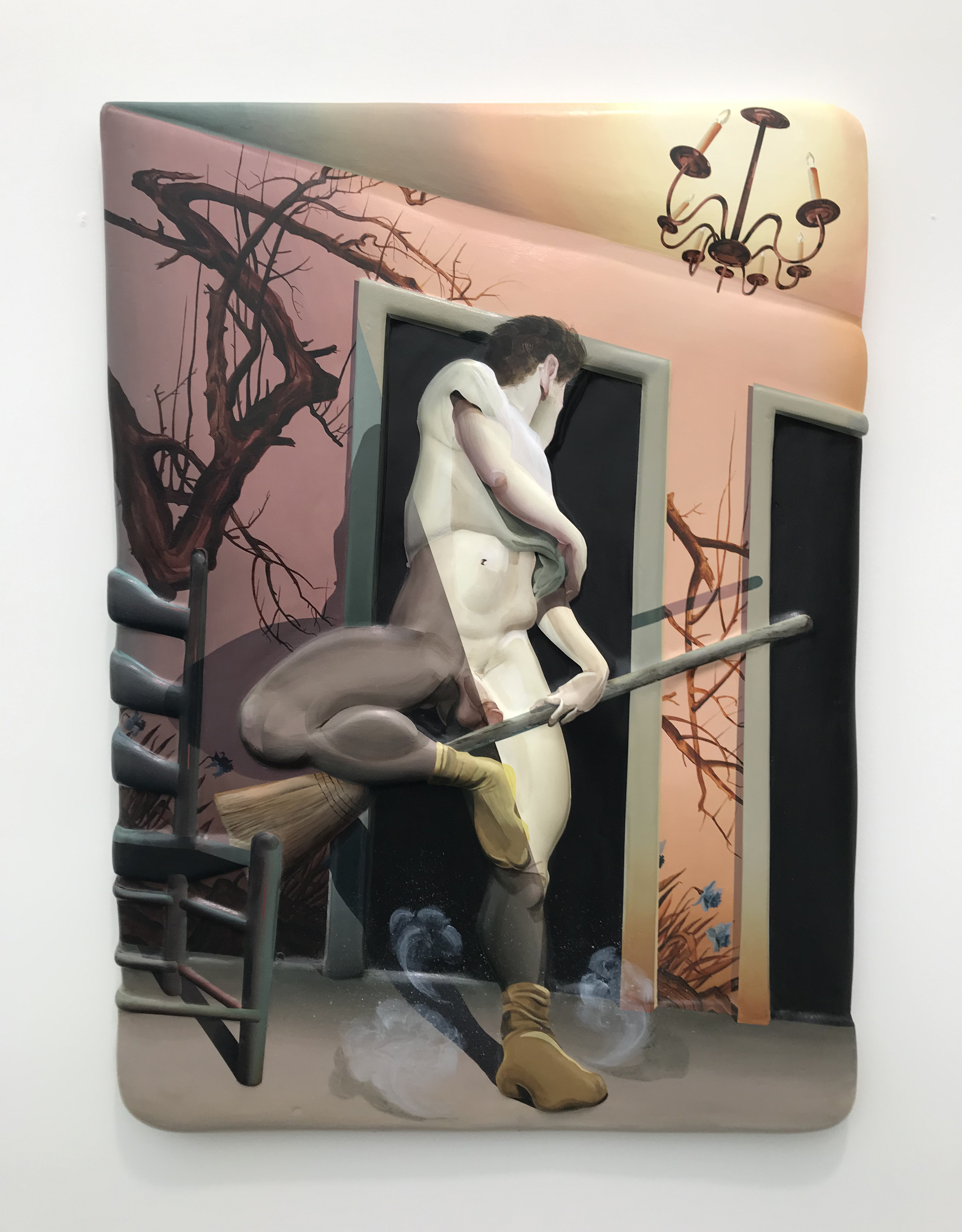 Showing for the first time with The Breeder, the young Brooklyn-based artist Kyle Vu-Dunn paints on plaster surfaces that he sculpts to create reliefs. The works, then, feel more like objects than images, thick and bulbous, protruding from the wall. His scenes are often interior and domestic, albeit with flora and fauna seeping into the frame. His subject exude "sexuality and a queer aspect of life," says the booth attendant. Here, a nude male figure poses with a broom, and the piece is titled The Witch. With a sense of humor, Vu-Dunn is someone we're sure to be seeing more of in the near future. Vu-Dunn has a solo show with the gallery early next year.
ROSHA YAGHMAI
Kayne Griffin Corcoran, Los Angeles, C1
Slide Samples; Windows, 2019
$22,500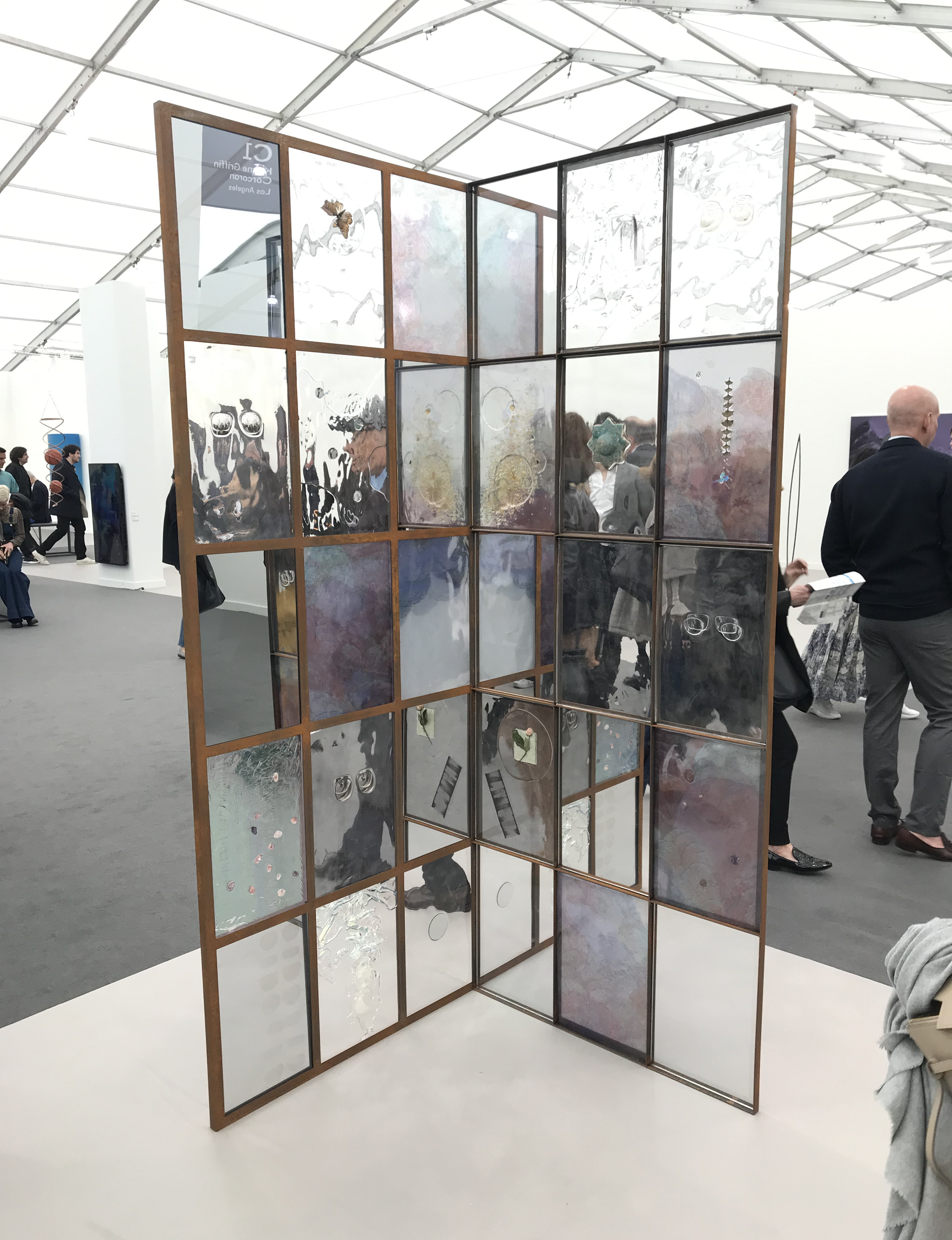 Comprised of resin, glass, rust, printed organza, two-way mirror, found and personal artifacts, Slide Samples; Windows is partially transparent, acting simultaneously as a portal and a blockade, one corner of an implied room. (Though it may appear to have four panels criss-crossed in the middle, there are only two, which are arranged in a ninety-degree angle; the mirrors create the illusion of two more panels than there actually are.) Embedded within a few of the panes are eyeglasses lenses, further emphasizing this notion of peering through and looking beyond, the booth attendant tells me. A piece similar to this was installed at the Hammer Museum for "Made in L.A." There the artist projected images onto the sculpture: photographs her father had taken soon after he immigrated to the United States from Iran. (The Hammer acquired the piece.)
SRIJON CHOWDHURY
Foxy Production, New York, A11
Twin Peaks, 2019
$4,400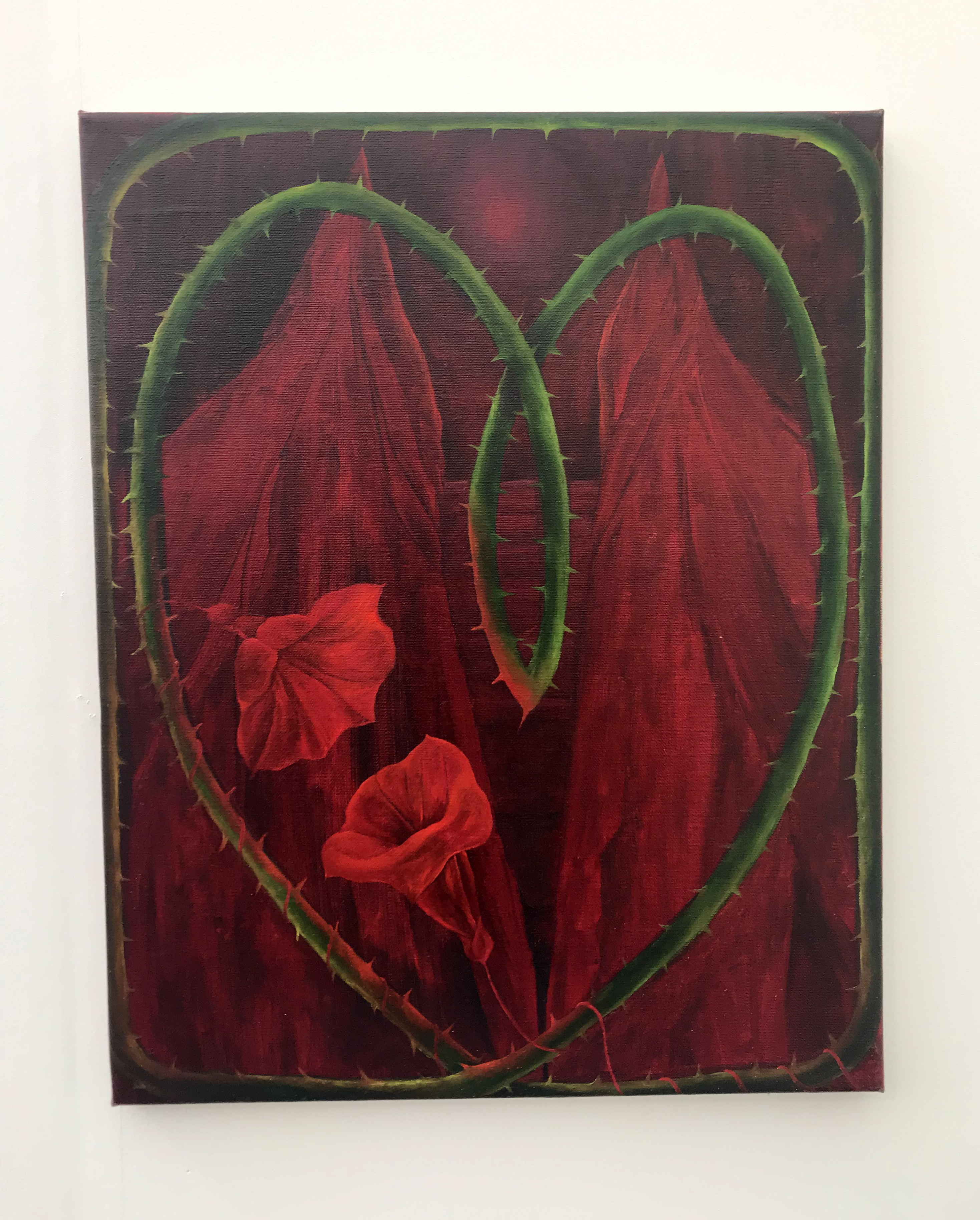 Srijon Chowdhury as the co-founder of Chicken Coop Contemporary, an artist-run project space literally located inside of a chicken coop (yes, the chicken still live there too). The artist, living and working in Portland, Oregon, had shown his work mostly locally and on the West Coast before just recently signing onto Foxy Production's roster. At face value, Chowdhury's paintings are sweetly sincere; flowers, particularly roses, are the only represented subjects in the three paintings on view at Frieze. But his moody approach suggests some irony or at least satire; Twin Peaks is particularly punkish, calling to mind both the Surrealist works of Remedios Varoand or Leonora Carrington and a '90s era grunge album cover.
DAVID ALTMEJD
White Cube, London and Hong Kong, C13
Labyrinth, 2019
$60,000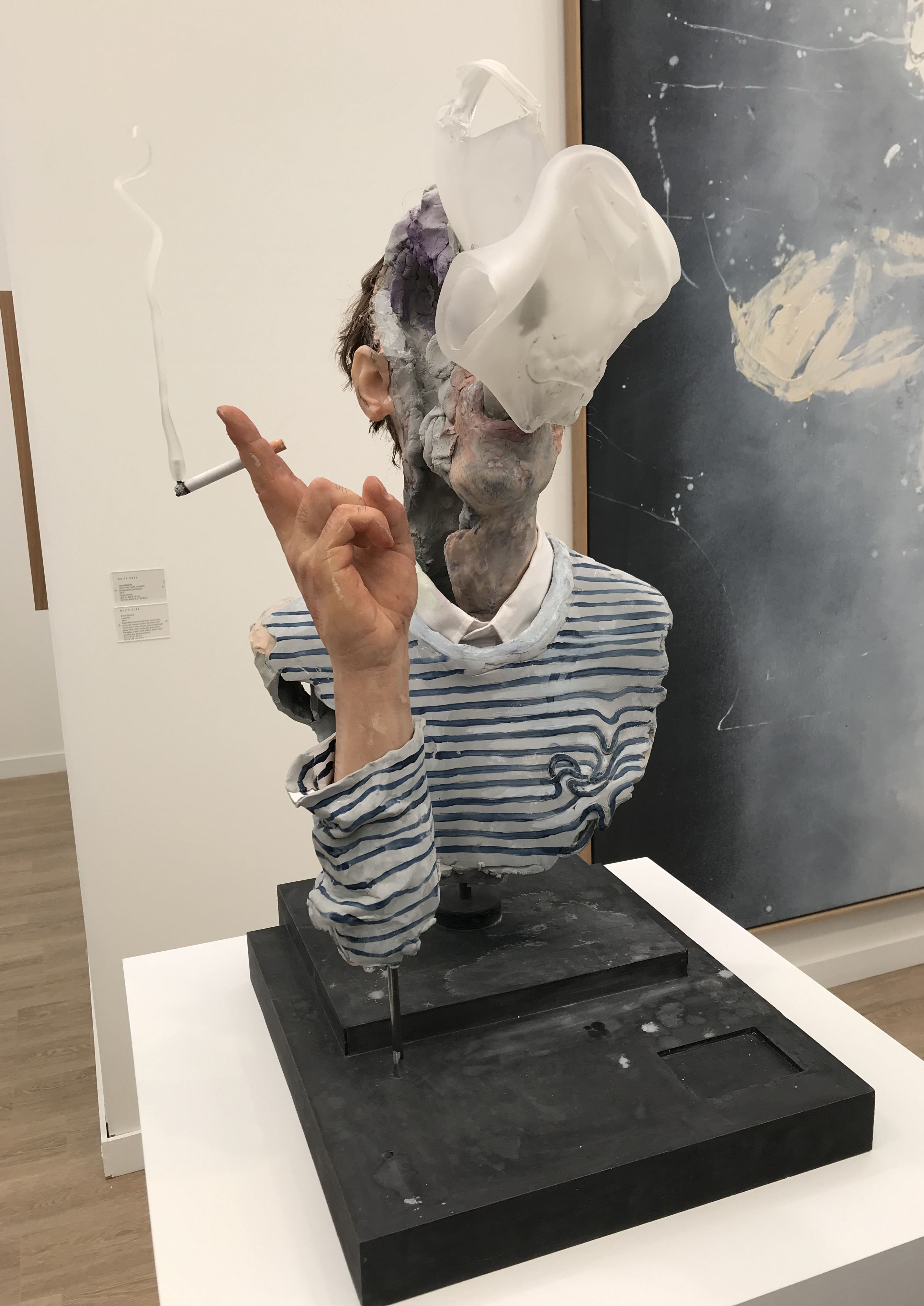 Seemingly one of the most Instagrammed works at the fair, David Altmejd's bust uses blown glass to mimic smoke lingering in the air, post exhale. The Montreal-born, New York-based artist is a master of sculptural materials, and makes figurative works that is at moments highly realistic and at others, surrealistic interpretations of the body, where flesh is replaced by crystal, or where animal features replace human characteristics. "A perfect object for me," the artist has said, "is something that is extremely seductive and extremely repulsive at the same time." Altmejd represented Canada in the 52nd Venice Biennale, has had solo exhibitions at museums like Kunsthal KAdE in the Netherlands, Musées royal des Beaux-Arts de Belgigue in Brussels, and the Louisiana Museum of Modern Art in Denmark, and galleries like Andrea Rosen in New York and Xavier Hufkens in Brussels. Now, he's represented by White Cube; his first exhibition with the gallery is up now in Hong Kong.