Celeste Dupuy-Spencer is not the most gregarious of artists. Back in February, the brilliant, contemporary LA-based painter likened her typical level of human interaction to a "cloaked submarine." Nevertheless, others have been crowding around Dupuy-Spencer's work over the past twelve months.
In the summer, her gallery Nino Mier's booth at Art Basel, Switzerland, was singled out as one of the best at the fair. It featured Dupuy-Spencer's four-panel, oil-on-linen masterpiece, The shape of the rock that's hurling towards the sea. The apocalyptic work, on show in the fair's Statements section, was an expression of "primal feminine rage", channelling Caravaggio and Rococo hunting scenes. Her gallery planned to use the fair to introduce the artist to a global audience, and it really worked. One art website commented that the booth was "quite the introduction to the international scene."
Crowds gathered a little closer to home in November, when Phillips declared a new record for the artist after it's New York auction room achieved $27,720 for her 2019 oil-on-canvas work, Anastasis of the Wild. When first shown in Manhattan a couple of years ago, The New York Times described the work as a picture "in which a gorgeous multicolored wolf trots alongside its own incarnate shadow."
The artist also drew in gallery goers at Prospect 5, New Orleans' citywide contemporary art triennial showing works which grappled with the ghoulish, horrific history of white supremacy in the United States. Pivoting towards lighter subjects, the painter also took part in the Jeffery Deitch gallery exhibition, Luncheon in the Grass, in Los Angeles.
This spring grouping invited artists, including Christina Quarles, David Salle, Salman Toor and Mickalene Thomas, to respond to Manet's seminal 1863 work, Le Déjeuner sur l'herbe. Celeste showed her new work, Ode to Enjoyment, and celebrated the moment when you could see "so many great painters humming an old standard."
Later in the year she had more cause to celebrate when she announced that her hugely important history painting of the storming of the Capitol in 2021, Don't You See That I Am Burning, was acquired by the Hirschhorn Museum in Washington DC, part of the Smithsonian Institution. On announcing the news, the artist exclaimed: "I don't know anything about cigars, so if anyone can recommend a good one, the best one, I'm going to buy it and smoke it and reflect on my life."
CELESTE DUPUY-SPENCER - When you've eaten everything below you, you'll devour yourself/except in dreams you're never really free, 2020/2021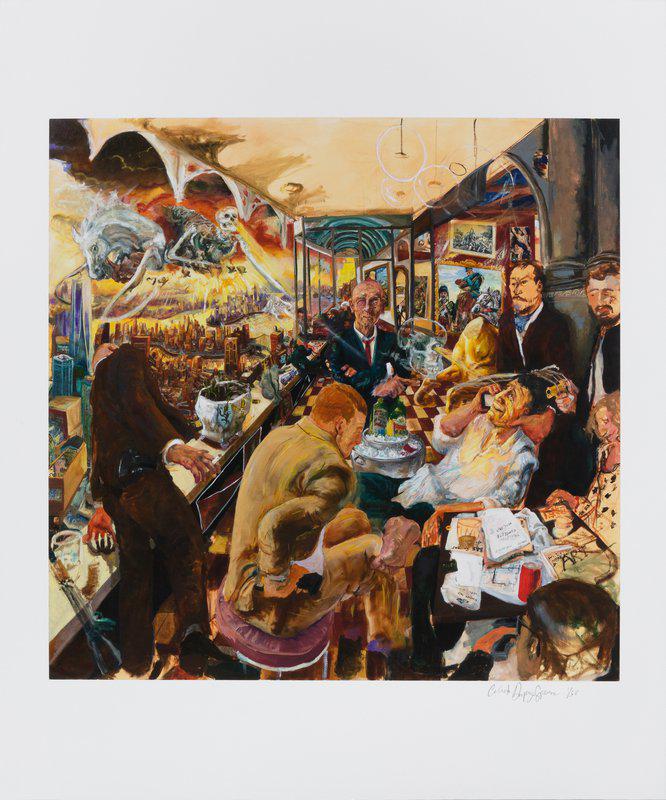 In the Dupuy-Spencer book, But the Clouds Never Hung So Low Before, fellow artist Louise Bonnet says of her work: "I'm usually happy when the paintings are done and they're not in front of me anymore because I'm not sure what I am looking at. I can also change my mind afterwards about the works; when they are out into the world, I see them differently."
Dupuy-Spencer, however, told Artspace for this article that she sees things very differently. "My experience is usually a really unbalanced tortured hell when the shippers come to take my paintings. I go through a depression and protective panic that feels really...honestly...frankly unhealthy. I feel like its more like a cow after giving birth to a bull calf on a dairy farm. Also, almost every time its can be possible I will follow my paintings to the gallery and after the opening I'll basically move into the gallery and keep working on the paintings over nights until they're REALLY ripped out of my hands and sent to their final home."
Dupuy-Spencer has more concrete rules on who picks up her paintings too. In Michael Slenske's profile of the artist published in Los Angeles magazine (and nominated for an LA Press Club award, this year), Dupuy-Spencer revealed that Saudi Crown Prince Mohammed bin Salman attempted to buy a painting a few years back, of Celeste performing cunnilingus on an ex-girlfriend, prompting the artist to enact a 'no fucking royalty' policy with her dealers. "Can you imagine?"she told Slenske in the profile. "What was he going to do with it?"
Whatever rules are put in place for her primary dealer, the gallerist Nino Mier, is more than compensated by the artist's undying commitment. "Celeste is the only painter I know who battles to maximum exhaustion with every work," Mier is quoted as saying in the profile. "It is absolute war in the studio. She has always had an incredible skill for the narrative and that narrative ability has evolved into more complicated subject matters and a combination of emotions, literature, spirituality, religion, politics, art history, painting in general, music and gender."
Thankfully, the artist's following is buoyant enough for her to help others too. In June, Dupuy-Spencer offered a free, all expenses paid "painting class" to anyone who "isn't able to get one where they live".
"I'm talking to people in Texas, Idaho, Wyoming, N.D, S.D, Wis, Mo, Ark, Louisiana, Mississippi, Oklahoma, Arizona, Alabama, Tenn, GA, SC, Kentucky, Ohio, Michigan, Indiana," she elaborated on Instagram, "where art classes have been banned and/or criminalized." This was, as many realised, code for abortion. Celeste was offering to pay for women in need of abortions to come and stay comfortably until the procedure was over.
By example or instruction, Dupuy-Spencer looks set to shape the course of art in 2023 as vitally as she did this past year. If you want to snap up an edition by someone who looks set to be one of the hottest artists of the near future take a look at the Artspace edition, When you've eaten everything below you, you'll devour yourself/except in dreams you're never really free, 2020/2021. You can read about the many, fascinating layers of meaning in the edition described by Celeste here.