With true German efficiency, at precisely 3 p.m. our bus pulled up to KUNSTrePUBLIK , a former train depot converted into an art project space and residency. I was on a tour earlier this fall of Berlin's far-flung nonprofits sponsored by the artist-run Network of Berlin Independent Project Spaces and Initiatives , which had set out that morning to personally deliver the prize money to all of the winners of its annual juried award, sponsored by the culture ministry.
Upon arrival, Andre Schmitz , the city's Permanent Secretary for Cultural Affairs, led a group of 25 local politicians, press, and representatives from the city's project spaces into the complex. After a quick tour of the space, a brief speech by Schmitz, and a €30,000 check presented to the program directors, we all filed back into the bus and were off to the next project space. We stopped by seven project locations in five hours, and €210,000 were awarded in total.
With over 150 independent art sites, most artist-run and not-for-profit, Berlin has the greatest concentration of project spaces of any city in Europe—possibly in the world. They are a large and important part of the cultural fabric of the city and serve an essential role in the art ecosystem, providing introductory venues for the multitude of artists from Europe and the rest of the world who have flocked to Berlin since the 1990s to live cheaply, make work, and gain exposure. Touring Berlin on the "money bus," as it was jokingly referred to, was a unique opportunity to get a broad overview of the main artist neighborhoods, and to see the wide variety of project spaces and types of artistic practice they supported.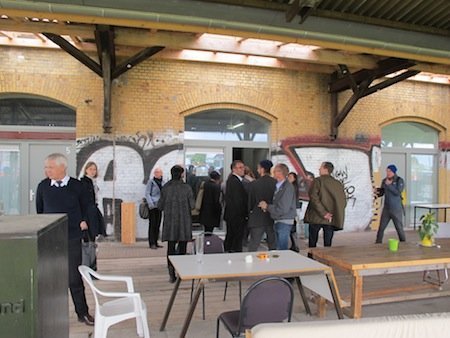 The KUNSTrePUBLIK project space occupies a former railway depot, surrounded by a newly landscaped public park, that has been leased from the city of Berlin.
With most of the sites personally supported by their founders or by a co-op of artists, and the majority having budgets under €5,000 per year, a €30,000 award was obviously a huge windfall, and in fact more money than many of them had plans to spend. Some context: Yasko Fujioka , a Japanese artist who arrived in Berlin two years ago after having lived in New York for 10 years, didn't speak a word of German when she arrived, but within four months had already opened a small gallery-cum-artist-space in the Wedding neighborhood—then had to close earlier this year because of lack of funding. "I could never have done anything like this in New York," she said. "I was able to run the entire program on €3,000 of my own money each year, but even a few thousand euro extra would have allowed me to stay open."
In discussions during the day with gallery owners, arts professionals, and officials from the ministry, much of the conversation centered around how to allocate the funding most effectively to create the greatest impact on the largest number of programs throughout the city. Would 20 awards of €10,000 be a more effective way to allocate funds? With a cultural budget of over €360 million for the city of Berlin alone, most of which goes to more traditional classical music and performance programs, Berlin is dedicated to maintaining its status as a major cultural capital of Europe. Compare that to the NEA's 2013 budget of $138 million for the entire United States and you get an idea of how important culture is to this city.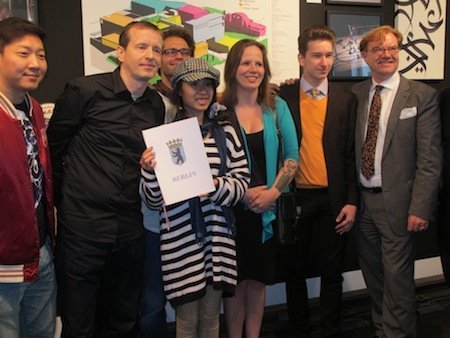 Located in a former manufacturing complex, the Hip Hop Stützpunkt project space and gallery has a focus on urban culture, graffiti, and hip-hop-related exhibitions, workshops, and book releases. In the background is a diagram of their proposed expansion for the space.
We toured the main artist neighborhoods of the city, with the greatest concentration of project spaces being in the Wedding, Kreuzberg, and Neukölln districts, ethnic Turkish neighborhoods that have become beacons for artists coming to the city from around the globe. As a whole, Berlin has the feel of Brooklyn in the 1990s—and with rents last seen in the 1970s, as in large studios for around $300 per month and one-bedroom apartments for about $500 per month. But many artists complain that a similar gentrification that has occurred in New York is happening here, with rents rising steadily in the artist enclaves as young professionals flock to these newly hip sections, thereby pricing the artists out of their local communities.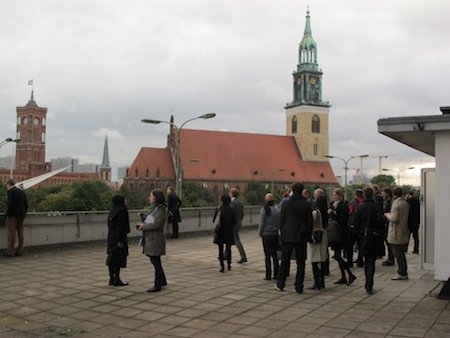 The Lab for Electronic Arts and Performance (LEAP) is a nonprofit interdisciplinary project for electronic art, new media, and performance.
An example of this gentrification is Mitte, which was part of the former East Germany and became an edgy artist area after the wall come down. It has long ago developed into an upscale neighborhood where expensive restaurants, high-end fashion stores, and blue-chip galleries like VeneKlasen/Werner and Sprüth Magers have replaced the artist studios that used to proliferate.
The rising cost of live/work space and the lack of an active market in Berlin—most of Germany's collectors reside in the economic-powerhouse cities of Munich, Frankfurt, and Cologne—was a constant theme on the lips of the artists I spoke to there. Berlin is a great place to live and create art, but a difficult place to sell it, since Berlin has one of the lowest per-capita incomes in all of German. (The city also struggles with an enormous public-debt burden, partially the result of having to maintain the dual infrastructures that are the legacy of its postwar division.) As a result, many artists are leaving for other less expensive eastern European cities like Brussels, which has an active art market and relatively low rents.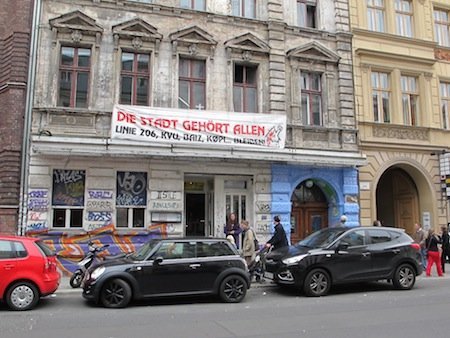 The Jüdische Mädchenschule Berlin ("The Jewish School for Girls") in Mitte was the first such school in Berlin and now houses a museum, the trendy restaurant Pauly Saal, and galleries.
Limiting the gentrification that happened in Mitte is a goal of Andre Schmitz. "One of our biggest fears here in Berlin is gentrification that forces artists to leave the areas they helped to build," he said. "We're trying to figure out ways to avoid this so we don't have the same situation that you've had in New York." Altruism is certainly a motivating factor, but the politicians have realized that attracting and maintaining a thriving artist community makes good business sense as well. Tourism lubricates the local economy, and visits to Berlin have doubled over the past five years.
As a result, figuring out ways to keep the city attractive to young artists is essential to perpetuating the city's strategy of further developing its creative base in order to successfully compete with Europe's other major cultural capitals. Suggestions on the day of the tour included long-term leases of city buildings to artist co-ops and stipulations that would require developers who want to convert existing industrial buildings to provide exhibition spaces in the structures, as well as a certain percentage of low-rent apartments for artists. Will this be able to stave off the forced exodus of Berlin's art community? In a rare confluence of interests, both the artists and the government are hoping so.