Inspired by the California light and landscape, Moroccan textiles and Tibetan monks' mandalas, LA-based artist Jennifer Guidi mixes sand with paint to create atmospheric, abstract compositions that radiate outward to inspire a meditative state of being in viewers.
"I'm exploring color, texture, and form, and this idea of energy creating a vibration, that, when you are in front of the work, is something you can feel," she tells Artspace.
The city of Los Angeles, where Guidi relocated after receiving her MFA from the School of the Art
Institute of Chicago in 1998, has profoundly influenced these radiant paintings, energized
by the city's light, pulsating urbanity and striking natural features, and created in her studio under the sustaining beats of contemporary hip-hop.
The fast-rising artist's work draws from several lineages: the visionary Modernism of the American Southwest; process-oriented minimalism, Light and Space, and lyrical West Coast abstraction.
Deceptively complex and beautiful, Jennifer Guidi's layered painting practice stems from and gives way to a transcendent observation of both exterior and interior worlds. Several major institutions have acquired her work, including the Hammer Museum, the Dallas Art Museum and the San Francisco Museum of Modern Art; and she was also featured in Phaidon's celebrated survey Great Women Painters.
Guidi's work is also in the permanent collections of the Los Angeles County Museum of Art, and Guggenheim Museum, New York. She's represented by Gagosian, David Kordansky and MASSIMODECARLO.
As she releases a new edition, Rainbow Orb 2, 2023, we caught up with this fast-rising art star to find out more about her work which she tells us is, "an introspective psychological journey which relates to my meditation practice."
The edition is based on an original painting with the same title, and is finished with screenprinted varnishes and fine glass beads to recall the cavities and textures that characterize Guidi's sand-encrusted canvases. Each 20.5 x 16.25 inches edition is sold framed according to the artist's specifications to highlight and protect the print's delicate surface details.
Rainbow Orb 2, 2023 is an edition of 35 plus 3 APs and 2 PPs priced at $6,000. "I think there is a timelessness in taking something that usually moves and changes and fixing that and making it timeless," Guidi says. Each of the 35 editions is hand signed and numbered by the artist.
JENNIFER GUIDI - Rainbow Orb 2, 2023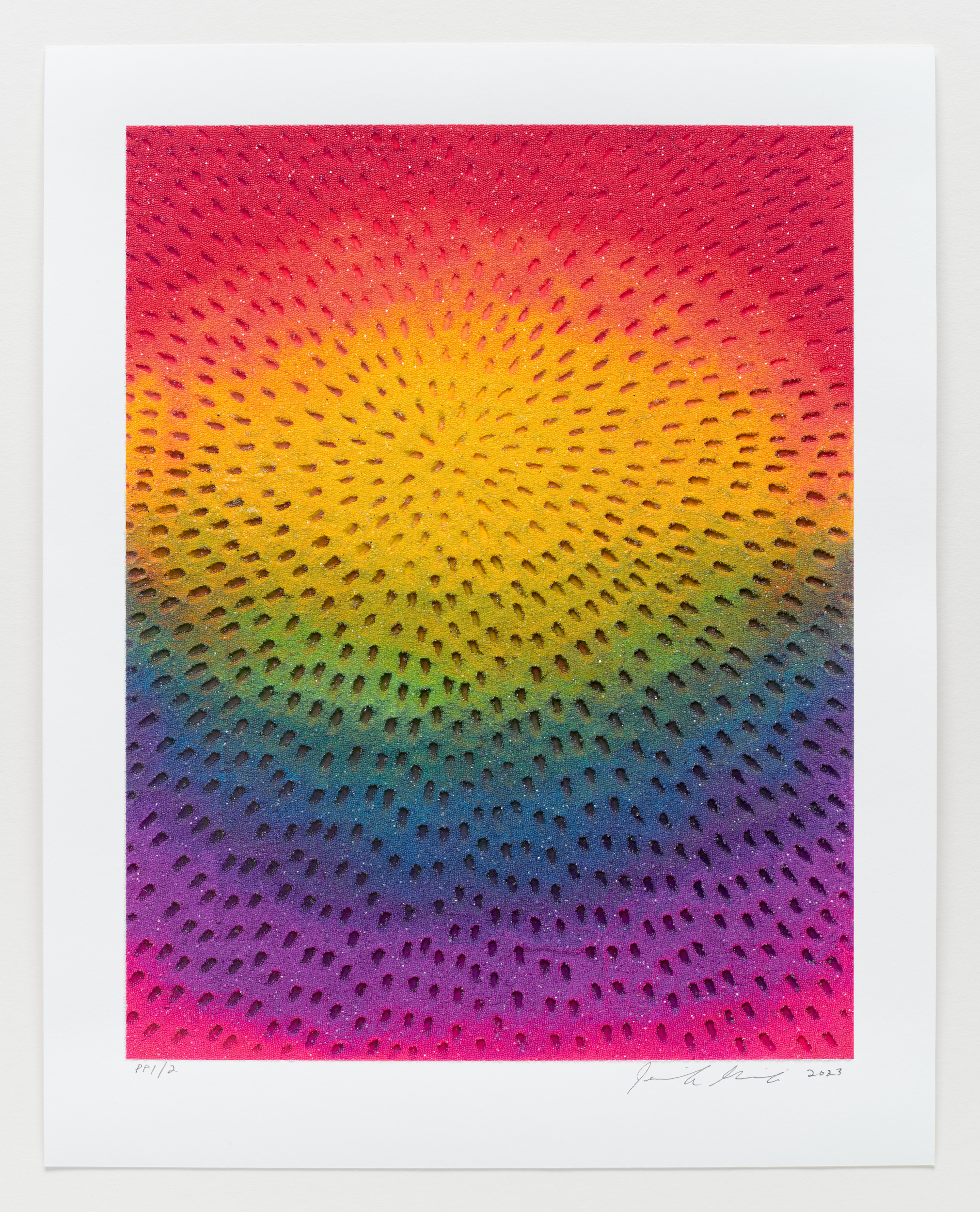 Photography Brica Wilcox
Tell us a bit about the edition It's from a painting called Rainbow Orb which I did in 2017. I've been experimenting with rainbows, nature, and natural phenomenon for a while; so it's quite of an ongoing series of mine.
I view the work as more of an introspective psychological journey which relates to my meditation practice. I'm exploring color, I'm exploring texture, and form, and this idea of energy creating a vibration, that, when you are in front of the work, is something you can feel. I like that the energy I'm putting into it comes out of it and connects with the viewer.
Do you aim to evoke a certain emotion in people through your work? I think there is a spiritual element to it. I don't know if everyone connects in that way. The most common thing I hear from people is that they feel a certain calmness, or joy, and that is what I'm trying to evoke.
Do the paintings serve that purpose for you, as well? I do like it when a piece is finished. I like having the feeling that everything is in its right place–so there is a calmness with that. There is also a sense of love when I finish something. I know it's where I needed to be. It definitely does evoke emotion on a deep level for me.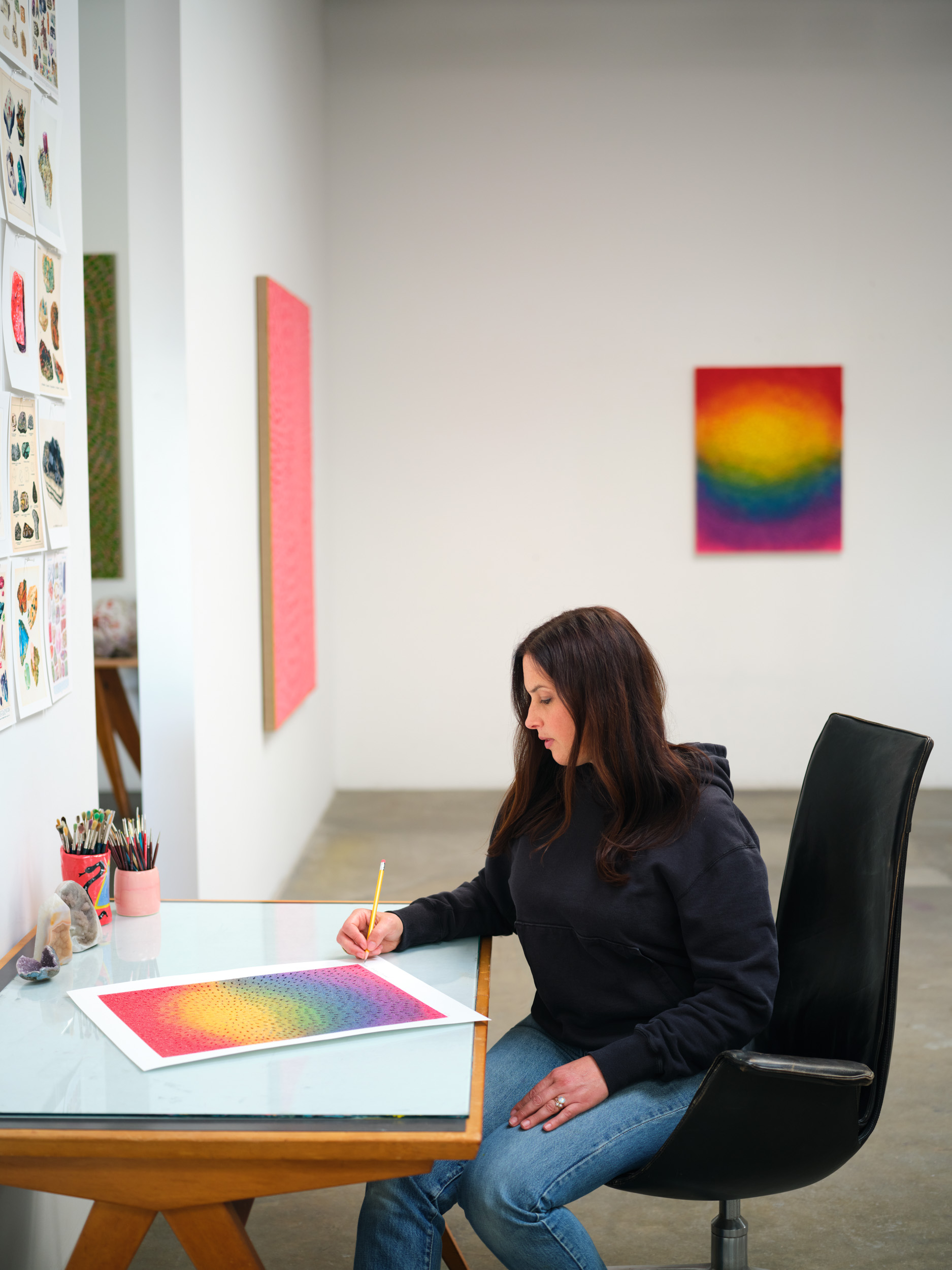 Jennifer Guidi in her studio - photographed by Brica Wilcox
Do you find the act of painting itself meditative? Definitely. When I'm painting, and in that zone, I'm very much in it and don't want to be pulled out of it. And that's a great feeling to be able to connect to a piece in that way. Sometimes it takes a while to connect, and I have to kind of almost fight to get into a different mental place and then I think it is kind of like a wave. Once I feel that connection, I get sucked into it and I'm right in it.
So it really depends on where I am in the painting if it is an immediate connection or whether it's kind of like working out. Sometimes it takes a little while to feel good about where you are and then the endorphins hit and you're like yeah, I'm doing this!
I listen to a lot of hip-hop in the studio. I really connect with the overall beat of it. It's kind of upbeat and keeps me going. But also lyrically, when you're kind of battling or fighting to get to somewhere. I feel like I'm on the same energy level, the same wavelength. It definitely helps me; it feeds me and helps my creativity by connecting with that musical creativity as well.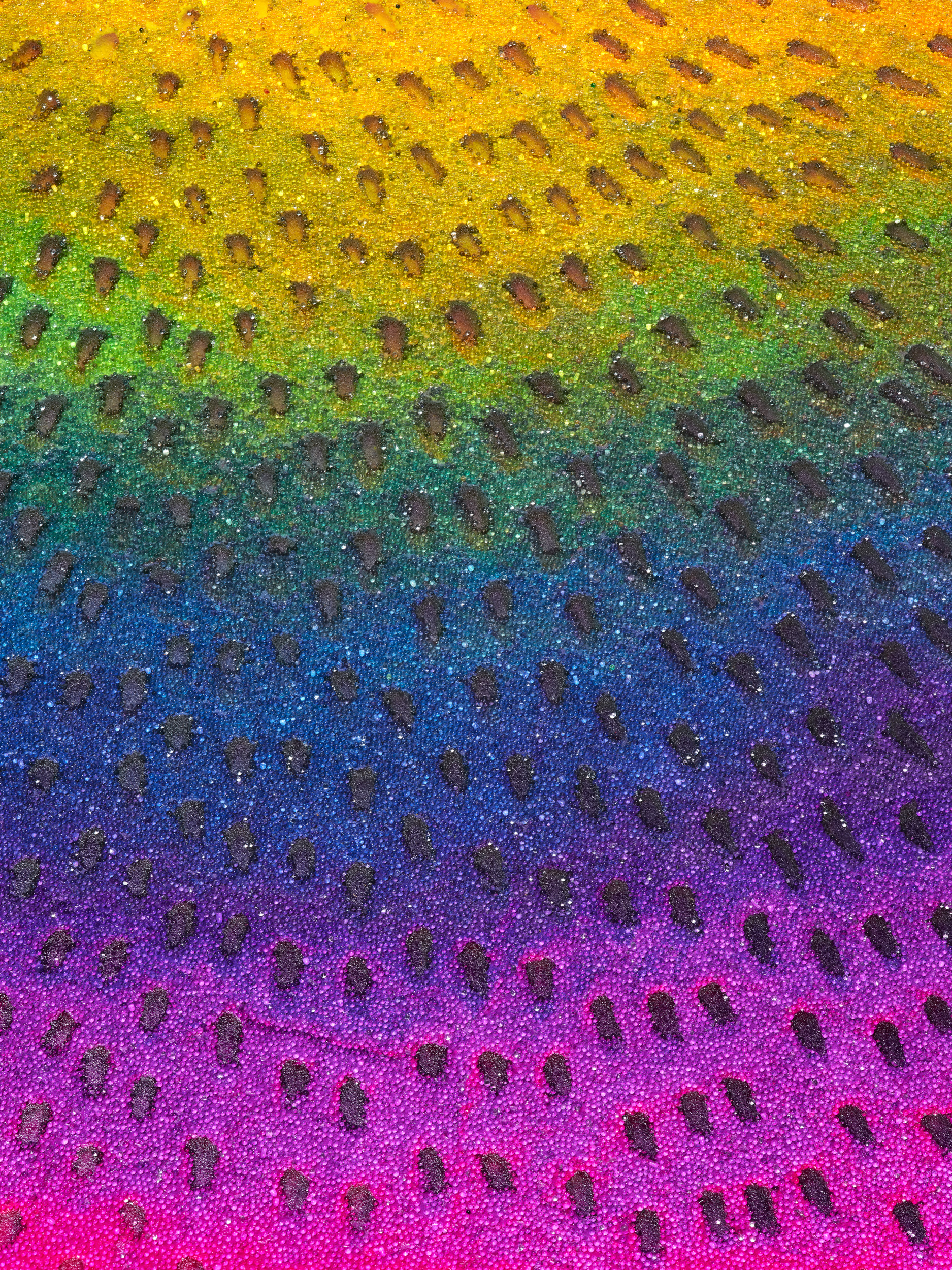 Photography Brica Wilcox
What do people say to you about your work? I think when people respond to the work or come to my studio, they say that they feel a sense of calm. I feel their reading is more than just seeing something on the wall. I feel like they're reading something that is in the work, because I am consciously putting it there. And that's great. I feel like that's the goal of every artist–to kind of know that what you're putting into something can be read by a viewer, or that it can be felt.
Do people use the work to meditate? Some people tell me that they meditate in front of the work. I think there's an unfolding that happens if someone's actually living with the work. There is an overall enjoyment of how light can change throughout the day and reveal these layers in the work. So you can continue to read certain things, or notice things, that you hadn't noticed before.
That's the exciting thing about living with art. I have a lot of art around me in my house and maybe I might not focus on it every day, but something can just catch my eye and I'm back in it, appreciating that piece again.
Do you have different relationships with the different kinds of paintings you make? I work on paintings that reference mountains, and others that are more just explosions of color and energy. My relationship with the mountain paintings can be more of a battle because I don't know where they're going to go, so it's a very different journey.
And also, interestingly, in the sense of them being more landscape-based, there's this journey into the mountain and there can actually be spiritual references within that. So maybe my relationship with those, in a way, can be a little different to one that's just exploring color and joy.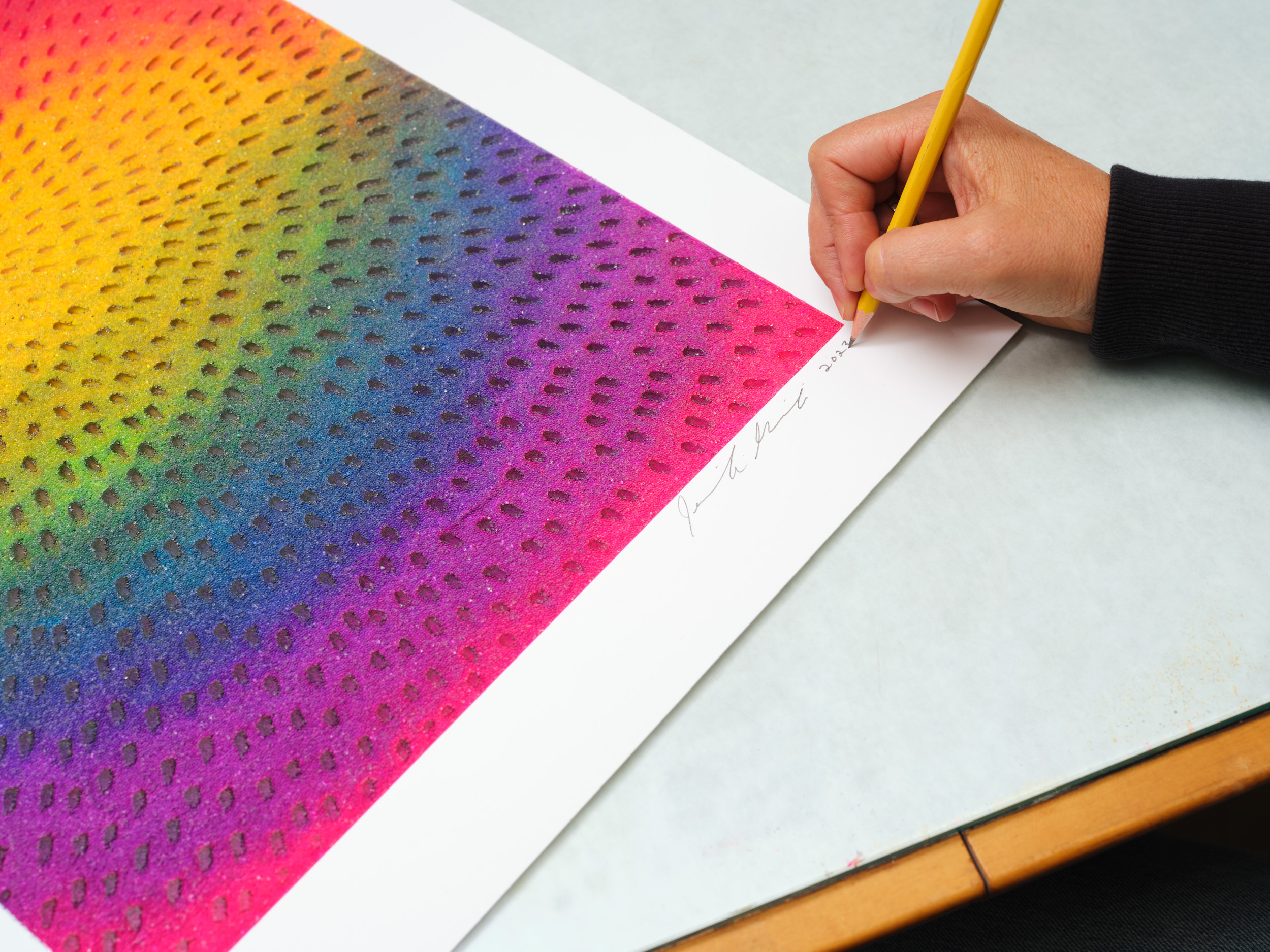 Photography Brica Wilcox
The word 'spirituality' comes up a lot when talking about your work. Have you ever experienced something you can't rationally explain? It's interesting, I don't know if … let's see…. I don't know that I've had a particular experience. For me it's just a journey, and being connected, and awareness. I just like searching out things that keep me in that mindset. It's really about the idea of being connected to this earth, and to the universe, and to others, but also just having a self-awareness.
That does inspire my work because I can sometimes just see a flower, or a bird, or these beautiful colors and I want to translate that into work. Meditation is the same, because if I'm sitting there for fifteen minutes those things are gonna pop into my mind. Sometimes it's' very literal: I should finish this X, Y and Z. And then I go to the studio, and I do it.
Painting is a practice, meditation is a practice; anything we do on a daily basis that maybe doesn't feel like we want to do–that's what stretches us. And I think that's what stretches the work as well.
Did you always consider art in this way, or did that framing mechanism come to you later in life? I think art was always a way that I could get into a different space. I think that's what really connected me to making art. Even as a kid I could really get into it, and I could hyperfocus. I was always sewing and making crafts and drawing in high school.
I'm definitely ADD and there were lots of things that I could procrastinate over. Sitting and making something was a time when I could really get involved, and that always felt good. I feel like it was always there. But I don't think I could really connect the dots until I started meditating–which was maybe like ten years ago–and that was a very slow process.
Around 2013 you began to introduce sand into your work, what inspired that? I was always interested in works with sand in them. It was just something that always caught my eye, whether it was Picasso or Berni; older paintings where there was a sand element.
So it always caught my eye and then I started mixing it. At first, I started mixing it in oil paint when I was still painting more representational work. I was mixing it in the paint and painting it on the ground just to add a certain texture to it. And I was using it as a way to add more oil paint while I was painting an object, because I felt like it could free me in some way.
I moved into abstraction around 2012; I had gone to Morocco and shortly after I went to Hawaii and just being in places where I was surrounded by nature, and surrounded by sand, I just kept thinking about how I could put this into my work.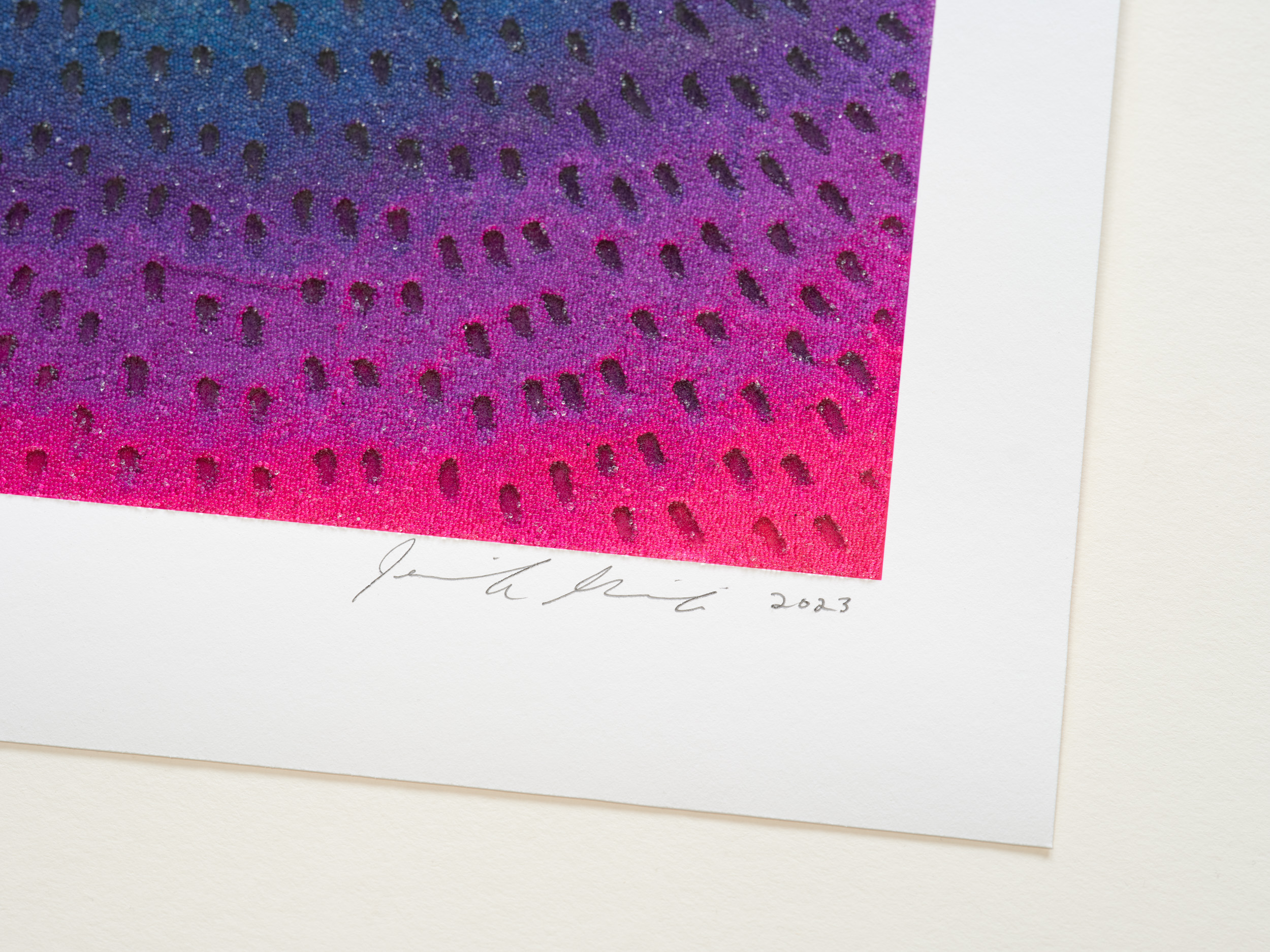 Photography Brica Wilcox
Was it the materiality or the timeless nature of sand that appealed to you? I couldn't really put my finger on it but then, when I was creating my first abstract paintings, I was painting small dots of oil paint and when the sand started coming in, I really liked this element of all of these little pieces, little specks and dots coming together to make a whole. But I think there is a timelessness in taking something that usually moves, and changes, and fixing that, and making it timeless. I wasn't maybe conscious at the time, but I think that ended up playing into it.
You have a new show of work And so it is., from September 16, 2023 through  January 6, 2024, at the Orange County Museum of Art in Costa Mesa, California; what's it like when you see your work go out the door, possibly for the last time? There is a sadness, especially if it's a big body of work going out to a show, and I know that it's not going to be in the studio anymore. There is a letting go, but I think that that letting go enables so much more to happen. It helps continue the creative process.
For your chance to purchase Jennifer Gudi's magnificent edition Rainbow Orb 2, 2023 go here.