Rosa-Johan Uddoh creates counterhistories to uncover the contrived nature of nation building throughout history, writes Amrita Dhallu in in Phaidon's new book Prime: Art's Next Generation. "Performance becomes a political arena where she weaves humor and parody into speculative scripts that reveal the roles assigned to us within this project, often without our consent.
Uddoh's inquiries into self-formation expand into the realm of popular culture, often engaging with a roster of key cultural figures to bear witness to her investigations. As she told the online journal DATEAGLE ART in 2020: 'When I perform, I often perform exaggerated versions of myself that are informed by Black or exoticized characters in popular culture, e.g., Meghan Markle, Moira Stuart, Hercule Poirot, Venus Williams . . . By working through these characters, I'm able to understand their effect on my own identity better, and take some ownership of wider narratives of what a black woman should be.'
Playfully appropriating the medium of the television broadcast, Uddoh undermines the tenets of impartiality and neutrality within British institutional structures (for example, the BBC).
In the series Performing Whitness (2019), we see Uddoh embody the role of the archetypal television presenter, the nation's deliverer of undisputed "truth," adopting their careful and deliberate mannerisms. Staring straight into the camera, she delivers a slew of mismatched and nonsensical headlines, all while retaining the stoic expression of the objective newsreader.
In Performing Whitness 3: Private Life Drama, the newsreader remains committed to this meticulous choreography while using the swirling concrete staircase at Tate Modern as her stage. Uddoh draws our attention to the body as a site where truth, performance, and everyday architectures come together. How do we perform in our spaces of education, work, and leisure? Which historical obstructions have been placed in our way to stop us from attaining, in the artist's words, 'maximum self-esteem'?
For her 2021 exhibition Practice Makes Perfect at Focal Point Gallery in Southend-on-Sea, Essex, Uddoh considered the performances that we have internalized since childhood, the moments when we first encountered the harmful projections of others. Uddoh offers us a way out: reclaim our childlike propensity for play and imagination to reconnect with our true selves." - Amrita Dhallu
Uddoh is one of over a hundred contemporary artists to be featured in Prime: Art's Next Generation, Phaidon's new survey of contemporary artists. We asked her a few questions about her life and art.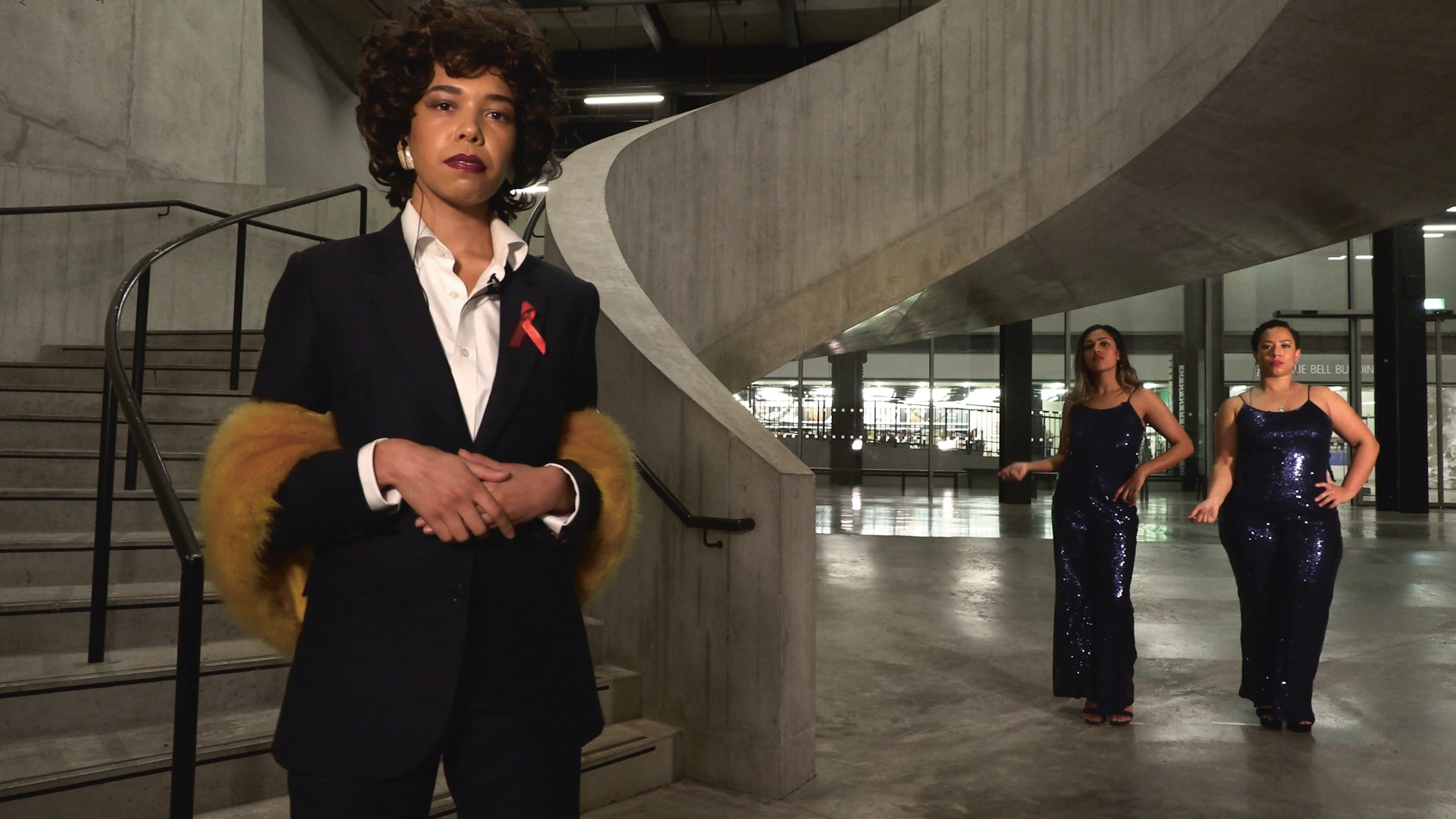 Performing Whitness 3: Private Life Drama, 2019 (stills), HD digital film, 5 min. Courtesy Rosa-Johan Uddoh and East London Cable
How would you describe what you do? I'm an interdisciplinary artist working towards radical self-love, inspired by Black feminist writing and practice. Through performance, writing, and multi-media installation, I explore the effects of specific places, objects and celebrities in British popular culture, on self-formation. Recently, I've focussed on how specific characters perform and produce Black identity. I explore the limits of Black representation in popular culture: what happens when, as a Black person, you lean in to identifying with 'given' role models, and what happens when you pull away.
I often work collaboratively with teenagers as they're experts on popular culture right now. Looking at popular culture in Britain is interesting to me because it's what I know best (I'm born and raised in South London), but also because of its history former colonial center - I'm interested in how popular culture can prop up or subvert power.
What's on your mind right now? Una Marson. I think a lot about what it was like for her to be the first Black programme maker at the BBC, in the 1940s, and how she managed to do so much radical stuff, - raising Caribbean consciousness through her international radio broadcasts, while writing love poems at the same time, all while working at an incredibly conservative institution - literally The BBC Empire Service. My research inspired by her practice is currently on show at The Bower in Camberwell, London.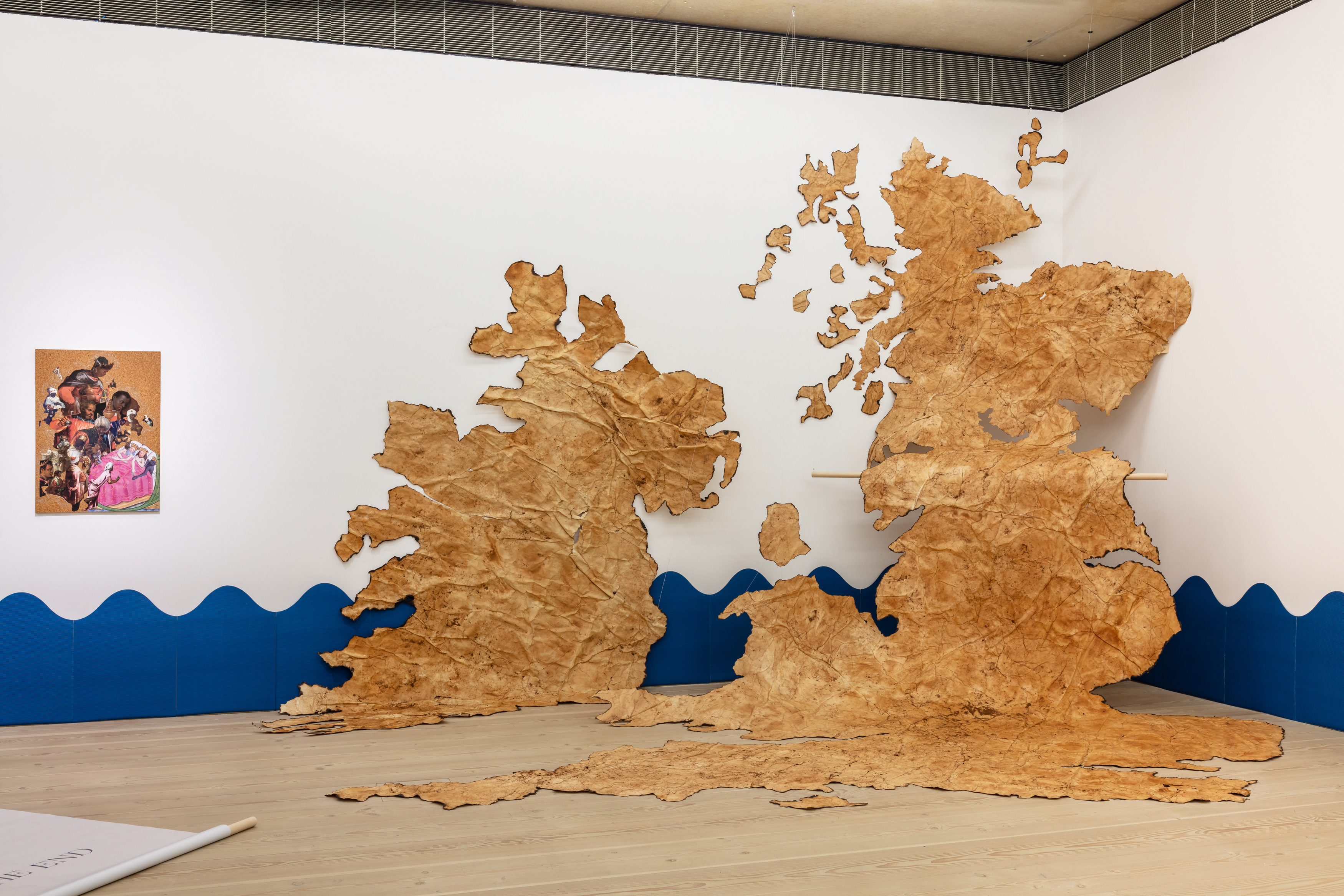 Practice Makes Perfect, 2021, mixed media, paper, vinyl, cork, glitter, tea, fishing wire; [left] Get up mate, we're going to the protest: 23 1/4 x 31 7/8 in. (59 x 81 cm);[right] Mythic Being 4: 177 1/8 x 196 7/8 x 1/8 in. (450x 500 x .2 cm). Installation view: Practice Makes Perfect, Focal Point Gallery, Southend-on-Sea, UK, 2021 Courtesy Rosa-Johan Uddoh. Photo: Anna
How do you get this stuff out? I talk to my friends about ideas I'm obsessed with thinking about until no one can take it anymore including myself and then I have to write it down or make it so that I can reach a new audience and have more conversations about the idea. Lots of the scripts and stories I write are inspired by conversations with others - it's a real collaborative process.
What's the most exciting thing about where you are in your career right now? I'm just about to publish my first book - 'Practice Makes Perfect' - with Bookworks and Focal Point Gallery (to be launched in June 2022). It's a collection of experimental writing for performance. The book comprises a collection of scripts, each aiming to trouble how a particular character in popular culture performs (and produces) 'black British' identity. Presented as scripts, sheet music & instructional worksheets, the reader is encouraged to insert their own experiences and interpretations, in their head or through live performances of their own. Writing a book has always been a dream of mine since I was really young so I'm so excited to have done it!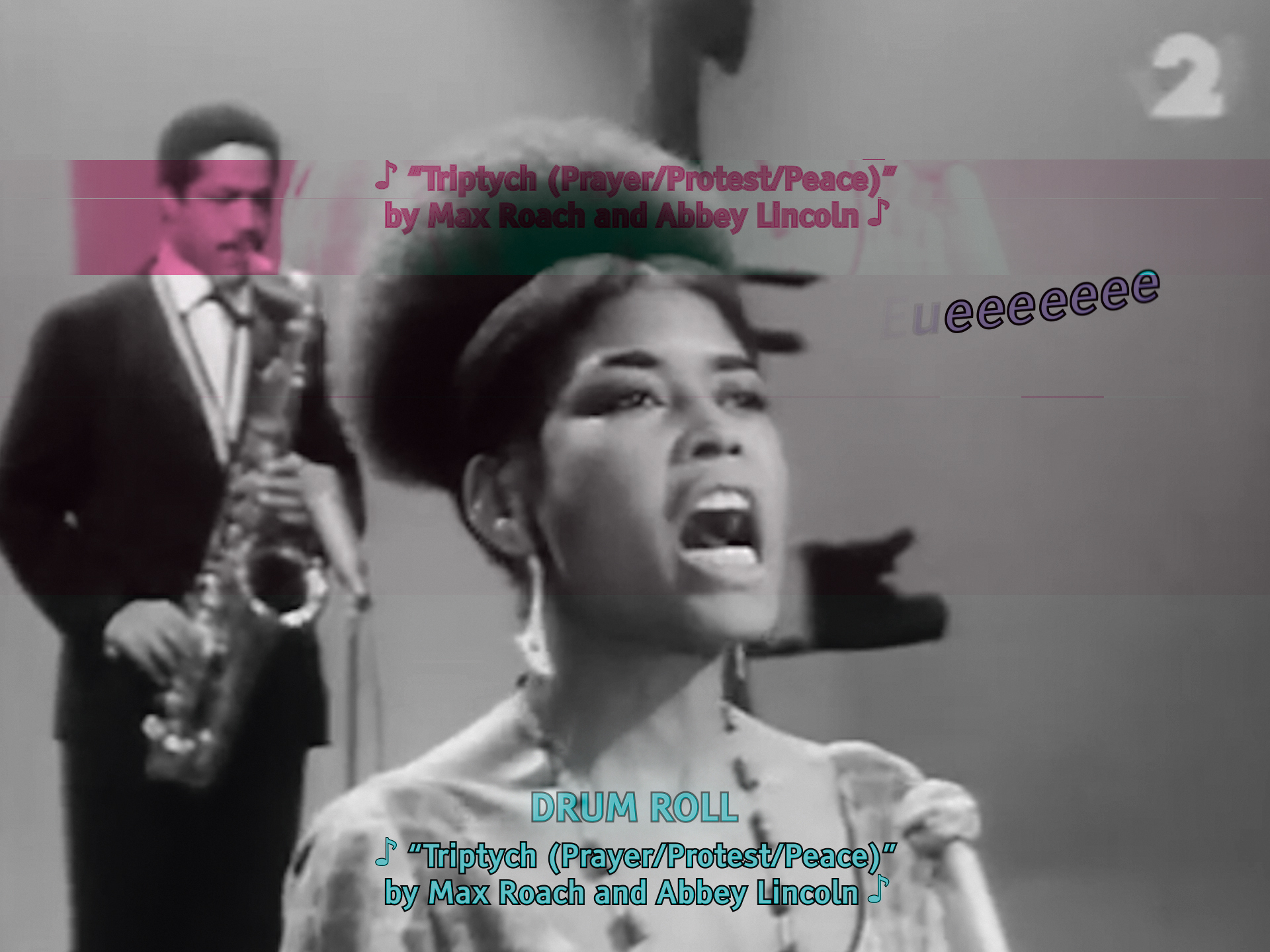 Black Poirot, 2019–21 (stills), digital film, 5.1 surround sound, 22:31 min. Courtesy Rosa-Johan Uddoh
How does it fit together? I like to work on lots of things at the same time, and then see how they hang together at the end. Sometimes it doesn't make sense in the moment, but I also try to resist the urge to try and plan everything out and make sense of things from the very beginning. I teach at a university part-time, and also run a lot of workshops with children at galleries and schools. When I'm not teaching, I'll be making a Victorian ballgown that turns into a human-sized palm tree costume when you lift up the skirt, or writing Agatha Christie fanfiction. I just think to myself, well it's all coming from me so it must tie together somehow. I try not to flatten out or rationalise the experience of being a Black woman.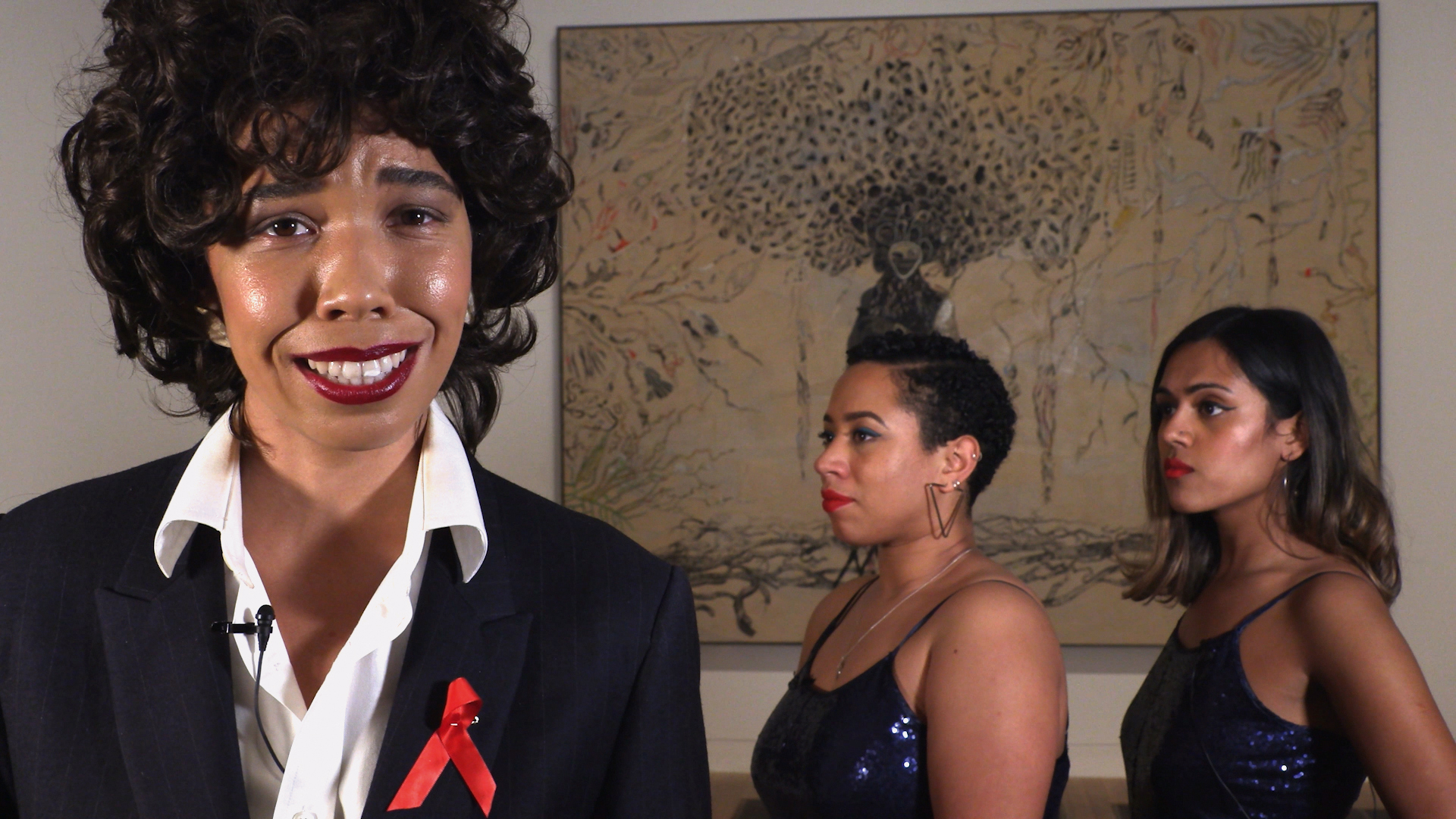 Performing Whitness 2: The Mews, 2019 (still), HD digital film, 3:36 min. Courtesy Rosa-Johan Uddoh and East London Cable
To see more of Rosa-Johan Uddoh's work, and that of the art world's most gifted next generation, order a copy of Prime: Art's Next Generation here. And check out www.rosajohanuddoh.com and @rosa_johan