If you're looking at a Conceptual work of art and look like this:
You're doing it right! As explained in Phaidon's The Art Museum, the world's most comprehensive exhibition of fine art to be collected and presented in book format (each page is its own gallery room!), Conceptual Art "is not meant to be looked at aesthetically, but to be thought about intellectually." In the following excerpt, we present 9 distinct approaches to this mind-boggling movement to see how different artists force our chin into our hands, and have us either scratching our heads, exclaiming "eureka!" or (most probably) pretending to get it in like, a really profound way.
...

Following the precedent set by Marcel Duchamp, Conceptual artists "dematerialize" art in order to emphasize the importance of the ideas and concepts behind it. They are not interested in craft and form, but in the definition of art in general. The importance of Duchamp cannot be underestimated, particularly for young American artists who were looking for an alternative to the dominance of New York's Abstract Expressionism in the years following the Second World War. Duchamp's ready-mades—found objects that he exhibited as art—defied all traditional notions of art: they were not beautiful, they did not express anything personal about the artist, they were not original or unique objects, they had not been crafted by the artist. These objects became art simply because Duchamp chose to call them art, and he had the authority to do so because the art world considered him an artist. For Conceptual artists, Duchamp proved that art is not defined by the qualities of particular objects, but by the discourse surrounding them as works of art—discourse generated by artists, critics, and art historians, and by museums, galleries, and art publications.

Sol LeWitt
Red Square, White Letters (1962)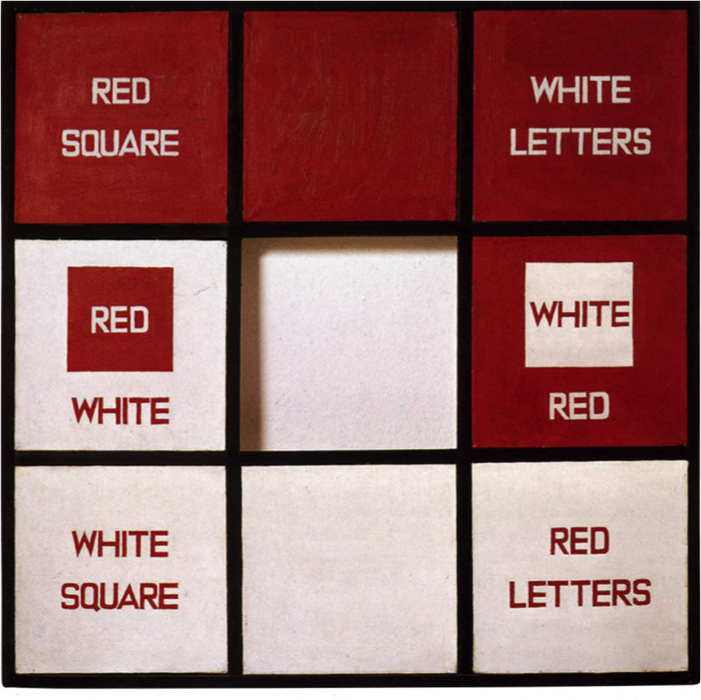 Image courtesy of Artecracy.

Joseph Kosuth
One and Three Chairs (1965)
Image courtesy of WikiArt.
Kosuth (b. 1945) presents a photograph of a chair, a physical chair and a dictionary definition of a chair and asks, which is the real chair? The physical chair could be considered a reproduction of the definition, as is the photograph a reproduction of the physical chair. The same is true of art, an art object being merely a manifestation of the idea of "art." Kosuth rebelled against traditional categories of painting and sculpture. In his essay "Art after Philosophy" (1969) he argued that after Duchamp's readymades, art's only task is to question and define what art is. By choosing simply to paint or sculpt, an artist is merely accepting and not questioning traditional definitions of art. Language, mathematics and systems of order interest many Conceptual artists, as these are the media of pure ideas. Kosuth had compared art to mathematics and geometry, pure geometry consisting of ideas while physical manifestations of geometry belong to other fields, such as architecture. The idea of a rectangle can exist without drawing a rectangle or making a rectangular structure, just as art can be expressed as an idea without a physical execution of that idea.

3. Robert Barry
All the Things I Know But of Which I Am Not at the Moment Thinking (1969)
Image courtesy of Brooklyn Rail.
In this piece by Robert Barry (b. 1936), the artist's concept is to claim the ideas he is not thinking about as his idea for art. His art resides in its idea, not in its physical form. The art statement could be written differently, spoken or thought.


4. Jenny Holzer
Untitled (Selections from Truisms, Inflammatory Essays, The Living Series, The Survival Series, Under a Rock, Laments and Child Text) (1989)
Image courtesy of the Guggenheim.
American artist Jenny Holzer (b. 1950) produces text pieces consisting of pithy statements for which their context is as important as the words. When her anonymous axioms suddenly appear in public spaces, such as on an electronic advertising marquee in Times Square, or as shown here in New York's Guggenheim Museum, the viewer must reckon with an unsettling phrase that seems to possess a Big Brother kind of authority.

5. Mel Bochner
Measurement Room (1969)
Image courtesy of MoMA.
In his Measurement series, Bochner (b. 1940) recorded the dimensions of museum walls and doorways. Using tape and Letraset stencils, he displayed those measurements to full scale in the rooms where they were taken. In the foreground here, a black line and the measurement '82"' are affixed along the wall just above the floor. Similar lines and measurements appear around the door frame and on the wall from floor to ceiling. The artist does not make the space, but he does cause us to think differently about it. This piece reflects Conceptual artists' interest in numbers and systems for organizing concepts (such as space), and in analyzing the institutions that define art. 
6. On Kawara
18 Feb. 1973 (1973)
Image courtesy of Centre Pompidou.
Whereas Mel Bochner is interested in how we measure space, On Kawara (1933–2014) is interested in how we measure time. On 4 January 1966 in New York, the Japanese artist painted the date on a canvas; he has repeated the action on most days since then in his series "Today," or "Date Paintings." The paintings are stored in handmade cardboard boxes with a newspaper from the corresponding day. Some have a subtitle relaying a personal thought or a newsworthy event that occurred that day.  
7. Marcel Broodthaers
Casserole and Closed Mussels (1964–65) 
Image courtesy of Tate.
A found pot and mussel shells are bonded with polyester resin to create an object that has conceptual associations with the world from which it was rent, mussels being a popular dish in Brussels, the native city of Broodthaers (1924–76). Critics have also pointed out that the humble nature of this object contrasts to contemporary American Pop art and the conspicuous consumption of post-war consumer society. Broodthaers (used) art to question the authority of art's institutions and discourses, as Duchamp had done decades before.
8. Piero Manzoni
Artist's Breath (1960)

Image courtesy of Tate.
Manzoni (1933–63) questioned the value placed by the artist on such acts as canning his own excrement and pegging its value to that of gold, and signing and authenticating living people as sculptures. Artist's Breath furthers this ironic pretension. Each breath was captured in a balloon, but the fact that the breath has long ago evaporated negates the concept, leaving only a deflated balloon.


9. Cildo Meireles
Insertions into Ideological Circuits:  Coca-Cola Project (1970)
Image courtesy of MACBA. 
Using a combination of English and Portuguese, Meireles (b. 1948) added to Coca-Cola bottles his own text, including cocktail instructions and political statements such as "Yankees Go Home!". Returning the bottles into general circulation, Merieles thus added his voice to the constant exchange of consumer goods and defied the strict state censorship of his native Brazil. This selection, displayed in a museum, has ceased to be the work of art, because the bottles must be in circulation for the artist's message to be viewed by its intended audience.
 ...
From dissecting and distilling language to science to art itself, Conceptual artists have expertly evaporated all that we see into the lofty realm of ideas, creating works that challenge ideological authority, questioning the limits of what is true. It really makes you think, doesn't it? 

 [related-works-module]