The following excerpt is taken from Catherine Lord's essay "Inside the Body Politic: 1980-Present" in Phaidon's Art & Queer Culture, an unprecedented survey of visual art and alternative sexuality from the late nineteenth century to the present. A just-published revised and updated second edition is now available on Artspace.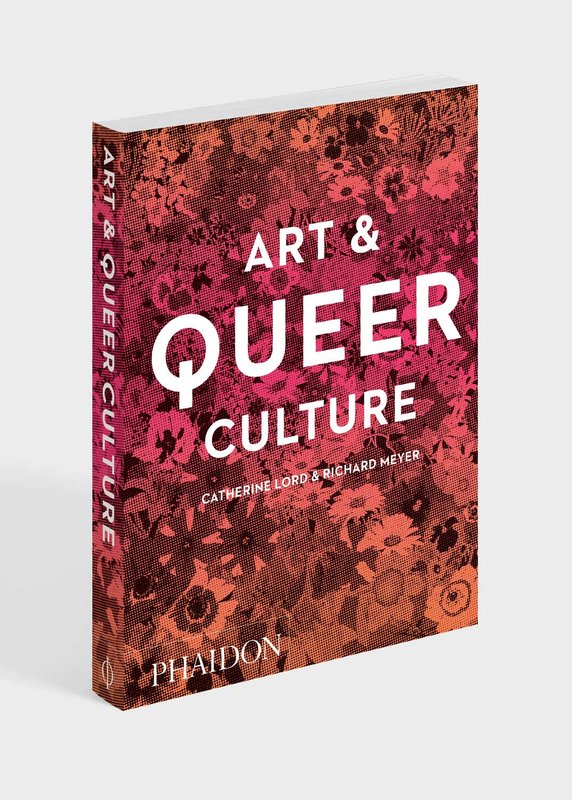 Art & Queer Culture is available on Artspace for $39.
Didier Eribon has noted the mythology of "a phantasmagoric 'elsewhere' for gays, an 'elsewhere' that offer[s] the possibility of realizing your hopes and dreams – one that seemed impossible for so many reasons, unthinkable even, in your land of origin." Judith Butler has proposed that drag performance is not proof of failed heterosexuality but a tool that exposes gender itself as drag, "a kind of imitation for which there is no original, […] a kind of imitation that produces the very notion of the original as an effect." We might collapse these two theories to consider "elsewhere" as a performance of place that produces the effect of a prior utopia, whether temporal or spatial, a performance now amplified by the exigencies and possibilities of globalism. Our history is replete with images of travel. We leave home. We travel first class. Or economy. Even standby. We take the bus. We go on road trips. We hitchhike. We are deported. We hunt the web. If we have to stay at home, we invent our own "elsewhere." In short, we cruise.
Again and again we represent ourselves to ourselves in a state of diaspora: Djuna Barnes's Ladies Almanack (1928), the collages of H.D., Wilhelm von Gloeden's classicized Sicily, Charles Henri Ford's elaborate snapshot albums, Valentine Penrose's montages of the lesbian picaresque, David Hockney's dreams of a Los Angeles he had yet to visit, Bhupen Khakhar's uneasy return to India, and Gay Chan and Nandita Scharma's staged photographs of tourist destinations more appealing that the tourist destination through which they currently happen to be passing.
Kaucyila Brooke, The Flame, San Diego , 1994/1999. Image via the artist's website.
Seen in this light, Virginia Woolf 's Orlando: A Biography (1928) is a masterpiece of gendered geography that flaunts her love for Vita Sackville-West without ever locating the relationship on the map of homosexual culture. Orlando's sex change and her/his frolics through the centuries are nothing compared to his voyages, the voyages of his ancestors, the voyages of the voyagers he meets, and the voyages of the voyagers they meet. When Woolf doubles back from these peregrinations to lavish admiration upon Orlando's ancestral seat, she delivers us not to a point of origin but to a hulk of corridors and turrets bursting with a vast accumulation of stuff, a concatenation so improbable that it could only have been made up as she went along. The building generates the architecture of a fable through which we move too quickly to touch the ground. Entirely like queer culture, our knowledge is provisional. The text of Orlando is more frequently discussed than its images, but the paintings and the photographs of Sackville-West that Woolf mischievously appropriated to punctuate Orlando constitute a performance of lesbian camp worthy of Jack Smith or John Waters—particularly when interpreted as a deliberate spoof on popular representations of the earnest, tailored, mannish modernity favored by Romaine Brooks and Radclyffe Hall (whose Well of Loneliness was also published in 1928).
Dahn Vo, Cultural Boys, Saigon from the installation Good Life 2007. Image via art-it.asia.
Danh Vo evokes another genre of geographical mise en abyme . He owes his Danish citizenship to a caprice of globalism, a result of nothing more than the registration of the ship that picked up his boatload of refugees from Vietnam. His works rigorously divest modern identity of its constitutive elements. In the episodic performance titled Vo Rocasco Rasmussen (2003–present), the artist marries those whom he deems important to him in order to divorce them, preserving the transactions in a gradually lengthening string of words that serves at once as legal surname and wry critique of gay marriage. In A Good Life (2007), Vo substitutes for the lost archive of his childhood the artifacts and snapshots of one Joe Carrier, a RAND Corporation employee who spent the better part of the 1960s in Vietnam. Carrier's images are installed in spotlighted vitrines set into a vaguely 'oriental' damask wallpaper. Each vitrine is titled with one of Carrier's captions. Sleeping Boys, Swimming Boys and Cultural Boys thus populate a fiction where 'homosexuality' is ubiquitous, not a country in which men can and do touch each other without assuming the identity of 'homosexuals.' Carrier's snapshots are surrogates for images that Vo never possessed of a country that never existed, given to him by a man with a metaphor for a name, who may—or may not, as the artist tells it—have cruised Vo one night in Los Angeles.
Duncan Grant and Vanessa Bell, Orlando about the year 1840 , 1927. Image via sangfroidwoolf.tumblr.com.
As gender too can map 'elsewhere' with such force that it reveals itself as a phantasm, producers of queer culture—be that 'high' or 'low,' be they drag kings or theoreticians—have historicized gender while refusing it as the only imaginable site of dissidence. "Male and female it creates them," wrote Gayle Rubin of gender in 1975, "and it creates them heterosexual." Rubin's feminist critique of gender oppression forcefully made the point that traditional definitions of homosexuality (object choice of the same sex) were the product of the institution of heterosexuality, which creates and permits two and only two genders. The liberation movements of the 1970s quickly foregrounded differences between various cultures explicitly concerned with issues of gender, sex, sexuality and sexism: lesbian, heterosexual feminist, gay male and transgender. Jill Johnston's sardonic paean to the short-lived group the Effeminists is one of many texts that speak to the feminist male heterosexual fears of homosexuality. The very existence of the 1977 lesbian issue of Heresies testifies to the blind spots lesbian artists perceived within the confines of a dominantly heterosexual feminist art movement, while groups such as Third World Gay Liberation and the lesbian-feminist anthologies developed by women of color during the last years of the 1970s testify to other blind spots in both gay liberation and feminism. Feminist vilification of male-to-female (MTF) Sandy Stone, who worked for the 'womyn's music company Olivia Records in the 1970s and was thus said to have invaded the space of real women, points to another source of friction.
In the 1980s, however, during the worst of the AIDS epidemic, the need to insist on the right to sexual pleasure led genderqueer dissidents, trans people among them, to lampoon the insufficiencies of gay liberation and feminism through social spaces such as a thriving club scene and spin-off publications like G. B. Jones and Bruce LaBruce's short-lived zine J.D.s. 'Queer' exploded into activist visibility at the 1990 New York Gay Pride march, when demonstrators wishing to take ACT UP's politics a step further distributed a flyer titled QUEERS READ THIS! "It's not about the mainstream, profit-margins, patriotism, patriarchy or being assimilated," wrote the anonymous authors. "It's not about executive directors, privilege and elitism. […] It's about gender-fuck and secrets, what's beneath the belt and deep inside the heart […] We know that everyone of us, every body, every cunt, every heart and ass and dick is a world of pleasure waiting to be explored." The heated arguments that exploded in 1991 over the expulsion of transwomen from the Michigan Womyn's Music Festival were part and parcel of the dykepunk movement, the eruption of local Queer Nation and transgender activist groups and, late in the decade, gay shame protests.
The convergence of street activism, personal testimony, academic work and visual culture enabled the word 'queer' to assume the function of describing political and cultural alliances that only partly intersected with the categories of gay and lesbian, and offered rich provocations to earlier feminist critiques. In turn, this opened the way to performances of sex and sexuality that fractured the supposed links between embodiment and representation. "Queer is by definition whatever is at odds with the normal, the legitimate, the dominant," proclaimed David Halperin from the middle of the fray. "There is nothing in particular to which it necessarily refers. It is an identity without an essence."


Del LaGrace Volcano, The Artist as a Young Herm, Paris , 2004. Image via QX Magazine.
Femme Butch Tops is the title of a song by Tribe 8, the San Francisco dyke punk feminist band whose name rescues the word 'tribad' from the archive of euphemism. Phyllis Christopher's photograph of the band's singer Lynn Breedlove both documents and contributes to the invention of a cult phenomenon that once headlined small San Francisco clubs and, in 1994, sparked protests at the Michigan Womyn's Festival for its rowdy enactments of blow jobs, castrations, and scenes of S/M humiliation. In Christopher's image, a shirtless Breedlove mimes masturbation, wanking off with a hefty dildo that protrudes from her unzipped jeans. Though Tribe 8 has dissolved, Breedlove remains something of a cyberspace celebrity, using Myspace, Facebook and her own website to collate fan photographs, videos of her stand-up act and news about her latest gigs, constructing a gender dissident community in the ripples of virtual space.
Del Volcano, once Del LaGrace, has been a self-described gender terrorist for more than thirty years. Known at the outset of her career as a sex-radical lesbian photographer, she circulated images of drag kings, ruff sex and S/M scenes among friends and in underground publications. Her primary audiences were at first the purchasers of the pro-porn lesbian magazine On Our Backs and the gay men who brought out her first book in 1991. After staging, participating in, and documenting numerous scenes of gender variance, Grace herself crossed a line, around 1998, to become "an intentional mutation," both and neither male and female—a herm, a noun that wittily solves the pronoun problem. With facial hair and a deep voice, Volcano easily passes as a biological male. For convenience and safety, the herm that she has constructed allows the compromise. In the queer community, however, Volcano seeks visibility not as a transgendered ex-lesbian or as a performative drag king but as a multigendered hybrid. In her self-portrait The Artist as a Young Herm, Paris (2004), Volcano re-mixes the signifiers. Cosmetics are everywhere in evidence. One eye features huge lashes, the other a simple stroke of eyeliner. Lipstick, a mustache and a balding pate are hard to miss. Breasts have been removed. The bowler hat, a classic sign of androgyny, becomes not so much a reference to muddled gender as a comic anachronism.
Sharon Hayes, In the Near Future (detail), 2009. Image via Tate.
Sharon Hayes is every bit as skeptical as Volcano and Breedlove about the baggage carried by the terms 'gay' and 'lesbian,' but in questioning the nature of dissidence, and dissonance, her medium is quotation rather than embodiment, her method breaking the links between memory and history. Her projects have involved one-on-one street interviews in New York with subjects who fail to add up to an abstraction called 'public opinion,' re-performances of docent interpretations of the historic homes of famous women, proclamations of love piped into locations from which she has absented herself, and the Revolutionary Love performances described in the Preface to the surveys in Art & Queer Culture . I AM A MAN is a detail from the ongoing series "In the Near Future," in which Hayes travelled Manhattan as a one-woman movement, holding aloft placards of activism from previous decades: "Ratify E.R.A. NOW!," for instance, referenced the sixty-year campaign to pass a constitutional amendment guaranteeing equal rights for women in the US. I AM A MAN is the only Hayes performance, at least to date, to have attracted police attention. Held stubbornly in the air, the placard offers a multivalent set of references. Hayes stands in front of St Patrick's Cathedral, the site of a massive ACT UP protest against Cardinal O'Connor, one of the homophobes who starred twenty years earlier in Gran Fury's Let the Record Show . Her placard quotes Glenn Ligon , a quoter from an earlier generation, some of whose black and white oil-stick stencil paintings are made from the disintegration of the words 'I Am a Man.' In turn, Ligon's painting quotes the placards held by striking sanitation workers in a 1968 image by Memphis civil rights photographer Ernest Withers. Hayes's solitary protest, then, invokes and destabilizes several struggles for agency—black, female, and transgender. If anything, Hayes appears to be a mousy flâneuse, not a transgender or African-American activist. She asks her audience to contemplate the ways in which things do not line up, to untangle the alliances and identifications necessary to something as utopian in its possibilities as 'queer culture.' Could she be a terrorist? A tourist? A nerdy drag king? A female artist? A transman? An agile semiotician? A defender of compulsory interdisciplinarity?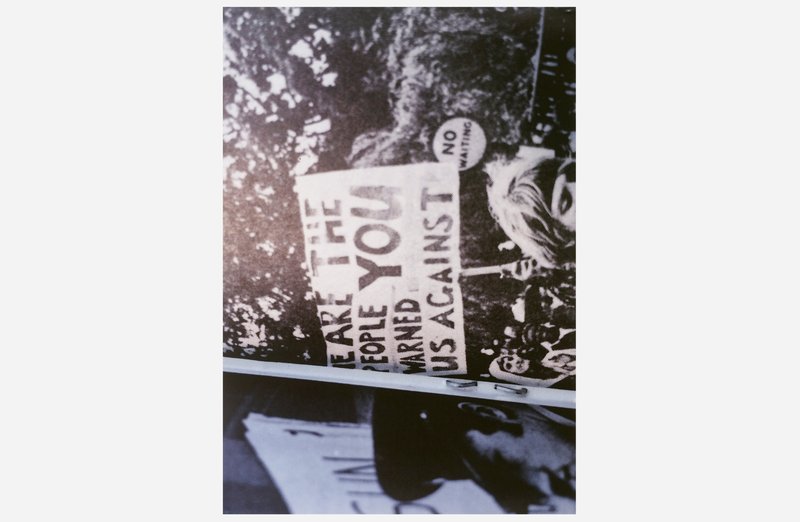 Sharon Hayes, We Are the People (2016) is available on Artspace for $237
Even to fantasize such a list, however, is to acknowledge that queer "has been the victim of its own popularity, proliferating to the point of uselessness as a neologism for the transgression of any norm (queering history, or queering the sonnet). […] If everyone is queer, no one is." The anthology in which the essay that I cite was published premised on the dilemma that queer academics now confront. An insurrection intended to destabilize culture—sparked in the intersection of the sex wars and the early days of AIDS—now has a past, and may well be passé. Some of the pioneers got tenure. A few have retired. Certain artists inspired by 'queer theory' have achieved canonical status. Fred Wilson represented the US at the Venice Biennale in 2003. Catherine Opie had a retrospective at the Guggenheim Museum in 2008, and Félix González-Torres in 2010. Glenn Ligon had a retrospective at the Whitney in 2011. Earlier artists such as Paul Thek and Kenneth Anger have been the subjects of renewed interest, with major exhibitions of Anger's work at MoMA PS1 in 2008 and Thek's work at the Whitney in 2010.
[related-works-module]
Predictably, then, the menus solicited by the word 'queer' have in themselves become for younger artists something of a subgenre—parodic, expansive, and mischievously utopian. Consider these snippets (taken from a much longer list): "Bakassi People, transwomen, queers, fags, Ainu people, dykes, the under privileged, the muff divers, Inuits, refugees, the shabby chic, bulldaggers, the leisure class, queens, men, Aymaras, drama queens, […] Kabylians, cosmopolitans, bois, FtoMs, MtoFs, the middle class to working class, the working class to under class, East Indians, old maids, […] wiggers, clandestinos, other genders, Palestinians, the undocumented, Afro-Latinos, nouveaux pauvres and global workers." Delivered as part of a lecture at a 2010 feminist symposium at the Moderna Museet in Stockholm, the deadpan inventory eviscerates meaning from the word 'queer' by refusing to make hierarchical distinctions between categories of sexuality ("bulldaggers"), gender ("men") and race ("wiggers") and those of nationality ("Palestinian") and furniture ("shabby chic").
This satirical jab at the museological apparatus stands in vivid contrast to the weighty controversy surrounding the Smithsonian Institution's decision in December of 2010 to remove an edited DVD version of David Wojnarowicz 's 1987 film A Fire in My Belly from the exhibition "Hide / Seek: Difference and Desire in American Portraiture" at the National Portrait Gallery. A well-funded, high-profile scholarly exhibition, "Hide / Seek" demonstrated that same-sex desire was a constant in the canonical story of modern art in America. The National Portrait Gallery is not an avantgarde space, however. "Hide / Seek" focused on traditional media, and film was so marginal to the exhibition that Wojnarowicz's work went unmentioned in the catalogue. None the less, "Hide / Seek" was the first major museum show in America devoted to homosexuality (even if the word, prudently, didn't appear in the exhibition's title). The Catholic League and conservative American congressmen publicized their objections to the film—specifically, to an eleven-second sequence of ants crawling over a crucifix—in order to manufacture a scandal about a supposed attack on Christianity. Internet technology took the affair viral. Not only were campaigns easier to organize, but Wojnarowicz's work achieved wider distribution than it had ever had before.
In actuality, however, the aspirations of the exhibition and the magnificence of the venue magnified the event to supply a spectacle of 'Wojnarowicz.' Those who objected hadn't actually seen the work in the exhibition, relying instead on a YouTube video featuring a performance by singer Diamanda Galas as well as clips from Wojnarowicz's film. The work that the art community subsequently moved to defend, and promptly distributed via YouTube, was an edit of A Fire in My Belly made for "Hide / Seek" by curator Jonathan Katz, who had felt it necessary to cut the film to four minutes. In other words, the work originally censored was not in the exhibition, and the work defended was a collaboration between an art historian passionately committed to opening his field to queer culture and a museum sensitive to the attention span of an audience.
The protests against the Smithsonian, necessary though they were, are cumbersome compared to the more intimate tactics deployed by the artists and shifting collectives who identify as genderqueer. Such artists see the support of art institutions as incidental to the production and distribution of their art, and collaboration to be as at least as important as an individual practice. The attention recently paid to histories of feminist art has served to provoke several such groups, who have returned to second-wave feminism to reinvent and improve it—sometimes satirically, sometimes affectionately. They offer, in their words, "a new team under an old threat." Working in London, Emma Hedditch often chooses to provide the ground for the actions of others rather than manufacture her own products. In 2004, for the project A Political Feeling I Hope So at Cubitt, she created a short-lived feminist space, defined by a separatist curtain made of duvets, and made it available for women to hold meetings, play music, show films, and so on.
In Sweden, the YES! Association formed in response to the state-funded exhibition "Art Feminism: Strategies and effects in Sweden from the 1970s up to the present day," which they viewed as a superficial effort to disguise an institutional record of gender discrimination rather than proof of institutional change. Their Moderna Museet performance, mentioned earlier, was conceived as a critique of the one day that the museum allotted to a symposium on feminism. The script of the performance was filched from fragments of essays by contemporary feminist writers, which the YES! Association strung together to make a screed on anger. They then invited actor Lea Robinson to rattle the symposium by lecturing the audience—literally—in the role of transgender African-American activist Lee H. Jones.
In New York, a group called LTTR solicited material for their 'collective song' through a series of thematic open calls. They published five issues of an eponymous journal between 2003 and 2006, making up a new meaning for the acronym with each one, including 'Lesbians to the Rescue' and 'Listen Translate Translate Record.' Something of a limited edition artists' book, LTTR welcomed to its pages all sorts of artists and mediums, reanimating second-wave feminism by orchestrating understandings of gender and generation, race and nation under such rubrics as 'positively nasty' and 'practice more failure.' The group has since disbanded, rendering the journal, and its online archive, the most tangible residue of their activities. It is, however, a relatively small element in a performative social practice that included curating exhibitions, throwing parties and organizing workshops, including one on transgender legal issues.
Andrea Geyer, Criminal Case 40/61: Reverb , 2010 (screenshot). Via Youtube.
In practices such as those of Hedditch, the YES! Association and LTTR, transgender is a central concern, not only as a descriptor of body and mind but also as invitation, metaphor and theory. Indeed, as transgender historian Susan Stryker writes, 'transgender' has come to suggest a crossing that may in fact have little to do with gender, much less homosexuality. "It has come to mean the movement across a socially imposed boundary away from an unchosen starting place—rather than any particular destination or mode of transition." Andrea's Geyer's Criminal Case 40 / 61: Reverb (2010) puts transgender at the center of the narrative without allowing the narrative to centre on a genderqueer figure. Geyer's work dissects historical trauma and the paralysis of memory through restaging elements of Adolf Eichmann's 1961 trial in Jerusalem. The main element of her piece is a circle of six LCD video screens. Each features one character, named only by his or her role: Accused, Defense, Judge, Prosecution, Reporter and Audience. Two are easy to recognize—Eichmann, the prototypical 1950s gray-suited bureaucrat, mumbles, while Hannah Arendt, the most celebrated journalist at the trial, opines animatedly through clouds of cigarette smoke. Each character performs sections of the trial transcript as well as passages from Arendt's writings. In Geyer's dispassionate analysis of an archive, which the viewer digests while sitting on a hard bench, the scene-stealer is the artist Wu Ingrid Tsang, who performs—bumpily, without the skill of a trained actor—each of the six characters. It is his, or her, undecidedly gendered and ambiguously raced figure that both anchors and rocks Geyer's examination of history and memory, dislocating what would appear to be another story entirely—not from its margin but from its very center.
"Some works," writes LTTR's Emily Roysdon, "speak pleasure to power. They shake their sensuous amputated left hand at the invisible naysayer and say, 'Why not?'"
[related-works-module]
RELATED ARTICLES:
Jess T. Dugan's Graceful Portraits Capture Transgender People as They Age
Dandies, Butts, and the "Homesse": 5 Examples of Queer Art Before Queerness "Existed"