Art Basel opened its gleaming doors with Swiss efficiency on Tuesday to greet a mob of art-ravenous Continental VIPs, and with two floors of booths by the world's premier galleries collectors found plenty to sate their appetites. The displays on offer are on the whole first-rate, wonderfully varied, and, as usual for a Venice Biennale year, containing more than a few works by artists in that international exhibition. Here is a sampling of some of the best works at the fair.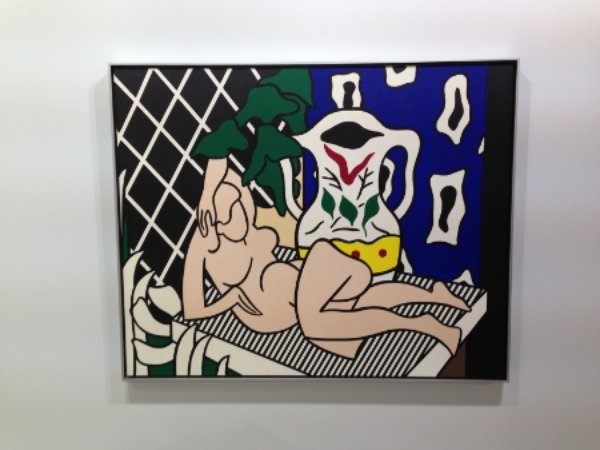 Roy Lichtenstein's
Still Life With Sculpture
(1974) at Edward Tyler Nahem Fine Art



Any great contemporary art fair needs a great Lichtenstein, and this piece has wall power to spare with lush colors, tricks with scale (is that a posing model or a tabletop sculpture, given the size of the vase), and an always welcome similarity to Picasso's auction-record-setting

Nude, Green Leaves, and Bust

.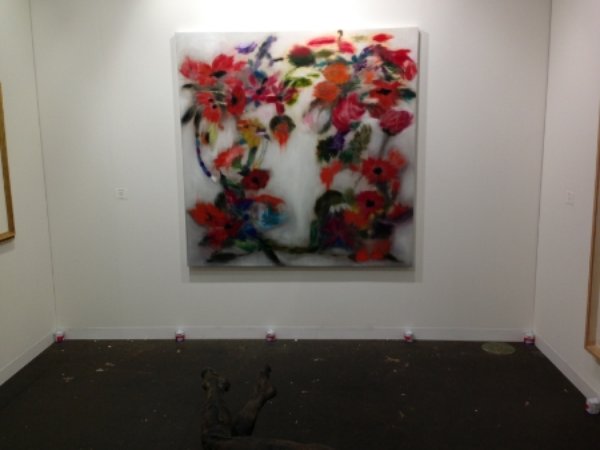 Andreas Slominski's
Hizkorperfarbe
(2013) at Jablonka Galerie



Lining the floor of Jablonka Galerie's booth—here seen underneath a new Ross Bleckner painting—these 70 cans of white radiator enamel literally grounded the display with a clever installation piece that could be seen as invoking anyone from Piero Manzoni to Cady Noland to Duchamp to, hey, Darren Bader.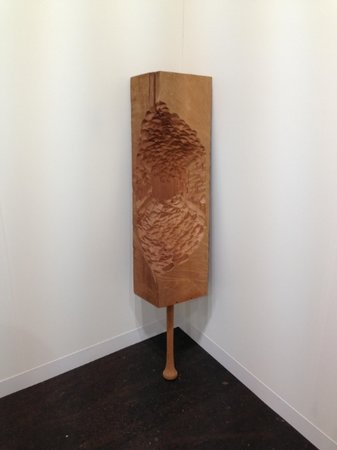 David Adamo's
Untitled
(2012) at Galerie Nelson-Freeman


This rising-star artist's wooden sculptures always have an appealing mix of surrealistic humor and pathos, and this piece—which looks like a beaver stopped carving a baseball bat halfway through—is a tantalizing preview of what's in store for his two-gallery show in New York this fall.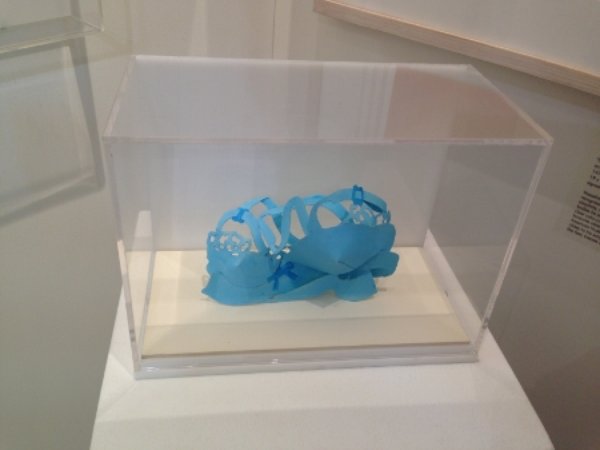 Tom Wesselmann's
Tiny Dropped Bra #15
(1981)



Art fairs love Tom Wesselmann's sexy, graphically exuberant work far more than critics traditionally have, but Art Basel—which has an absolute overabundance of the artists's work—provides compelling testament that his career deserves a reconsideration given the wonderful versatility of his style, here expressed as a sculptural maquette cut from construction paper as preparation for a large steel sculpture.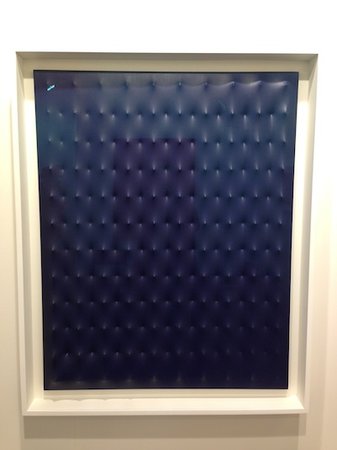 Enrico Castellani's Superficie Blu (1970) at Barbara Mathes Gallery

As royal blue as you could want and suggestive of the walls of a luxe padded cell, this piece—by a living legend of Italian contemporary art—is both scarily aggressive and utterly refined, like Mads Mikkelsen's Hannibal Lechter.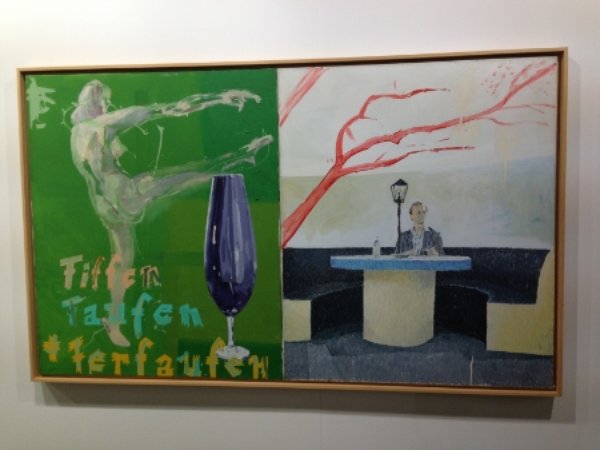 Martin Kippenberger's
Fiffen, Faufen und Ferfaufen; Ich hab' kein Alibi, höchstens mal ein Bier, hör auf zu mosern, so geht's nicht nur Dir
(1982) at David Zwirner Gallery



This exceptional diptych self-portrait by the hard-living Berlin artist telegraphs Kippenberger's light-hearted side, riffing on his love of cafe society, preoccupation with wordplay, and fondness for old-fashioned gas lamps—manic sculptures of which are now on view in his stellar retrospective at the Hamburger Bahnhof.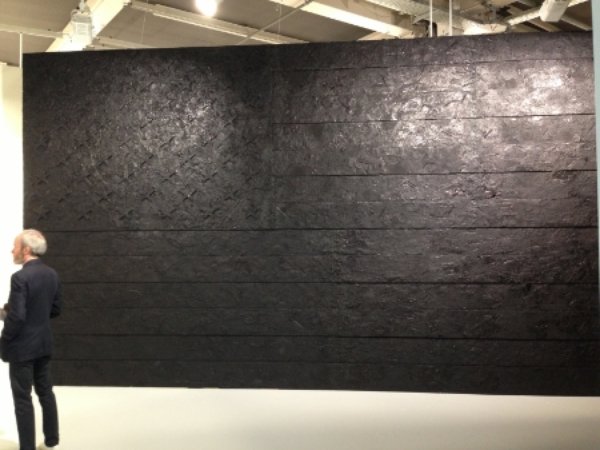 Robert Longo's The Last Flag: The Ballot or the Bullet (1990) at Galerie Hans Mayer

There are a lot of Robert Longos at the fair but nothing like this massive sculpture of an American flag, the culmination of a series the artist was working on in the '80s that tackled this iconic symbol (in clear homage to Jasper Johns), and the only large sculpture of its kind that he's ever done—and remarkably it's a primary-market piece.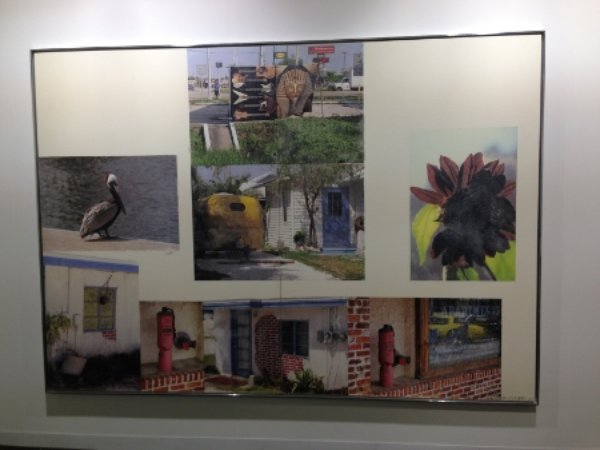 Robert Rauschenberg's Tenant (Scenarios) (2005) at Waddington Custot Galleries

This big old late Rauschenberg, flooded with snapshots of life on Captiva—the island refuge of his final years—is pretty yet muscular, conveying both the vitality of his still under-appreciated later work and also how much the artist would have loved Tumblr.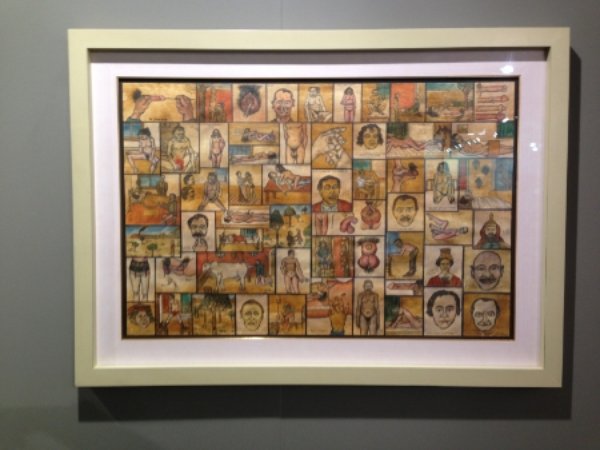 Yüksel Arslan's Arture 465, L'Homme 106, Schizophrines (1996) at Dirimart

An outsider artist featured in the Arsenale at this year's Biennale, this Turkish painter has spent decades leading a reclusive existence structured around his kitchen table, where he creates obsessive and stylistically robust portrayals of sexual fetishes and psychological disorders.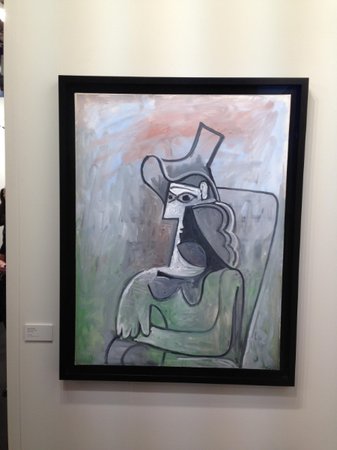 Pablo Picasso's Femme Assise au Chapeau (1961) at Acquavella

The weighty and palpably sculptural portrait of Jacqueline Picasso, the artist's final wife and muse, was in fact painted from a metal cut-out sculpture he made of her—a process almost as intriguingly layered as the work's provenance, which includes Jacqueline's own collection, a private Japanese collection, and Christie's, which sold the painting to Acquavella in 2011 for $4.3 million.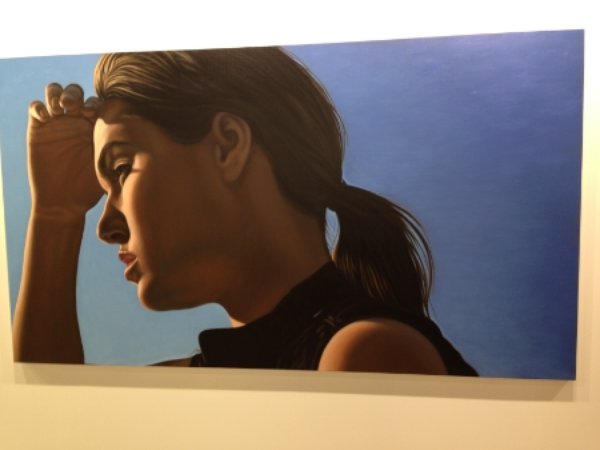 Richard Phillips's Sasha IV (2013) at Galerie Max Hetzler

A portrait of the cult-figure XXX actress Sasha Grey, this piece gets to the heart of the artist's strange and compellingly slippery combination of Pop-flavored investigations of fame, pinup appeal, and conceptual braininess (which the model here is evidently expressing, as the porn-star equivalent of Rodin's Thinking Man—either that or she's just shielding herself from the sun).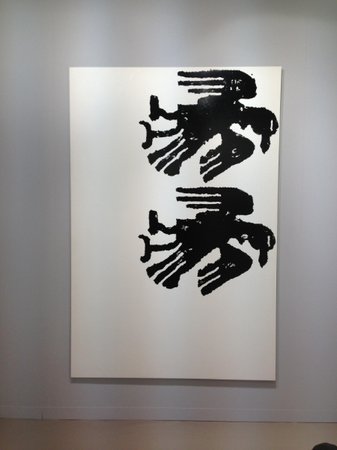 Christopher Wool's
Untitled (P 130)
(1990) at Skarstedt Gallery


Packing a visceral wallop, this painting resoundingly demonstrates the artist's interest in repetition and the printmaking process, duplicating the primal symbol of the bird of prey and offsetting it just so against white canvas for a whole that's more than the sum of its parts.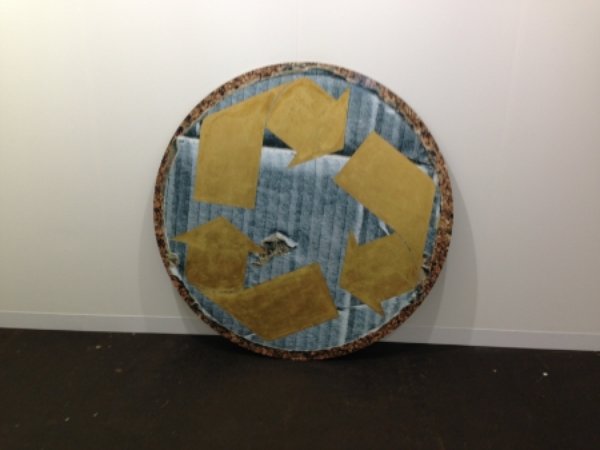 Kelley Walker's
Untitled
(2003) at Paula Cooper Gallery


Like some Po-Mo Tiepolo, this tondo by Kelley Walker is beyond cool and environmentally conscious to boot, like the shield of some chicer vervain of Captain Planet if he lived downtown and read Dis magazine.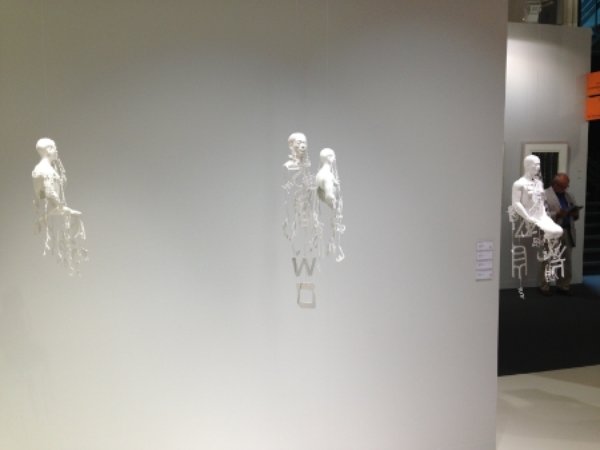 Jaume Plensa's Lilliput series (2012) at Galerie Lelong

These ghoulish floating figures—suspended from the ceiling by wires and dissolving into strings of linguistic characters—are immediately captivating but require strategic placement in the home, probably not in the bedroom or the kid's room unless you happen to be Marilyn Manson.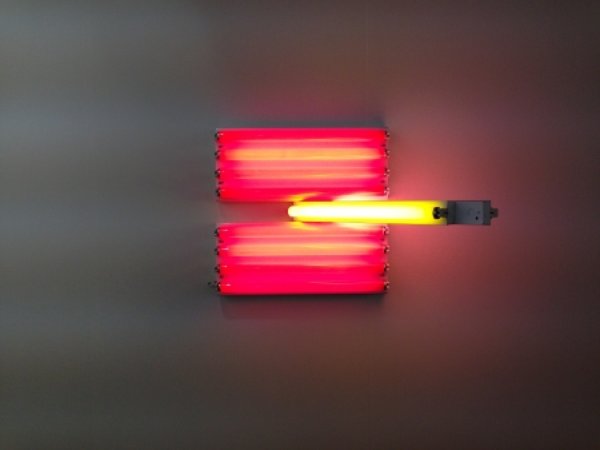 Dan Flavin's Untitled (For the Vernas on Opening Anew) (1993) at Annemarie Verna Galerie

In a fair boasting plenty of Flavins, this one—evidently a gift from the artist to the dealer's family—may take the cake with its mouth-puckering candy colors of lemon yellow and watermelon pink, an arm swinging from its middle and giving the piece undeniable dynamism.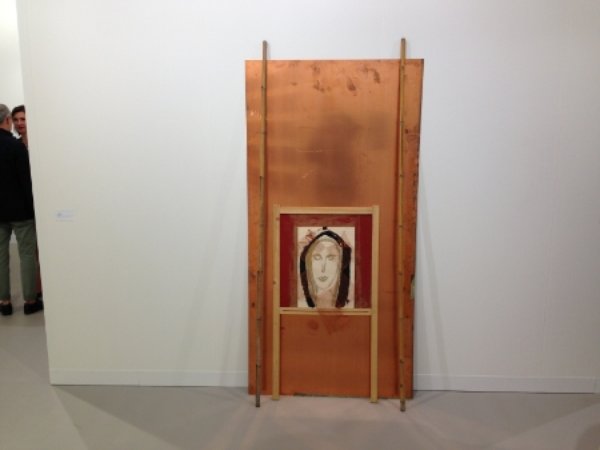 Marisa Merz's Untitled (2012) at Gladstone Gallery

This new work by the octogenarian artist exhibits the same spunk, grandeur, and heartfelt honesty that characterized her reception of the Golden Lion for Lifetime Achievement at this year's Venice Biennale.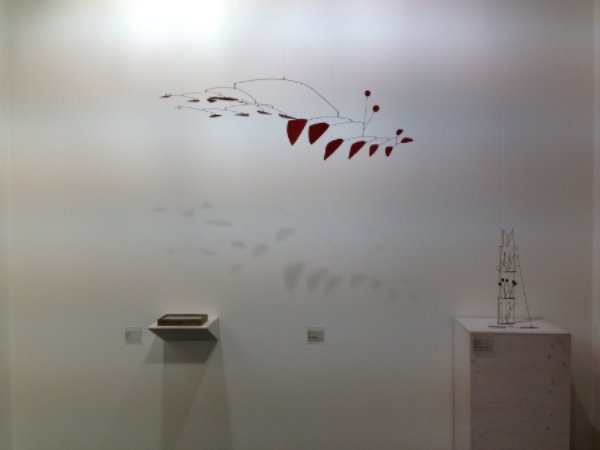 Alexander Calder's Tiny Red (1962) at Galerie Karsten Greve

This itsy bitsy Calder is not the biggest at the fair by a long shot, but it may be the most charming, rotating in the air freely and seeming to adopt different organic shapes as it turns—here you see a fish, here a bird, here a tree branch swaying in the wind.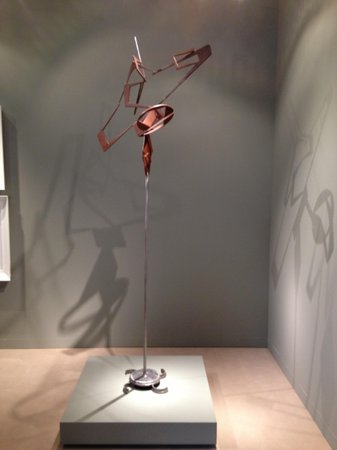 David Smith's Construction on Star Points (1954-56) at Galerie Gmurzynska

This piece by the great Minimalist sculptor was the largest he had ever made at the time and also the most technically complex, displaying exquisite craft and highly sophisticated joinery.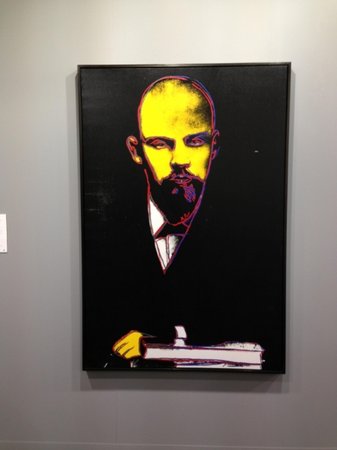 Andy Warhol's Lenin (1986) at Galerie Klüser

Though not as famous as Picasso's portrait of Stalin, this Pop take on the Soviet mastermind is as cutting as a knife and moody as a full moon in a cloudy sky.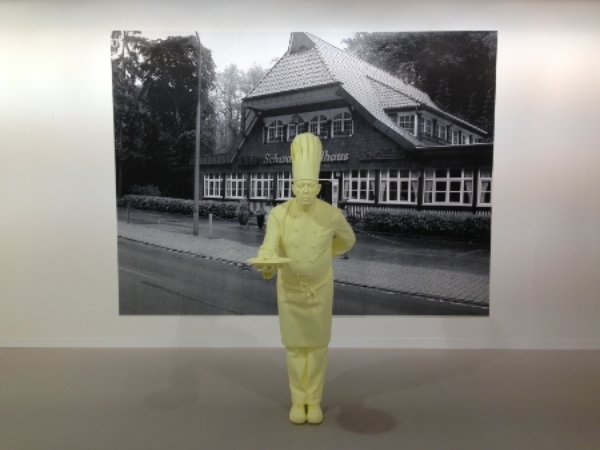 Katharina Fritsch's Cook & Photograph 6 (Black Forest House) (2006-8) at Matthew Marks Gallery

While not exactly site-specific, this portrait of the cook of a restaurant in the Black Forest provides a bit of local flavor—literally, in the form of the sculpted peas, potatoes, and steak on the plate the banana-yellow man is offering.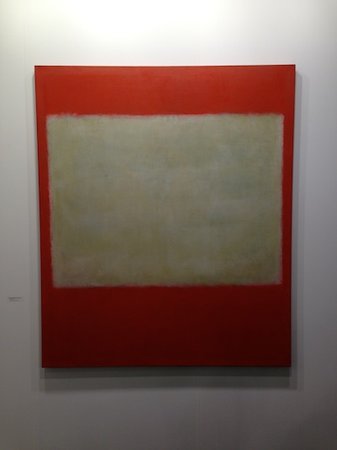 Mark Rothko's No 1 (1957) at Helly Nahmad Gallery

With a rectangle of marmoreal white floating against a blood-red background, this smallish powerhouse of a Rothko cannot be ignored.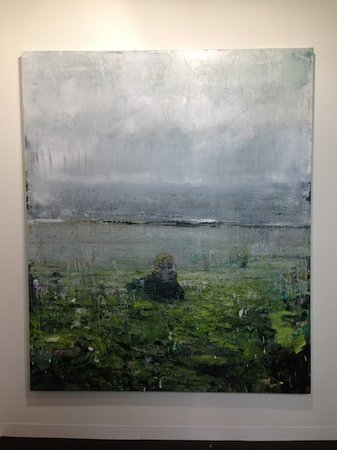 Adrian Ghenie's Death of Darwin II (2013) at Pace Gallery

A testament to the coveted Romanian painter's increasing tendency toward abstraction, this fanciful portrait of the father of evolution drowning in a sea of algae casts a daydreamy spell on the viewer as one gazes off into its misted horizon.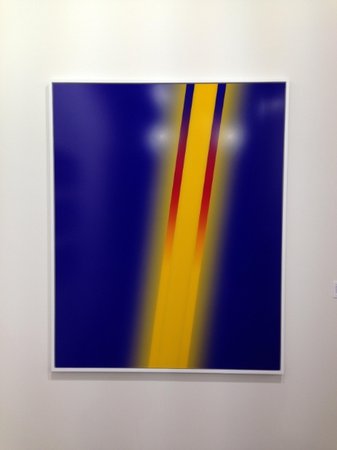 Cory Arcangel's Photoshop CS…. (2013) at Lisson Gallery

One of the artist's celebrated "Photoshop" paintings, in which he lists the exact technical specifications to create the work on Photoshop in the lengthy title, this piece shimmers with almost iridescent blues and yellows, achieving a kind of computerized painterly perfection.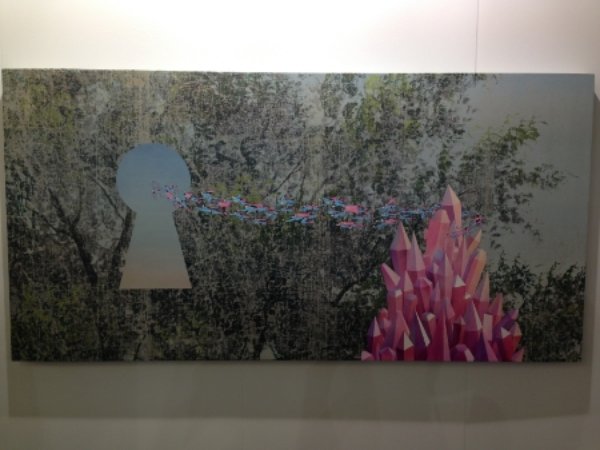 Jim Shaw's Untitled (2013) at Metro Pictures

This painting, which seems to take a page from traditional Chinese landscapes, sends a passel of Super Men flying from their crystal redoubt and through a Magritte-esque keyhole in what may be a novel form of reproduction.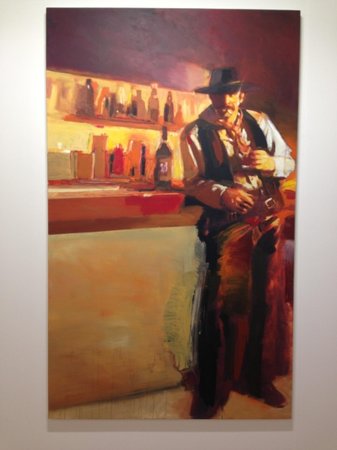 Richard Prince at Gagosian

This new painting by the appropriationist maestro shows us a new side of his cowboy hero, off the job and sidled up to the bar—a country-Western version of Manet's A Bar at the Folies-Bergère, let's say.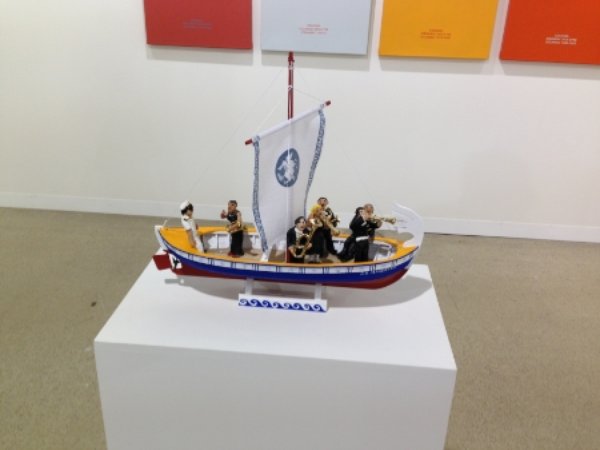 Ragnar Kjartansson's S.S. Hangover Maquette (2013) at i8 Gallery

A cute wooden boat filled with a crew of clay figurines, this model for the artist's Venice Biennale performance is charming and whimsical—Wes Anderson should buy it.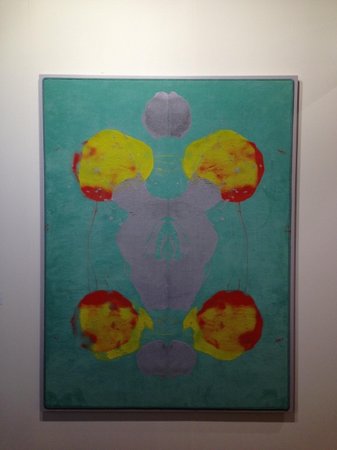 Mai-Thu Perret's Melancholia VIII (2013) at David Kordansky Gallery

This piece by a star of the 2011 Venice Biennale takes a refreshingly different take on textiles than the omnipresent Rosemarie Trockels at the fair, and its spooky Rorschach pattern and offbeat color scheme make it pleasantly unsettling.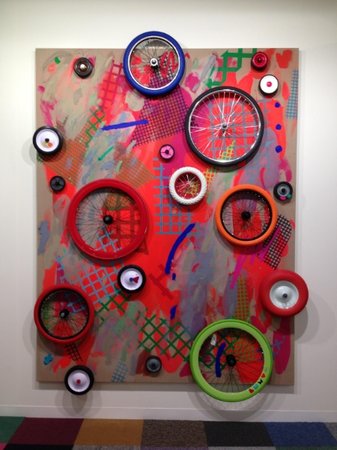 Laura Owens's Untitled  (2013) at Gavin Brown's Enterprise

This artist is painting with a freedom that's hard to find in the medium these days, and this jumbled crazy-quilt of visuals makes you think "That's fun!" and then, soon thereafter, "That's gooood."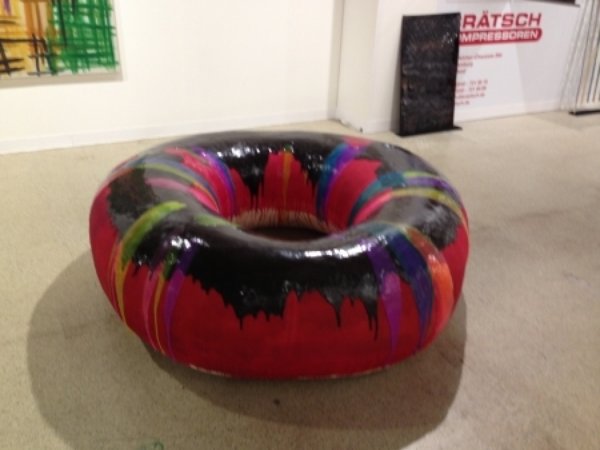 Nathalie Djurberg's Red Donut With Chocolate (2013) at Gio Marconi Gallery

We all know that this artist can sculpt, but this tasty donut takes her beyond her beloved claymation movies and into a realm where her large-scale sculpture is strong enough to stand resolutely on its own, without needing to be explicitly related to her films.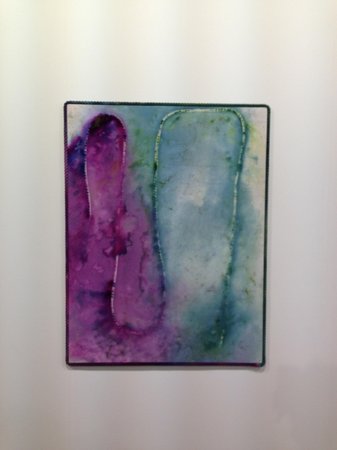 Sam Falls's Untitled (Topanga Rain, Rope, 16) at Eva Presenhuber Gallery

If there was any doubt this artist is a star in the making, his works dotting the fair confirm that he has a splendid palette when it comes to painting and that his innovative use of rope has the makings of a very catchy trademark move.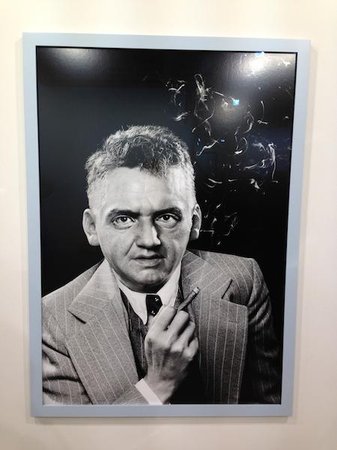 Gillian Wearing's Me as Weegee (2013) at Tonya Bonakdar Gallery
The British artist Gillian Wearing delves unsettlingly in her work into the way that people use masks and anonymity to reveal their true and often frightening selves, and this piece shows a twist on that theme. Part of a series of self-portraits that the artist has made of herself in the prosthetically-aided guise of artists that are important to her—a "spiritual family album" that has included Andy Warhol, Diane Arbus, Robert Mapplethorpe, and August Sander—this piece transforms Wearing into Arthur Felig, aka Weegee, the legendary photographer of hideous crimes and the rubberneckers who gawk at them.