Having exhibited for the past five years in Paris on the repurposed trading floor of the city's historical stock exchange, Cutlog made its New York debut this year at the Clemente Soto Veléz building, a former public school and present community center on the Lower East Side. Over the course of five days, the fair transformed the building's classrooms, hallways, and parking lot into a revelrous all-day and all-night event.
Focusing specifically on emerging artists, the fair offers an opportunity for underrepresented galleries and curators to showcase some of their most intriguing contemporary work. Directors Bruno Hadjadj and Guy Reziciner have invited almost 50 galleries to participate in this year's edition and they brought art from all over the world, from Los Angeles to London, Tel Aviv to Beijing, giving New York's art fair week a decidedly different international perspective.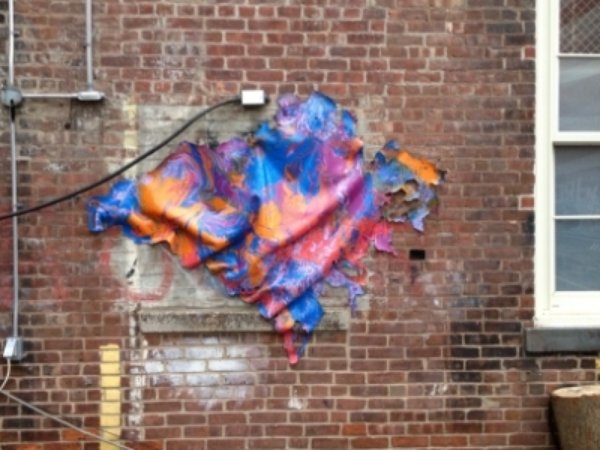 A sculpture by Brooklyn-based artist Kennedy Yanko hangs in the Clemente's parking lot, which also hosted a day's worth of films over the course of the weekend, where they were projected on two massive screens.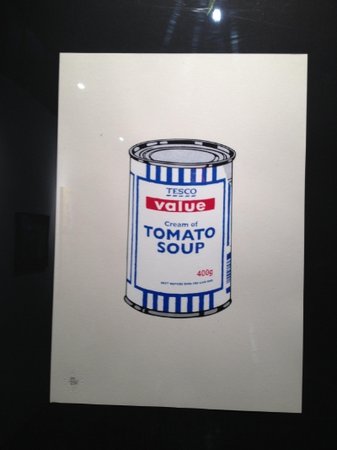 A print of "Soup Can" (2005) shows the famed British street artist Banksy following in Warholian tradition.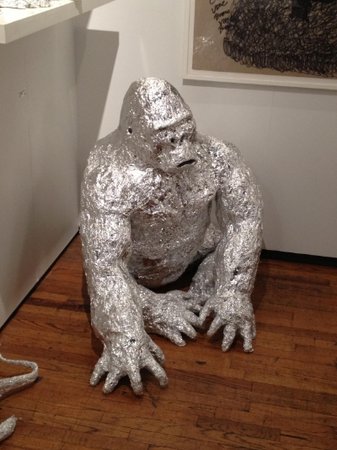 Gorilla (Large, seated) (2013) was one of the many impressively sculpted aluminum foil animals by Dean Millien on view at Brooklyn-based LETC/LAND's booth.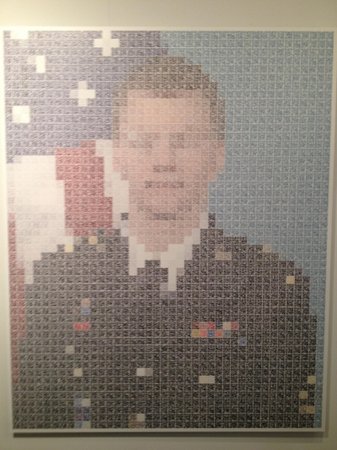 Local gallery Microscope displayed portraits by DataSpaceTime (Lisa Qwilliam & Ray Sweetner) comprised entirely of QR codes for viewers to scan, including National Hero (Bradley Manning) (2012), of the contentiously incarcerated soldier.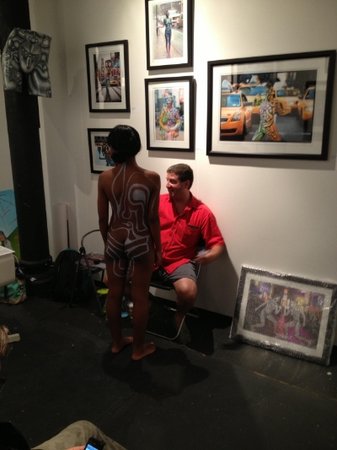 Body painting at the Lambert Gallery's booth display of Andy Golub's photographs.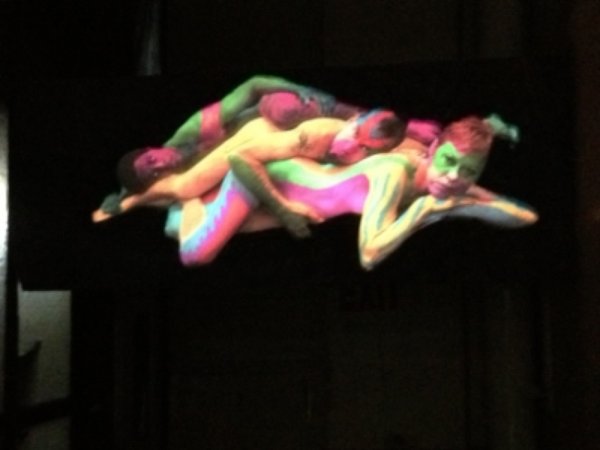 Another display of Golub's work took place in a sectioned off theater upstairs where a film of the artist's "virtual body painting" technique combining 3D sculpture with nude photography and time lapse body mapping was shown.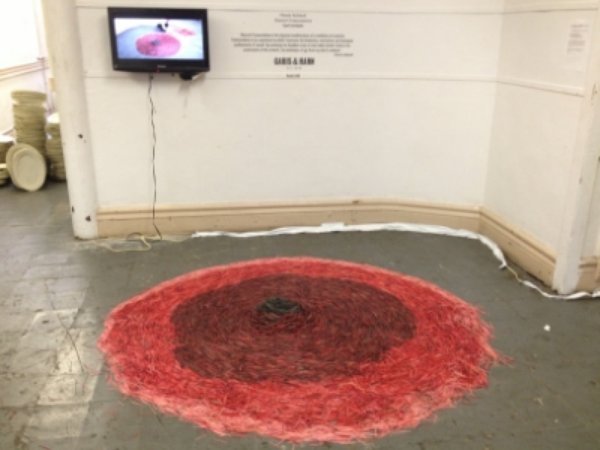 As one of the fair's scheduled live performances, Australian-based artist Phoebe Rathmell created VISCERAL TRANSCENDCE, a meditative assembling of colorful toothpicks in the building's third floor hallway.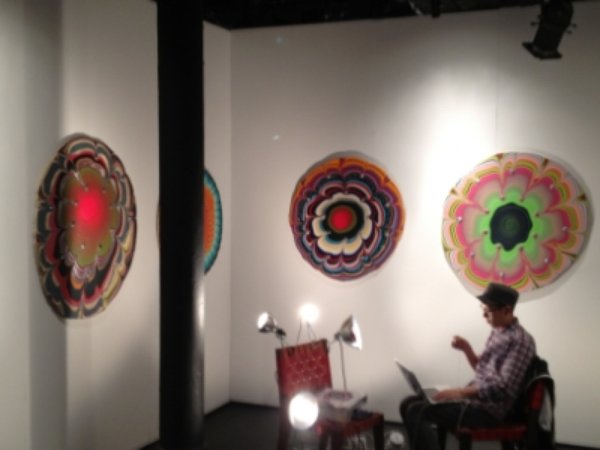 Holton Rower's colorful "Pour paintings" comprised the entirety of Lower East Side gallery The Hole's booth.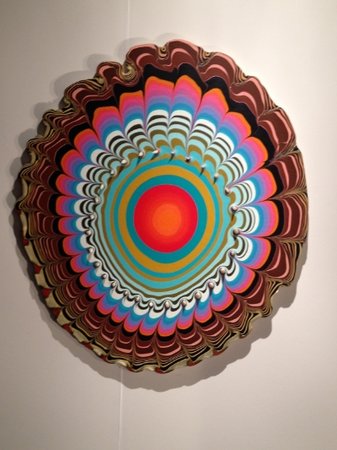 A close-up of one of Rower's "Pour paintings."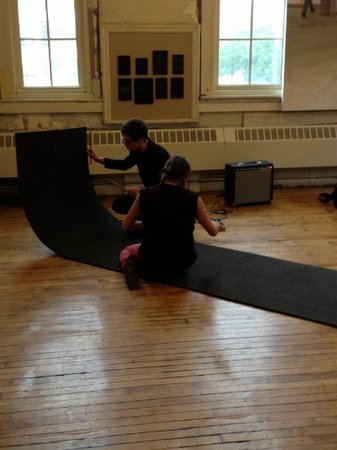 Miami-based gallery Spinello Projects hosted one of the fair's many performances, Naama Tsabar's WORK ON FELT, in which the artist created modifiable string instuments from large, felt swaths that the musicians would manipulate in order to produce lush sounds belying the material's ordinary qualities.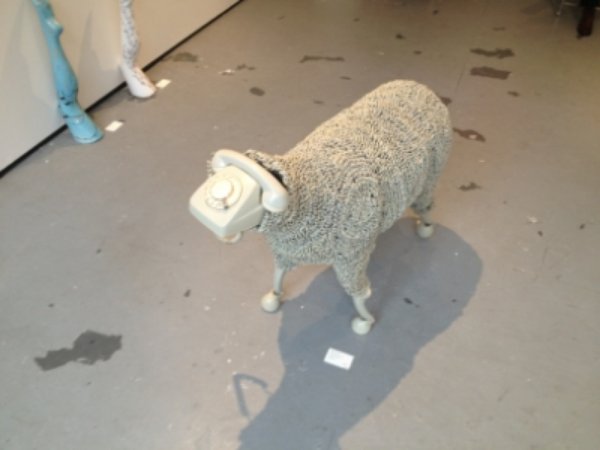 Jean-Luc Cournec's Tribut Telephone Sheep (1989) was a friendly and familiar face at the Per Partes Projects booth.