"I like needlepoint—it always looks good," says Frank Stella. "They always say my paintings are repetitive, but needlepoint is even more repetitive than my paintings." With his massive new survey opening at the Whitney Museum of Artthis week—the first solo retrospective in the downtown building—the pioneer of post-painterly abstraction is looking back on an unusual project from 1968 that bridged these two mediums: a pair of coordinating needlepoint pillows with concentric-square designs.
Commissioned by Art in America as part of "The Mesh Canvas," a portfolio of 13 do-it-yourself needlework projects meant to "introduce art into everyday living" and including designs by Gene Davis and William Copley among others, the pillows are clearly modeled on Stella's stripe paintings of the 1960s—the lean, tautological canvases that gave painters permission to shake off the hegemonic grip of Abstract Expressionism. These were the works that catapulted Stella to his first museum retrospective, held at the Museum of Modern Art in 1970 when he was just 33.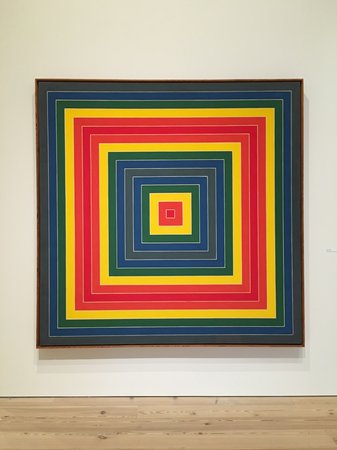 Frank Stella's Gran Cairo, 1962, at the Whitney Museum's "Frank Stella: A Retrospective." Photo: Artspace
Stella had no particular attachment to needlepoint when Art in America approached him about the portfolio. "When I came to New York, a couple of ladies sent me needlepoint pillows," he recalls. "But they were unsolicited." He did, however, have an openness to the medium, despite what were then hostile attitudes toward craft-based processes and decorative sensibilities in the fiercely territorial field of avant-garde painting. Even as a young painter, he was well aware that ideas about what constitutes art and what doesn't can change over time.
"In the 18th century, for example, sculpture was considered to be a craft—not a highfalutin' activity," Stella says, echoing the editor and art historian Russell Lynes's lament from the pages of the Art in America portfolio that "needlepoint has unfortunately been considered a suitably genteel pastime."
At the heart of the 1968 project is an appreciation for the shared material histories of painting and the so-called decorative arts.  "It's really about the texture and the quality of it," he says of needlepoint. "You could almost find canvas with a weave as deep as needlepoint—it's the same sort of texture."
That instinct for finding common ground between old and new, rarefied and popular mediums is also much in evidence at the Whitney show, which tracks Stella's career from those early canvases into recent sculptural experiments with 3D printing. Explaining the stage of the process in which lasers "knit" small components into a larger fabric, he says: "It's like 3D needlepoint."
RELATED LINKS: "It's Not Exactly Fun": Frank Stella on the Angst and Agita of Having a Major Career Retrospective