This March, queer African American performance artist Jacolby Satterwhite premiered the culmination of his visual album, En Plein Air: Music of Objective Romance at the San Francisco Museum of Modern Art (SFMOMA). Combining live performance, music, and virtual projection, Satterwhite created an immersive Afrofuturist landscape for viewers to travel through—both metaphorically and literally, with the use of virtual reality headsets.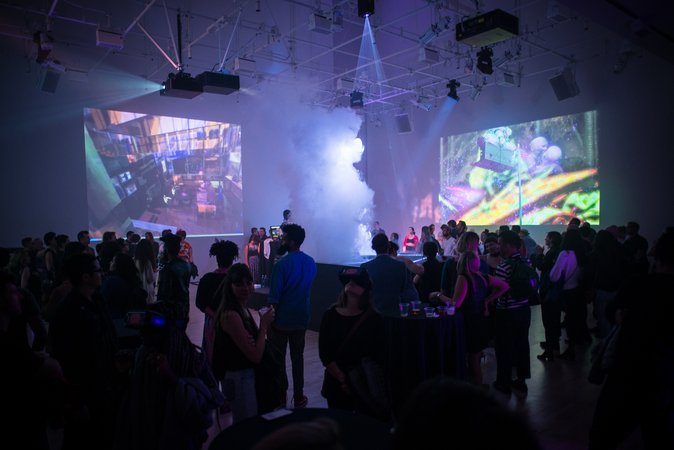 Satterwhite projected three video tableaux on the walls of the gallery, each depicting a series of cyber queer sexual encounters in outer space and on Earth. These scenes included naked male prisoners in S&M chains working on a spaceship, and Satterwhite in a terrestrial bathroom voguing—a style of dance that evolved out of black and Hispanic queer ballrooms in Harlem during the '70s and '80s, and draws from both breakdance culture and high fashion. In Satterwhite's projections, queer pleasure reigns supreme over the universe. (At one point, Satterwhite's cum literally shoots into space.)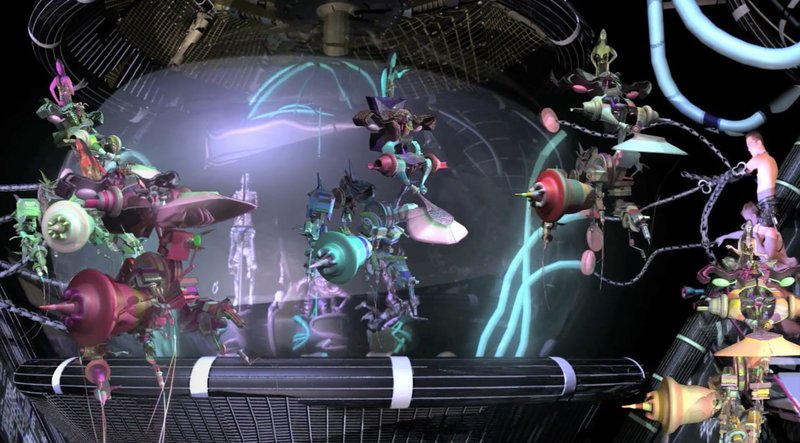 Still from Jacolby Satterwhite's En Plein Air Abstraction #4 , 2016
These dynamic projections became an interactive backdrop to a live performance where Satterwhite's body transitioned between physical and virtual realms. Throughout the performance he occupied three positions: digital avatar on screen, DJ, and bodily performer in the real. As mentioned, viewers encountered Satterwhite on screen as a digital avatar. Satterwhite first appeared in the flesh working at a central control panel, DJing his new soundtrack that he made in collaboration with Nick Weiss of the electronic music duo Teengirl Fantasy. When he wasn't DJing his music or controlling his avatar on screen, the artist performed on a raised metal platform in the center of the room. Lit beneath a spotlight, Satterwhite's dance moves transitioned between pretzel-like bodily contortions, break-dancing, and voguing.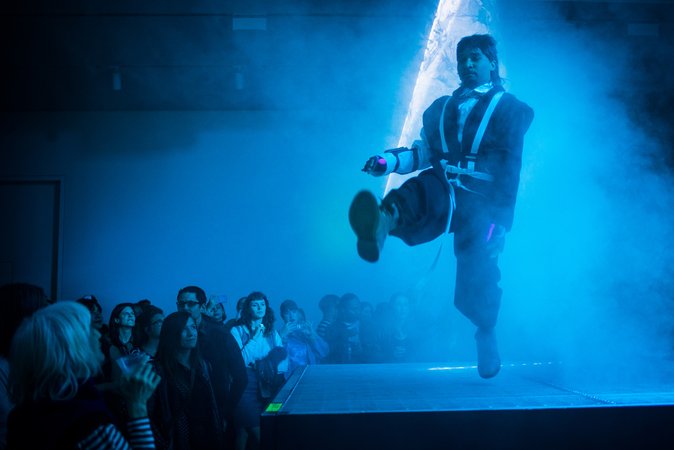 Jacolby Satterwhite's En Plein Air: Music of Objective Romance at SFMOMA, 2017; photo: Charles Villyard

Virtual reality is not exactly new to the art scene—so, why is Satterwhite's practice significant today? Since the 1990s, virtual reality has been seen as a liberating platform for artists to explore gender and identity politics. Freed from fleshy "meat-space," artists could fashion new aberrant identities and sexual lives beyond the biological constraints of their bodies. But in our contemporary surveillance- and image-saturated society, this utopian reading of virtual reality as the key to gender emancipation might seem naïve. This is not the case for Satterwhite's virtual alternative future, however.
On a surface level, Satterwhite's work demonstrates how virtual reality can help us imagine a radical future for the black body that's freed from the historical baggage of the flesh. For example, Satterwhite's science-fiction-like drawings are paradigmatic of Afrofuturism—a movement that uses new media to speculate a black consciousness beyond a slave or colonial mentality. However, En Plein Air: Music of Objective Romance problematizes any neat, utopian idea of the future, recognizing that a blank slate for black and queer consciousness isn't really possible, or even necessarily desirable.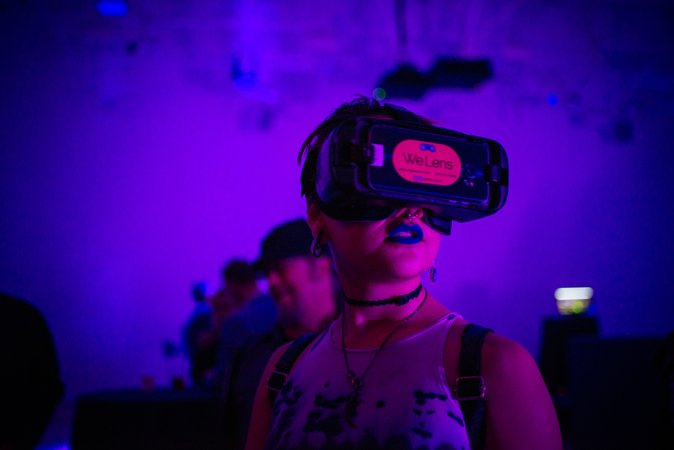 Jacolby Satterwhite's En Plein Air: Music of Objective Romance at SFMOMA, 2017; photo: Charles Villyard

Just as Satterwhite's performance looks toward an imagined virtual future for black, queer bodies, it also looks back to the Diaspora and the history of oppression. In the projections, the chains donning the S&M workers' bodies on the spaceships recall the chains used to restrain Africans on slave ships to the West. But Satterwhite's re-imagined slave ships are emblematic of a different Diaspora—one where both the white and black body is punished in captivity with pleasure. The queer S&M slaves willingly propel their ship through a universe freed from heteronormative patriarchal domination. Satterwhite radically positions multiracial queer subjects as the new "slave masters" of the future cosmos, metaphorically removing the chains that historically oppressed the black body to instead use them as tools of pleasure in a queer S&M-dominated future.
Still from Jacolby Satterwhite, En Plein Air Abstraction #7, 2016

Satterwhite's live performance also reversed traditional slave/master dynamics. On one hand, his stage referenced the raised blocks upon which slaves were sold at auction in the New World. However, Satterwhite's live performance took re-possession over what art historian Harvey Young has called the "compulsory visibility" of the black body since slavery. By acting as the controller of his body's digital avatar in the virtual projections, Satterwhite returned the "master's" gaze that historically made African American bodies into commodity objects and racialized "Others." Just as we gazed at Satterwhite's vulnerable body before us in the flesh, his digital avatar gazed back at us from on screen. In this way, Satterwhite was both object of the audience's gaze and controller of his body's image in the queer future he imagines. And finally, by fluidly moving between screen, stage, and sound, his body becomes impossible to "image" within a distinct time, space, or narrative.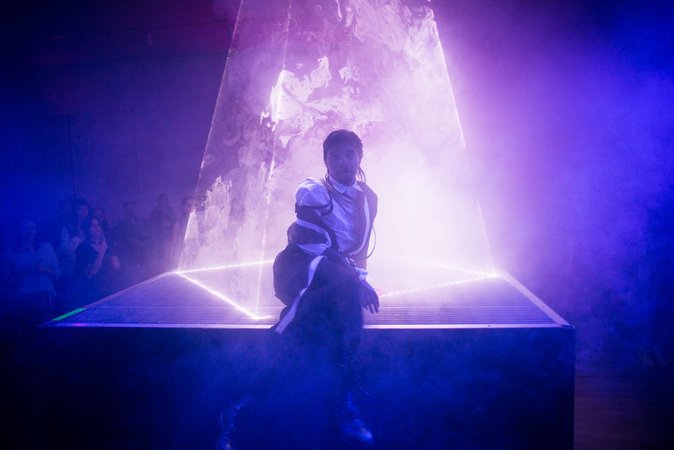 Jacolby Satterwhite's En Plein Air: Music of Objective Romance at SFMOMA, 2017; photo: Charles Villyard

Satterwhite also roots his future-orientated practice in past personal pain. Satterwhite created his new soundtrack (debuted at the performance)—a synthesized blend of electronic house noise and deconstructed club music— by sourcing a cappella albums recorded in the '90s by his mother Patricia who, having been diagnosed with schizophrenia, recorded the vocals in a mental hospital and at home. Satterwhite described his recent album in terms of healing: Patricia listened to some of Satterwhite's music before her death and it became a coping mechanism for her. The artist highlighted that just as music served as a coping means for his mother, his deconstructed club soundtrack recalls how acid house music functioned in a similar therapeutic manner for the LGBTQ community living through the AIDS crisis of the '80s.

Satterwhite's archival production method is unique for an artist working in virtual reality. By returning to his mother as his source of creation, the artist refuses to root his imagined digital futures in any notion of progress or utopia. Rather, in a Freudian oedipal gesture, Satterwhite shows how creative production is always a regressive return to childhood. He troubles foreword-looking digital production with the psychological subject's return to the mother's womb, the corporeal body, and the personal and historical trauma of his mother and queer politics.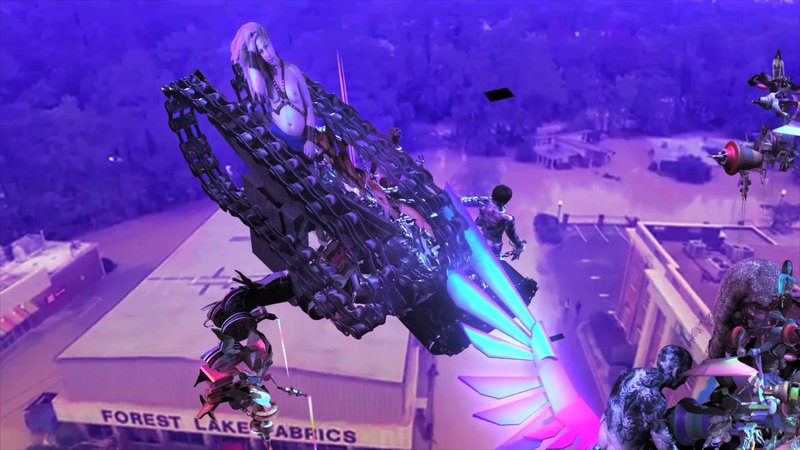 Jacolby Satterwhite's En Plein Air Abstraction #4 , 2016 is available here on Artspace

By infusing imagined alternative queer futures with historical returns to the African Diaspora, AIDS, and personal memory, Satterwhite shows how virtual reality can still serve as a hopeful and problematic medium for identity and racial politics. Satterwhite creates virtual utopias for queer and marginal subjects, but ties them back to their ancestor's historical traumas and dystopian worlds. Satterwhite not only "queers" the future, but also provocatively "queers" the utopian aspirations of virtual reality.
For more on Jacolby Satterwhite, read Dylan Kerr's discussion with the artist on why Björk is an indispensable role model for young artist today.
[related-works-module]